Steamy Snail Dishes - A Hanoian Delicacy
In the cold autumn days of Hanoi, nothing is more perfect than enjoying a delicious, fragrant snail dish with a rich sour, spicy dipping sauce to warm your belly.
Despite the rapid changes of a developing country, eating Vietnamese snails as the locals' pastime shows no sign of declining in popularity. Snail dishes go wonderfully well with Vietnamese beer, and the acts of plucking meat from the shells, dipping it in special sauce, chewing, and taking a sip of cold beer seem to encourage enthusiasm around the table. You can still enjoy these delicious snails without drinking alcohol, but it would be better to have a cold beer or Vietnamese rice wine to accompany them.
Every day, when the evening sets, Vietnamese street food stalls, vendors, and even fine restaurants are packed with couples and large groups of friends, family members, or colleagues. The sight of people gathering around plastic tables to chat and cheer, along with the sound of empty shells clanking on dishes has been familiar to every local and even foreign tourist.
These well–recommended small restaurants selling boiled snails and other plates meet all the requirements for the best destinations, such as clean, comfortable spaces, diverse menus, delicious tastes, reasonable prices, and awesome services.
Oc Hanh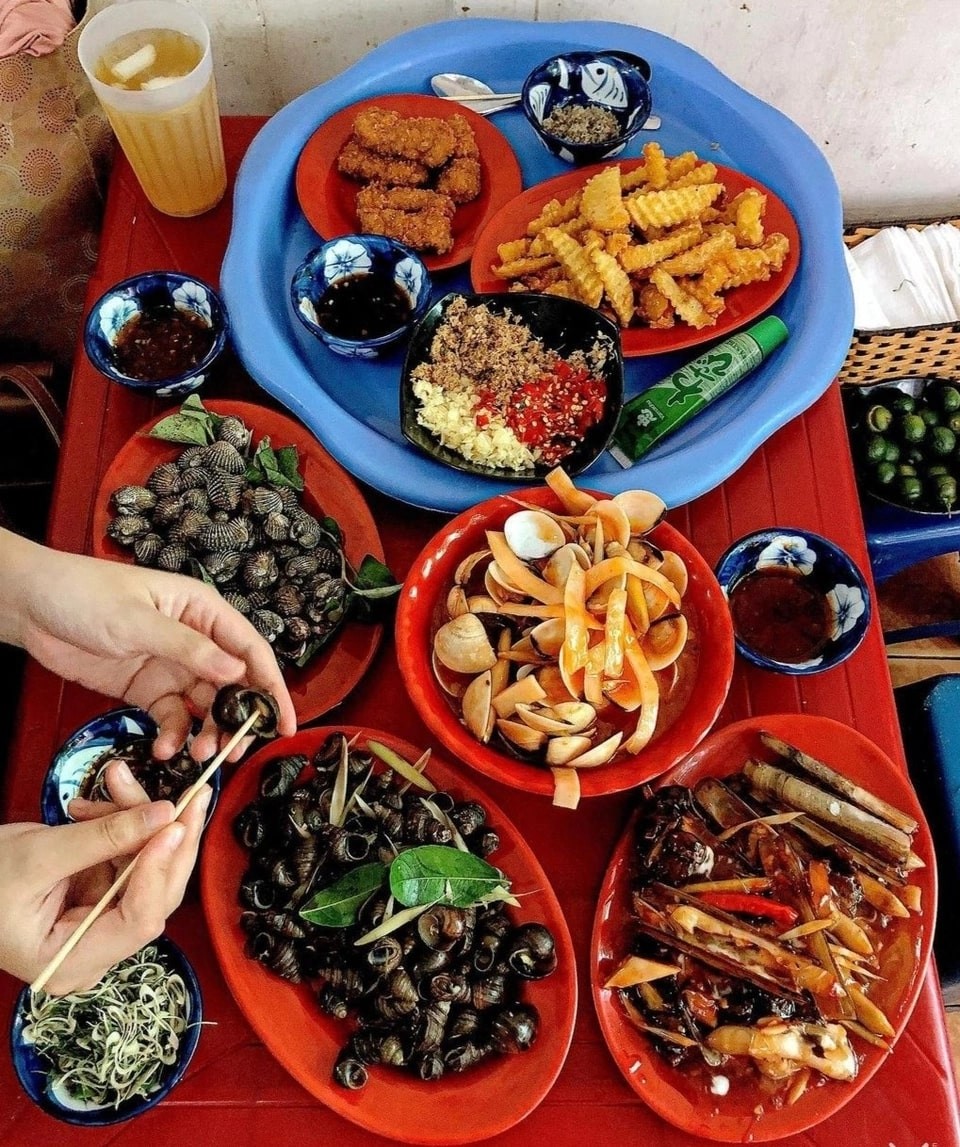 Photo: _nymm.
Address: Ngo Si Lien, Dong Da
Opening hours: 4 pm – 10 pm
Price: VND20.000 (US$0.82) – VND90.000 (US$3.70)/ plate
The restaurant has two spaces, inside and outside seating. The area is relatively small and cramped, with the tables close to each other, which causes the customers difficulty moving around when the place is crowded.
The menu is diverse, from snails, clams, and squids processed in many ways such as steamed fish sauce, fried with coconut tamarind, fried with garlic butter, etc, to side dishes such as spring rolls, quail eggs, and fried potatoes.
Photo: _nymm.
The dishes are rich in flavors, and you can taste the sweet and spicy feelings right at the tip of your tongue. There are different kinds of dipping sauces, such as snail dipping sauce, mustard soy sauce, chili sauce, salt, pepper, etc, for guests to choose from. The snails are chewy, and sweet with a lot of nutritional value. Stir-fried clams with garlic butter and sauce served with dipping bread. Sweet potato fries are quite lovely, but they are a must-try when you come to this restaurant.
The price is reasonable compared to other places, and you will leave here with your belly full and feel satisfied with the service.
The staff is enthusiastic and friendly, but the service will be slow due to crowded guests.
Oc Chi Viet
Photo: allabout.hmeating.
Address: Trung Liet, Dong Da
Opening hours: 11 am – 2 pm and 5 pm – 10 pm
Price: VND40.000 (US$1.64) – VND120.000 (US$4.93)/ plate
The restaurant is quite small, including indoor and outdoor seating spaces, but most diners choose to sit outside for a fresh and comfortable atmosphere.
The restaurant serves a variety of dishes from snails, clams, oysters, and blood cockles, to snacks with chicken feet, Vietnamese fermented pork rolls, French fries, etc. There are many types of snails to choose from, such as sweet snails (Oc Huong), Oc Do, Canarium snails (Oc Ca Na), Common periwinkle snails (Oc Mo), Lion snails (Oc Su Tu), etc.
Photo: allabout.hmeating.
The seafood at the restaurant is fresh and clean. Snail dish flavored with salted egg is fragrant and delicious and served with bread. The dishes with garlic butter sauce and tamarind sauce are bold in flavor but slightly sweet. There are also crispy fried salted chicken feet served with a special sweet and sour dipping sauce at the restaurant that you should try.
The prices are affordable compared to other restaurants and the quality of the food is. One minus point is the staff is friendly and is willing to provide the best service to the customers.
Oc Tu Linh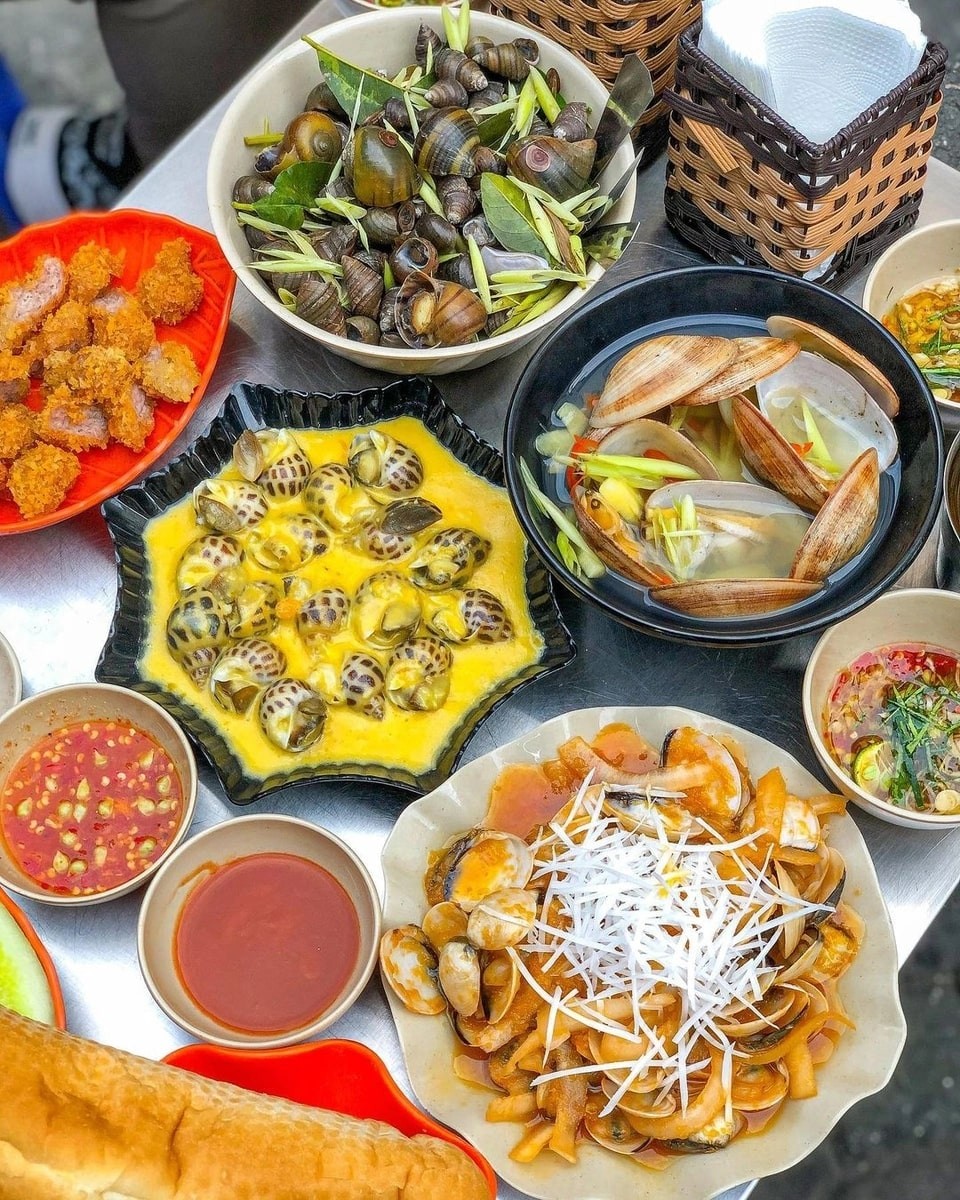 Photo: _troosismeee.
Address: Nguyen Van Tuyet, Dong Da
Opening hours: 4 pm – 11 pm
Price: VND30.000 (US$1.23) – VND155.000 (US$6.37)
This restaurant is spacious, and visitors can either choose to sit inside or outside on the pavement. The tables are closed together, causing the space to be cramped and making it hard for customers to move around.
Oc Tu Linh serves many delicious and charming dishes, which include snails, clams, scallops, and oysters along with other side dishes such as quail eggs, and spring rolls with potatoes. Seafood is processed in many ways, from the traditional steamed lemongrass, and stir-fried tamarind to the stir-fried with spicy butter, salted eggs, and cheese.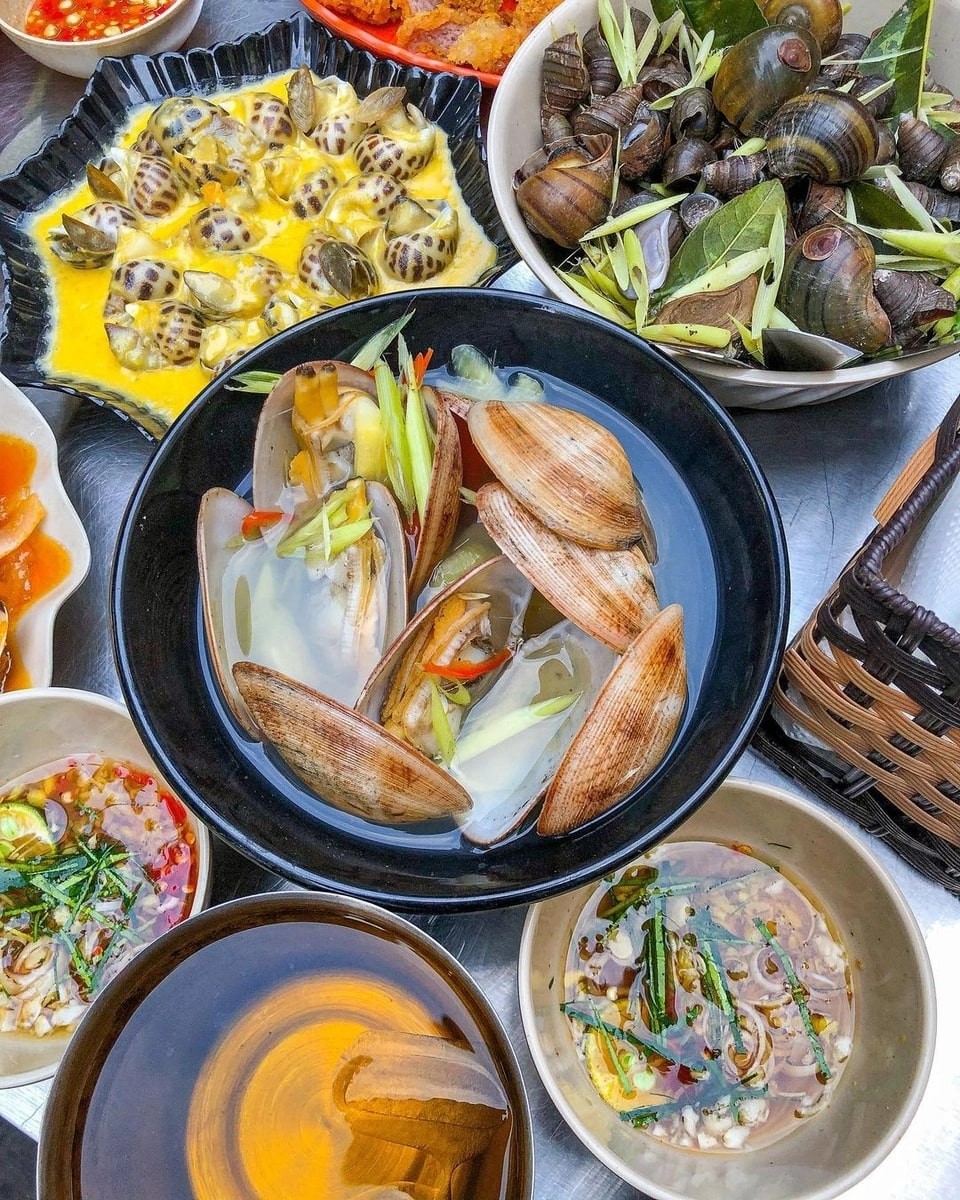 Photo: _troosismeee.
The price is a little bit higher than other restaurants but reasonable for the quality of the food. The staff is friendly and enthusiastic.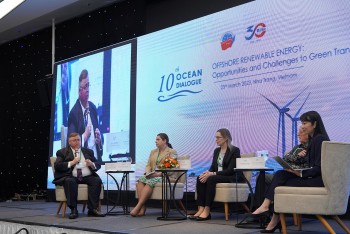 Seas and islands
Vietnam and other coastal countries in the region have both opportunities and challenges in developing offshore renewable energy, according to the 10th Ocean Dialogue held in Khanh Hoa province on Thursday.