Covid-19 vaccine shots to be given for frontline workers in Da Nang
On Friday, Central Da Nang City would launch its vaccination campaign, providing 100 jabs for frontline workers first at the municipal Lung Hospital.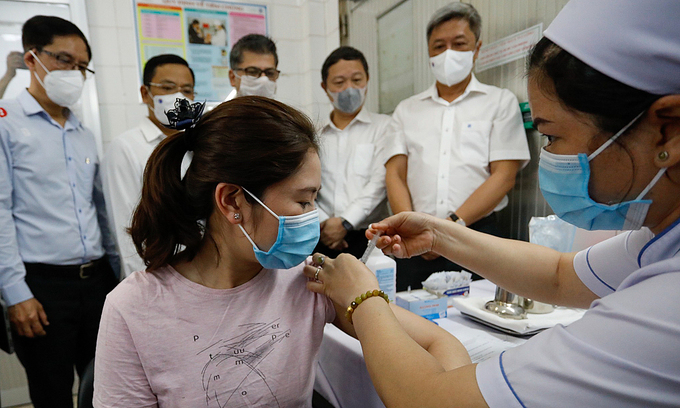 A woman is injected with a Covid-19 vaccine by AstraZeneca in HCMC, March 8, 2021. Photo by VnExpress/Huu Khoa.
Le Thanh Phuc, director of Da Nang Lung Hospital, on Thursday said 100 Covid-19 vaccine doses from British-Swedish firm AstraZeneca, which arrived late last month, had been transported by the Ministry of Health to cold storage facilities run by Vietnam Vaccine JSC in Da Nang on Wednesday, according to VnExpress.
"The vaccine doses would be used to inoculate employees at Da Nang Lung Hospital on Friday morning," local media reported Phuc as saying.
Da Nang, the former Covid-19 epicenter of Vietnam's second coronavirus wave in July last year, fortunately, recorded no community cases in the most recent outbreak affecting 13 cities and provinces since January this year. A national Covid-19 vaccination campaign, Vietnam's largest yet, commenced Monday, prioritizing frontline workers in areas with recent outbreaks.
Vietnam has ordered 30 million Covid-19 vaccine doses by AstraZeneca, of which around 117,600 doses had arrived last month. The country would also receive an additional 4.1 million AstraZeneca doses via global vaccine access mechanism Covax by April, and another 25.9 million doses between August and November.
Vietnam is also negotiating with other vaccine manufacturers in the U.S., Russia and some other countries to ensure it could obtain a total 150 million doses this year to cover 70 percent of its population.
The coronavirus tally so far in Vietnam is 2,529, with 486 active cases.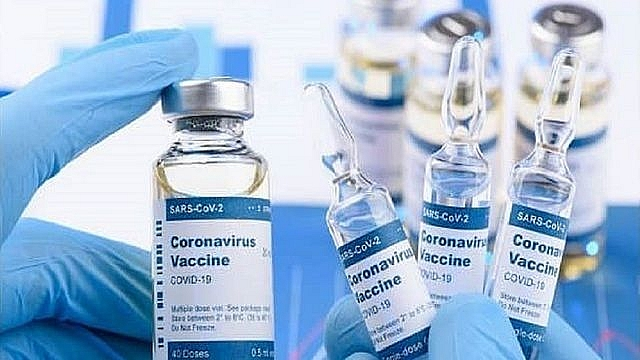 Illustrative photo
Covid-19 vaccination begins for frontline workers
Medical and other frontline workers in Hanoi, HCMC, and Hai Duong got the AstraZeneca Covid-19 vaccine on Monday morning.
At 6:15 a.m. the Vietnam Vaccine JSC sent the vaccines to the HCMC Hospital for Tropical Diseases where 900 medical workers are to be given shots.
At the same time in Hanoi, specialized vehicles transported the vaccines to the National Hospital for Tropical Diseases, according to VnExpress.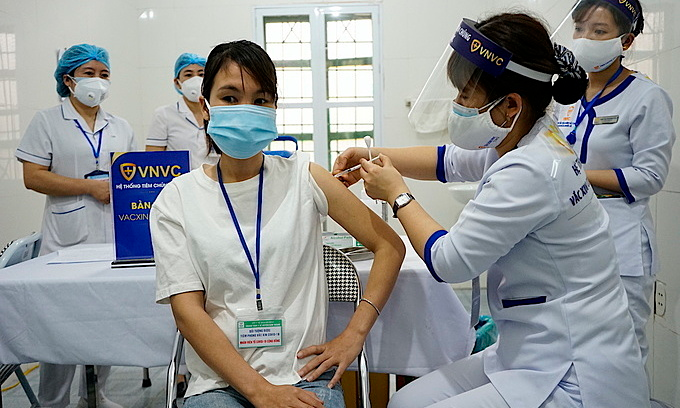 Nguyen Thi Hue, a medical worker in Hai Duong Province, is injected with AstraZeneca Covid-19 vaccine, March 8, 2021. Photo by VnExpress/Gia Chinh.
Dr Vu Minh Dien, deputy director of the hospital's center for pandemic prevention and vaccination, said 420 medical personnel would be immunized in the first phase.
"If possible, we will vaccinate all the hospital staff, but because the vaccine supply is limited and must be distributed to many other provinces, the highest priority is given to those who have direct contact with Covid patients and some medical staff in charge of screening patients."
From a warehouse belonging to the company in Hanoi's Dong Da District, two vehicles left at 3 a.m. for the Kinh Thanh District medical center and the Hospital of Tropical Diseases in Hai Duong Province, 60 kilometers east of the capital.
Hai Duong, where there have been 707 cases so far, got 33,000 doses meant for medical staff and other frontline workers.
As one of the first people to be vaccinated in Hai Duong, Nguyen Thi Hue, 34, a member of the contact tracing team in Tan Viet Commune, said she was concerned about the quality of the vaccine but was confident that there would be good results.
"My job involves regular contact with people who have had direct or indirect contact with patients, putting me at high risk of infection. I decided to register to be vaccinated to protect myself and my family," she said.
During the screening, the recipients had to inform authorities about their medical history including acute or chronic diseases or chemotherapy they had, and history of allergy or anaphylaxis.
Healthcare workers carefully advised them about possible reactions such as pain at the injection site, headache, nausea, chills, fever, and anaphylactic reaction or allergy. The recipients had to then sign a Covid-19 vaccination consent form.
Minister of Health Nguyen Thanh Long warned that the vaccine does not guarantee 100 percent immunity against Covid-19.
According to AstraZeneca, it is 76 percent effective, increasing to 81 percent after the second shot. The recipients are set to get the second dose after 12 weeks.
Long went on to stress the need for everyone to continue complying with the pandemic prevention protocol.
The first batch of 117,600 vaccine doses arrived in Ho Chi Minh City on a flight from Seoul on February 23, and after evaluating its quality, the health ministry approved the vaccination.
This month Vietnam will get another 1.3 million doses through Covax, a global mechanism for developing, manufacturing, and procuring Covid-19 vaccines.
While the production of domestic vaccines is underway, the government has speeded up foreign procurement to inoculate prioritized groups.
It is negotiating with vaccine manufacturers in the U.S., Russia, and some other countries to ensure it can obtain a total of 150 million doses to cover 70 percent of the country's population this year.
It has also approved the use of Moderna and Sputnik V vaccines.