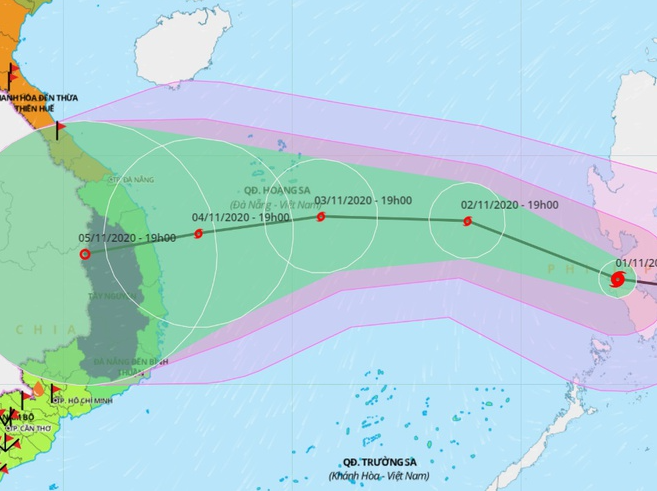 Storm Goni to enter Bien Dong Sea. (Photo: Zing News)
Storm Goni to enter Bien Dong Sea
On the evening of November 1, Storm Goni arrived at the southern part of Luzon Island (Philippines). Its strongest wind reached level 12, decreased two levels compared to 6 hours before. The storm moved in a northwest direction at a speed of 15-20 km/h and was forecasted to enter the Bien Dong Sea on November 2. On the evening of November 2, the storm center was 530km southeast of Hoang Sa archipelago, with a wind of level 10. On the evening of November 3, the storm is forecasted to reach a location of 210 km from Hoang Sa archipelago.
The storm will then change its moving direction to the southwest with a speed of 10-15 km/h. On the afternoon of November 4, the storm will lay its center at about 180 km from the coast from Da Nang to Phu Yen at a wind speed of 10 kph.
Commenting on the strongest wind force of the storm, experts of the National Center for Hydrometeorological Forecasting said that when swept through the central Philippines this morning, Goni's wind strength was at level 17, which was the level of a superstorm. However, when compared to Storm Haiyan (2013), Goni has lower strength it hits the land. Even so, Goni is still the strongest storm this year. After the strike through mainland Philippines, the storm's wind strength decreased to 4 levels compared to the strongest point, equivalent to level 13.
In the early morning of November 2, storm Goni will pass through the south of Luzon Island and enter the Bien Dong Sea with wind strength of level 10-11. This will be the 10th typhoon affecting Vietnam this year.
Provinces prepare to minimize destruction. (Photo: Lao Dong)
Provinces prepare to minimize destruction
In order to deal with the above situation, on October 31, the Central Steering Committee for Natural Disaster Prevention and Control called localities to proactively prevent storm destruction.
In parallel with the rescue work, the Committee also asked provinces and units to closely monitor the developments of the storm, notify owners and captains of ships and boats about the movement and position of the storm. Ships owners and captains are required to keep regular contact with the mainland to ensure proper and timely support.
Along with the above work, the Committee requested hydropower units to strictly operate and proactively discharge reservoirs to ensure the safety of irrigation and hydroelectric dams. Up to now, 58 hydropower reservoirs along the central provinces are planning discharge, according to Lao Dong.
Central provinces such as Nghe An, Quang Ngai also required related units, agencies, departments to joint hand in protecting the lives and property of citizens and minimizing storm destruction.
Valerie Mai