Strengthening Trade Cooperation Between Vietnam and Australia
With the desire to help Vietnamese businesses expand to Australia and vice versa, Tran Dang Hue (Harry Tran) and overseas business owners in Sydney have established the Vietnamese Entrepreneurs Association in Sydney.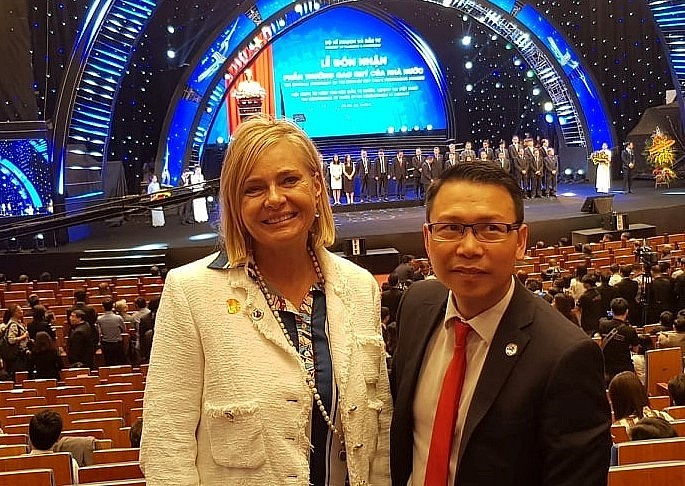 Overseas Vietnamese Tran Dang Hue and his Australian partner attend the 30-year conference to attract foreign investment taking place in Vietnam, October 2018. Photo: Tran Dang Hue
Vietnamese Entrepreneurs Association in Sydney is one of the investment intermediaries, promoting effective trade cooperation between Vietnam and Sydney, Australia.
Born and raised in Thanh Hoa in 1995, Tran Dang Hue moved to Hanoi to study at High School for the Gifted of Foreign Languages, part of Vietnam National University. In 2003, Dang Hue graduated with a bachelor's degree in Public Finance from the Academy of Finance.
Wanting to have more knowledge about business, after graduating from university, Dang Hue went to Germany to major in Business Administration.
In 2013, Dang Hue continued to study in Sydney to improve his qualifications, and then decided to settle in Australia because "life here is as close as in Vietnam."
Tran Dang Hue realizes that the Vietnamese community in Sydney is quite large, working in many fields. However, there is no organization connecting them in life and work. Therefore, in 2018, he and some Vietnamese business owners operating in Australia established the Vietnamese Entrepreneurs Association in Sydney, aiming to connect the Vietnamese business community in Sydney and support businesses in Vietnam wanting to do business in Australia.
The Association regularly organizes monthly business events to exchange business administration knowledge, update the latest news on the market, legal regulations and exchange business investment opportunities. The events were appreciated by the Vietnam Trade Office in Australia.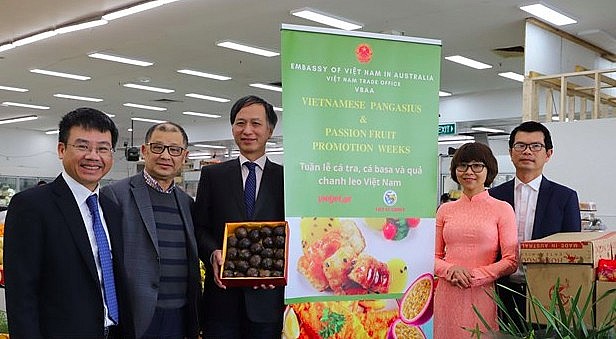 Ambassador Nguyen Tat Thanh at the Vietnamese pangasius and passion fruit promotion weeks in Australia. Photo: VNA
"At an event in May 2021, Dianne Tipping, chair of the Export Council of Australia, said that Vietnam is a potential market and partner of Australia, because it has a good growth rate and is a high demand market.
In recent years, Vietnam has integrated deeper with the world, and participated in many free trade agreements, including those to which Australia is also a member. The above comment is the motivation for us to make more efforts in strengthening trade relations between Australia and Vietnam," said Tran Dang Hue.
The Association also has activities towards the country, especially when there are natural disasters. They support the Covid-19 vaccine fund in Vietnam.
Not only a member of the Vietnam Business Association in Sydney, Hue is also the director of VA Trade Promotion to support Australian businesses to invest and develop in Vietnam. He also helps Vietnamese businesses wanting to expand investment, production and business with Australia.
"Before the Covid-19, I brought many Australian businesses to Vietnam to learn about the business investment environment, such as the visit of the Australian businesses to Vietnam to attend the 30-year conference to attract foreign direct investment (FDI) in October 2018.
After this trip, Global Study Partners, a leading Australian educational institution, opened two offices in Ho Chi Minh City and Hanoi. VA Trade Promotion also welcomes Vietnamese businesses to explore business opportunities in Australia," said Tran Dang Hue.
With contributions to the community, Tran Dang Hue is one of 100 typical overseas Vietnamese invited by the State Committee for Overseas Vietnamese Affairs, the Ministry of Foreign Affairs, to attend the Homeland Spring in 2018 and 2019.
Hue said that in the next few years, Vietnamese representative agencies abroad need to step up and diversify activities to connect, support and deploy cooperation with overseas Vietnamese in Australia and in the world.
"Even though I live abroad, I always look back to my homeland. Seeing the country becoming more innovative, I am happy. Hopefully in the new year 2022, the world will overcome the pandemic, and investment opportunities between Vietnam and Australia will be resumed soon," Hue said.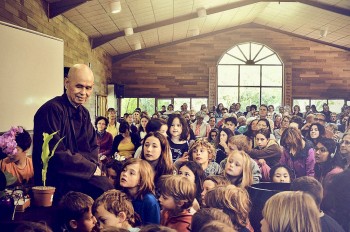 Viet's Home
The master of meditation "passed away peacefully" at the Tu Hieu Temple in Hue – where his spiritual journey began and Vietnam's Buddhist heartland, the Plum Village Community of Engaged Buddhism said.