Strong-spirited Man Journeys Across Vietnam in a Wheelchair
Due to a disease of vascular malformations of the spinal cord, Mr. Phan Vu Minh lost the ability to walk at the age of 20. However, this could not extinguish this young man's love of life and his desire to travel.
Shock from a devastating condition
At the age of 20, Phan Vu Minh (born in 1991, now living in Vinh Long) was living a life full of dreams and ambitions when he received the shocking news that his legs could no longer walk. Minh was informed that he had a rare disease causing his legs gradually weaker.
Phan Vu Minh shared: "When I got sick, my legs became weak, and walking became very difficult. But I did not miss school, I still went to school and did not take any day off. But the pain made me sick. I felt tired and uncomfortable for a very long time and the pain made me lose focus."
During his school days, Minh was the last person to graduate from his class. Every time he went up and down the stairs, he had to cling to the wall to hold himself up straight. Although he underwent surgery and treatment many times, by the age of 20, his legs were permanently crippled.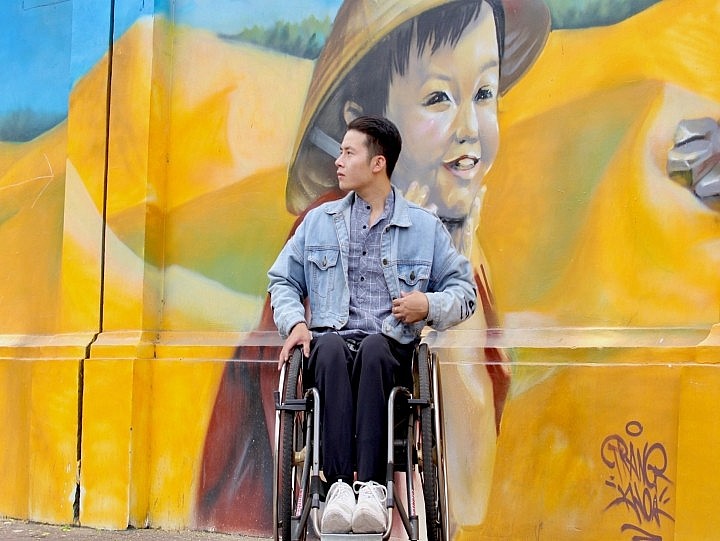 Phan Vu Minh. Photo: Kenhtintuc365
Minh said: "When I first learned that his legs were completely paralyzed, I fell into a state of crisis, boredom, and depression. He shared, "At that time, I felt very lonely. I couldn't do anything with my own feet. I huddled within four walls, not interacting with anyone. I always tried to practice to get better, to walk again but my efforts were in vain. One day, the doctor told me to get used to my new life and wait for a miracle to happen. Right then and there, I understood that I had no chance to walk again. So instead of waiting for a miracle to happen, why don't I create my own miracles?".
Overcoming his own disappointment, and sadness, accepting "a new friend" will accompany him - the wheelchair, Minh has started the journey to find miracles for himself. He decided to leave Saigon, move back to Vinh Long to live, and start selling roses.
"I sold a lot and the price of the commission was also high at that time, so I made a good profit. With that profit, I decided to prepare a vehicle exclusively for myself to travel and carry goods. After the car was finished, I wanted to go everywhere to make up for the days of confinement at home," Minh said.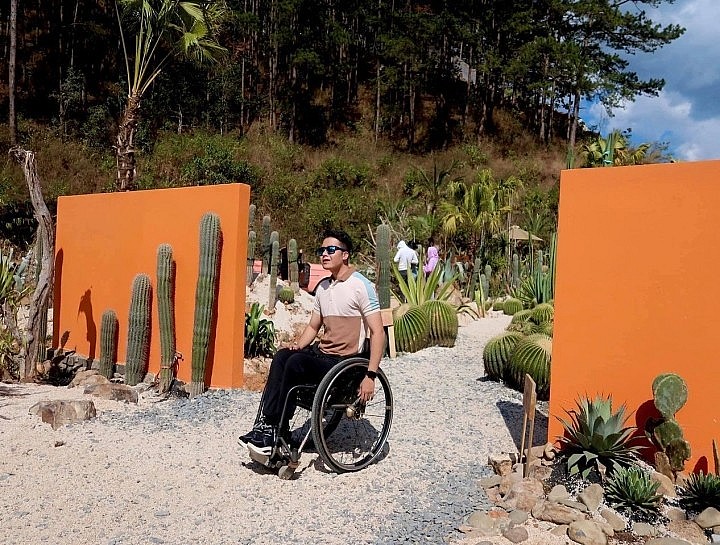 Photo: Kenhtintuc365
Trips on the wheelchair
To make up for the days of guilt and self-imposed isolation at home, Minh started going on many trips. Whenever he has free time, he often explores the provinces all over Vietnam. Up to now, he has set foot in many provinces and cities, namely: Ca Mau, Bac Lieu, Kien Giang, An Giang, Can Tho, Hau Giang, Soc Trang, Dong Thap, Tra Vinh, Ben Tre, Tien Giang, and Long An. , Binh Duong, Dong Nai, Lam Dong, Da Lat, Khanh Hoa, Hoi An, and Da Nang.
On all of these trips, Minh travels by himself in his own special "wheelchair". When he decided to take such trips, Minh said, no one believed he could do it. Minh shared: "Because these trips are too difficult and dangerous for me, no one believes that I can do it. My family and friends also advised me not to go, but I convinced and proved to everyone what I can. do, the way I drive is very safe." Minh said that these trips have brought him a lot of things, especially the joy and comfort of seeing that he can freely explore, learn a lot and get to know more people.
"People have told me that I am inspiring them. When I walk like that on the road, I meet a lot of people who give me signs or give me compliments. I feel very happy and bow my head to thank them. I'm sure they feel how much they have tried and through that they will also have more positive thoughts in life," Minh shared.
Photo: vtv
When he first started, Minh encountered many problems and difficulties. He said: "When I first had my first trip to Da Lat, I remember, once I lost my brakes when I went down to the top of LangBiAng. Fortunately, I handled it ok. Then there were times when the wheel broke. Instead of having to look for many places, there was a time when I ran out of gas at the pass, it was so dark and cold that I had to wrap a blanket around my body to avoid the cold."
On each journey, Minh carefully arranges his rest time so that his body does not become dehydrated, and tired, and avoids sitting for a long time. Therefore, whenever he has a plan to go somewhere, the first thing he prepares for is health. "Before planning the trip, I exercise every day to be healthy. Next, I arrange the schedule to go, the places I need to go, and the food I should try. As for the cost, I already have a plan. I have a separate account for my passion for travel. As for inspired trips, I don't prepare much," Minh said.
Thanks to the trips, Minh realizes that life is meaningful and there are many things to learn and discover. Instead of clinging to sadness and blaming fate, just live happily because life is only one.
Minh's little garden
When Minh returned to his hometown to start a new journey, his mother also came back to take care of her son. Since moving to Vinh Long, his life here revolves around the garden and nature. Minh, who likes to plant and take care of trees, takes advantage of the remaining imported pots to use for his business to grow vegetables. Feeling happy and having a lot of clean vegetables to eat, Minh expanded the garden with all kinds of vegetables.
On his family's 800m2 large plot of land, he spends 60m2 growing different types of vegetables, tubers, and fruits. Every day, in his wheelchair, he goes to the garden to take care of plants, and grow and harvest vegetables and fruits.
Even with gardening and the support of his mother, Minh still encountered many difficulties. When he moved to the garden, because he had to control a wheelchair with both hands, he had to put pots and garden tools on his lap. Every time he planted, caught worms, or prune vegetables, Minh had to bend over. Whenever he bends down for too long, his knees are pressed together tightly, causing him to scratch his skin and bleed. Due to bending down too much, sometimes Minh gets dizzy and his face turns pale.
Thanks to Minh's meticulous care, the vegetable garden is lush all year round. Having this small vegetable garden, Minh and his mother have not had to buy vegetables from the market for many years, sometimes he even gives them to neighbors. For Minh, gardening also brings him a lot of joy.
After all that he had to go through, Minh still believes in one thing: "You can choose to live your life, just live the way you believe and believe in yourself. Just be patient. Keep striving for good things, one day you will receive a lot of blessings.".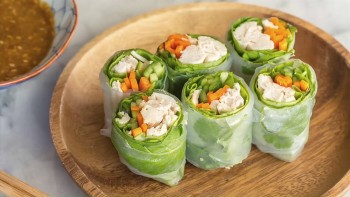 Travel
Rolls are a easy-to-make dish that is loved by many Vietnamese diners as well as Korean stars.