Summer Coolers: Refreshing Drinks To Cool Down The Heat in Ho Chi Minh City
Summer in Ho Chi Minh City is extremely hot, and a glass of coconut juice will boost your energy and make your body feel much cooler. These are best refreshing drinks to cool down the summer heat that you can find in any corner of the streets in the city.
Anyone who has been in Ho Chi Minh City (or Saigon) in the dry season must never forget the extremely hot summer. There are many ways to beat the scorching on these days. The best way is grabbing a cool drink on Saigon street. Which drink would you like to drink to quench your thirst in Saigon?
At any street corner in Saigon, in convenience stores, supermarkets, coffee shops, on small rolling carts on the streets, small stalls on the pavements, you can easily get something to drink. Bottled drinks, ingredients, cups, spoons, water, and others are arranged in glass cases, on wooden or metal shelves, on plastic tables, in rolling carts, on the back of motorbikes. Street vendors use a foam box to keep many bottled drinks cool.
1. Nuoc Dua (Coconut juice)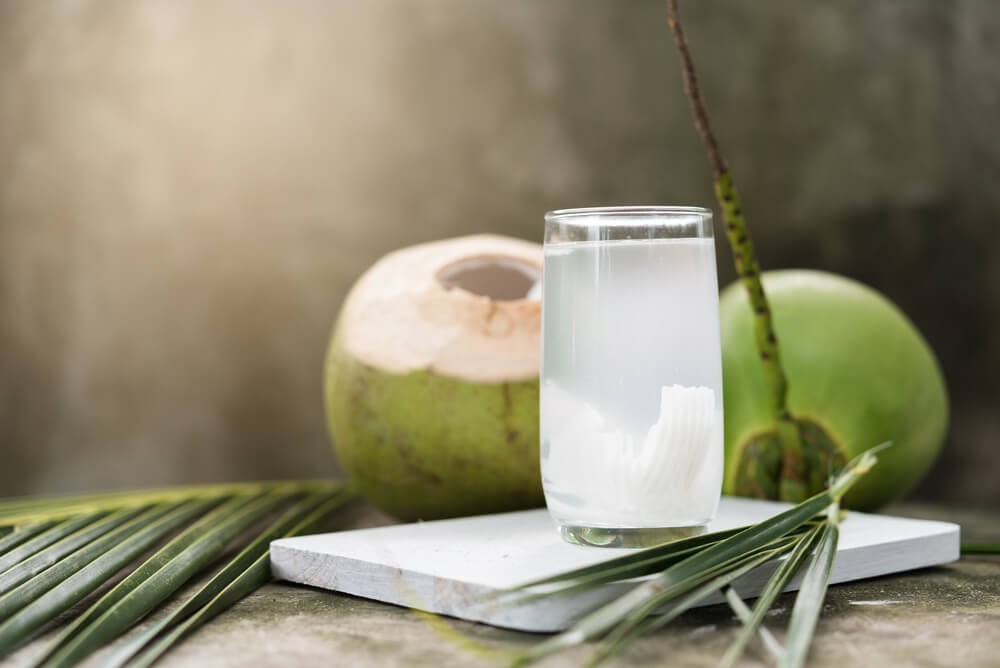 Photo: Shutterstock
Coconut water may have just shown up on your grocery store shelves a few years ago, but it's been a popular drink in Vietnam for centuries. You won't see the packaged stuff, though: here, it's drunk straight out of the coconut—and this coconut water is grassier, sweeter, and more full-flavored than anything you'll find in a package—trying it is like drinking raw milk for the first time. Generally, the smaller coconuts are sweeter than the larger ones.
Whole coconuts are unwieldy to store, so vendors will chop off the outer green husk and keep the small white inner shell, cut into a shape that won't fall over when put on a flat surface. These white globes are usually kept on ice until you order one, then a giant machete is used to chop a hole in the top.
Coconuts are usually harvested when they're about seven weeks old—any earlier and the juice is gassy, any later and it tastes too salty. To judge the readiness of a coconut, the harvester will chop one open to inspect the flesh but not completely translucent. Hard white coconut flesh is a sign that the fruit is too old for drinking.
2. Sugar Cane Juice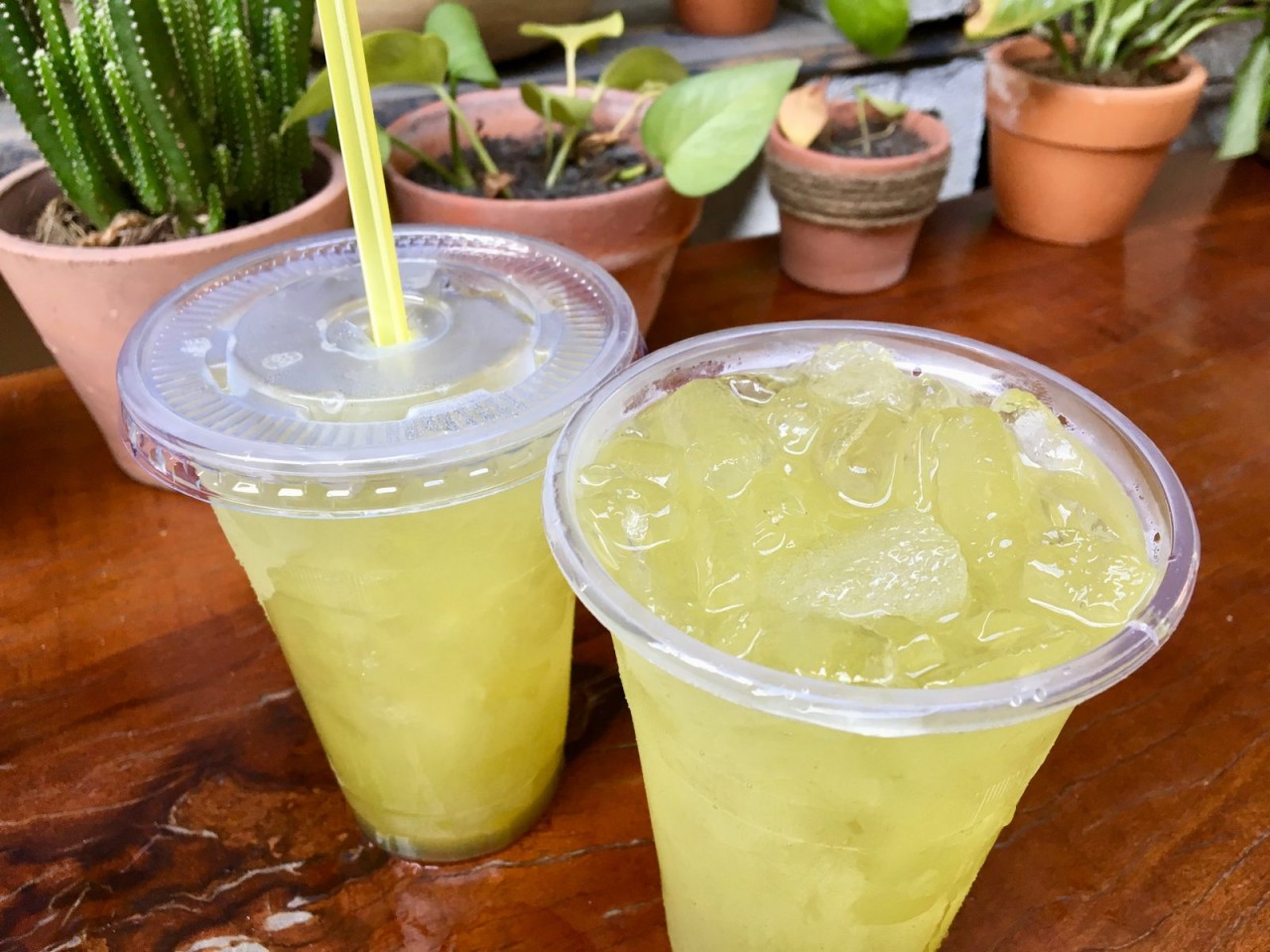 Photo: Delicious Vietnam
There used to be a vendor that would make freshly squeezed sugar-cane juice. Previously, sugar-cane juice was sold in small plastic bags filled with ice and tied at the open end with an elastic band around a straw. Buyers could then suck the drink out through the straw. There has been movement to selling sugar cane-juice in white foam cups and it's got a slight lime taste to it as commonly seen in Vietnam today.
Vietnam ranks as one of leading producers of sugarcane in the world. That's why sugar cane juice is such a popular drink in Vietnam, especially on harsh days of summer. Local people often call it "nước mía". After being cut down and peeled, the sugar canes are cut into 50-centimeter segments. Sellers often use a manual or an electric machine to extract the juice from these sugar canes. Each segment is placed between the two opposite rotating rollers of the machine.
For the manual machine, the sellers must use their hand to wheel on. The process is easier with an electric machine because they just need to push the start button and everything is done. The juice is extracted and flows into a big cup while the grinding residues are thrown away. The ingredients to make a cup of sugar cane juice are very simple, with just peeled sugarcane. In some stalls, the sellers will add some kumquat to create citrus fragrance and boost the sweet flavor of the juice, bringing it to a whole new level.
3. Smoothies
Avocado & Custard apple Smoothie - Photo: @cookat_vietnam
Smoothie is another popular and widely available option when you are thirsty. Because Vietnam is a tropical country, there are plenty kinds of exotic fruits, some of which you may never try before. A smoothie is popular due to its good effects on people's health, especially the skin.
Fruits contain lots of vitamins which are benevolent to your skin and your body as well. Unlike smoothies made in foreign countries, in Vietnam, fruits are blended with condensed milk. That's why it may taste sweeter and richer than usual but more addictive, for sure. Besides, depending the seasonal availability of the fruits, some can be found in June but aren't available in September.
Smoothies can be found at any coffee shop or even on the streets. The average price is $1-$1.5/ drink. Take-away is also available at some places. If you have special diet, such as sugar-free diet, you'd better go to a coffee shop and order your special smoothie rather than having one from the street vendors because the sweetener might not be available at these places.
4. Soy milk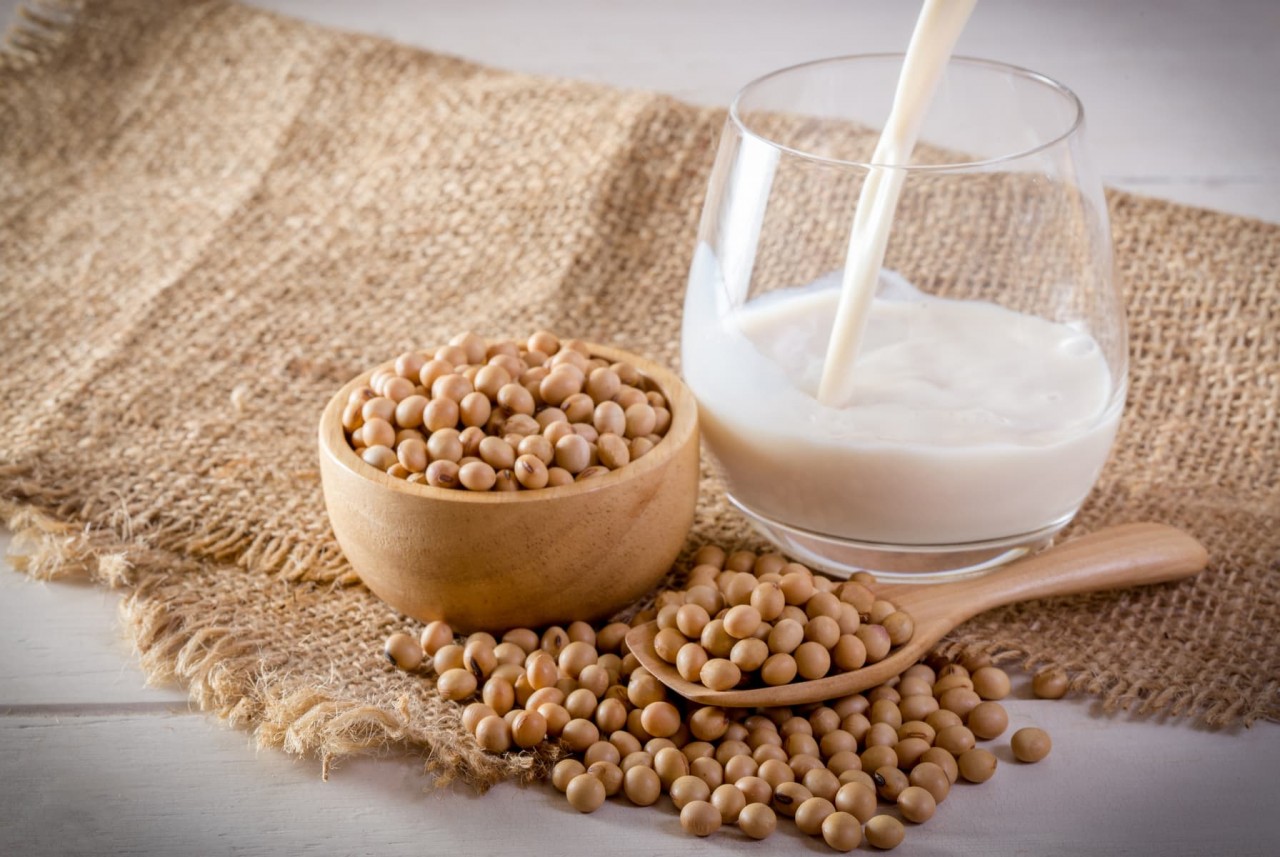 Photo: Getty Images
Soy milk is an important traditional beverage in Vietnam and it is increasingly known to consumers as rich in carbohydrates, fats, minerals, proteins, vitamins and other nutrients which makes it a valid alternative to animal farmed milk.
Soy milk is a healthy drink and has been a favorite of Saigon people for many years. They drink soy milk warm, cold, or with some ice. Some prefer to drink it with sugar and other extras such as chocolate, pandan juice, tea powder, coffee, egg, tapioca pearl, cocoa while the other like plain soy milk.
5. Iced coffee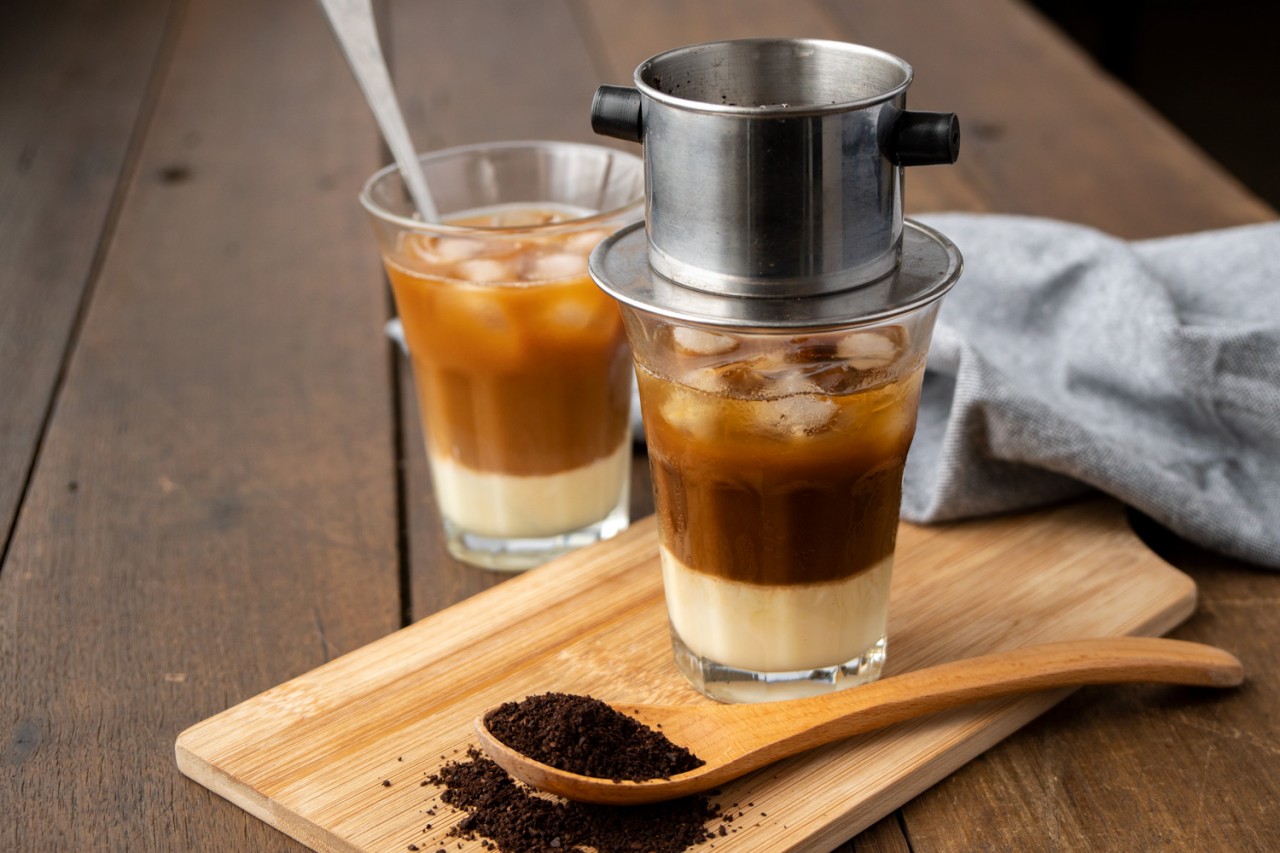 Photo: Asian Inspirations
Vietnamese iced coffee, also known as cà phê đá or cafe da (Vietnamese: cà phê đá, literally "ice coffee") is a traditional Vietnamese coffee recipe.
At its simplest, cà phê đá is made using medium to coarse ground dark roast Vietnamese-grown coffee with a small metal Vietnamese drip filter (phin cà phê). After the hot water is added, the drip filter releases drops of hot coffee slowly into a cup. This finished cup of hot coffee is then quickly poured into a glass full of ice making the finished Vietnamese iced coffee.
A popular way to drink Vietnamese coffee is cà phê sữa đá, which is Vietnamese iced coffee with sweetened condensed milk. This is done by putting two to three teaspoons or more of sweetened condensed milk into the cup prior to the drip filter process.
6. Artichokes Juice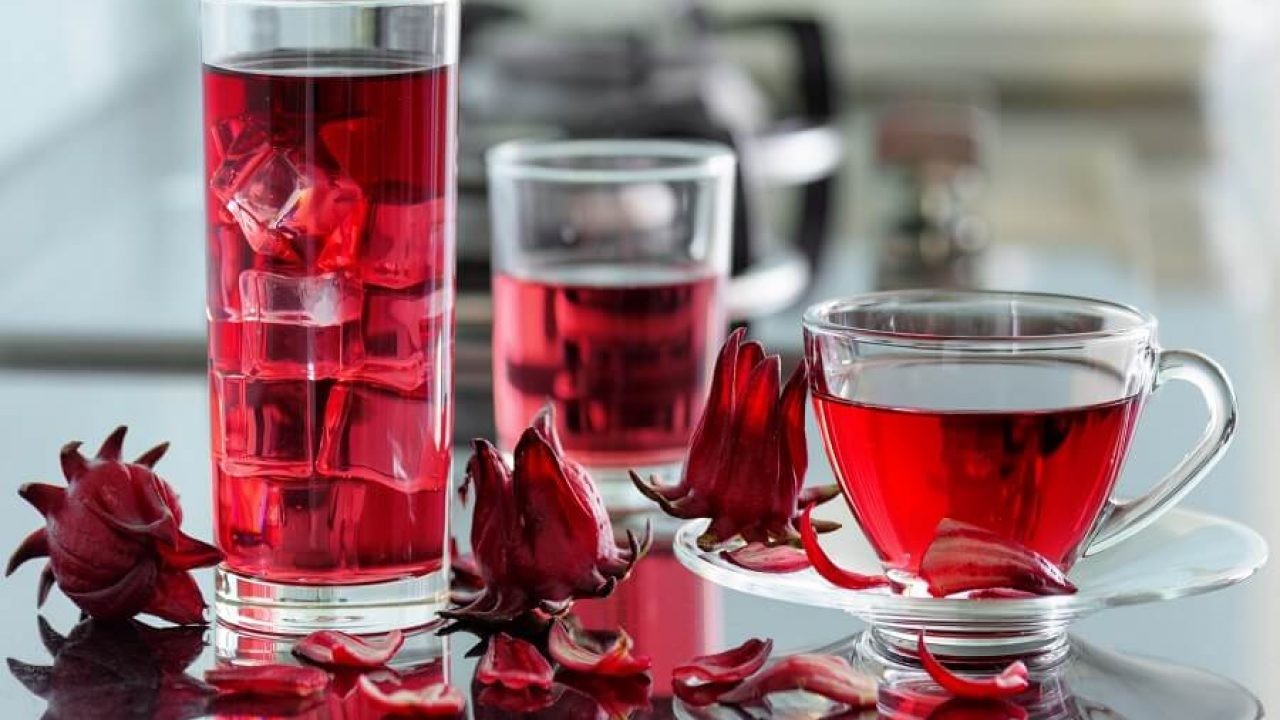 Photo: Getty Images
Besides coconut juice and Nuoc Sam, artichoke juice is one of favorite drinks of Saigon people.
Artichoke juice is a very good beverage for health. It is bitter for the first taste and slightly sweet on the back of tongue. Artichoke juice is made from boiling water with artichoke roots which are found to be highly beneficial in healing lethargic livers and kidney problems.
You can see a lot of pavement stalls in Sai Gon street selling artichoke juice. These shops are designed for stopping-by or take-away. Only with less than 25 cents, you have a glass of cool artichokes juice.
Artichoke juice is a great source of Vitamin C. It may also prevent the build up of toxins in the liver. Whilst the health benefits are abundent, the taste is not quite so appealing, being quite bitter. I would definitely recommend mixing it with other vegetable juices!
The most powerful phytonutrients in artichokes are Cynarin and Silymarin, which have strong positive effects on the liver. Artichokes have been reported to help alongside treatment of liver diseases and cancer of the liver. They have also been proven to aid digestion, and may help the symptoms of irritable bowel syndrome.The artichoke provides dietary fibre and has nearly as much potassium as a small banana. Potassium is a very important mineral for our bodies, and is essential for the proper function of cells, tissues and organs.
7. Nuoc Sam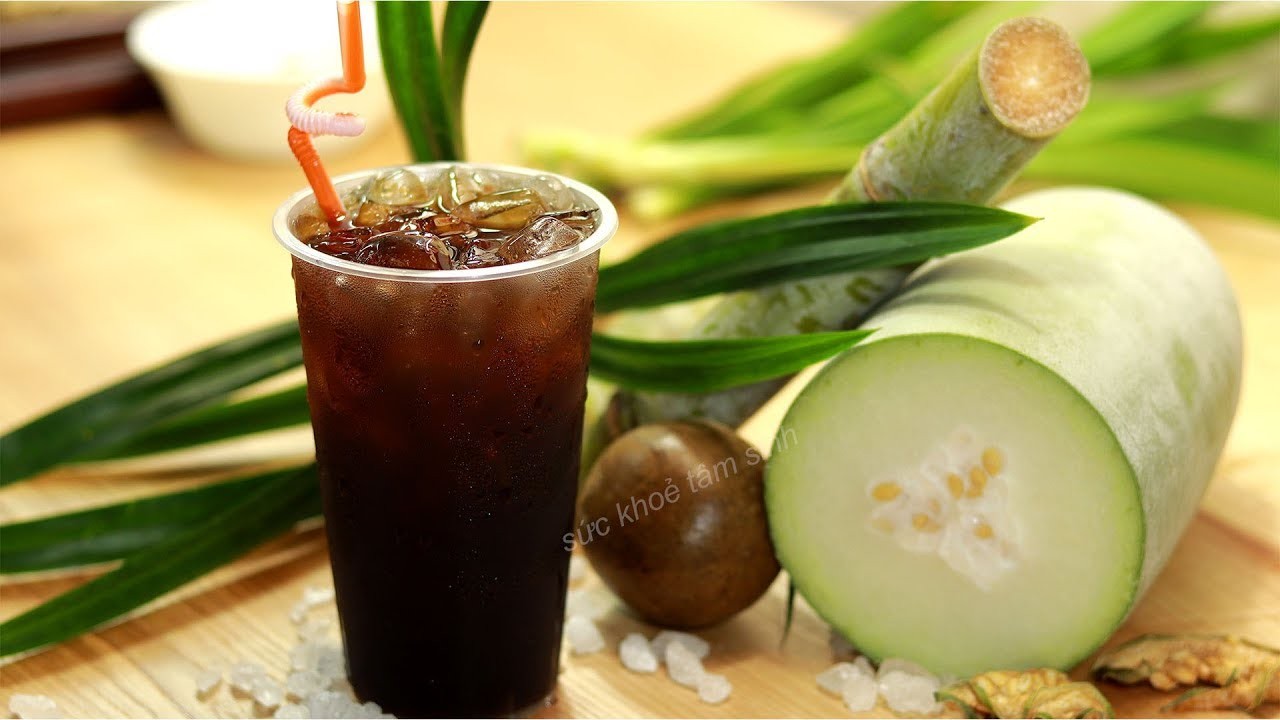 Photo: Suc Khoe Tam Sinh - Youtube
Herbal tea or Nuoc Sam is a very typical drink of Ho Chi Minh City. It is made from boiling the water with some special herbal plants. These plants have a good effect on balancing self-temperature in hot weather and cool down the body as well. They can be bought at oriental medication shop along Hai Thuong Lan Ong Street, District 5.
If you have time, you can buy some and make it at home. Just boil the water with the plants for a few minutes, let it cool down in open air, then put in the fridge for later use.
For busy people, you can find some on Cach Mang Thang Tam street after passing the Cong Truong Dan Chu roundabout. It costs less than 25 cents for a Nuoc Sam, a fairly cheap price.
After drinking, you feel like your body has been recharged and revived. Fresh taste of Nuoc Sam attracts lots of people. They can't resist having a second drink. These shops are often designed for stopping-by or take-away. It might not be a great idea if you are planning to sit there for a long time!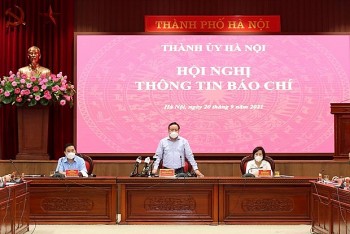 National
Vietnam News Today (September 21): Vietnam records lowest number of daily Covid-19 infections in a month; Hanoi removes zoning, travel permits from September 21; HCMC supermarkets welcome customers in low risk areas; Localities resume tourism services after Covid-19 hiatus.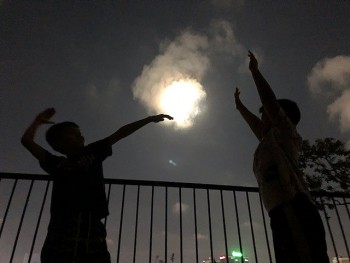 Expats in Vietnam
Vietnamese people have been worshiping the moon during the Mid-Autumn Festival for generations. In anticipation for the holiday, freshly vaccinated locals and expats have taken multiple photos of a stunning harvest moon in Hanoi's night sky.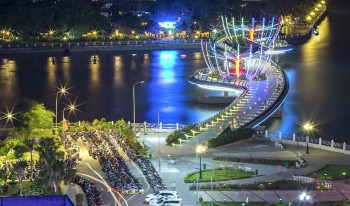 Multimedia
Can Tho is a lovely place to spend your holiday in, with clear crystal sky, fluffy clouds and wonderful spots to see and visit. Here is some of the best things to do in Can Tho.