Sweden bans Chinese firms Huawei and ZTE from 5G networks
Sweden has banned telecoms equipment from Huawei and ZTE in its 5G network, joining other European nations that have restricted the role of Chinese suppliers on security grounds.
Another European country fears of Chinese tech's security-related issues. (Photo: Reuters)
According to Wio News, Sweden on Tuesday announced that it banned the use of telecom equipment from China's Huawei from upcoming 5G networks. The announcement comes as a major setback for the company that was banned in the United Kingdom earlier in July. The authority did not confirm if Huawei equipment would remain in use for 4G, 3G, and wired internet. They added that Huawei and ZTE equipment already installed would have to be removed by 1 January 2025.
Another European country fears of Chinese tech's security-related issues
The ban is to "ensure that the use of frequencies does not endanger the security of Sweden," said the Swedish Telecom Authority (PTS). The announcement comes after Sweden's armed forces and security services made an assessment of telecommunications network tenders, Euro News cited.
As reported by South China Morning Post, European governments have been reviewing the role of Chinese companies in building their telecoms networks, following pressure from the United States. Washington has said these suppliers pose a security threat because, among other concerns, Chinese companies and citizens must by law aid the state in intelligence gathering.
Britain in July ordered Huawei equipment to be purged completely from the country's mobile networks by 2027, becoming one of the first European countries to do so. In France, Huawei will not be subject to a total ban on the 5G market, but operators already using the firm's equipment will have operating authorizations limited to eight years.
European Commission officials have stated that rivals to Huawei, such as Sweden's Ericsson or Finland's Nokia can provide the EU with the necessary 5G infrastructure. "The new installations in the central functions for the radio use of the frequency bands must be carried out without Huawei or ZTE suppliers", the Swedish authority said in a press release.
Huawei and ZTE equipment already installed will also have to be removed by 2025. (Photo: AP)
China's viewpoint: No "concrete evidence"
China said no "concrete evidence" had been provided to show equipment from its companies posed a threat to Sweden's national security. "There are no factual grounds to support allegations of Huawei posing any security threat," a Huawei spokesman said. "The exclusion of Huawei is simply based on groundless presumption and is unfair and unacceptable", CNA quoted.
ZTE did not immediately respond to requests for comment.
Sweden is home to Ericsson, one of Europe's leading telecoms equipment suppliers and Huawei's biggest rival. It has won contracts from all three major operators in China to supply radio equipment for 5G networks and could be at risk if the Chinese government decides to retaliate.
"The ban leaves network operators with less options and risks slowing the rollout of 5G in markets where competition is reduced," said Ben Wood, chief of research at CCS Insight.
In a potential sign it might retaliate, China's telecoms regulator issued a notice on Tuesday calling for stricter supervision of foreign telecoms companies in the country, said Reuters.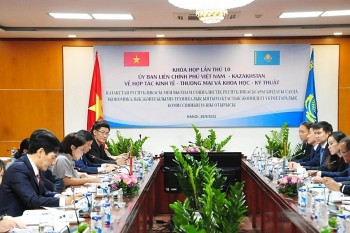 Friendship
The 10th session of the Vietnam-Kazakhstan Intergovernmental Committee on economic-trade and scientific-technical cooperation was held in Hanoi on September 26.