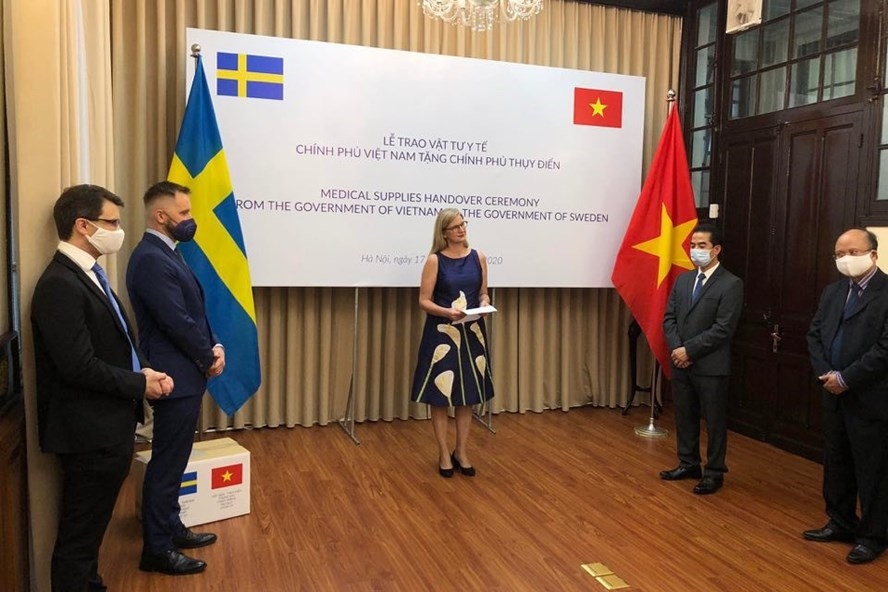 Ambassador Ann Måwe at the medical supplies handover ceremony from the Goverment of Vietnam to the Goverment of Sweden. Photo: Embassy of Sweden in Hanoi.
Opening, the Ambassador said: "Yesterday, I had the honor to receive 100,000 face masks as a gift from Vietnam to Sweden. The gift was presented by the Deputy Minister of Foreign Affairs of Vietnam, Mr. To Anh Dung at a ceremony in the office of the Ministry of Foreign Affairs."
"Sweden and Vietnam share a long history. When Vietnam needed it the most, Sweden was a reliable partner and a trusted friend."
According to Ambassador Ann Måwe, for many years Sweden supported the health care system in Vietnam through building hospitals and ensure their operation and during Doi Moi Sweden helped to train and build capacity of Vietnamese doctors and public health experts. This cooperation is kept alive by the many medical doctors, nurses and other health staff that is still working with exchanges and professional cooperation between our two countries.
"Today Sweden is in need. Our hospitals are working around the clock and there is an acute need for medical safety equipment in Stockholm.
I am proud to say that when Sweden now is in need, Vietnam is a reliable partner and trusted friend."
She added "This gift is a proof of that. The important call between our two Prime Ministers on Wednesday is another one. And we also hope to be able to purchase some of the medical safety equipment that is needed in Sweden from Vietnam".
"Today the whole world is suffering and focused on the response to Covid-19 to protect its citizens and to limit the negative effects of the pandemic.
When this is over, we will continue to build our partnership, including through cooperation in the areas of innovation and sustainability, through the implementation of the EVFTA and through our joint support for multilateral solutions – something that both Sweden and Vietnam believe in."
On April 17, Deputy Foreign Minister To Anh Dung, authorized by Prime Minister handed over personal protective equipment, including 100,000 made-in-Vietnam antibacterial cloth face masks, as a gift of the Vietnamese government and people to the government and people of Sweden.
Jennifer Tran