Swiss Ultra 2022 Winner - Tan Hiep Phat's Brand Ambassador
Stepping to the podium to receive SwissUltra award, runner Thanh Vu wore a shirt with Number 1 logo. As Number 1 Energy Drink's brand ambassador, Thanh Vu is the proof that anyone can achieve their dreams, regardless of genders or nationality.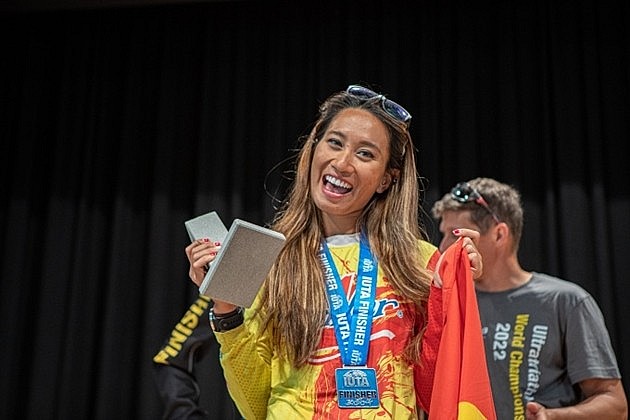 Thanh Vu, Number 1 brand ambassador. (Photo: Thanh Tra)
While joining the competition, instead of cycling during the day and sleeping at night, Thanh Vu went with the weather. She cycled in favorable weather such as midnight, early morning, and late afternoon, and sleeps during the rain. On average, Thanh slept only two hours a day. After 179 hours 31 minutes 49 seconds, the Vietnamese women completed the cycling race and enter the 422km marathon. and came to the challenge of running 422 km.
According to the route, Thanh Vu cycled a total of 200 laps, each 9 km long from the outdoor pool to Rheindamm and vice versa. The track was narrow, one side is the Rhine River, and the other is deep abysses and overlapping mountains.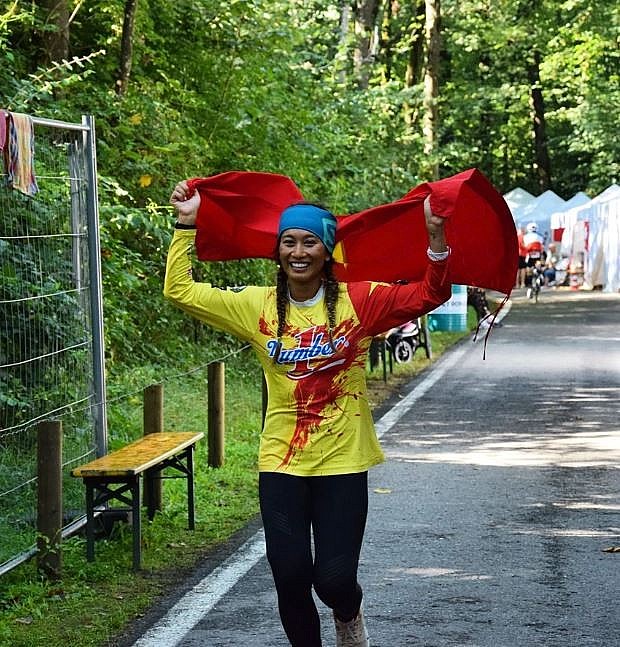 Thanh Vu, Number 1 brand ambassador. (Photo: VGP)
Thanh Vu's opponent, Zacharias Nadine, is a 60-year-old athlete from France. Nadine had impressive endurance and speed and smart strategy, making her a strong competitor.
"I really admire Nadine Zacharias who finished behind me. She is 60 years old. She is almost the same age as my mother. She has great will and focuses on recovering from cancer. I learn a lot from her. When I am her age, I still want to participate in tournaments like this event. I still want to make the younger people try their best to chase after me," said Thanh Vu.
Thanh Vu said, there was a time she decided to sleep as she saw Nadine was quite far away. After only one night, Nadine was right behind. Thanh had to change her strategy. She ran continuously and slept for only two hours. Every 60 km, she sat down in a tent, got refreshed, and massaged her feet.
Thanh Vu completed the contest with a total of 328 hours 27 minutes 55 seconds, equivalent to 13 days 16 hours 27 minutes and 55 seconds. Zacharias Nadine finished about an hour after. Thanh Vu officially became the SwissUltra world champion.
"I hope from my story, the young Vietnamese people can be inspired to reach further, fly higher, to become the pride of their families and country. For me, the greatest victory is to overcome myself, to work hard to become the best version," said champion Thanh Vu.
Thanks to her positive message, Thanh was chosen as the brand ambassador for Number 1 energy drink of Tan Hiep Phat Group, as the Number 1 brand also encourages young people to set their own ambitions and go after them. The burning spirit of young Vietnamese people like Thanh goes along well with the "Nothing is Impossible" motto of Tan Hiep Phat Group.
Starting as a small company, after more than 20 years of constant development, Tan Hiep Phat is now the home of 5,000 employees who work to bring the company towards new heights. Tan Hiep Phat aspires to be a leading food and beverage group, rising above the current giants in the region.