Ta Puong Waterfall – An ideal destination for adventurous travellers
With its scenic beauty and cultural diversity nurtured by the Pa Co and Van Kieu ethnic minority groups, Ta Puong Waterfall is a must-see destination for travelers who want to explore Quang Tri province.
Ta Puong Waterfall situates in Trang Ta Puong village of Huong Viet commune in Quang Tri Province's Huong Hoa district. Traveling there by car from the World Heritage Site Phong Nha-Ke Bang National Park in Quang Binh province takes about three hours.
To come to Ta Puong Waterfall from Dong Ha city of Quang Tri province, tourists will first need to traverse 60 kilometers along the National Highway 9, Vietnam Eastwest Economic Corridor, to reach Khe Sanh town. From there, tourists will continue to travel over 50 kilometers along Ho Chi Minh Trail to come to Huong Viet commune, then to the scenic Trang Ta Puong village, where the Pa Co and Van Kieu ethnic minority groups reside.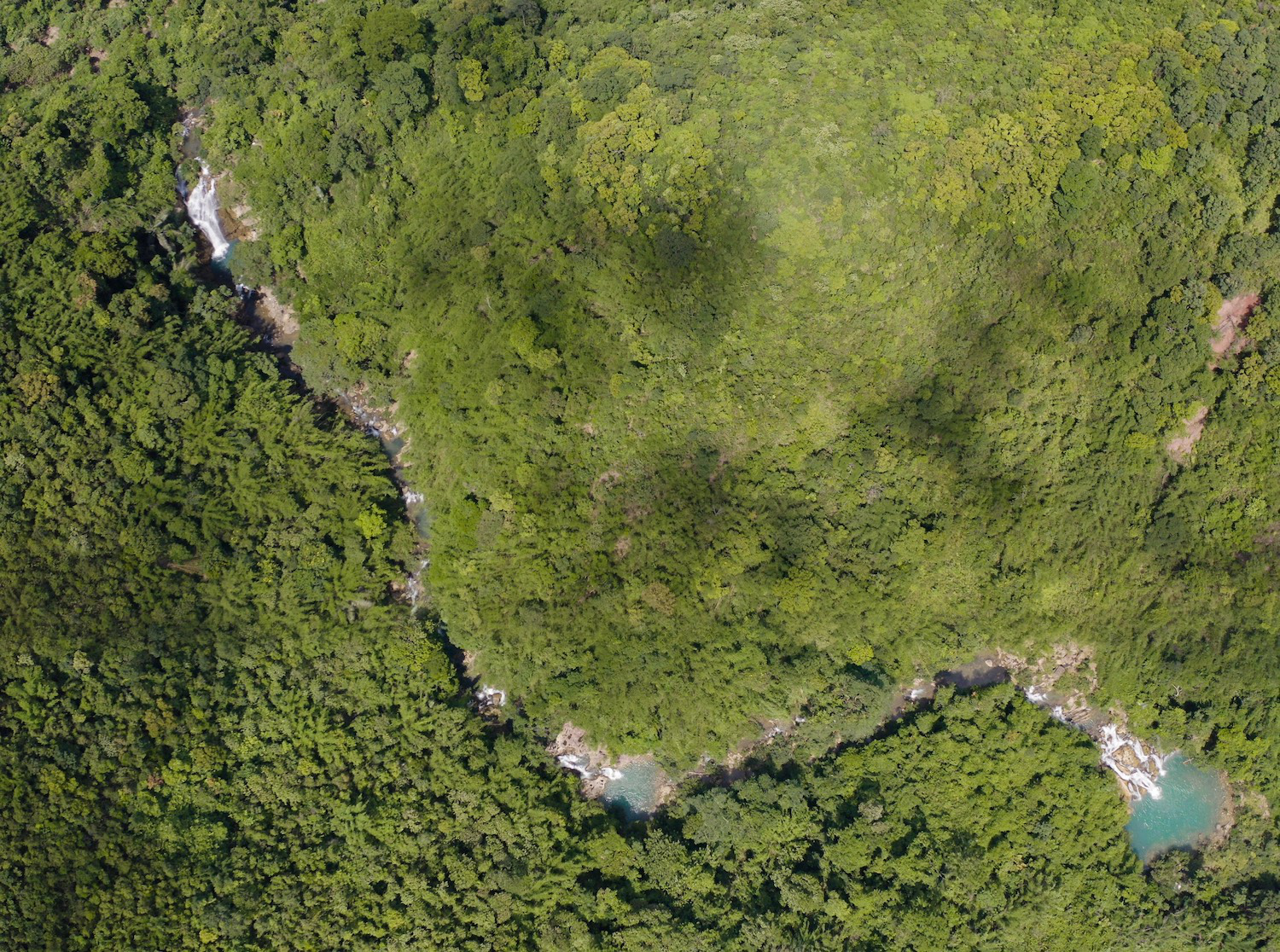 To reach Ta Puong Waterfall, tourists must traverse through a primary forest /VnExpress
From the village, tourists must go through a primary forest to reach Ta Puong Waterfall. The route is fairly easy, suitable for trekkers of all levels. Throughout the long road trip, tourists can see the pristine beauty of Quang Tri mountains and forests, while witnessing Vietnam's rapid economic development along the bustling Eastwest Economic Corridor.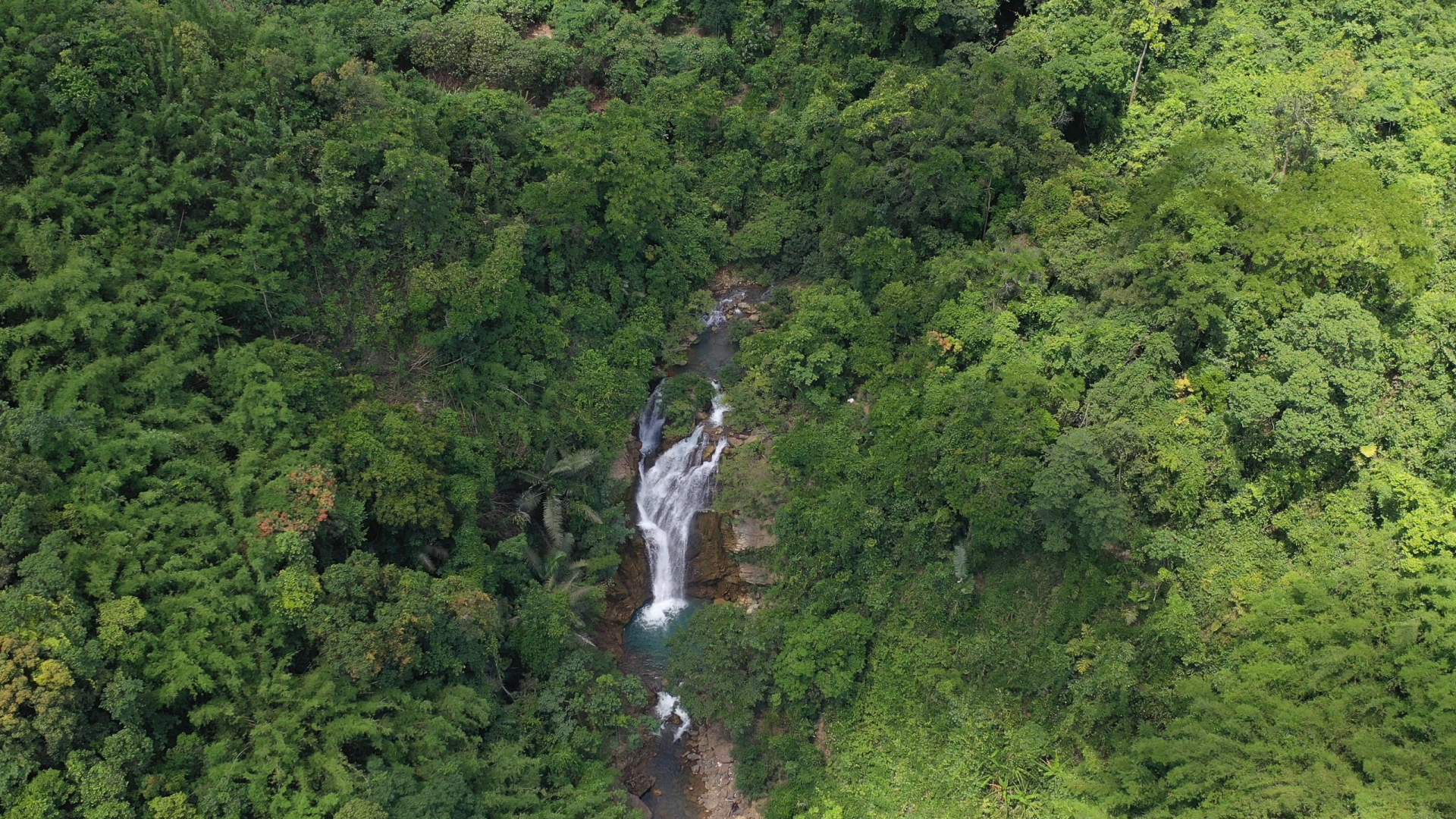 A corner of Ta Puong looking from above / Toquoc.vn
Ta Puong Waterfall is a cluster consisting of a cave and two waterfalls.
Cao Quynh Nhu from the nearby Khe Sanh town said she visits Ta Puong to enjoy a clean, pleasant atmosphere. "On holidays, my friends and I often come here to relax and recharge our energy," said Nhu.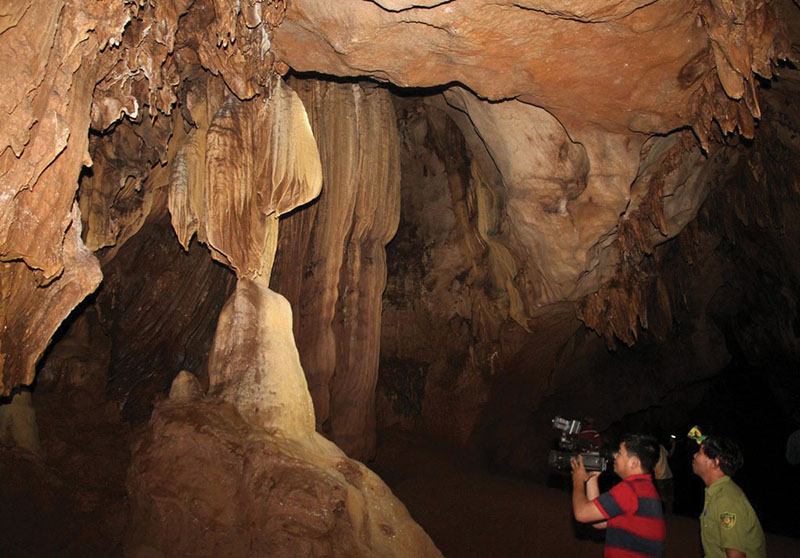 Ta Puong cave stands out with uniquely shaped stalactites / Baoquangtri.vn
Ta Puong Cave is about 200 meters deep into the mountain. On one side of the cave is a large floodplain, while on the other side locates a short river with uneven width and depth. In some parts of the river, tourists must swim to go further inside.
Ta Puong Cave can contain about 200 people. According to the local elders living in Trang Ta Puong village, the cave was a hiding place during wartime not only for locals from Huong Dong commune but also for people from nearby areas.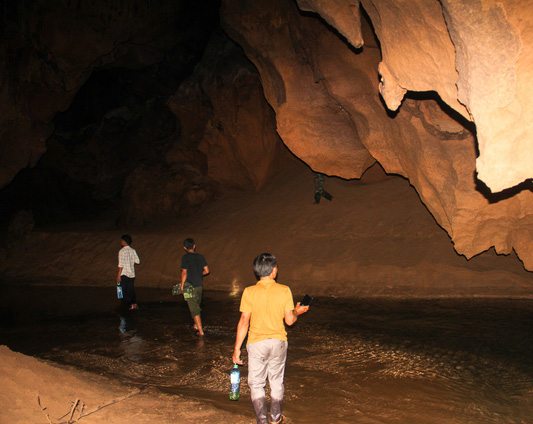 Locals exploring Ta Puong cave / Toquoc.vn
Ta Puong 1 Waterfall locates just 1.5 kilometers away from Ta Puong Cave. The 20-meter high waterfall runs straight down from the middle of the mountain, attracting adventurous explorers. Underneath Ta Puong 1 Waterfall lies big, smooth stones with unique shapes. Tourists can take a break there to enjoy the grandiose landscape while breathing in the fresh air.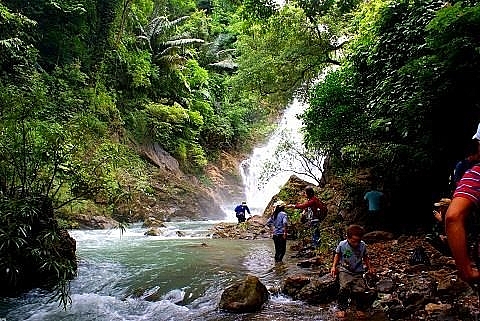 Ta Puong 1 waterfall / Baotuyenquang.com.vn
Traveling about 20 minutes from Ta Puong 1 Waterfall, tourists will reach Ta Puong 2 Waterfall. The second waterfall in the Ta Puong waterfall cluster is larger than the first one. Visitors coming to Ta Puong 2 Waterfall will immediately be drawn to its 5,000m2 lake. The deepest part of the lake, measuring about ten meters, locates directly under the waterfall. There are all sorts of activities for different types of visitors. Swimmers can dive into the clean, cold water of the lake to wipe away the scorching summer heat, while people who can't swim can row small boats to the middle of the lake and ravel in the pristine landscape of Ta Puong 2 Waterfall.
Ta Puong 2 waterfall has a large lake where tourists can swim and enjoy relaxing moments / VnExpress.
Ta Puong Waterfall cluster has managed to maintain its pristine beauty as mass tourism hasn't yet developed in the region. Visitors coming to the Ta Puong Waterfall cluster so far are adventurers who like to explore new destinations.
At Ta Puong, you can camp on the bank of the streams during the day. However, remember to prepare your food because it is difficult to find food stores nearby. After camping, clean up your trash and bring it to the designated spot. From Ta Puong, you can also explore other unique landscapes and historical vestiges like Prai cave, Sa Mu Mountain pass, Lao Bao prison, or Lao Bao special economic zone.