Hidden stream found in Quang Tri Cave
An underground stream yet to be fully explored found in the new cave in Huong Son Commune of Quang Tri Province.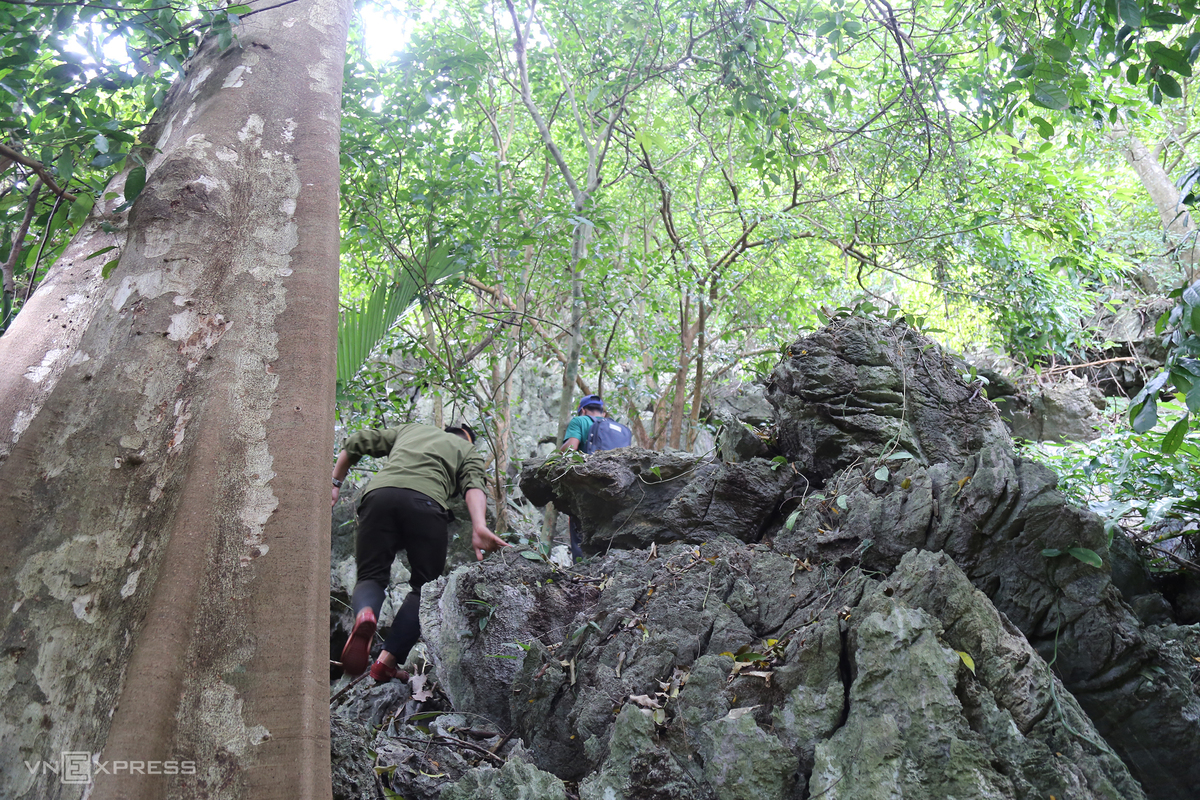 In 2020, at Tria Village, a local resident discovered a new cave in North Huong Hoa Nature Reserve, according to staff member Ho Van Phan. The cave lies about 30 minutes by foot along Tria Stream from Tria Village. En route is a steep, jagged slope and many old trees. (Photo: VnExpress)
A large cave has been discovered in Tria Village, Huong Son Commune, Huong Hoa District in the central province of Quang Tri, according to Do Van Binh, the director of the provincial Department of Culture, Sports and Tourism.
The cave lies about 30 minutes by foot along Tria Stream from Tria Village. En routes are a steep, jagged slope and many old trees.
Speaking to Viet Nam News, Bình said he was informed by phone by a local about the cave. However, it was unclear by whom and when it was discovered.
He said the department has contacted Huong Son Commune People's Committee to collect more information as well as request a report be sent to Huong Hoa District People's Committee.
The narrow entrance only allows one person at a time (Photo: VnExpress)
The report will serve as a foundation to establish an exploration team and invite specialists to investigate the newly-found cave once the COVID-19 pandemic is controlled.
According to locals, the new cave lies in a rocky mountain in Tria Village. To enter the cave, they have to follow a small stream and climb vertical cliffs of about 50m high.
The steep cave entrance is small, allowing only one person to enter at a time. The stream is located about 50 meters down, its clear, tiny-fish infested waters reaching knee-height, according to VnExpress.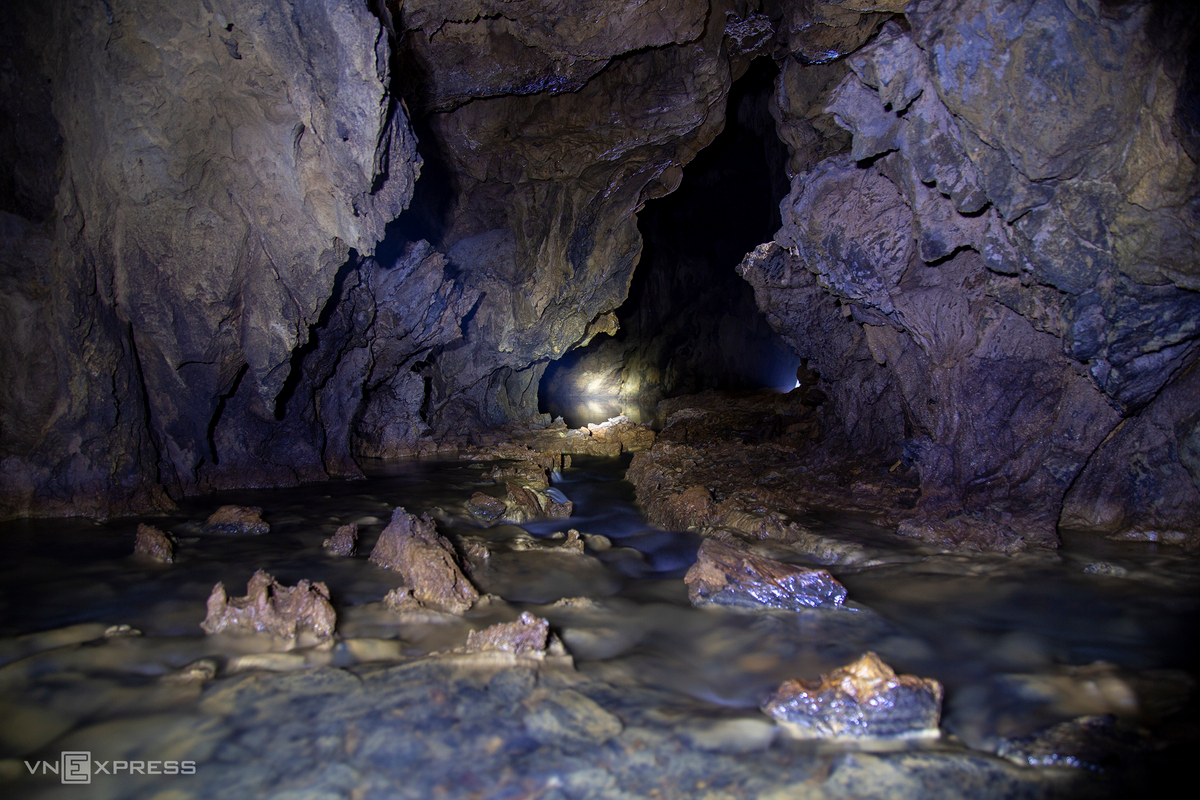 The underground stream inside the cave (Photo: VnExpress)
Deeper into the cave explorers will discover stalactite and stalagmite in many shapes and sizes. At the end of the stream lies a large lake. Specifications regarding the true depth of the cave and the lake remain unknown.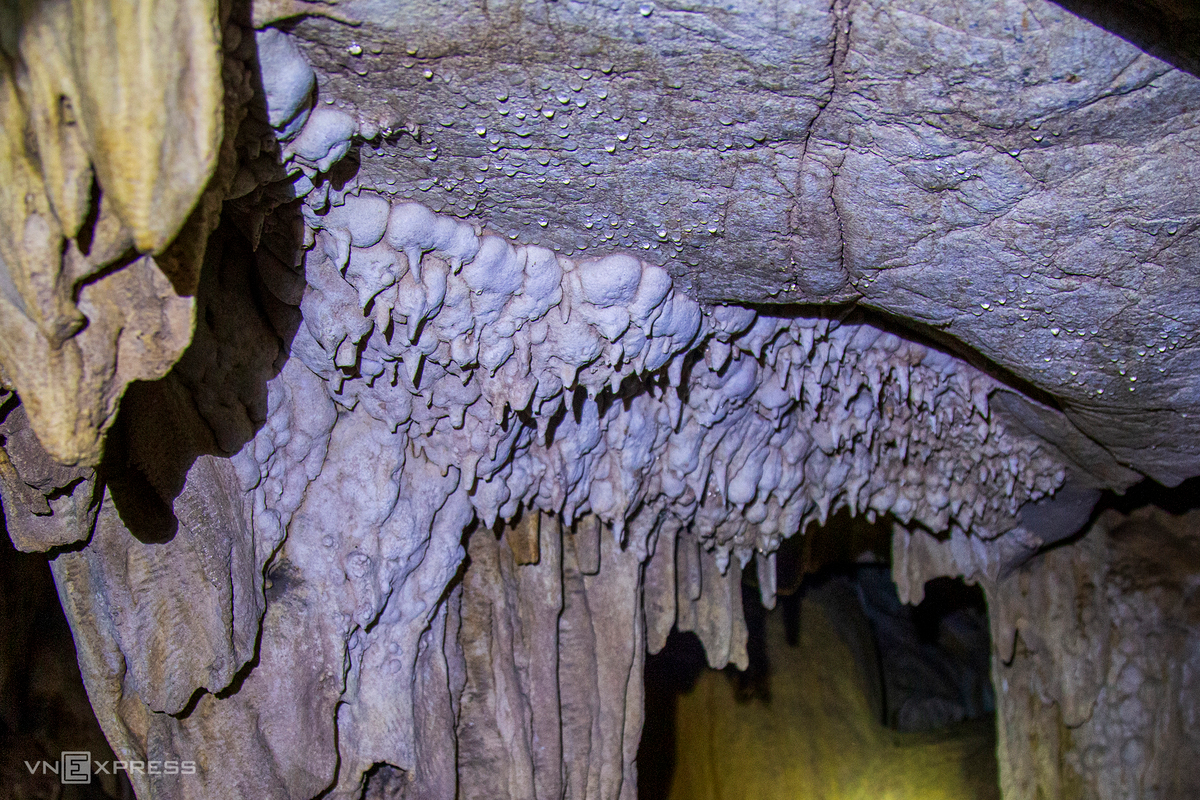 Stalactites jut from the cave roof. Currently, the cave is being explored for the future purpose of tourism. (Photo: VnExpress)
Locals said that few have dared to venture inside as there was so specialized equipment to ensure safety, according to Vietnamnet.
According to Associate Professor Tran Tan Van, director of the Vietnam Institute of Geosciences and Mineral Resources, the discovery of a new cave in Quang Tri is not a surprise due to the geological structure of the area.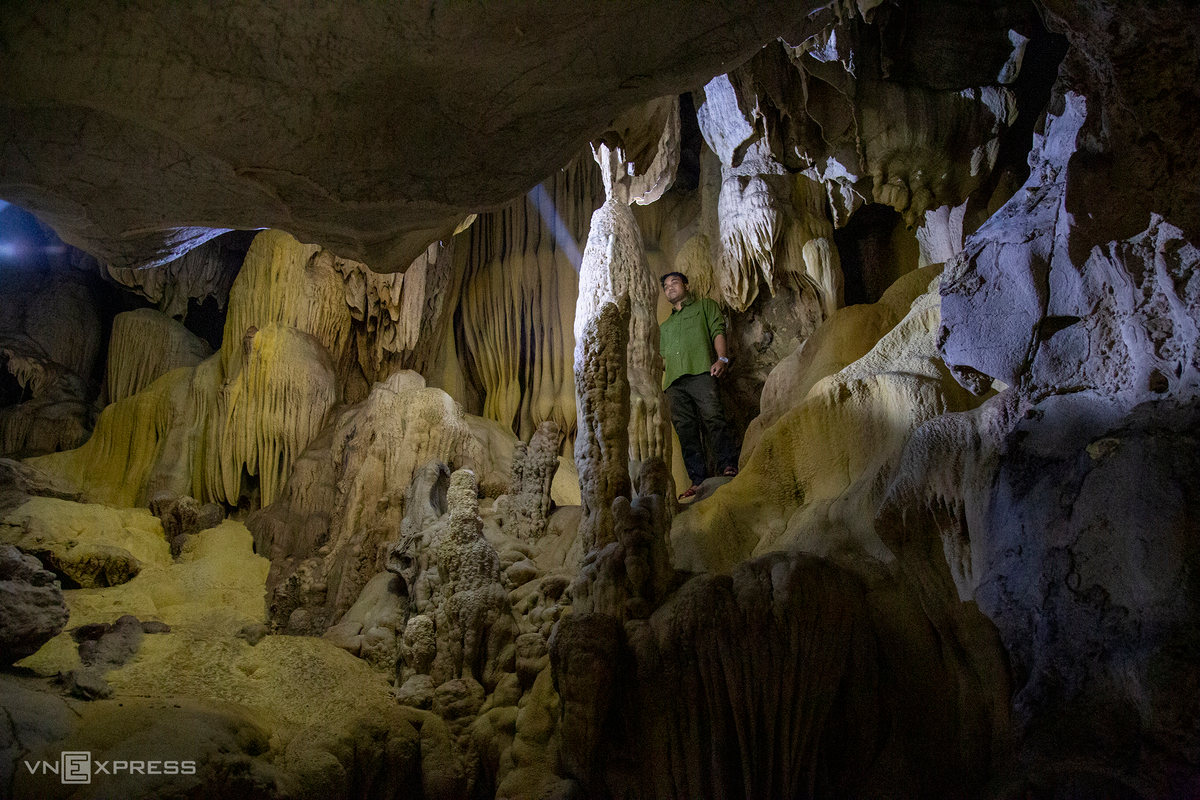 Ho Van Viet, a resident of Tria Village, said he has visited the cave twice. "I want tourists to access the cave to create more jobs locally and increase incomes," Viet said. (Photo: VnExpress)
12 new incredible caves discovered in Vietnam's central province of Quang Binh last year
Howard Limbert, an expert of the British Royal Caving Research Association (BCRA), announced that 12 new caves have been found in the central province of Quang Binh during their exploration in early 2020.
A total of 10,491 metres of caves have been found by the BCRA team in Vietnam. The team of 11 experts had made an expedition plan from March 3 to 20 in Quang Binh. They were divided into two groups to different areas to survey new caves in Bo Trach, Quang Ninh and Minh Hoa districts, according to Vietnam Insider.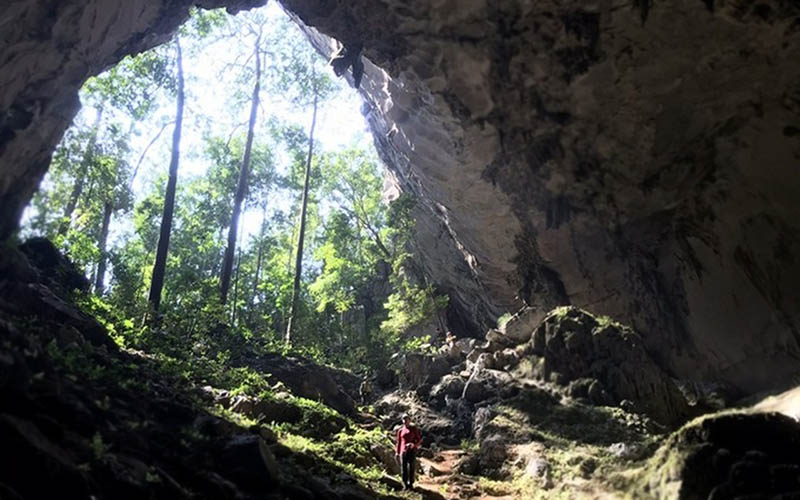 Howard and his expedition team have, within 20 days, discovered 12 new caves in Bo Trach, Quang Ninh and Minh Hoa districts, including Nuoc Ngam Cave, Nuoc Lan 3 Cave, Phu Nhieu 4 Cave, Doc Co Cave, etc. (Photo courtesy of Howard Limbert)
During the expedition, they have found and named 12 caves. They are 554.6m-long Doc Co Cave, 51.5m End Cave and 413m Dry Vom Cave in Bo Trach, 3,872m Nuoc Ngam Cave, 1,919m Nuoc Lan 3 Cave, 460m Hung Thoai Cave and 100m Coincidental Cave in Quang Ninh.
Howard, leader of the expedition team, embarks on his explorative journey in a new cave.
"Quang Binh's cave exploration program is a great success despite many difficulties. The total length of the new caves this time has just been discovered and is measured up to 10,5 km (6,52 miles)", Howard said.
Minh Hoa District has 194.8m Horned Viper or Phu Nhieu 2 Cave, 2,012m Phu Nhieu 4 Cave, 314m Cha Ra Cave, 137m Thoang Lip Cave and many caves with underground rivers.
One member of BCRA Expedition in Quang Binh is an annual program of the BCRA. This time, the team discovered the largest number of new caves within 20 days. In 2016, the expedition team found a total of 57 new caves in the area.
Cave system in Quang Binh has always been a surprise to the explorer experts. Last year, an underground cave system was discovered at a depth of 0.03 miles, the deeper the cave is, the wider it expands. The discovery made Son Dong a much more mysterious cave to experts and scientists.
According to the experts, the limestone formations at the new caves include stalactites, stalagmites, columns and flowstones.