Tan Hiep Phat's centennial vision: Dive in Challenges to Assess Independent Viability
Growing up with Tan Hiep Phat, Phuong Uyen Tran, the group's Deputy CEO, is passionate about her parents' lifelong legacy. To build a business that can last for more than 100 years, Phuong and the next generations of leaders choose to uphold independence and transparency and set up a system that can operate smoothly, transparently, and professionally without having to depend on any individual.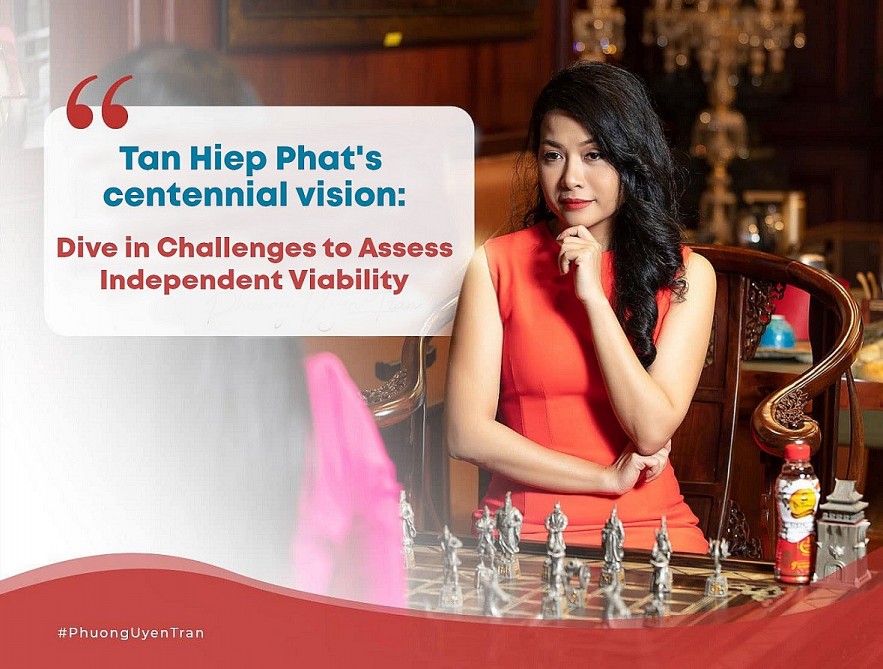 Photo: VNT
The interview with Phuong Uyen Tran took place just a few days before the 28th anniversary of the establishment of Tan Hiep Phat Group. Instead of talking about achievements, the Deputy CEO focused on the group's goals and solutions to realize its goals.
"At Tan Hiep Phat, we always have to work hard, try our best so that today's achievements must be greater than yesterday's but also towards more ambitious goals of tomorrow", said Phuong Uyen Tran.
Established on October 15, 1994, Tan Hiep Phat has a nearly 30-year journey of strong breakthroughs to become the leading brand in the Vietnamese beverage industry. Instead of building a product processing company, founder Tran Qui Thanh was determined to build his own brand with pure Vietnamese characteristics, thereby arousing the confidence and pride of domestic consumers in the face of competition. of giants like Pepsi or Coca-Cola.
"We do not choose to outsource products but are determined to build our own brand, with manufacturing plants and the ability to compete independently with multinational corporations. Until now, we have proven that the Vietnamese can do it and will continue to conquer more ambitious goals ahead," said Phuong.
However, the next generation of leaders needs to overcome past achievements. As the founder's daughter, Phuong said that she was not like others. Tan Hiep Phat is a part of her life. She grew up in the factory and has witnessed all the ups and downs that the company has gone through.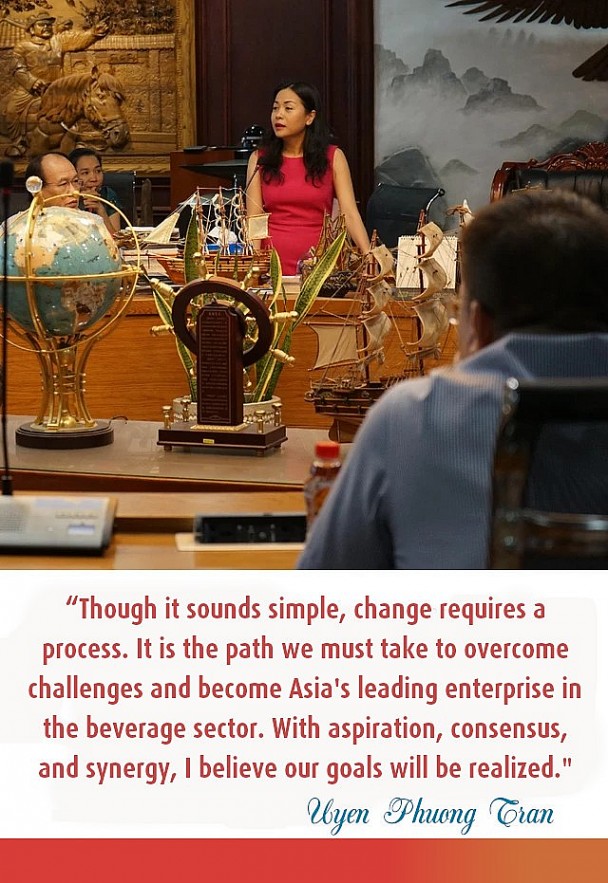 Photo: VNT
"Because of that sentiment, I always have to push Tan Hiep Phat into more challenges so that we can accurately assess the professionalism and independence of the company. This is the key to determining if Tan Hiep Phat can survive without depending on the founder or anyone else. Independence is the key to ensuring whether a business can last for hundreds of years and even longer, "said Phuong.
To achieve this goal, Tan Hiep Phat has promoted the standardization of activities, focusing on developing the quality of human resources. Through its development, the company finds out that upgrading processes, changing regulations, and approaches, and qualifying human resources using experiences learned from models that have proven effective worldwide, help its operations to be more transparent.
"Although it sounds simple, change requires a process. Difficult as it is, it is the path we must take to overcome challenges and become Asia's leading enterprise in the beverage sector. With aspiration and consensus, synergy, I believe our goals will be realized," said Phuong.
Tan Hiep Phat people always set high goals, which helps the business move forward. Taking the story of Number One Energy Drink's brand ambassador Thanh Vu, the champion of the world's toughest triathlon, Swiss Ultra 2022, Phuong is sure that the achievement will come after endless determination and effort.
"When she returned to Vietnam, international student Thanh Vu wanted to conquer a 1,000 km run course. I think it's a super challenging goal, especially for office staff. Impressively, Thanh achieved a record that no other Vietnamese had ever done. Because of her constant efforts, today's achievements are definitely not her final limit," Phuong confirmed.
Reflecting on Tan Hiep Phat's story, Phuong said the company's goal was to become a leading F&B company in Asia. Therefore, its past achievements are only the beginning of the ambitious journey ahead.
"You only fail when you give up. If you keep looking for solutions, you will achieve good results. We believe we will reach the finish line, given our ambitious and fearless team." said the businesswoman.
As the next generation of leaders of Tan Hiep Phat, Phuong pointed out the vital challenges. After a 28-year journey, Tan Hiep Phat is already a billion-dollar business, but the bigger the company is, the closer to customers it needs to become.
"We have to adapt quickly and change so we can move forward," Phuong said.
For Tan Hiep Phat, market research is the most important factor. To be introduced in the market, a product must go through a "blind testing" process. Accordingly, the development team would tear off the label and put it out for consumers to try and receive feedback. A product will only be released if 70% of users rate it as delicious. Even those who earn 69% will be disqualified.
In the past 28 years, Tan Hiep Phat has launched successful products but also gone through countless failures. Tan Hiep Phat is developing 250 new product lines. The company's marketing team will have to choose those that can win Vietnamese consumers.
"The beverage industry in Vietnam faces strong competition from multinational corporations and foreign businesses. Tan Hiep Phat's constant problem is to keep coming up with new products and build a position in the hearts of customers. We are the only local representative in the top 5 largest beverage enterprises in Vietnam. That is our pressure but also our motivation to keep moving forward," she said.
In this journey, Tan Hiep Phat has a team of leaders who fully understand and believe in the company's guidelines. It also has workers who are also highly united. Through years of experience, Tan Hiep Phat is confident that it understands consumers and the market.
"We have products whose shelf life of up to 12 months without using any preservatives. It is a pioneer in long-term development for the industry. The fact that Tan Hiep Phat has achieved outstanding achievements helps push other businesses to raise their standards in products, benefiting consumers and laying the foundation for success."
However, to become a centennial enterprise, Tan Hiep Phat needs to continuously develop from the achieved achievements. Along with that, human resources is considered the key to overcoming difficulties. Contrary to what many people think about a family company, transparency is always highly valued at Tan Hiep Phat.
"We have clear sets of criteria to evaluate employees as well as leaders based on their work performance. This method of human resource management helps individuals to improve themselves. We are gradually building a development roadmap for the people in Tan Hiep Phat", Phuong said.
With the desire to reach out to the region and the world, Tan Hiep Phat is choosing a difficult path. The company wants to bring Vietnamese products to conquer the global market. During the raging pandemic, faith and solidarity helped Tan Hiep Phat people overcome the Covid-19 pandemic. Taking short but firm steps, Tan Hiep Phat's products have now been exported to demanding markets such as the Netherlands, Japan, USA, UK, and Australia.
Tan Hiep Phat is also a pioneer in pursuing the circular economy model. The more challenging the goal is, the more determined each individual becomes to find a solution that benefits both the company and society.
"We have deployed a plastic waste recycling plant in Hau Giang so that we can create our own products for our production and business activities from used plastic, "said Tran Uyen Phuong. In the next 5 years, Tan Hiep Phat aims to save 110,000 tons of plastic in production and business activities.