Tet in a Nutshell
A brief primer on Vietnam's Lunar New Year.
Tết Nguyên Đán, short for Tết, which literal translation is Lunar New Year is the most important celebration in Vietnamese culture. This annual event marks the end of the previous winter to welcome the new spring according to the lunar calendar. It takes place from the first day of the first month of the Vietnamese lunar calendar (around late January or early February) until at least the third day.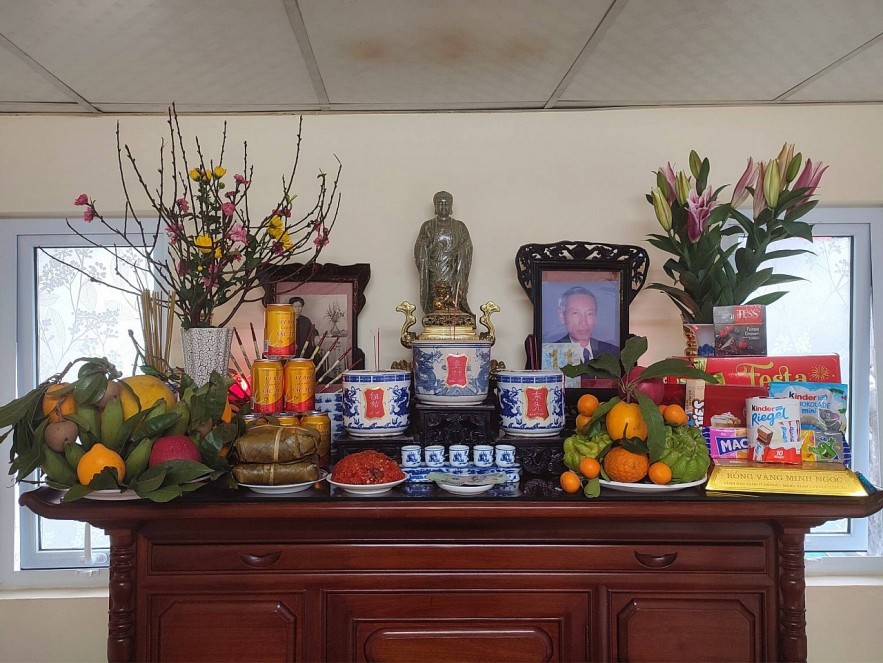 The family altar in Tet. Photo: Ollie Le Nguyen
What Tet is all about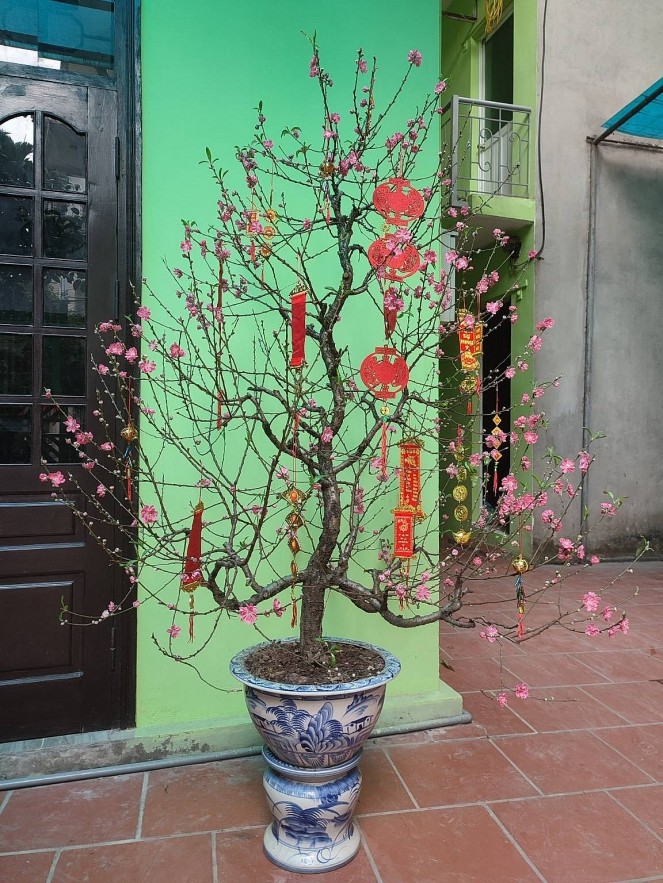 Decorated Peach blossom as a symbol of Tet. Photo: Ollie Le Nguyen
Tết is a special opportunity for pilgrimage and family reunions, making it one of the most memorable festivals of the year. Some return to their country to worship at the family altar or pay respects to their ancestors' graves. As a sign of respect, they also clean up the graves of their relatives.
Despite the fact that Tết is celebrated across Vietnam, each region and faith has its own traditions. As a result, it's understandable to see the streets empty and few establishments open to visit because everyone is busy preparing for Tet with their loved ones.
Tết can be divided into three periods, known as Tất Niên (penultimate New Year's Eve), Giao Thừa (New Year's Eve), and Tân Niên (the New Year), representing the preparation before Tết, the eve of Tết, and the days of and following Tết, respectively.
Tất Niên
Vietnamese Lunar New Year is also an occasion that everyone starts forgetting about the trouble of the past year and hoping for a better and happier upcoming year.
They also gather around to have their end year feast - Tất Niên, and talk about how the year went by and how they appreciate the time they have spent living and enjoying life in the past. People would also discuss the upcoming plans, looking forward to success in the new year.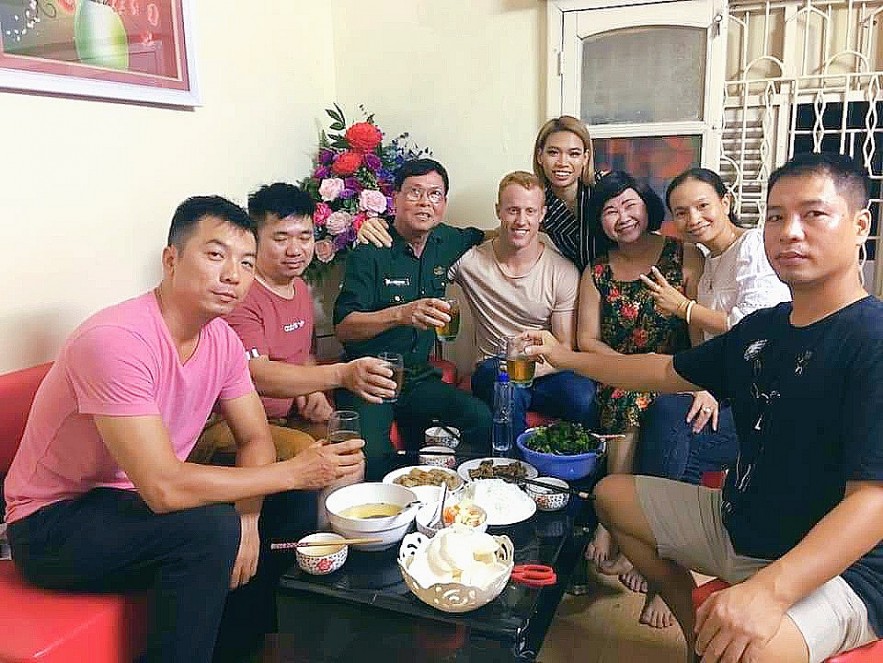 A Vietnamese Veteran and his family having an end year party with an American. Photo: Ollie Le Nguyen
The feast could be traditional Tết dishes such as bánh chưng, thịt kho trứng (caramelized braised pork and eggs), and dưa hành muối (pickled onion), etc.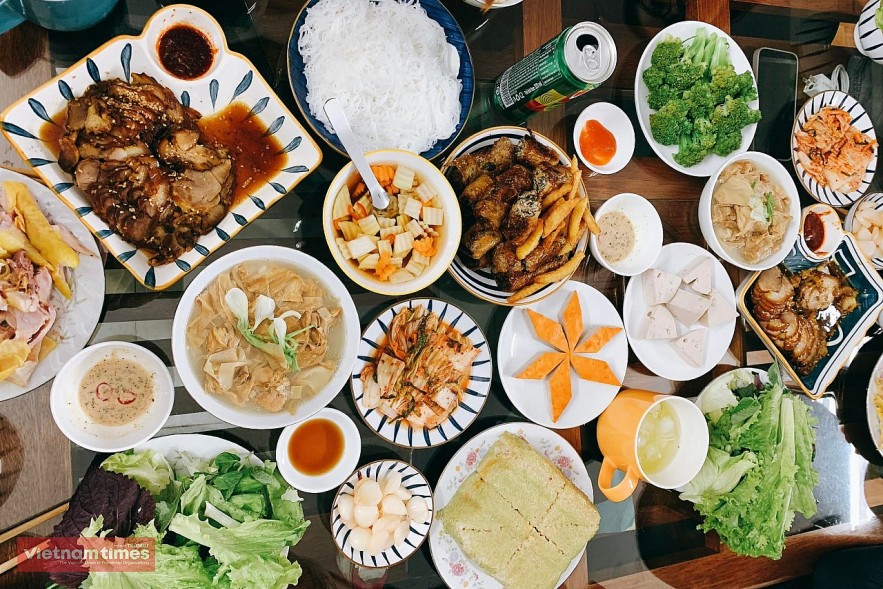 End Year Feast. Photo: My H Do
The Tet preparation
Traditionally, everyone cleans their home to welcome new fortune and guests before the clock hits midnight of the very last moment in the lunar calendar - Giao Thừa (New Year's Eve).
Decorated Kumquat Tree as a symbol of Tet. Photo: Ollie Le Nguyen
Sweeping or cleaning the house during Tết is considered bad luck since it symbolizes sweeping the luck away. It is also taboo for discarding things in the new year so you should plan to take your rubbish out before the eve. Another taboo is that anyone who experienced a recent loss of a family member must not visit anyone else during Tết.
At Tết, every house is usually decorated by peach blossoms (hoa đào) or St. John's wort (hoa ban) in the mountain areas. The kumquat tree in the northern part of Vietnam. The fruits on the tree symbolize fertility and fruitfulness for which the family hopes in the coming year. In Central and the Southern of Vietnam, houses are decorated by Yellow Apricot blossoms (hoa mai).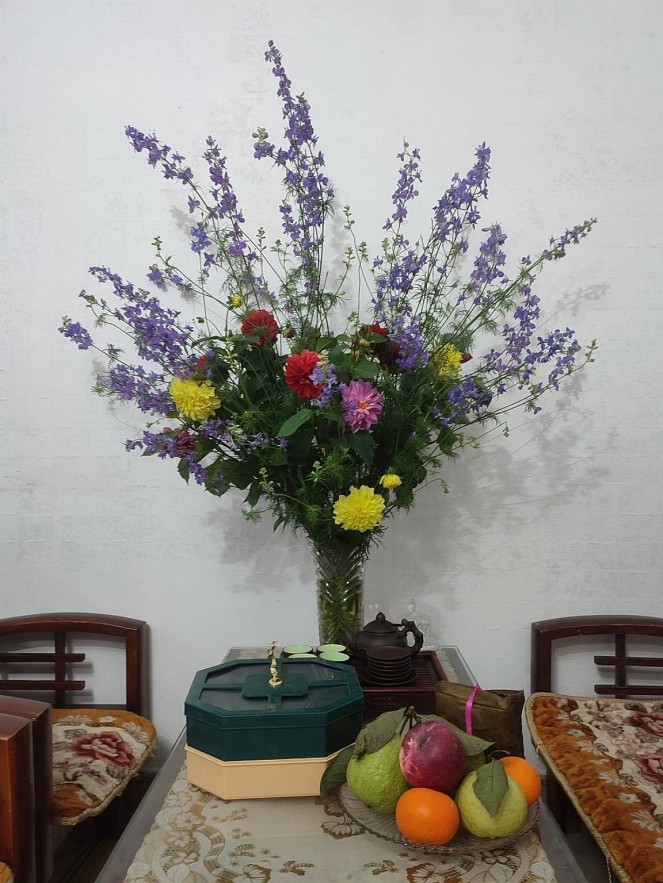 Flowers decoration in Northern Vietnam. Photo: Ollie Le Nguyen
Vietnamese people also decorate their homes with bonsai and flowers such as chrysanthemums (hoa cúc), marigolds (vạn thọ) symbolizing longevity, cockscombs (mào gà) in southern Vietnam, and paperwhites (thủy tiên) and pansies (hoa lan).
They also hung up Dong Ho paintings and thư pháp calligraphy pictures.
Giao Thừa
It is crucial to have a ceremony tray that includes a rooster, fruits, a small plate with some rice and salt, a candle, a red rose to put in the rooster's mouth, incense, a set of paper clothes for the god.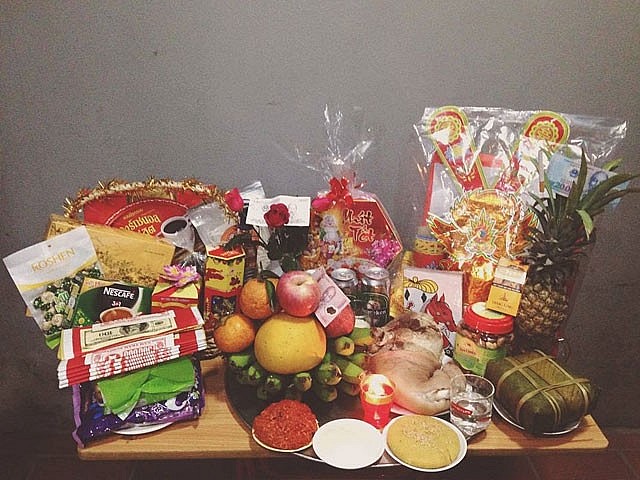 Lunar New Year Offering Tray. Photo: Inanemate
For the outdoor chicken offering, the chickens must be arranged so that the head is facing the street. With the New Year's Eve offering tray, the chicken's head turns to the street to welcome the new god to pass, one god each year comes down to take turns.
On the family altar, the chicken is presented with its head facing the altar and the incense bowl to pay respects to the ancestors. On the altar, the chicken is placed with its head turned inside with its mouth open, kneeling, and naturally stretched to pay homage to the ancestors.
Tân Niên
Tân Niên is the period that happens right after the eve, often known as New Year, including the following days. At the first moment of the new year, people never enter any house on the first day without being invited, because the Vietnamese think that the first visitor a family receives in the year defines their fortune for the entire year.
The action of being the first person to enter a house at Tết is called xông đất, xông nhà which is one of the most important rituals during Tết. According to Vietnamese tradition, if a family receives good fortune on the first day of the lunar New Year, the following year would be blessed as well.
A person with a good temper, morals, and success is usually regarded as a favorable omen for the host family and will be the first to be called into his home. To be safe, the house owner will depart a few minutes before midnight and return just before the clock strikes midnight to avoid anyone else from entering the house first and potentially bringing any terrible happenings to the household in the new year.
People visit their relatives, friends and neighbors to exchange New Year's greetings and give lucky money to children and the elderly in the first few days of the new Lunar Year. In times of Covid, the tradition has changed a little bit but everyone is still able to compromise by applying technology to maintain the festive traditions. In some cases, instead of paying someone a visit during Tết, Vietnamese make video calls or phone calls to keep in touch with their friends and to wish them good health and good fortune.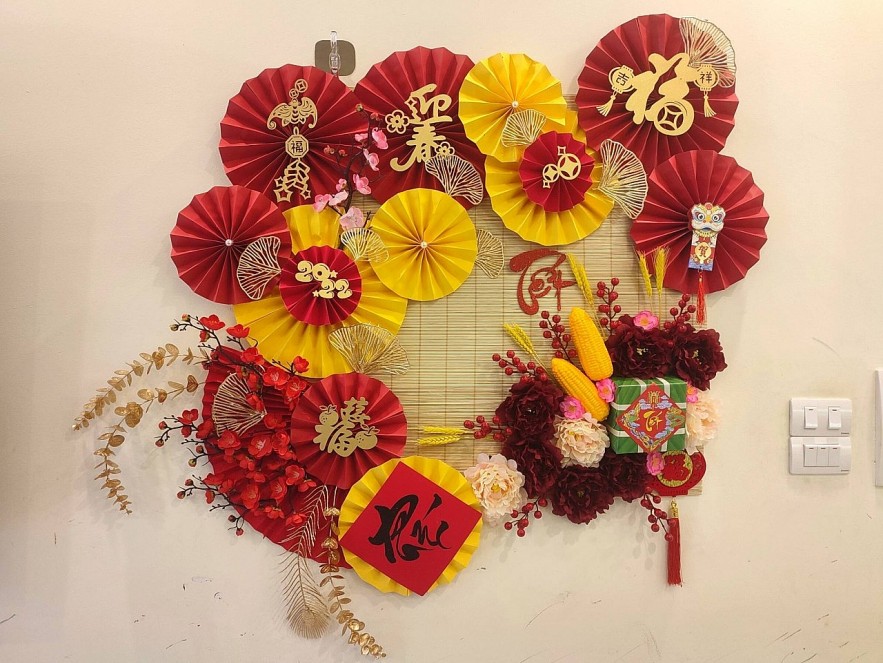 Popular Tết decoration of the year 2022. Photo: Ollie Le Nguyen
The traditional greetings are "Chúc Mừng Năm Mới" (Happy New Year) and "Cung Chúc Tân Xuân", (gracious wishes of the new spring). People also wish each other prosperity and luck.
Common wishes for Tết
Năm mới thắng lợi mới - New year, new triumphs (often heard in political speech)
Năm mới thăng quan tiến chức - I wish for you to be promoted in the new year
Sống lâu trăm tuổi - long life of 100 years (used by children for elders. Traditionally, everyone is considered one year older on Tết, so children would wish their grandparents health and longevity in exchange for mừng tuổi or lì xì.)
Chúc hay ăn chóng lớn - Eat well, grow quick (aimed at children)
An khang thịnh vượng - Security, good health, and prosperity
Vạn sự như ý - May things go your way
Sức khỏe dồi dào - Plenty of health
Làm ăn tấn tới - Be successful at work
Tiền vô như nước - May money flow in like water (Used informally)
Cung hỉ phát tài - Congratulations and be prosperous
Năm mới bình an - I wish that the new year will bring health and peace to your family
On the New Year, business owners usually pick a date that is suitable for their opening of a shop or store, marking the beginning of the new year for their business and success. People who are the first customer of the store tend to give good luck wishes to the owner.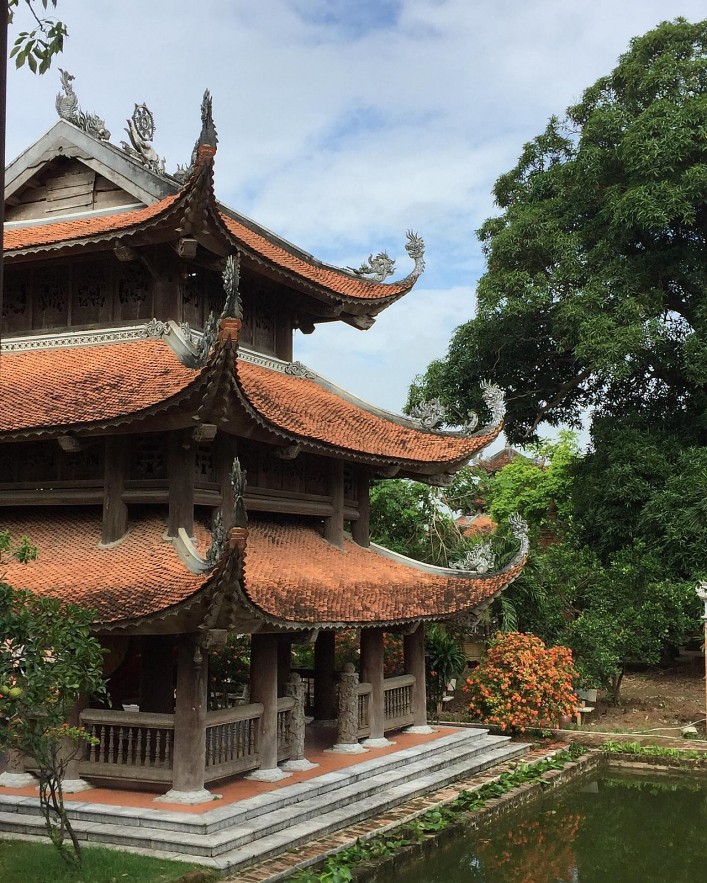 Nôm Pagoga, Bac Ninh Photo: Chu Manh
Vietnamese like to go to pagodas, temples with their loved ones. They can attend the local regions, villages festivals. Those festivals can also be referred to as Hội xuân in vernacular Vietnamese, with literal translation meanings: festival - lễ hội, spring - mùa xuân.
Friendship
In Da Nang, the Vietnam-Laos Solidarity and Friendship Year 2022 was celebrated on July 2. Collectives and individuals of the Lao Women's Union were also awarded medals of Vietnam.