Overseas Vietnamese Making Green Banh Chung Celebrate Tet in Foreign Land
To bring the Tet tradition atmosphere to the oversea Vietnamese, especially the workers who are far from home, from 25 to 28 January 2022, the Liaison Board of Vietnamese in Johor state, Malaysia, has organized the program called "Making green banh chung celebrating Tet with fellow-countrymen"
To make the green banh chung, members of the Liaison Board assigned each other many days ago to cut nearly 6,000 dong leaves, including dong leaves grown as ornamentals and dong leaves collected from farms, gardens and the forest edge. Unable to find giang strings to tie the banh chung, people used nylon string to wrap the dish.
Nguyen Nhu Hao, head of the Liaison Board for Vietnamese in Johor state, said that with the support from the Vietnamese Embassy in Malaysia, sponsors and volunteer groups, the Liaison Board has wrapped more than 1,000 banh chung to give to Vietnamese compatriots living and working in Johor state and surrounding areas.
Hao added that due to the pandemic situation, in the past two years, many Vietnamese could not arrange to return home to celebrate Tet. Throughout the program, the Liaison Board wants to spread love and preserve the beauty of Vietnamese traditions for the Vietnamese in Malaysia.
Right from December 25, when the first two batches of banh chung were cooked, the members of the Liaison Board quickly organized to hand-deliver the green banh chung with compatriot love to fellow citizens and workers who are studying and living in Johor, Kuala Lumpur.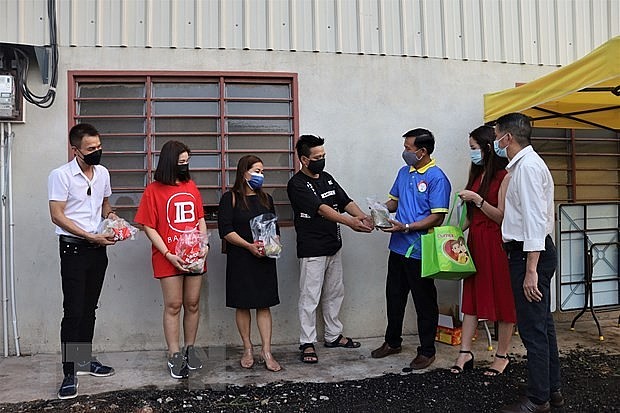 Liaison Board of Vietnamese in Johor state (Malaysia) organized to give banh chung to Vietnamese brides and Vietnamese workers who are working and living in Malaysia. Photo: VNA
Along with that, the representative of the Vietnamese Embassy in Malaysia and the Vietnamese Liaison Board in Johor also went directly to companies where many Vietnamese work to visit and give Tet wishes and gifts.
Receiving a gift from the Liaison Board, Nguyen Trong Hung, 27, from Nghe An, a worker at Song Lin Garment, was very touched and expressed his gratitude to fellow workers and sent New Year greetings to the representative of the Embassy of Vietnam in Malaysia, the Liaison Board and Vietnamese people in Malaysia.
After more than 10 years of living, working and marrying a Malaysian, Nguyen Thi Lien, 44, from Phu Tho province said: "I have been to Malaysia to live, work and have been married for 10 years now. This is the first time I have received a meaningful gift from the Vietnamese community for those who are far from home, spreading the love for Vietnamese brides, makes me very emotional, and miss my homeland even more."
In addition, the Vietnamese community in the Klang area (Kuala Lumpur, Selangor and Putrajaya) also organized making more than 100 banh chung for the community Lunar New Year and gave banh chung and Tet gifts to over 50 Vietnamese in difficult circumstances in Selangor, contributing to sharing the hardships and bringing the spring atmosphere to the people.
In particular, instead of using pork as a filling for the cake, the members of the Liaison Board used chicken with rice, green beans, and pepper to make standard "halah" banh chung (allowed for Muslims) when there are many Vietnamese brides with Malaysian Muslim husbands.
Every year, from a few days before seeing off the Kitchen Gods to heaven, Buddhists have joyfully flocked to the Pho Da Pagoda in Berlin (Germany) to participate in the activity of making banh chung. Each person has a task, depending on their ability to contribute such as wiping leaves, washing rice, preparing beans, setting up a pot or lighting firewood to boil banh chung. As they do it, they review stories about Tet and their homeland, as well as the joys and sorrows of life.
This activity also includes students, international students and young people born and raised in Germany who also follow their parents to the temple to participate in charitable activities to welcome spring.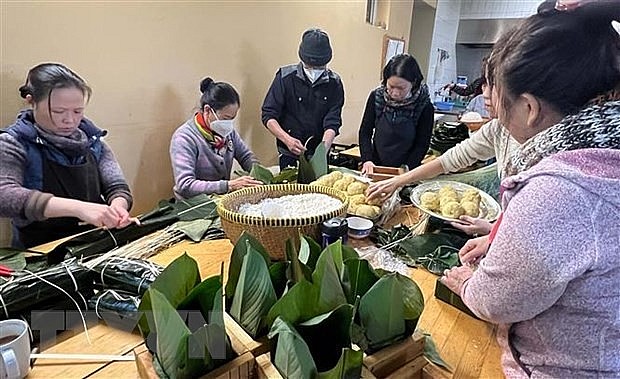 Buddhists gather to pack banh chung at the Pho Da Pagoda in Berlin, Germany. Photo: VNA
Pham Quynh Nga, an overseas Vietnamese living away from home for more than 30 years, said that banh chung at Pho Da pagoda had become a trademark in Germany. Every year, Buddhists living in Germany look forward to making banh chung to remember their homeland's culture and share and talk about the customs of the Vietnamese people on the traditional New Year's Day.
She said: "We, those living abroad, days like this make us miss our family more and more, and we want to return to our homeland, but due to the pandemic, we cannot arrange to return. Being able to participate in the banh chung activity organized by Master Thich Phap Nhan, the abbot of Pho Da Pagoda in Berlin is extremely exciting and meaningful. It not only reminds us of old memories, living with family, welcoming Tet atmosphere is very happy and warm, but also creates a culture for our descendants to maintain and reserve."
Vegetarian banh chung branded as Pho Da pagoda, which is often ordered in advance by the Buddhists, will be put along with other traditional dishes in the tray on the family altar on New Year's Day. The money collected from the banh chung sales is not only for the construction and repair of the pagoda but also for the charity fund to send back to the homeland to share with people in the country who face difficulties.
Thời Đại