The Amazing Global Online Classroom Of A Vietnamese Teacher
Through the computer screen, the students from a small school in Nam Dinh had an interesting global English lesson, connected to other classes in different countries in the world such as India, Taiwan, etc.
At Giao Thien Elementary School, which is located in Giao Thuy district, Nam Dinh Province, the students are not too unfamiliar with the sessions connecting with students from schools from different countries and regions in the world.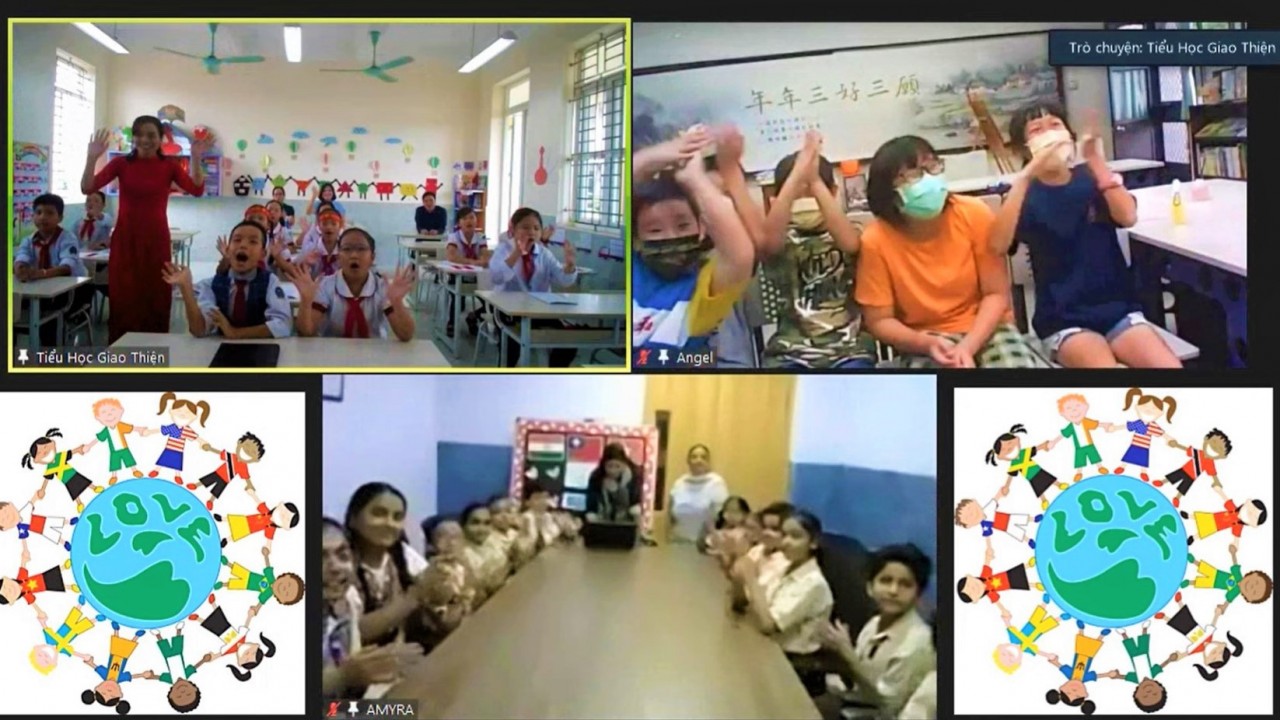 Photo: VietNamNet
These classes can hosts with worldly discussions with students from around the globe. They also invite experts from other countries to attend the lesson.
This idea for a new form of learning will help Vietnamese students to interact with other students from all over the world, creating an opportunity for them to improve their English listening and speaking skills, as well as learn more about the culture of other regions. The teacher who opened this class is Pham Thi Ha, an English teacher at Giao Thien Elementary School.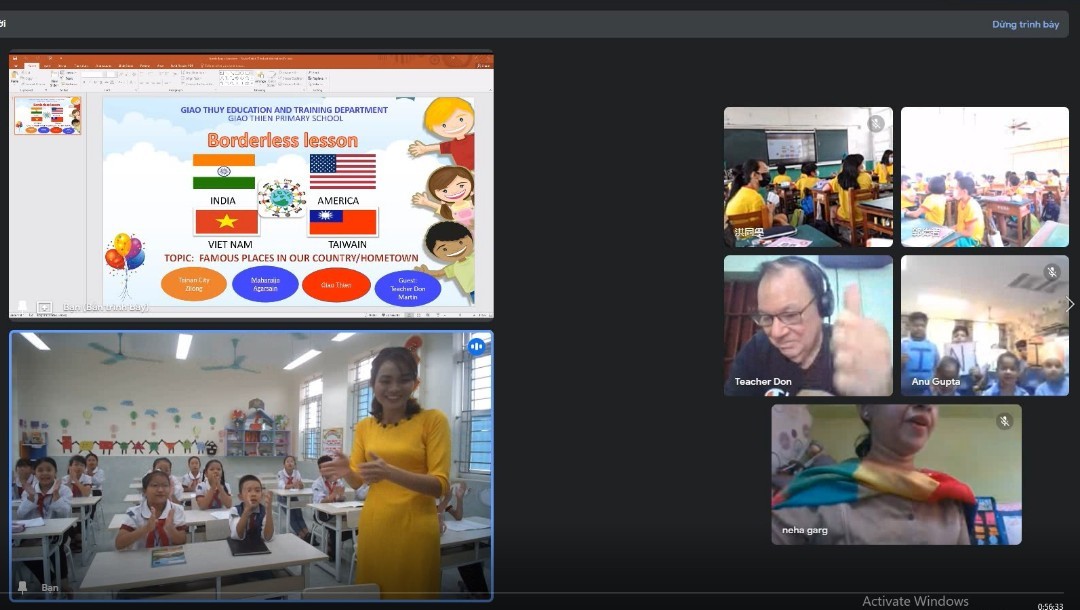 Photo: VietNamNet
"Giao Thien Elementary School is located far from the center of the city, and students here will not have much opportunity to contact foreign teachers. That's why they are often shy and timid around new people," said Ha.
"In the school year 2021 – 2022, I was assigned the task of teaching the school's English-speaking team. Concerned about this, I went online to find and directly connect with the foreign teachers, in order to give them the opportunity to improve their speaking skills, and have a good guide.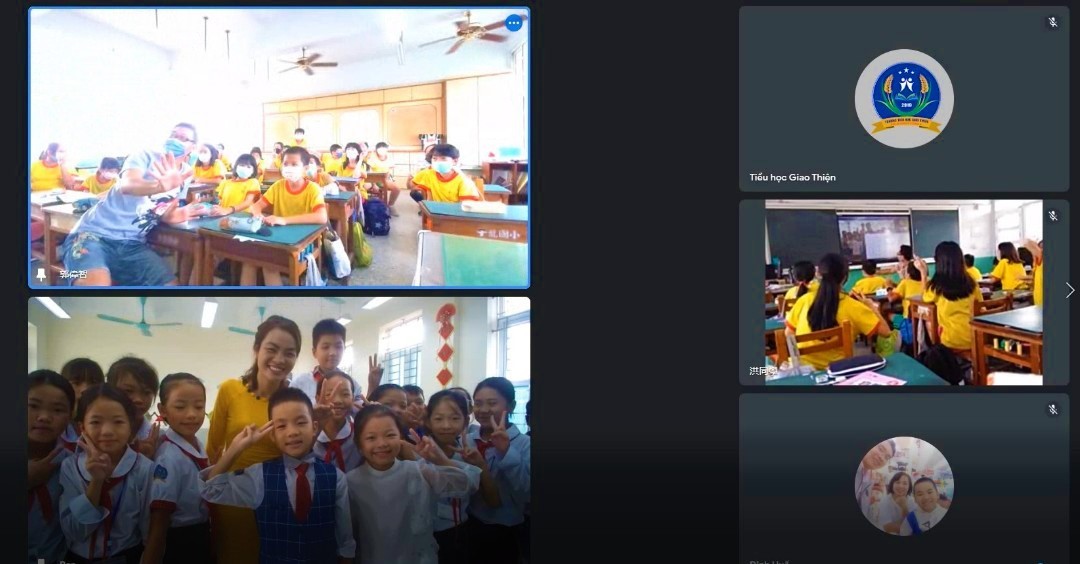 Photo: VietNamNet
The teachers were very willing to help and correct the students, and even share some of the best bits of knowledge. Through these lessons, the students will become more confident in communication, reflexes, and speaking skills. Surprisingly, in the last English Speaking Contest, my school had 2 students who won the first prize at the district level, and one that won the first prize at the provincial level," Ha said.
From that moment, Ha began to think about the idea of connecting students from different classes to create an environment for learning and having new friends with foreign teachers, not just for competing and earning prizes. From the beginning of this 2022-2023 school year, Ha proposed to the school's management board and in turn organized cross-border learning sessions for students of the classes she was in charge of.
The topics are diverse, with many interesting things such as costumes, cuisine, beautiful landscapes, festivals, etc, or talk about the stories they have learned in the textbooks.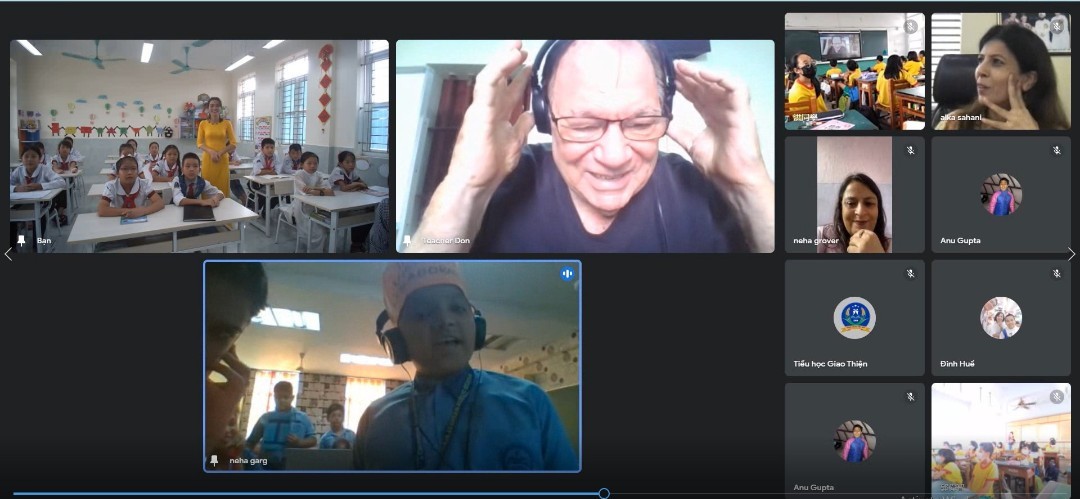 Photo: VietNamNet
In a recent lesson connecting teachers and students from countries and territories including Vietnam - India - Taiwan – USA, the topic is to introduce and discover the beautiful scenery of Vietnam.
"After this lesson, my students can improve their listening and speaking skills, and become more confident in expressing themselves. They also learn to be proud of their country and nationality through the introduction of the beautiful scenery of their homeland, and the friendly Vietnamese people. Besides, they also develop presentation, collaboration, and problem-solving skills," Ha shared.
In order to make this idea come true, the young teacher had to find a way to come over many challenges and difficulties, one of which is "How to find teachers in countries and regions to connect with?".
But Ha did not give up. She self–taught herself about social media, and learned from experienced teachers about online classes on the Internet, Facebook, Zoom, etc.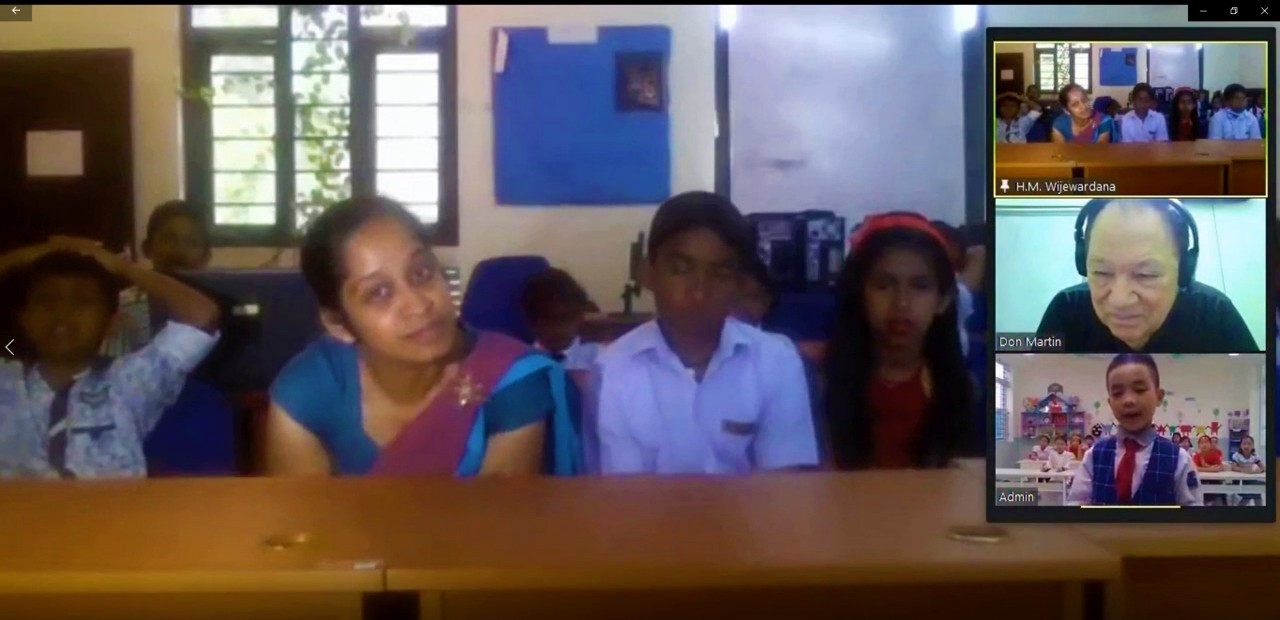 Photo: VietNamNet
She found and joined many groups on Facebook such as Vietnam Creative Teachers Community, Mystery skype/Skype in the classroom, Mystery skype, Our global classroom, Global learning enthusiastic, etc.
After becoming a member of each group, Ha made a few posts to find teachers and professionals that are willing to cooperate with her.
After that, Ms. Ha contacted each of the teachers' accounts who were willing to cooperate to discuss the topic, the activities taking place in the class, the assignment, the timetable for each class, etc.
Even though the works sound simple, she had to go through a lot of difficulties preparing for each lesson and connecting them with other foreign students and teachers.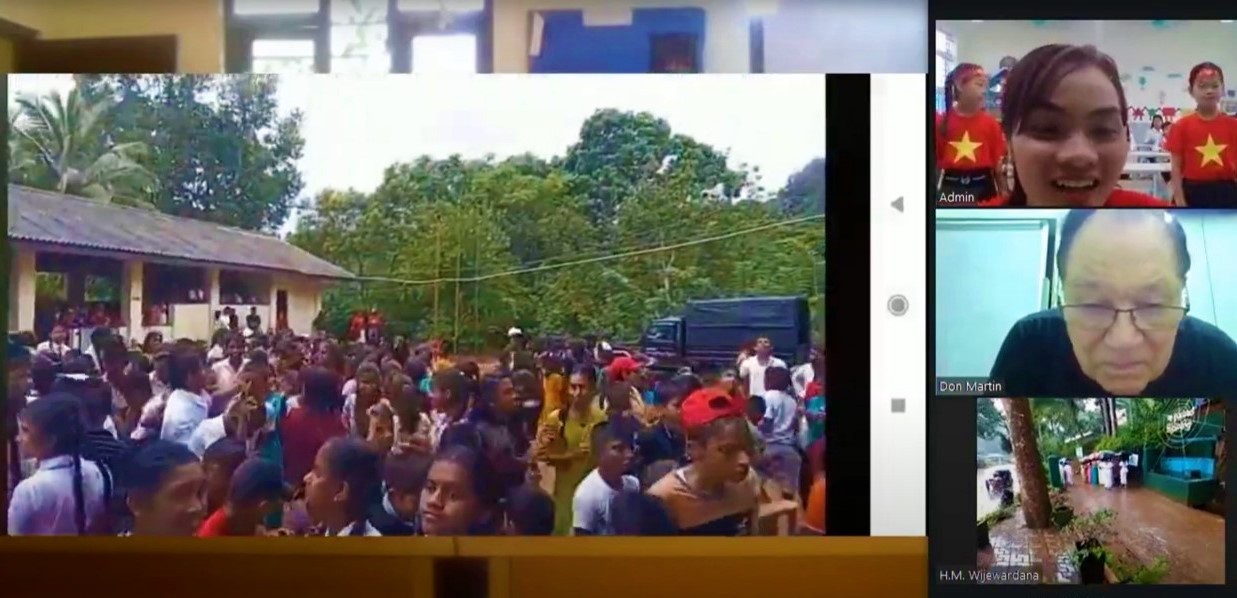 Photo: VietNamNet
There are many challenges such as the difference in time zones between countries/regions, Internet connection, lack of learning equipment, different accents, and the English ability of primary school students generally lacking, etc.
No matter how hard the situation is, Ha always finds a way to solve problems. She discussed with foreign teachers to find a suitable timetable, especially in countries with similar time zones to make it easier for students to learn. After a long time, she finally connected with classes from India, Taiwan, Srilanka, and the United States.
Aside from the rare incidents when the Internet connection was cut or the computer got shut down because of power failure, Ha always tried her best to bring to the students an effective and quality lesson, and there is no other way than the careful preparation of both students and teachers.
Until now, Ha has organized many interesting global classrooms and lessons that make students fall in love with studying.
What makes her happy is the positive results from her classes, and her students become more confident in speaking and improving their English learning, even making friends with other children from other countries through online lessons.
"I can feel their excitement and joy, before and after each class," Ha said.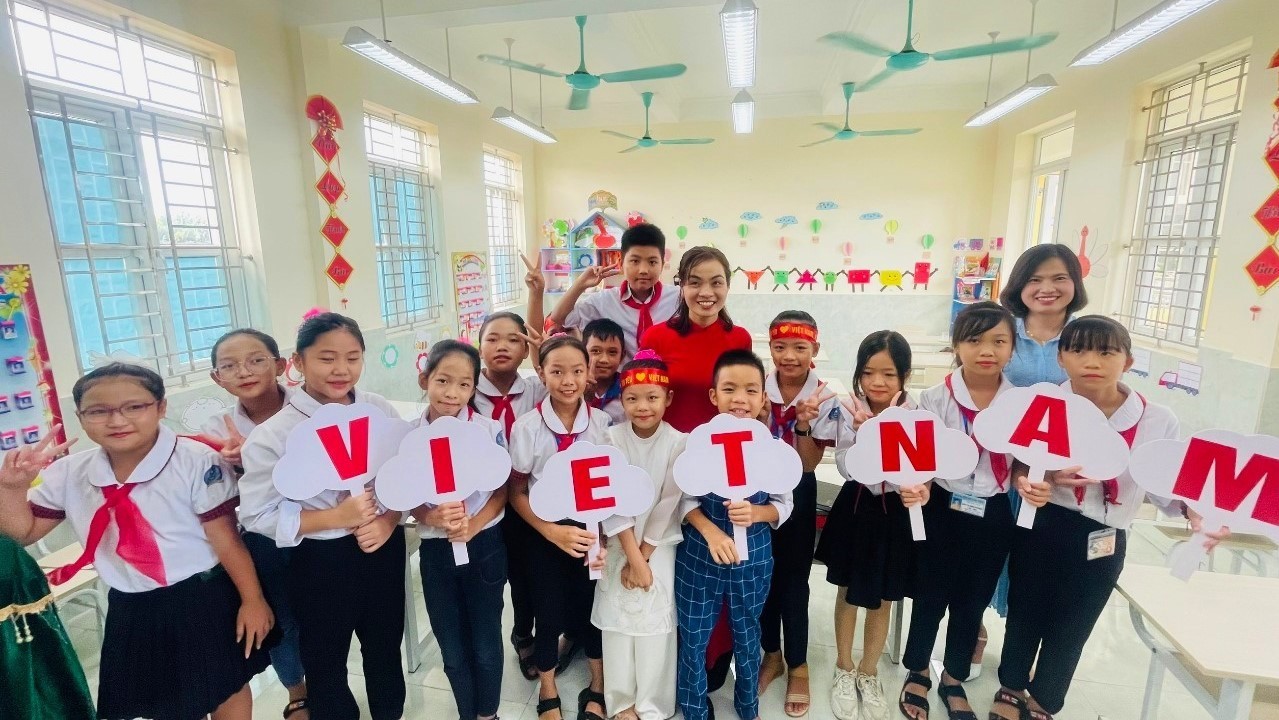 Photo: VietNamNet
Ha said that even though there is a lot to prepare for an online class, the teachers never feel tired or unhappy to help the children learn.
"I never feel tired doing this. At first, this idea sounded impossible with many risks, but the more I learned about the global classroom method, the more I have become passionate about it. Looking at the excited faces of my students, I am encouraged to keep teaching and creating a safe, healthy studying environment for them," Ha said.
Talking with VietNamNet's reporters, Cao Xuan Hung, Director of Nam Dinh Department of Education and Training, said that Ha's global lessons follow the spirit and policy of the local education sector.
Hung said even students in remote rural areas with limited economic opportunities can broaden their horizons internationally, have friends all over the world, and have the opportunity to communicate with each other.