The Ancient Cu Da Village - The Place When Time Is Frozen
Located about 20 km from Hanoi, there is the small, ancient Cu Da village with lovely architecture and ancient houses that stand the test of time.
About 20 km from the centre of Hanoi to the west, Cu Da ancient village in Cu Khe commune, the northernmost commune of Thanh Oai district, Hanoi. It is one of the ancient traditional villages from ancient times.
Located on the banks of the peaceful Nhue River. Cu Da village still retains the intact Vietnamese village's imprint with communal roofs, banyan trees, water wharves. Especially the sharp French architecture. And, not only famous for its unique cultural space. But Cu Da ancient village is also known to tourists for its traditional craft of making vermicelli and making soy sauce.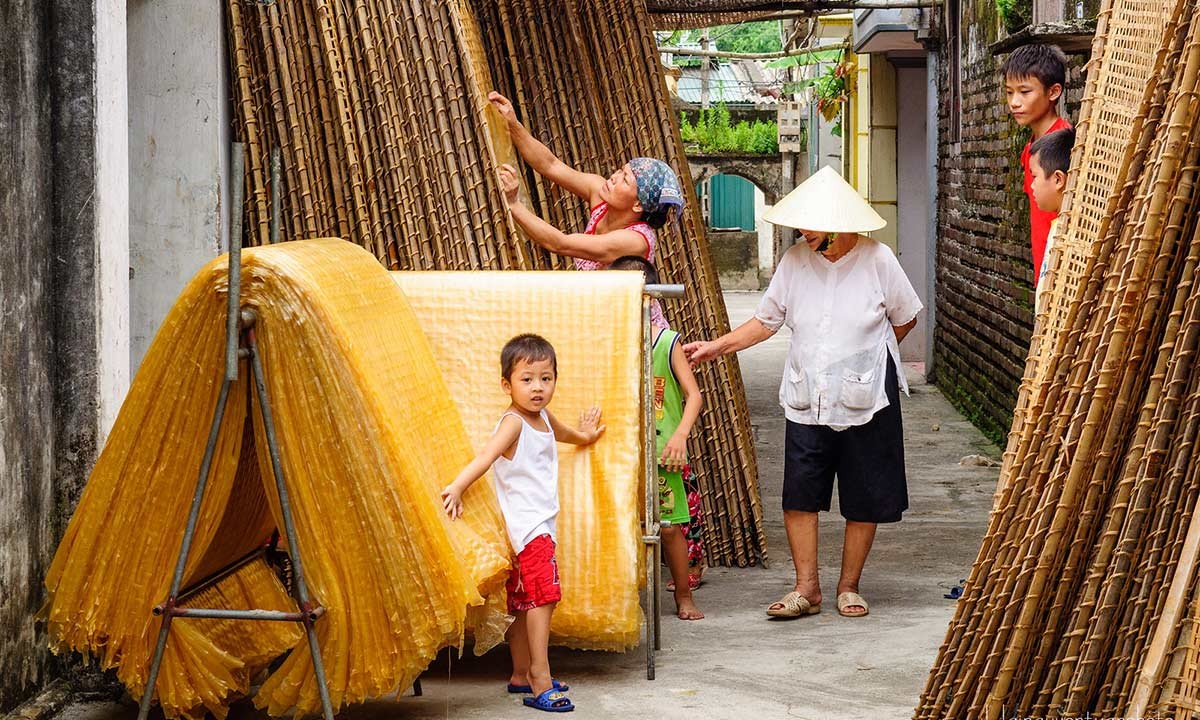 Photo: Explore Hanoi
Vu Van Than, an 87-year-old resident of Cu Da, said the village was established four centuries ago by royal family members. Then, wealthy businessmen of the village like Cu Doanh, Cu Chan, Cu Phat, who were owners of textile mills, factories and wholesale markets of Hanoi around 1920-1940, brought French architecture to the rural village, according to Vietnam News.
The precise age and history of this village is still a question for villagers and researchers.
Dr Trinh Sinh from the Vietnam Institute of Archaeology suggests that the village was established nearly 2,000 years ago. Scientists collected samples including bricks during the repair and maintenance of ancient pagodas in the village. Patterns on the samples are typical of 2,000 years ago when Vietnam was still largely under ancient Chinese domination.
The village has changed its name many times and adopted the name Cự Đà from the 17th century onward. The small village was at its peak of wealth between the 17th and 20th centuries. Its residents had several businesses and shops in major cities and townships including Hanoi, Hai Phong and Sai Gon.
How Cu Da Village Is Unique?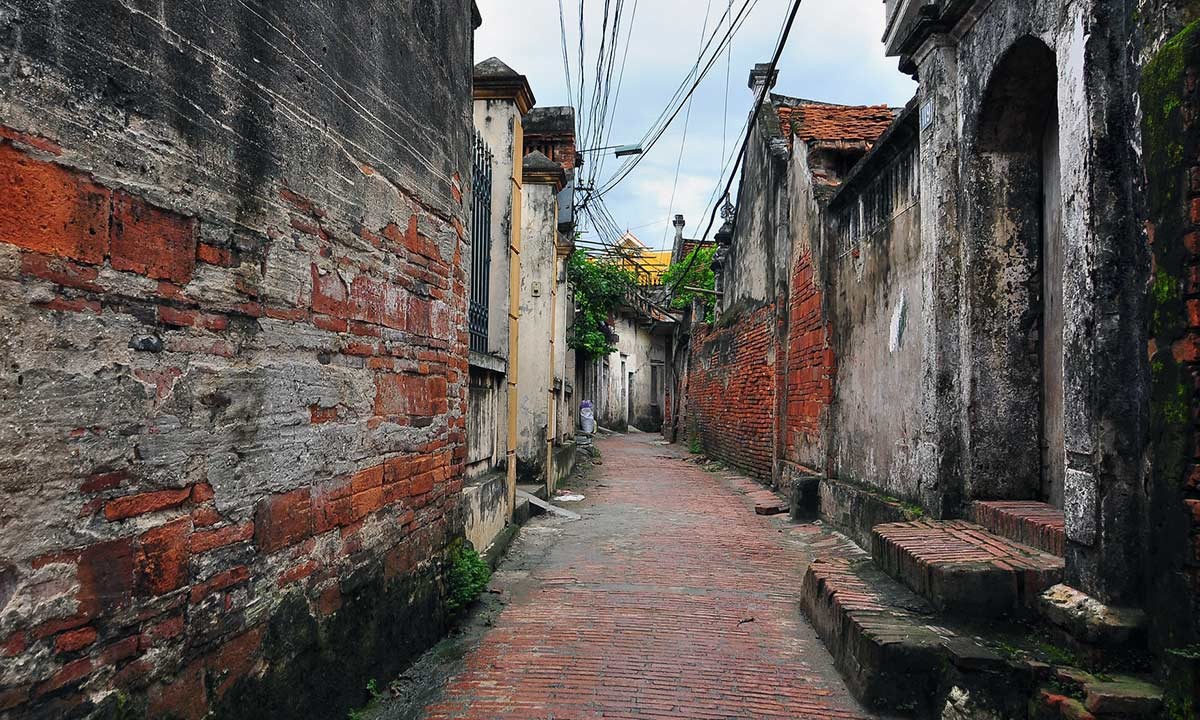 Photo: Explore Hanoi
Village roads connected with alleyways, connecting houses. So every house in front of you is a small alley, passing through the lane is the village road. If you pay a little attention, you will discover a special one. This is a rare old village in Vietnam with house numbers, alley and village names.
1. Vermicelli paradise
Knowing as "mien" in Hanoi, a different type of noodle but in dry solid form. This familiar and rustic dish from vermicelli always presents in the tray of Tet holiday or other important days in the families of Vietnam, creating a beauty in Vietnamese culinary culture.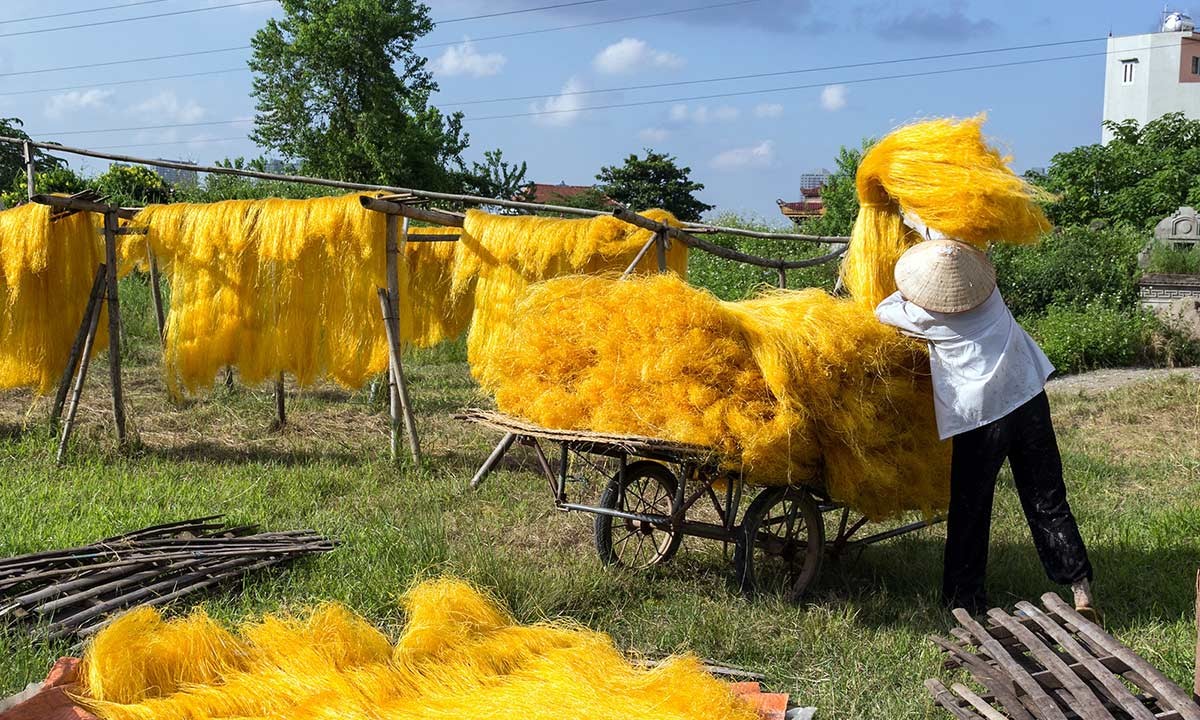 Photo by: ManhCK
The villagers started making vermicelli hundreds of years ago. Cu Da vermicelli can be easily recognized by its feature of shiny yellow or fine white and thin form.
At first, making vermicelli was for the own consumption of villagers. Time to time, high quality products attracted the interests from all over the country, and vermicelli soon became a calling name of Cu Da village.
Cu Da vermicelli is made 100% by arrowroot. What to make high quality vermicelli is source of good arrowroot from Bac Can, Lai Chau, Son La and Moc Chau. The vermicelli depends on the market and the needs of each region.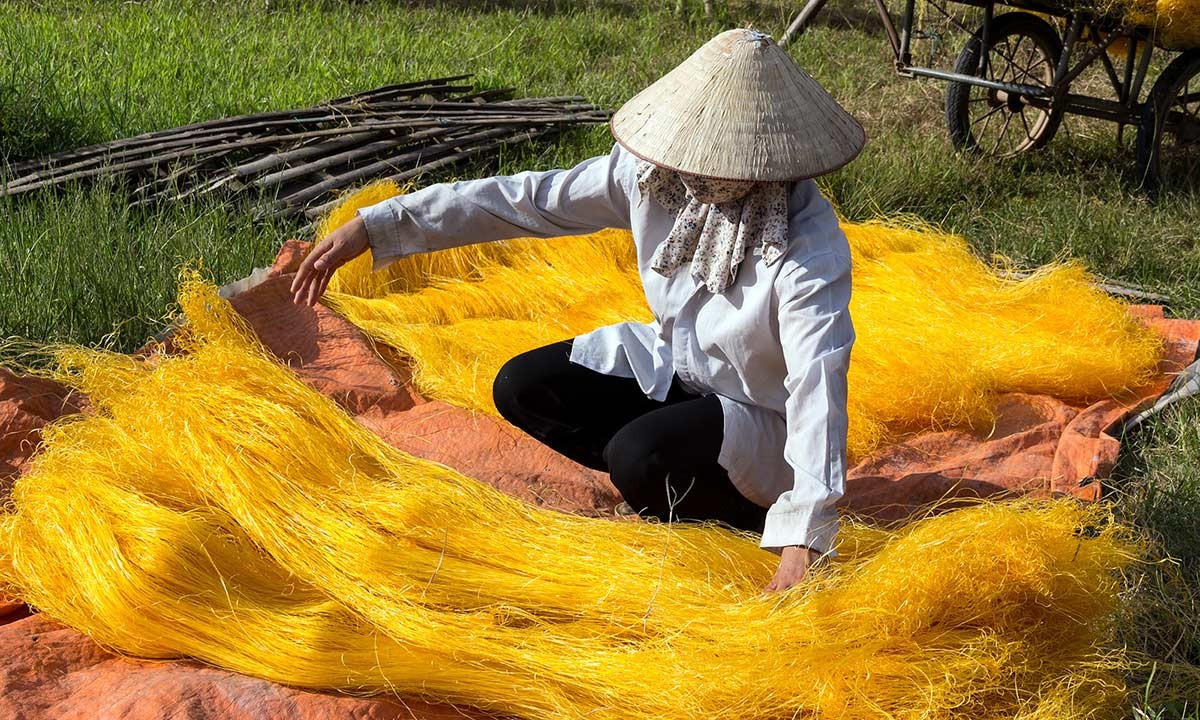 Photo: ManhCK
For the process making, the arrowroot is ground and mix with water to make a paste. Then this paste is smeared into thin pancake on the large bamboo trays, steamed and dried in the sun. It depends on the weather. After almost drying, the villagers cut it into small, thin strips and dry again before the products are packaged & distributed across Vietnam.
Although machines are now used for spreading and cutting, it is a very labor-intensive process, but completely brings good incomes for the villagers from the production of hundreds of tons of vermicelli each year to meet the national demand.
2. Good quality soybean sauce
Photo: The Gioi Di San
The craft of making soy sauce in Cu Da has been around for a long time. This soy sauce is made from four main ingredients: soybean, glutinous rice, water and white salt and has a unique and attractive scent.
It must be through the hands of the Cu Da people, the soy sauce has the right and delicious taste. Sauce made from about April to August is the best, because at this time, the weather is favorable. The beautiful sunshine makes it more delicious and smells better.
In the past, every family had a jar of soy in their houses to serve the family's daily meals. But since the precious "property" was well- known, every family has not only made soy sauce to eat but has also sold it to neighboring provinces. Under the dazzling sunlight, the shadow of the people making soy sauce in the brick floor, in a quiet space creates a passionate aromatic fragrance spread throughout the village.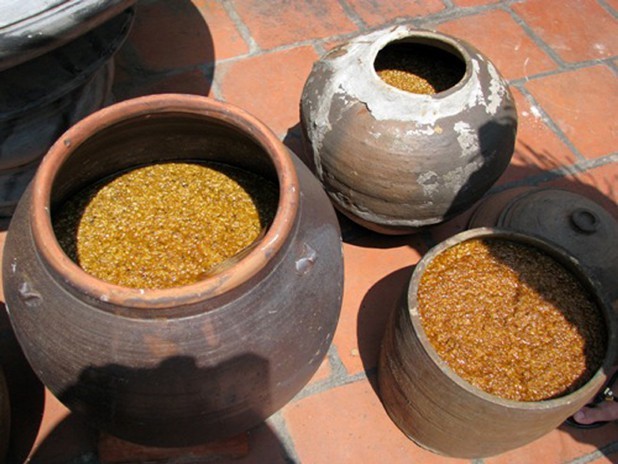 Photo: VOV.vn
Nearby Explore Locations
Hat-making village: The famous Chuong village is relatively close to Hanoi, about 40 km to the west, in the direction of Thanh Oai.
Boi Khe Charm: An ancient temple with great cultural and historical value.
Binh Da Village: About 20 km from the centre. There is a communal house worshipping Lac Long Quan and a foreign house worshipping Ly Lang Cong and Ly Thai Tong's son (1028-1054).
Tourism potential for Cu Da Village
Cu Da is famous for its architecture, soy sauce and vermicelli; Chuong Village is known for conical hats; Uoc Le Village is known for Vietnamese sausage and Banh Chung ̣(square sticky rice cake); Vo Lang for its sculpture; and Vac Village has a long history of making hand fans and bird cages.
History lovers will also find the district an ideal attraction as it houses nearly 300 historical and cultural relics, of which 151 are recognized as national heritage.
When visiting Thanh Oai, tourists can not only immerse themselves in the quiet, ancient beauty of its landscape but also join unique traditional festivals.
In addition to cultural heritage, Thanh Oai also has diverse eco-tourism, with beautiful scenic spots including Thanh Cao and Cao Vien lagoons and the various orchards of local households.
Tran Van Loi, head of Thanh Oai District's Culture and Information Division, said: "Tourism development in the district is yet to be commensurate with its potential due to limitations in transport infrastructure, parking lots, and services such as souvenir shops.
"Travelers visit Thanh Oai mainly during the day and have low spending, so revenue from tourism services is not high."
According to the district's culture and information authority, Thanh Oai welcomed only 1,000 visitors in 2016, but this increased to about 50,000 in 2017 to 2020.