The Best And Most Beautiful Christmas Poems
Poems are words from the heart and speak one's true soul. A lovely, beautiful, and meaningful poem is everything that you can put on your Christmas cards and send to your friends and family.
A time for family, friends, festivities and an undeniable sense of childhood nostalgia, the Christmas season brings with it so many sentiments. We turn to poems at the big moments in a year, as poetry is the language we reach for when everyday language simply isn't enough. Great poets can articulate what most of us find impossible to put into words. These lovely Christmas poems will help lighten up your moods for a holly jolly night.
1. 'Ring out wild bells', from In Memoriam AHH by Alfred, Lord Tennyson
Photo: Pinterest
Ring out, wild bells, to the wild sky,
The flying cloud, the frosty light;
The year is dying in the night;
Ring out, wild bells, and let him die.
Ring out the old, ring in the new,
Ring, happy bells, across the snow:
The year is going, let him go;
Ring out the false, ring in the true.
Ring out the grief that saps the mind,
For those that here we see no more,
Ring out the feud of rich and poor,
Ring in redress to all mankind.
Ring out a slowly dying cause,
And ancient forms of party strife;
Ring in the nobler modes of life,
With sweeter manners, purer laws.
Ring out the want, the care the sin,
The faithless coldness of the times;
Ring out, ring out my mournful rhymes,
But ring the fuller minstrel in.
Ring out false pride in place and blood,
The civic slander and the spite;
Ring in the love of truth and right,
Ring in the common love of good.
Ring out old shapes of foul disease,
Ring out the narrowing lust of gold;
Ring out the thousand wars of old,
Ring in the thousand years of peace.
Ring in the valiant man and free,
The larger heart, the kindlier hand;
Ring out the darkness of the land,
Ring in the Christ that is to be.
For centuries, shortly before midnight on New Year's Eve, campanologists have made their way towards England's parish churches where, on the stroke of midnight, they begin the ancient ritual of ringing out the old year and ringing in the new. The sentiments expressed in Alfred, Lord Tennyson's poem 'Ring Out, Wild Bells' still resonate almost 200 years after it was first published.
2. A Visit from St Nicholas by Clement Clarke Moore
Photo: Free School
'Twas the night before Christmas, when all through the house
Not a creature was stirring, not even a mouse;
The stockings were hung by the chimney with care,
In hopes that St. Nicholas soon would be there;
The children were nestled all snug in their beds;
While visions of sugar-plums danced in their heads;
And mamma in her 'kerchief, and I in my cap,
Had just settled our brains for a long winter's nap,
When out on the lawn there arose such a clatter,
I sprang from my bed to see what was the matter.
Away to the window I flew like a flash,
Tore open the shutters and threw up the sash.
The moon on the breast of the new-fallen snow,
Gave a lustre of midday to objects below,
When what to my wondering eyes did appear,
But a miniature sleigh and eight tiny rein-deer,
With a little old driver so lively and quick,
I knew in a moment he must be St. Nick.
More rapid than eagles his coursers they came,
And he whistled, and shouted, and called them by name:
"Now, Dasher! now, Dancer! now Prancer and Vixen!
On, Comet! on, Cupid! on, Donner and Blitzen!
To the top of the porch! to the top of the wall!
Now dash away! dash away! dash away all!"
As leaves that before the wild hurricane fly,
When they meet with an obstacle, mount to the sky;
So up to the housetop the coursers they flew
With the sleigh full of toys, and St. Nicholas too—
And then, in a twinkling, I heard on the roof
The prancing and pawing of each little hoof.
As I drew in my head, and was turning around,
Down the chimney St. Nicholas came with a bound.
He was dressed all in fur, from his head to his foot,
And his clothes were all tarnished with ashes and soot;
A bundle of toys he had flung on his back,
And he looked like a pedler just opening his pack.
His eyes—how they twinkled! his dimples, how merry!
His cheeks were like roses, his nose like a cherry!
His droll little mouth was drawn up like a bow,
And the beard on his chin was as white as the snow;
The stump of a pipe he held tight in his teeth,
And the smoke, it encircled his head like a wreath;
He had a broad face and a little round belly
That shook when he laughed, like a bowl full of jelly.
He was chubby and plump, a right jolly old elf,
And I laughed when I saw him, in spite of myself;
A wink of his eye and a twist of his head
Soon gave me to know I had nothing to dread;
He spoke not a word, but went straight to his work,
And filled all the stockings; then turned with a jerk,
And laying his finger aside of his nose,
And giving a nod, up the chimney he rose;
He sprang to his sleigh, to his team gave a whistle,
And away they all flew like the down of a thistle.
But I heard him exclaim, ere he drove out of sight—
"Happy Christmas to all, and to all a good night!"
A Visit from St. Nicholas, more commonly known as The Night Before Christmas and 'Twas the Night Before Christmas from its first line, is a poem first published anonymously under the title Account of a Visit from St. Nicholas in 1823 and later attributed to Clement Clarke Moore, who claimed authorship in 1837.
3. The Oxen by Thomas Hardy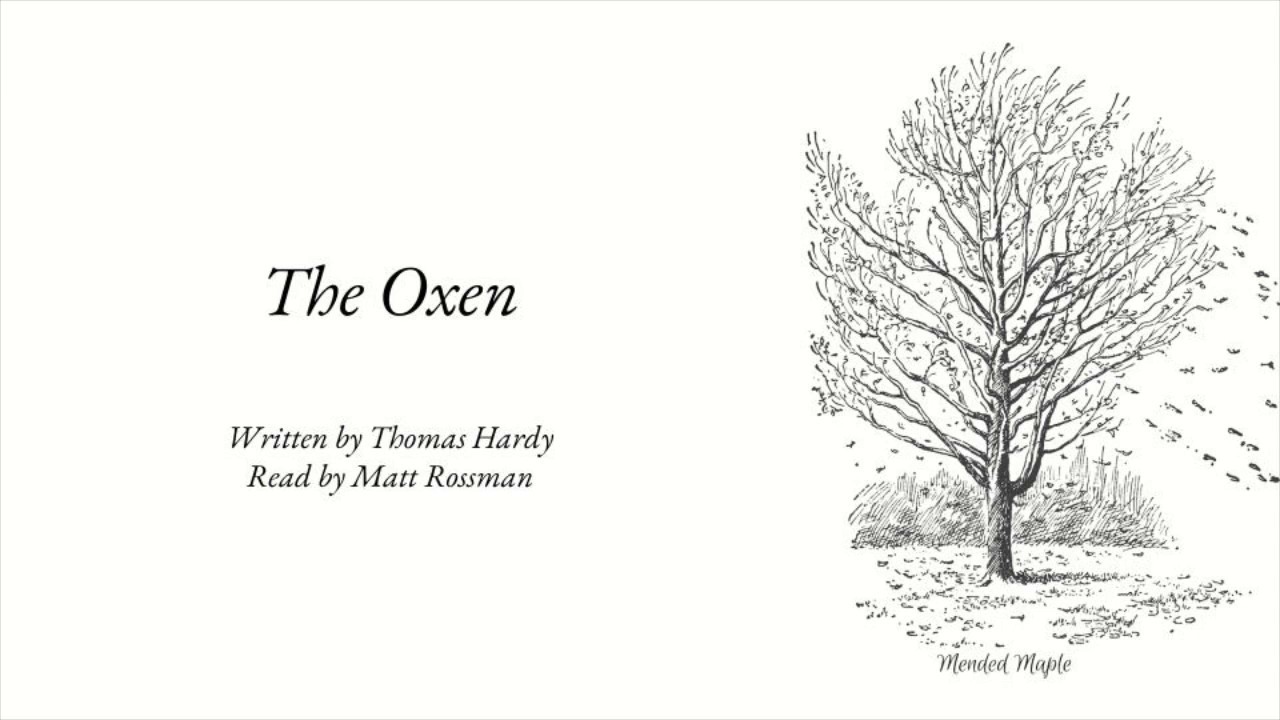 Photo: Mended Maple Poetry
Christmas Eve, and twelve of the clock.
"Now they are all on their knees,"
An elder said as we sat in a flock
By the embers in hearthside ease.
We pictured the meek mild creatures where
They dwelt in their strawy pen,
Nor did it occur to one of us there
To doubt they were kneeling then.
So fair a fancy few would weave
In these years! Yet, I feel,
If someone said on Christmas Eve,
"Come; see the oxen kneel,
"In the lonely barton by yonder coomb
Our childhood used to know,"
I should go with him in the gloom,
Hoping it might be so.
"The Oxen" is a poem (sometimes known by its first line, "Christmas Eve, and Twelve of the Clock") by the English novelist and poet Thomas Hardy (1840–1928). It relates to a West Country legend: that, on the anniversary of Christ's Nativity, each Christmas Day, farm animals kneel in their stalls in homage. It was first published in December 1915, in the London newspaper The Times. It has been set to music several times.
4. Christmas by John Betjeman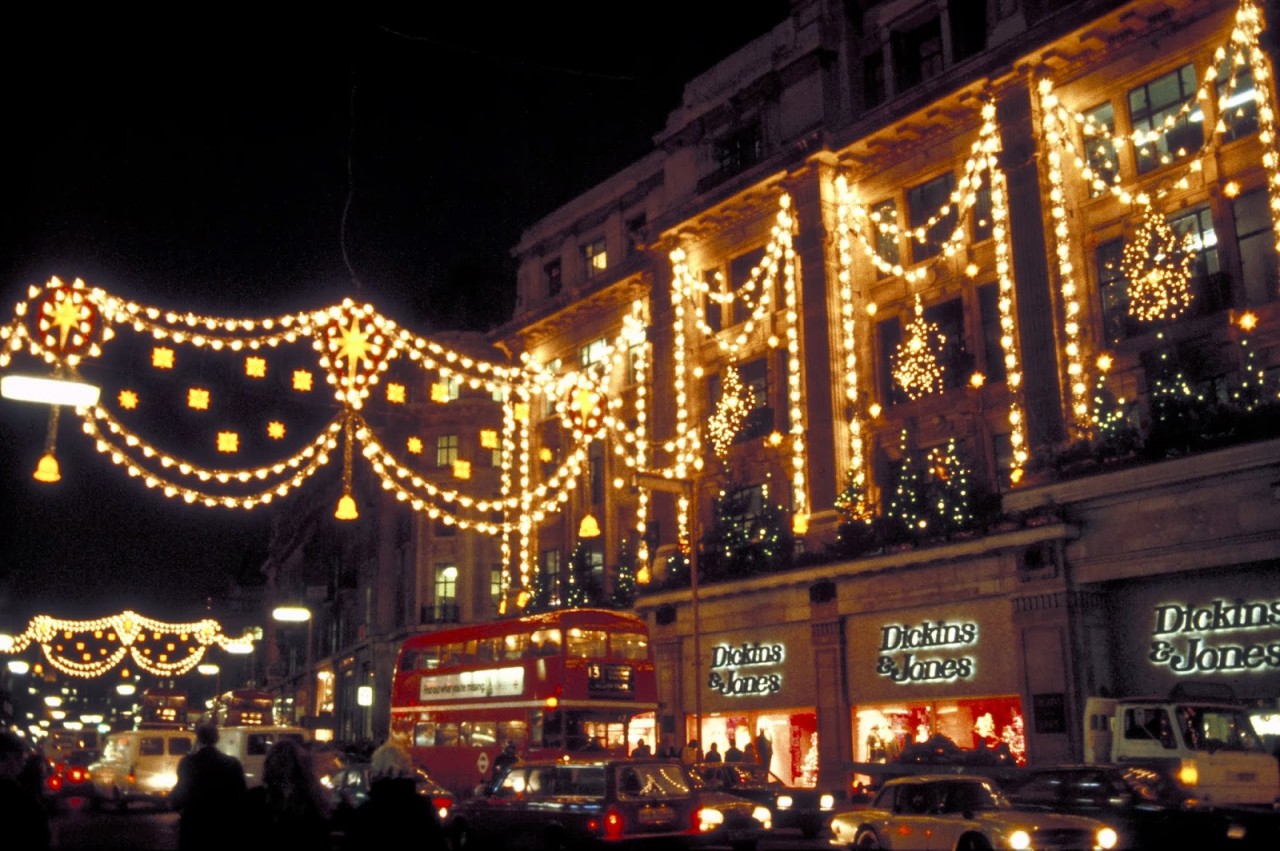 Photo: David's Blog
The bells of waiting Advent ring,
The Tortoise stove is lit again
And lamp-oil light across the night
Has caught the streaks of winter rain
In many a stained-glass window sheen
From Crimson Lake to Hookers Green.
The holly in the windy hedge
And round the Manor House the yew
Will soon be stripped to deck the ledge,
The altar, font and arch and pew,
So that the villagers can say
'The church looks nice' on Christmas Day.
Provincial Public Houses blaze,
Corporation tramcars clang,
On lighted tenements I gaze,
Where paper decorations hang,
And bunting in the red Town Hall
Says 'Merry Christmas to you all'.
And London shops on Christmas Eve
Are strung with silver bells and flowers
As hurrying clerks the City leave
To pigeon-haunted classic towers,
And marbled clouds go scudding by
The many-steepled London sky.
And girls in slacks remember Dad,
And oafish louts remember Mum,
And sleepless children's hearts are glad.
And Christmas-morning bells say 'Come!'
Even to shining ones who dwell
Safe in the Dorchester Hotel.
And is it true? And is it true,
This most tremendous tale of all,
Seen in a stained-glass window's hue,
A Baby in an ox's stall ?
The Maker of the stars and sea
Become a Child on earth for me ?
And is it true ? For if it is,
No loving fingers tying strings
Around those tissued fripperies,
The sweet and silly Christmas things,
Bath salts and inexpensive scent
And hideous tie so kindly meant,
No love that in a family dwells,
No carolling in frosty air,
Nor all the steeple-shaking bells
Can with this single Truth compare -
That God was man in Palestine
And lives today in Bread and Wine.
Sir John Betjeman CBE (28 August 1906 – 19 May 1984) was an English poet, writer, and broadcaster. He was Poet Laureate from 1972 until his death. He was a founding member of The Victorian Society and a passionate defender of Victorian architecture, helping to save St Pancras railway station from demolition. He began his career as a journalist and ended it as one of the most popular British Poets Laureate and a much-loved figure on British television.
5. Christmas Carol by Paul L Dunbar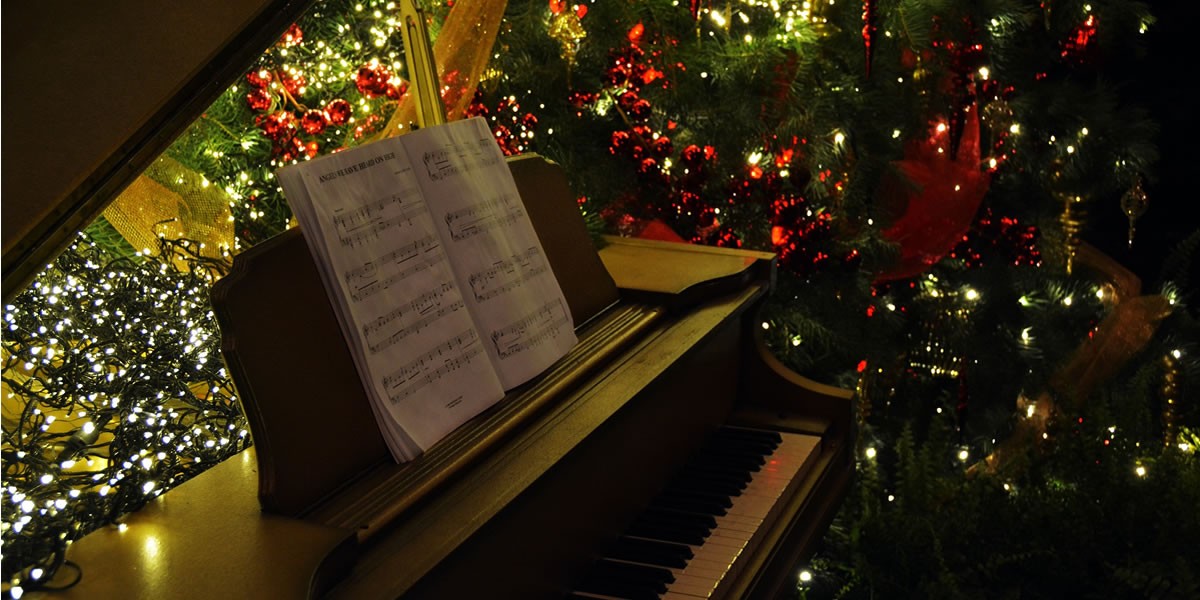 Photo: UnderTheChristmasTree
Ring out, ye bells!
All Nature swells
With gladness at the wondrous story,—
The world was lorn,
But Christ is born
To change our sadness into glory.
Sing, earthlings, sing!
To-night a King
Hath come from heaven's high throne to bless us.
The outstretched hand
O'er all the land
Is raised in pity to caress us.
Come at his call;
Be joyful all;
Away with mourning and with sadness!
The heavenly choir
With holy fire
Their voices raise in songs of gladness.
The darkness breaks
And Dawn awakes,
Her cheeks suffused with youthful blushes.
The rocks and stones
In holy tones
Are singing sweeter than the thrushes.
Then why should we
In silence be,
When Nature lends her voice to praises;
When heaven and earth
Proclaim the truth
Of Him for whom that lone star blazes?
No, be not still,
But with a will
Strike all your harps and set them ringing;
On hill and heath
Let every breath
Throw all its power into singing!
Dunbar was a writer who achieved international success against all the odds. Born in Kentucky in 1872 to former slaves, Dunbar attended high school in Dayton, Ohio where he was the only black pupil. Despite graduating with top grades and ambitions to be a writer, circumstances forced him to take work as an elevator operator. However, one schoolfriend, Orville Wright – of airplane-inventing fame – helped to provide the financial backing for Dunbar to publish his first collection of poems. Success ensued and from that point on Dunbar lived off his writing until his tragically early death from tuberculosis at the age of 33. Christina Rossetti's In the Bleak Midwinter (which would be my No 11 here) might be the best-known poem sung as a carol, but Dunbar's contains the direct exhortation to throw all our power into singing. It is a joyous Christian celebration, according to The Guardian.
6. I Saw a Stable by Mary Coleridge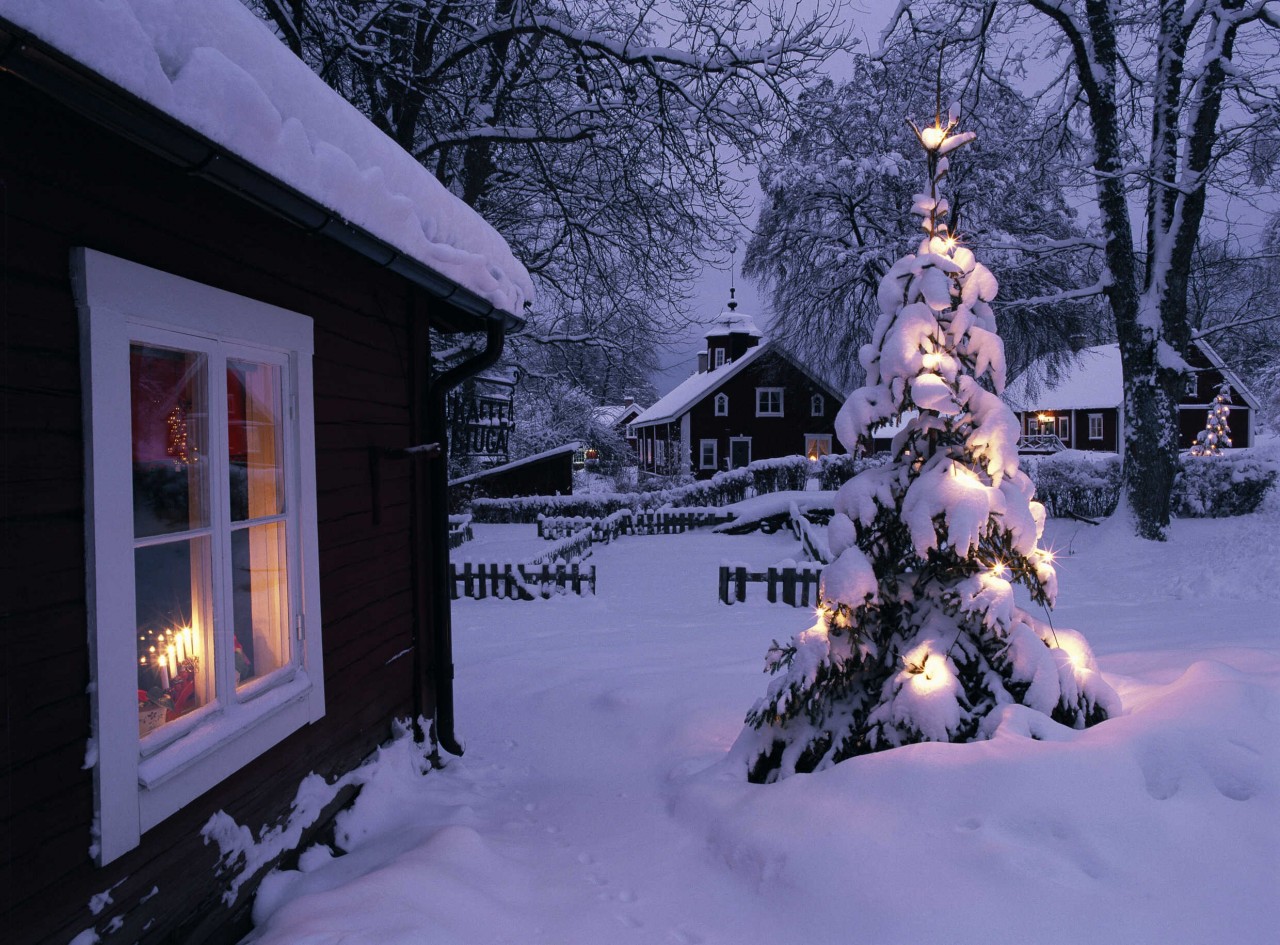 Photo: Sweden.se
I saw a stable, low and very bare,
A little child in a manger.
The oxen knew Him, had Him in their care,
To men He was a stranger.
The safety of the world was lying there.
And the world's danger.
Mary Elizabeth Coleridge (23 September 1861 – 25 August 1907) was a British novelist and poet who also wrote essays and reviews. She wrote poetry under the pseudonym Anodos (a name taken from George MacDonald). Other influences on her were Richard Watson Dixon and Christina Rossetti. Robert Bridges, the Poet Laureate, described her poems as 'wonderously beautiful… but mystical rather and enigmatic'.
7. Journey of the Magi by TS Eliot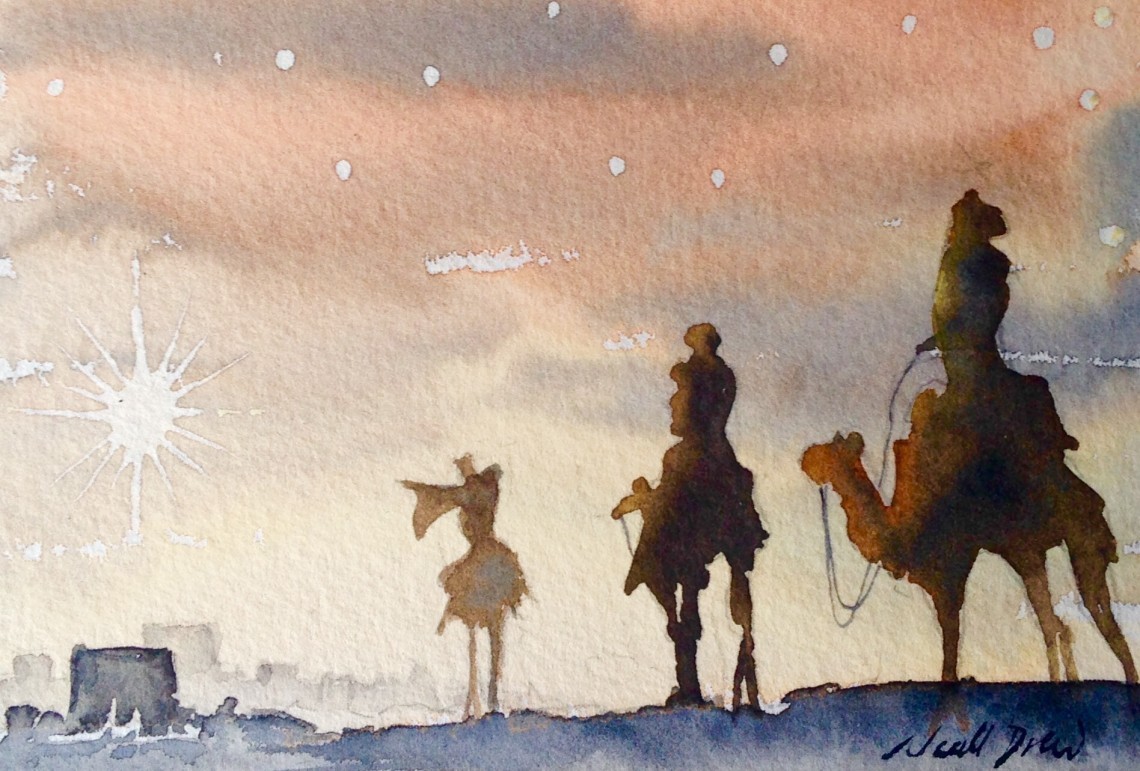 Photo: Christian Courier
"A cold coming we had of it,
Just the worst time of the year
For a journey, and such a long journey:
The ways deep and the weather sharp,
The very dead of winter."
And the camels galled, sore-footed, refractory,
Lying down in the melting snow.
There were times we regretted
The summer palaces on slopes, the terraces,
And the silken girls bringing sherbet.
Then the camel men cursing and grumbling
And running away, and wanting their liquor and women,
And the night-fires going out, and the lack of shelters,
And the cities hostile and the towns unfriendly
And the villages dirty and charging high prices:
A hard time we had of it.
At the end we preferred to travel all night,
Sleeping in snatches,
With the voices singing in our ears, saying
That this was all folly.
Then at dawn we came down to a temperate valley,
Wet, below the snow line, smelling of vegetation;
With a running stream and a water-mill beating the darkness,
And three trees on the low sky,
And an old white horse galloped away in the meadow.
Then we came to a tavern with vine-leaves over the lintel,
Six hands at an open door dicing for pieces of silver,
And feet kicking the empty wine-skins.
But there was no information, and so we continued
And arrived at evening, not a moment too soon
Finding the place; it was (you may say) satisfactory.
All this was a long time ago, I remember,
And I would do it again, but set down
This set down
This: were we led all that way for
Birth or Death? There was a Birth, certainly,
We had evidence and no doubt. I had seen birth and death,
But had thought they were different; this Birth was
Hard and bitter agony for us, like Death, our death.
We returned to our places, these Kingdoms,
But no longer at ease here, in the old dispensation,
With an alien people clutching their gods.
I should be glad of another death.
Journey of the Magi" is a 43-line poem written in 1927 by T. S. Eliot (1888–1965). It is one of five poems that Eliot contributed for a series of 38 pamphlets by several authors collectively titled Ariel poems and released by British publishing house Faber and Gwyer (later, Faber and Faber). Published in August 1927, "Journey of the Magi" was the eighth in the series and was accompanied by illustrations drawn by American-born avant garde artist Edward McKnight Kauffer (1890–1954). The poems, including "Journey of the Magi", were later published in both editions of Eliot's collected poems in 1936 and 1963.
In the previous year, Eliot had converted to Anglo-Catholicism and his poetry, starting with the Ariel Poems (1927–1931) and Ash Wednesday (1930), took on a decidedly religious character. In the poem, Eliot retells the story of the Magi who travelled to Palestine to visit the newborn Jesus according to the Gospel of Matthew. It is a narrative, told from the point of view of one of the magi, that expresses themes of alienation and a feeling of powerlessness in a world that has changed. The poem's dramatic monologue incorporates quotations and literary allusions to works by earlier writers Lancelot Andrewes and Matthew Arnold.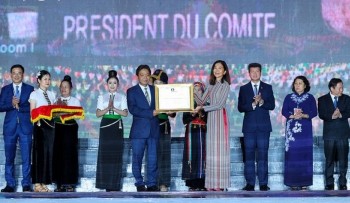 Viet's Home
UNESCO presented Vietnam a certificate recognizing Xoe Thai dance as an Intangible Cultural Heritage of Humanity at a ceremony held in Yen Bai province on September 24.