The Best Comfort Foods For You To Savor During The Wintertime In Hanoi
Hanoi is home to a myriad of cuisine, from refreshing summer seafood to toasty winter treats. As chilly weather begins to creep over Hanoi, cold days allow people in the capital to enjoy a number of famous dishes.
1. Steamed rice cake with toppings (Banh Duc Nong)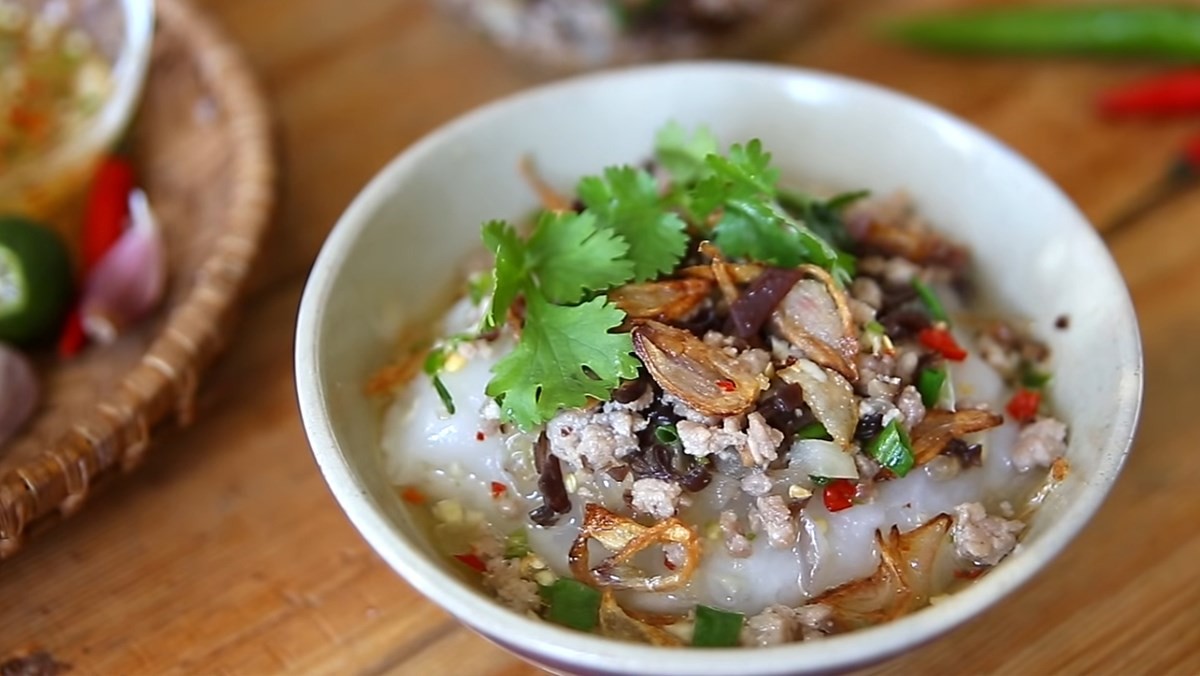 Photo: Dien may XANH
This is considered one of the best dishes for you to eat in the cold, chilly days of Hanoi, which is a variation of the traditional cake, instead of being cooled and cut into pieces to eat with soy sauce, Banh Duc Nong is eaten when it is hot.
Banh Duc Nong is eaten with a typical sweet and sour dipping sauce, stir-fried ground meat with wood ear, coriander, and dried onion. Some restaurants even add fried tofu to the dish. The cake is chewy and soft, soaked in a rich dipping sauce, and mixed with other ingredients to create a flavor that will make you fall in love at first bites.
2. Sticky rice with mung beans (Xoi Xeo)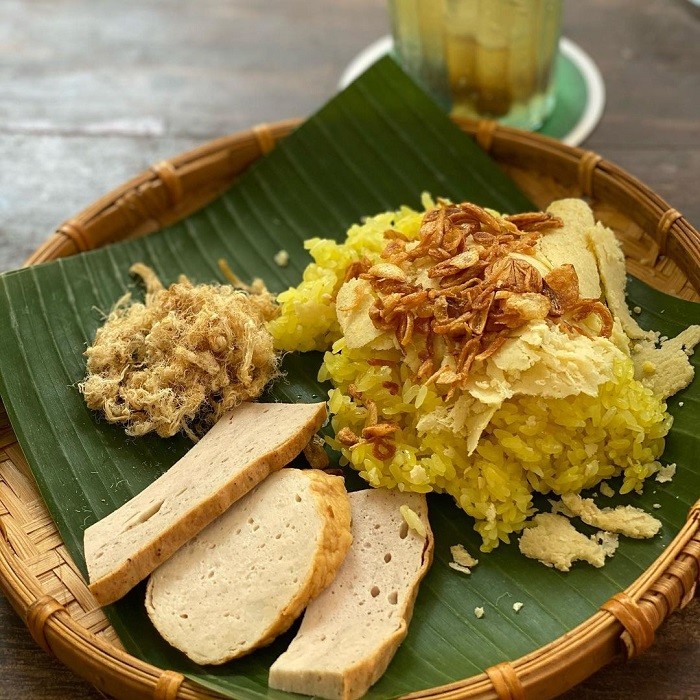 Photo: Vinpearl
Xoi Xeo is the favorite traditional breakfast of old-timer Hanoians because sticky rice is known to keep eaters feeling full for a longer time than noodles. The dish is a luscious mixture of glutinous rice and turmeric powder, layered with mung beans, deep-fried shallots, and some lard.
The mung beans, after being carefully chosen and peeled, are then steamed, pummeled, and rolled into small balls. The yellow color of turmeric powder and mung beans, the brown of the shallots, and the distinctive green of the banana leaves mix and match attractively.
3. Vietnamese water drift cake (Banh Troi Tau)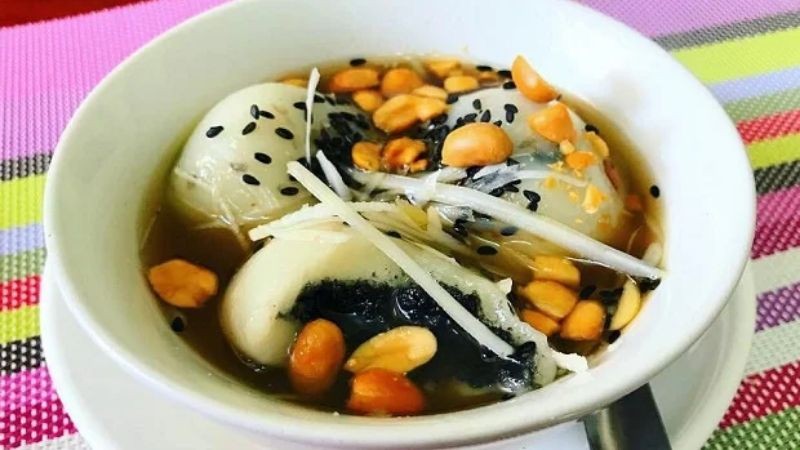 Photo: Bach hoa XANH
The ingredients for the cake are made from glutinous rice, green beans, black sesame, ginger, fresh coconut, sugar, peanuts, etc. A bowl of Banh Troi Tau will usually include 2 cakes, one round with green bean paste and one with black sesame filling inside.
The outside of the cake has a soft and fragrant taste, and the inside is sweet and delicious, eaten with hot ginger juice that will warm up your belly on this cold winter day in Hanoi.
4. Vietnamese rice pyramid dumplings (Banh Gio)
Photo: amthucmuonnoi
White rice is a staple food and also an essential ingredient in Vietnamese cuisine. Simple yet versatile, white rice can be ground into flour to make many different types of rice cakes, among which Banh Gio stands out for its unique shape and flavor.
To foreigners, the cake is known as Vietnamese rice pyramid dumplings for its pyramid shape formed by wrapping banana leaves. Fresh green banana leaves are first carefully chosen, rinsed, and dried before being curved into a pyramid-shaped mold. It is then respectively filled with well-mixed rice batter and a mixture of sliced wood ear mushroom, lean minced pork, and finely chopped shallots, which have previously been seasoned with pepper, salt, and fish sauce. Another layer of rice batter is added on top of the mold. At last, it is skillfully wrapped to ensure the cake is well cooked without water getting in while boiling.
5. Baked corn, baked potatoes (Khoai Tay, Ngo Nuong)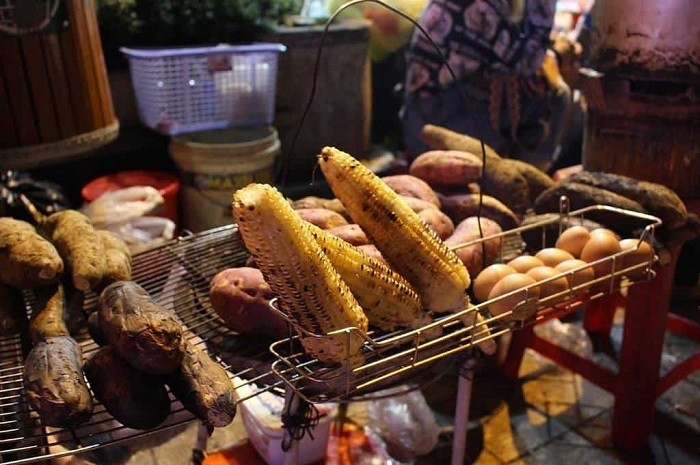 Photo: Dulichvietnam
On winter days, the weather is cold, and nothing is better than enjoying grilled corn and baked potatoes that will make your belly full and warm. The plump, milky corn is grilled with a fragrant smell, and the baked sweet potatoes are lovely with a sweet aroma. You can find street vendors selling these dishes on different corners in Hanoi, at a cheap price.
6. Pillow-shaped deep-fried cakes (Banh Goi)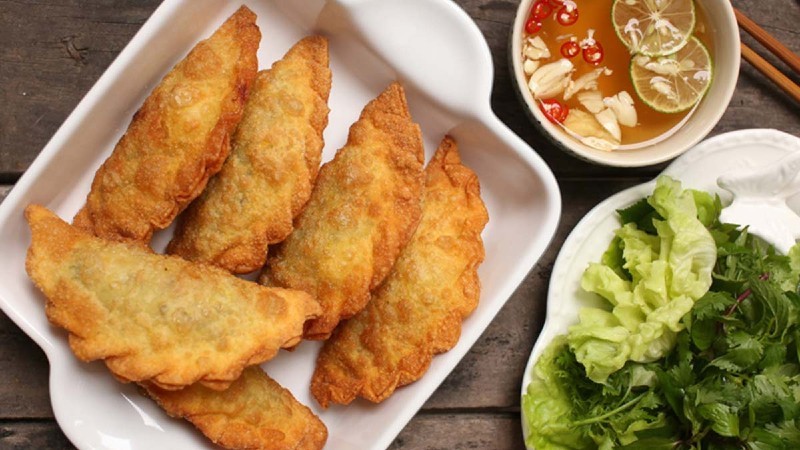 Photo: Bach hoa XANH
Banh Goi fascinates guests with its pillowy shapes. The cake is made of rice flour that's folded into these shapes and deep-fried until the skin turns yellow and crispy. Vermicelli, minced pork, wood ear, and mushrooms are chopped and blended together for the savory filling.
The dipping sauce for this dish normally contains immunity-boosting ingredients such as garlic, chili, lime juice, fish sauce, and sugar. A bunch of herbs such as lettuce and coriander is served along to reduce the greasiness of the puffs and accent the overall flavor.
7. Porridge with pork ribs (Chao Suon)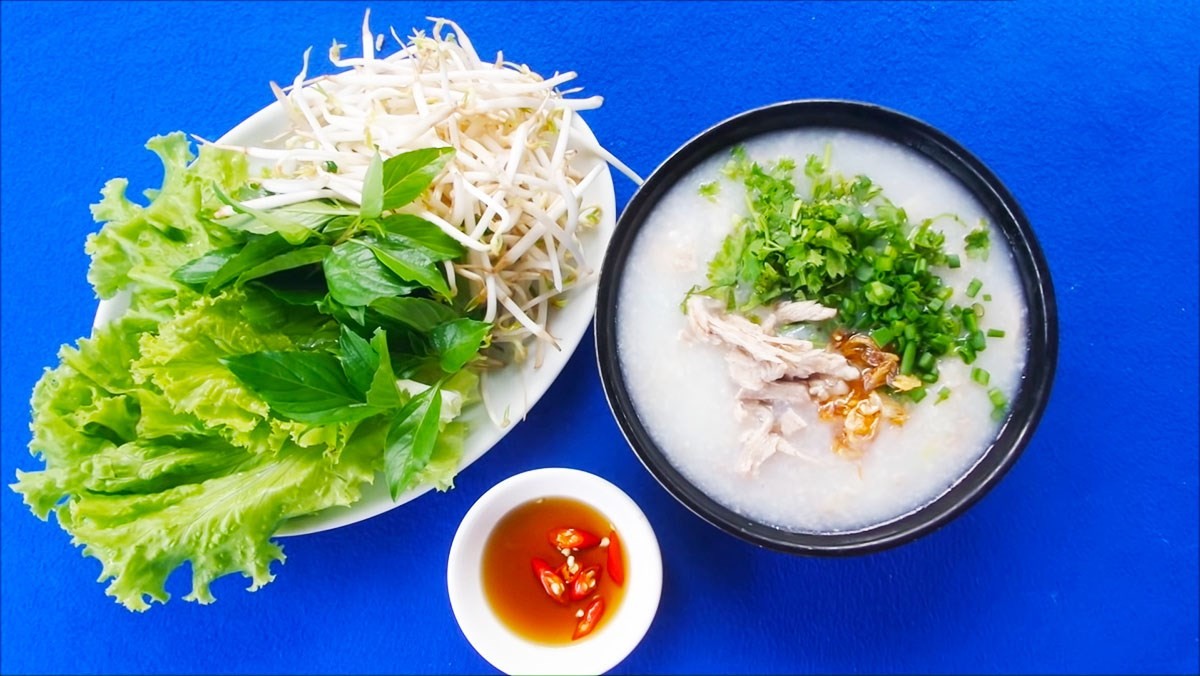 Photo: Dien may XANH
Chao Suon is a strictly Hanoian dish that cannot be found in any other province in the South. Just one scoop and you'll be surprised at how a bowl with simple ingredients such as porridge, pork ribs, and shredded pork can be so delicious.
The dish is often served with crunchy, greasy hot crullers to bring out the best flavor of the dish. If you ever see a big pot and a dozen plastic chairs with lots of people gathering around it in Hanoi, there might be a vendor there selling Chao Suon.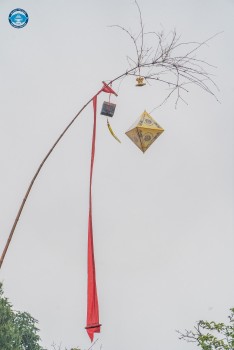 Viet's Home
In the past, the Neu pole (a tall bamboo pole with red garment strips used to ward off evil spirits during the lunar New Year) lowering ceremony at the royal palace of the Nguyen Dynasty was performed to mark the end of the New Year holiday and prepare to enter a new working year.