The Best Destinations For Instagram Check-Ins In Hue
While a quiter city than Hanoi or HCMC, Hue still offers plenty of lovely spots to amaze your Instagram followers.
It is imperative that one be able to tell Hue and Thua Thien- Hue apart. When someone says the word "Hue'' in a conversation, it is highly likely they are referring to Hue city itself. Hue city is situated in Vietnam's central province of Thua Thien- Hue, which is bordered by the more well-known city of Da Nang to the South and the war-torn province of Quang Tri to the North.
Hue Imperial Citadel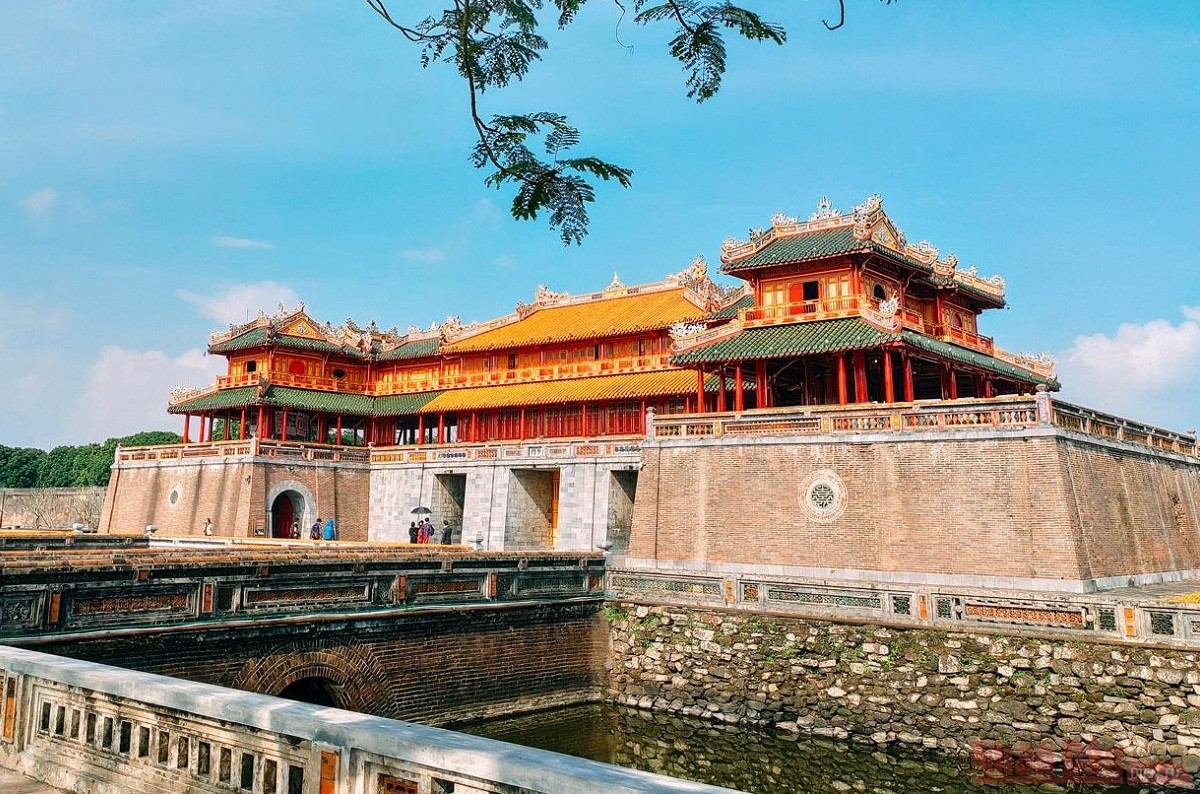 Photo: Central Vietnam Guide
Famously being one of Vietnam's seven UNESCO World Heritage Sites, the Imperial City of Hue has long been a must-see attraction for tourists visiting a hidden charm of Vietnam.
The Imperial City of Hue was actually a walled fortress and palace belonging to the ancient city of Hue which was the capital city of the Nguyen Dynasty for 140 years dating back from 1805 until 1945.
The Imperial City of Hue has a circumference of 10 kilometers with a height of 6.6 meters and 21 meters thick with forts being meanderingly arranged, accompanied by cannons, artilleries, and ammunition. Initially, the fortress was built solely with soil, only to be replaced by bricks afterward. Surrounding the city is the complicated canal system that served not only as protection but also as a waterway with nearly seven kilometers.
Khai Dinh Mausoleum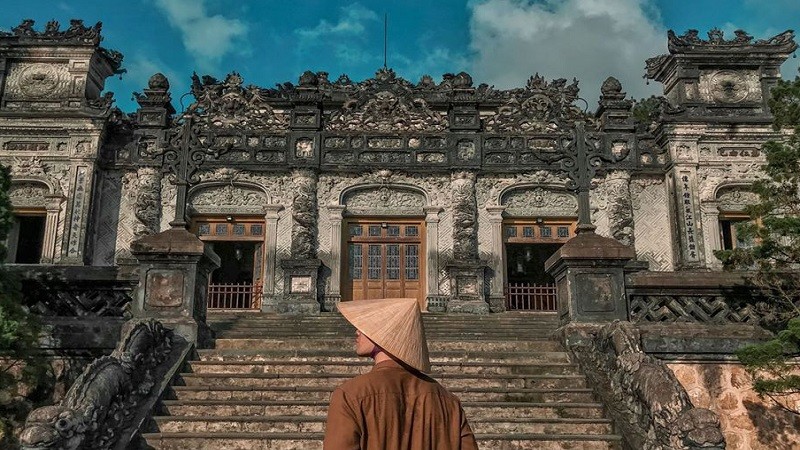 Photo: Vinpearl
Khai Dinh Tomb, also known as Ung Lang, was built in 11 years, the king also sent some materials to France, Japan, and China to bring back.
Some construction materials were bought from France (iron, steel, cement, and Ardoise tile) and Japan (porcelain and glassware). Compared to other tombs in Hue, the Khai Dinh tomb is smaller, yet more elaborate and time-consuming. It is a combination of East-West classic and modern architecture.
Overall, Khai Dinh Tomb of Hue is a rectangular floating block, consisting of 127 steps, through the first 37 steps is the Tam Quan gate, followed by Nghi Mon and Bai Dinh courtyard, on the top are two floors of courtyards, each floor is separated from each other. 13 steps apart, Thien Dinh Palace is in the highest position.
Thien Mu Pagoda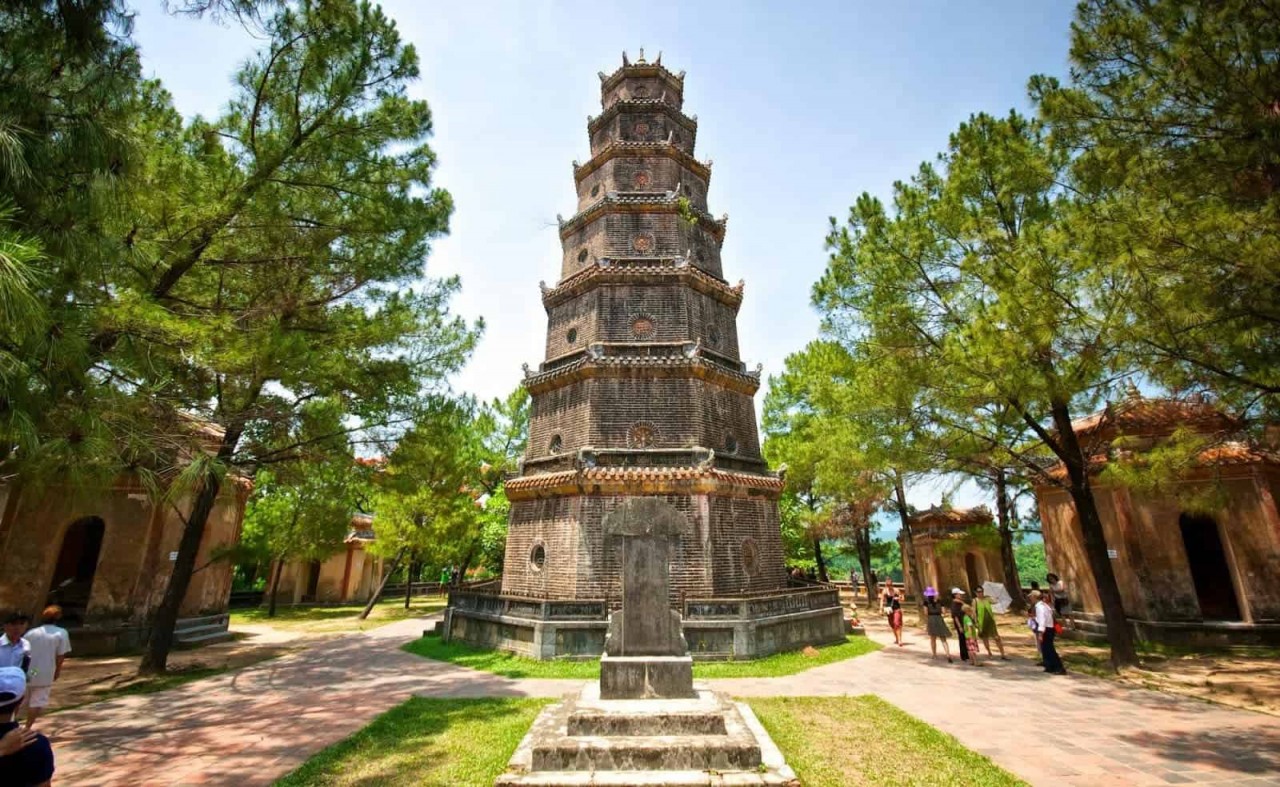 Photo: Vietnam Discovery Travel
Thien Mu Pagoda is about 5km west of the Citadel and Hue city center. The pagoda is located on Ha Khe hill, Kim Long ward, facing the peaceful Perfume River. Visitors to Thien Mu Pagoda can visit the 7-story Phuoc Duyen tower, Dai Hung palace, gardens, pine forests, and the display area of the relics of the monk Thich Quang Duc.
The name of the pagoda derives from a particular legend. A long time ago, an old woman appeared on the hill where the pagoda stands today, telling local people that a Lord would come and build a Buddhist pagoda for the country's prosperity. Lord Nguyen Hoang, therefore, ordered the construction of the pagoda the "Heaven Fairy Lady" or Thien Mu in Vietnamese (also called Linh Mu). Thanks to such a mysterious history, the pagoda has attracted a great number of tourists from both inside and outside of the nation to come and explore the legend themselves.
Minh Mang Tomb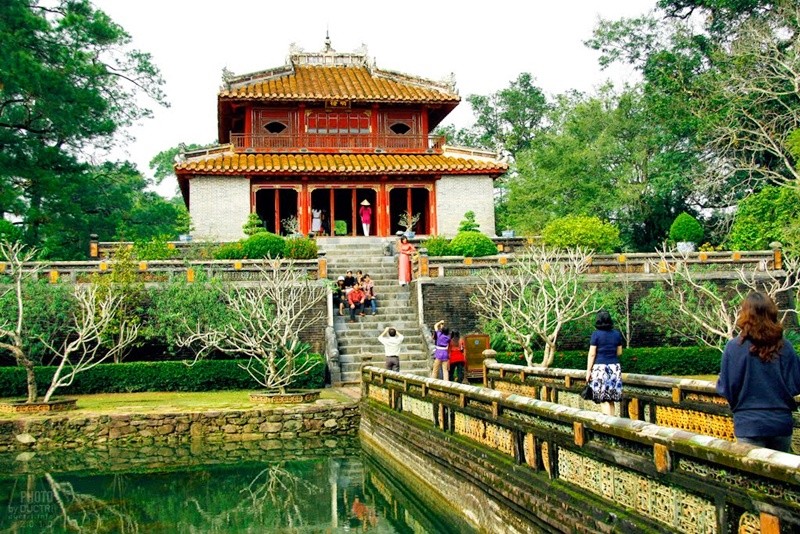 Photo: Deluxe Group Tours
Minh Mang tomb consists of 40 constructions such as the palace, shrine, towers, etc arranged in a vertical axis along a 700m long symmetric axis (Than dao) from the Dai Hong gate to the wall behind the tomb. Minh Mang tomb looks like a person who leans his head on Kim Phung mount and stretches his legs to the river confluence. Two halves of Trung Minh lake look like his arms.
The mausoleum has a poetic and charming scene. With its two lakes and beautiful decorative architecture, the Minh Mang tomb is one of the most majestic constructions of Emperors under the Nguyen dynasty.
Tu Duc Tomb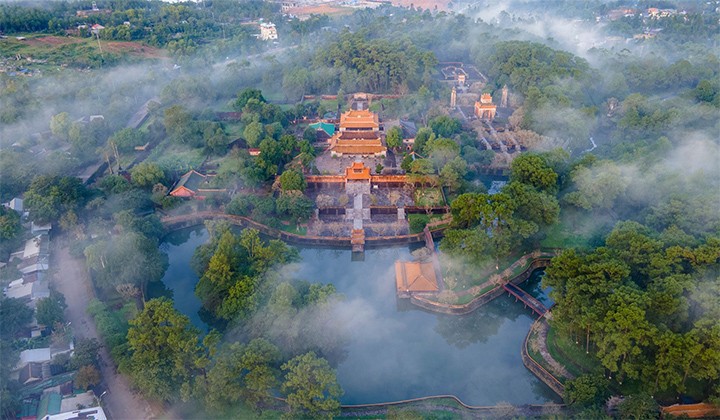 Photo: thuathienhue.gov.
Tu Duc Tomb is considered one of the most beautiful mausoleum architectures of the Nguyen Dynasty in the 19th century not only because of its location in a poetic setting near the center of Hue city but also because of its harmonious structure and beautiful architecture.
If Minh Mang Tomb is majestic and magnificent, then Tu Duc Hue Tomb has an elegant and poetic appearance. The mausoleum of the 4th king of the Nguyen Dynasty is located in a charming landscape, which is considered one of the most beautiful mausoleum architectures of the Nguyen Dynasty in the 19th century.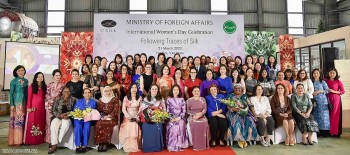 Friendship
Female ambassadors, representatives from diplomatic corps and international organizations, along with spouses of diplomats in Vietnam gathered together to find about more about silk weaving and silk products in Vietnam.