The Best Spots To Celebrate New Year Around The World
With New Year and the holiday are happening around the world, here is the best places that you can spend your time with your family and loved ones.
New Year is definitely one of the main events when everyone is excited to welcome the arrival of new year with their closed ones. Whether its welcoming New Year with a glass of champagne, countdown party or an intimate dinner, everyone plans something special to ring the arrival of New Year. Take a look at some of the best places to celebrate New Year in the world.
1. Sydney, Australia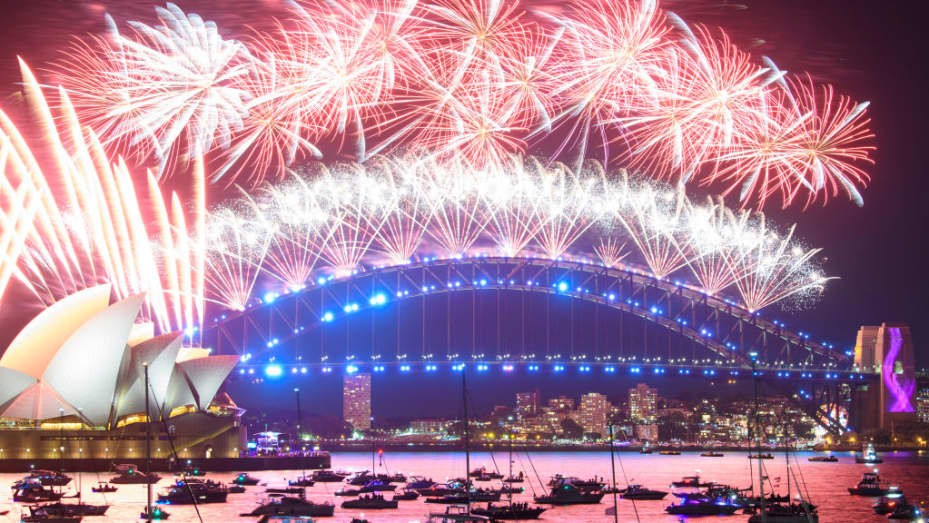 Photo: Getty Images
Sydney New Year's Eve is an annual multi-tiered event held every New Year's Eve in Sydney, Australia. Centring on the Sydney Harbour Bridge and surrounding Port Jackson, its main events are two pyrotechnic displays: the 9 pm Family Fireworks and the Midnight Fireworks, both of which are televised nationally with the more popular Midnight Fireworks televised globally.
Synchronised to a soundtrack of popular music from past and present, the fireworks explode off the arches, catwalk and roadway of the Harbour Bridge, including the Opera House, nearby city buildings and up to seven barges evenly divided on both sides of the bridge. Each year a new theme is chosen and is regularly viewed by more than one million people surrounding the harbour and one billion worldwide for the Midnight Fireworks. For the 2010–11 event, an audience of 1.5 million watched the display from the local harbour and a reported 1.1 billion globally, though independent support for that claim is lacking.
The event was first televised on 31 December 1995. The 9 pm Family Fireworks were originally the main show lasting around twenty minutes, with the Midnight Fireworks only lasting around three and featuring only the Sydney Tower. From 1999 onwards the Midnight Fireworks became the main event of the two. In 2020, the festivities were downsized due to the COVID-19 pandemic, with the Family Fireworks cut and the midnight fireworks shortened.
2. Queenstown, New Zealand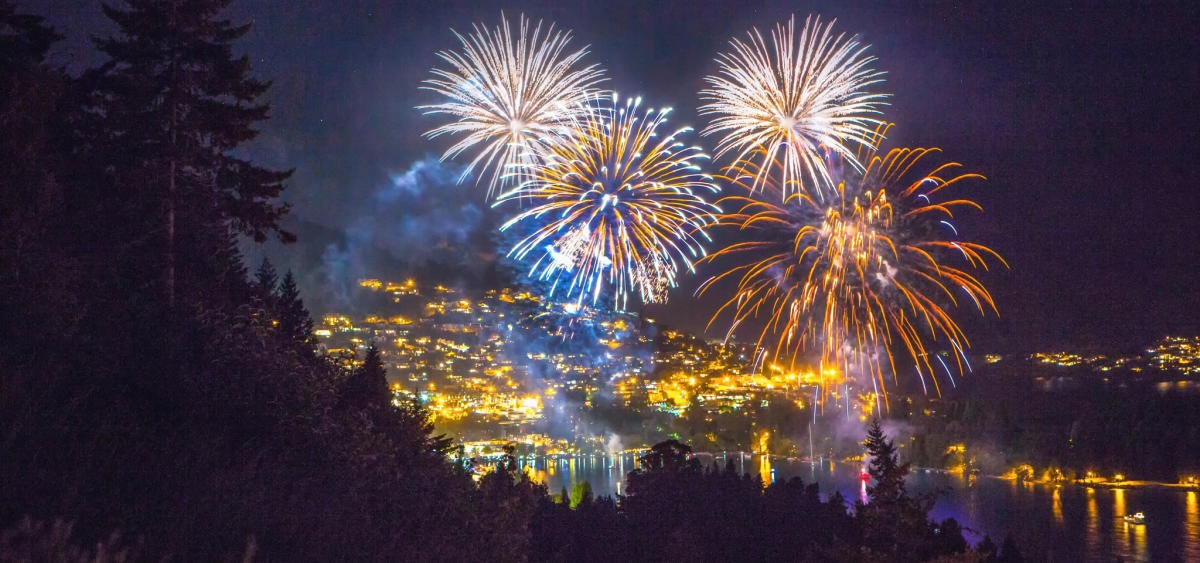 Photo: Destination Queenstown
Queenstown is one of the best places to go for New Year's Eve—like Sydney, the city hosts another one of the world's "first" NYE celebrations. And though its fireworks aren't quite the eyebrow-singeing display in Sydney, this party city knows how to have a good time. There are some 55 bars to keep up with the demand of locals and visiting adrenaline seekers (en route to a nearby bungee-jumping or heli-skiing adventure), but there's also a very fun, family-friendly, and free party on the lakefront lawn, with live music from 7:30 p.m. to 1 a.m. and a fireworks show at midnight.
Queenstown features in everyone's New Zealand itinerary for multiple reasons – it's beautiful, has plenty of things to do and makes for a near-perfect base to visit other popular locations like Milford Sound, Doubtful Sound, Mt.Cook (New Zealand's highest mountain), Glenorchy/Paradise and Wanaka. So, if you're there in late December, you can easily plan your route in a way that you spend New Years in Queenstown.
This party capital of New Zealand is always buzzing with lively restaurants, noisy bars and fun dance clubs. It is a town that never sleeps and that is saying a lot in a country that diligently follows- early to bed and early to rise.
3. Las Vegas, Nevada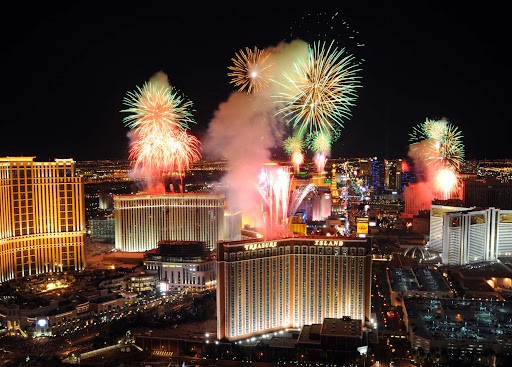 Photo: Destination 360
One of the most intriguing places to go on New Year is Las Vegas in Nevada. Just think what would be an ambience of this place on New Year when it is so enchanting even on the normal days. One of the best-known party destinations in the world, Las Vegas comes to life on New Year's Eve with its lively casinos, nightclubs, hotel events, crazy fireworks and a lot more. Visit the Las Vegas strip where the crowd gets crazy and massive New Year celebration takes place. Gold Diggers, Lavo Casino Club, Drai's Nightclub, Club 101, Omnia are some of the best nightclubs in Las Vegas to witness the best New Year parties in 2022.
In Las Vegas, a city where the party rages on night after night, New Year's Eve calls for taking things to a whole other level. With countless options—celebrity-hosted nightclub parties, world-class dinner shows, and raucous casinos—there's no excuse not to get decked out and hit the town. If you can't commit to a certain venue for the night, simply head out to the Strip. The normally busy thoroughfare is closed to vehicular traffic for the night, offering excellent vantage points from which you can see some 80,000 fireworks ignite from the rooftops of seven casinos.
4. Paris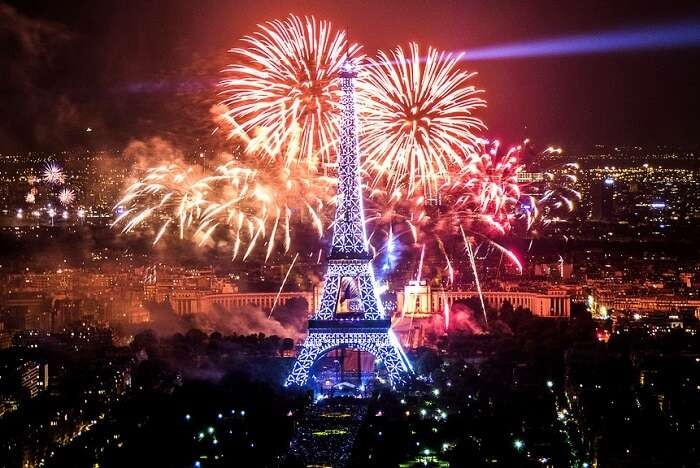 Photo: Travel Triangle
Paris is the perfect destination for a romantic New Year's Eve getaway. It has high class dining, clubbing, fantastic fireworks, and the chance to sip Champagne on the Champs-Elysees. Around midnight, you can watch the Eiffel Tower's light show. Another great place to spend the evening is Montmartre, as it offers spectacular views of the entire Paris skyline.
One of the best places in the world for New Year especially for couples is Paris where the spectacular fireworks take place at the Eiffel Tower making the whole aura very romantic and perfect to enter the near year with your partner. Count down for the arrival of New Year at the most iconic location in Paris called the Champs-Elysées where thousands of local people gather to celebrate the arrival of the New Year together. Cabaret shows are very popular in Paris and what could be a better occasion to witness them than a New Year? Head to Moulin Rouge and witness a breathtaking performance by different artists, musicians and vocalists. If clubbing is your game on New Year's Eve, then head to Rex Club which is one of the most striking places to party all night on the New Year Day. All these things to do in Paris makes it one of the best places to celebrate New Year 2022. Capture the stunning fireworks at the Eiffel Tower, enjoy the best cabaret show in the world at Moulin Rouge, enjoy partying all night at different clubs, welcome New Year with a glass of champagne at any of the rooftop restaurants.
5. Rio de Janeiro, Brazil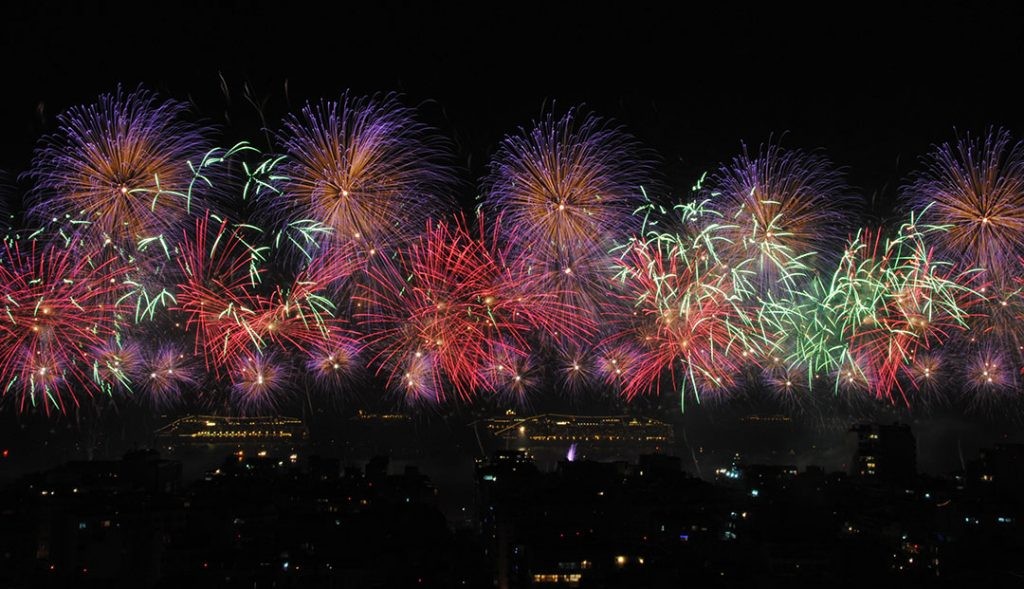 Photo: Brol.com
Known as the Cidade Maravilhosa (Marvelous City), this glimmering Brazilian metropolis has certainly earned its title. Resting at the mouth of a bay harbor, the city is lined with white-sand beaches, lush rainforests and surrounded by staggered green mountains. Rio de Janeiro boasts dramatic views from nearly every angle. From the slopes of Corcovado Mountain, you'll admire the striking 125-foot-tall Christ the Redeemer, who overlooks Rio's pristine beaches. And from the shores of Copacabana and Ipanema, you'll admire the picture-perfect backdrop that has attracted Cariocas (native Brazilians born in Rio de Janeiro) and visitors alike for more than 500 years.
Rio de Janeiro is world famous for its Copacabana Beach Party which makes Rio one of the best places in the world for New Year celebration. The beach receives around 20 lakhs people on the New Year's Eve, all gathered together to witness the grand celebration and ring the arrival of New Year together. After the fireworks, it is mandatory for people to jump seven waves and make seven wishes. People also offer flowers and floating candles to Goddess Iemanjá and make wishes for the New Year. You can also book any of the beachfront restaurant's terrace area to enjoy al fresca dining while enjoying the jaw-dropping fireworks.
6. Ko Phangan, Thailand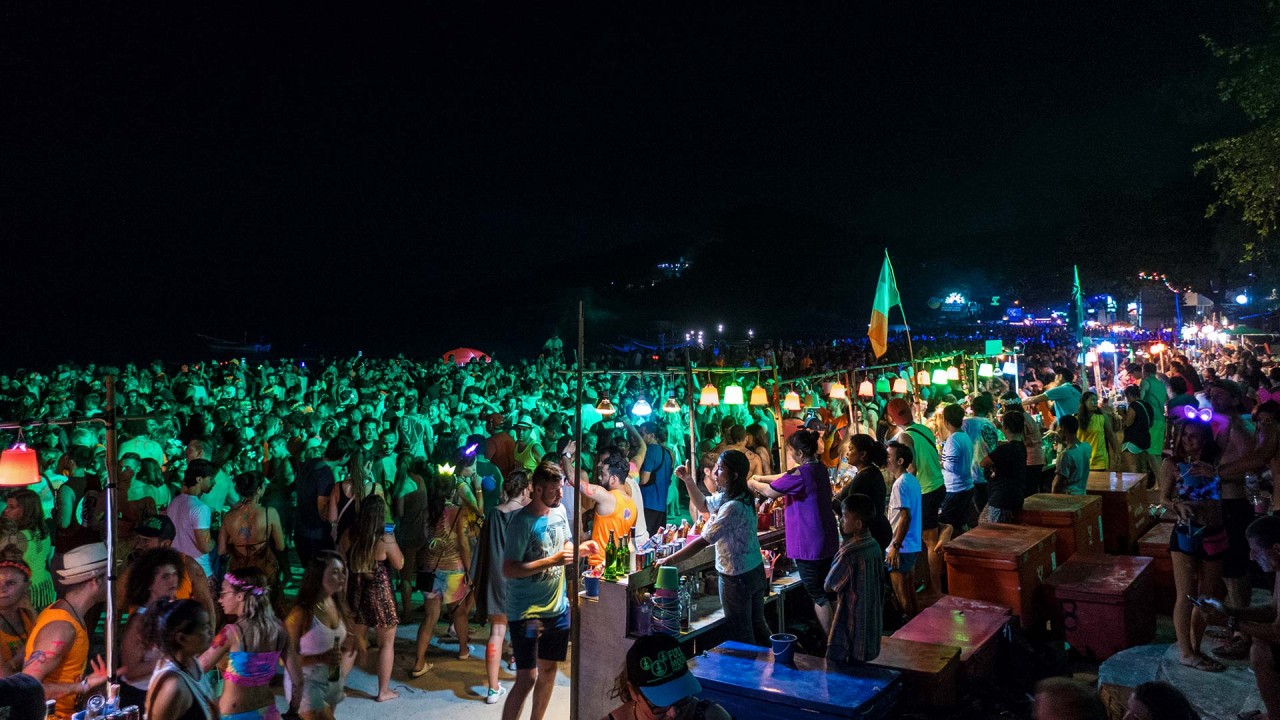 Photo: Home is where your bag is
Koh Phangan in Thailand is certainly one of the most amazing islands in the country. Today, although no longer an insider tip, it is now a popular destination for backpackers, dropouts and yogis, but also individual travelers and luxury vacationers are increasingly drawn to this dream island. Above all, the offer of paradisiacal beaches is on this island unparalleled in Thailand and makes the heart of sun-hungry beach vacationers beat faster. In addition to the many beautiful picture book beaches, you will find and really impressive offer on unique things to do in Koh Phangan, including visiting tropical waterfalls, picturesque temples, deep jungle and breathtaking viewpoints. Enough attractions to spend several weeks on Koh Phangan.
Over 20,000 young people cram on Haat Rin beach in Thailand to celebrate the New Year. Backpackers and travelers from around the world dance, paint themselves up, and drink buckets of alcohol from dusk until the first dawn of the new year. They fill the beach and it's one of the wildest outdoor parties there is on New Year's.
7. Bangkok, Thailand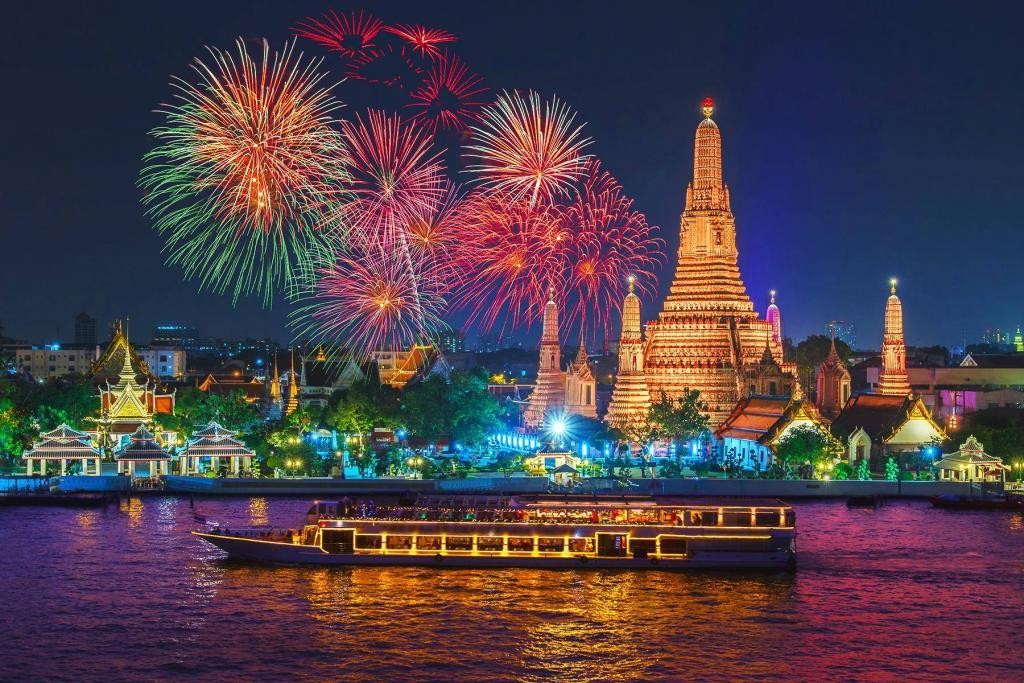 Photo: Shutterstock
Bangkok is a city that thrives on contrasts and embraces the weird, the wonderful, and the whacky. Its happy essence and vibrant nature is owed to the everyday hustle and daily grind of the people. A place like no other, enriched with culture and many delights that go way beyond a plate of Pad Thai. This city is a must see and an experience to remember any time you visit. From the casual tuk-tuk, market stalls, trendy skyscrapers and delicious food, the city harnesses a plethora of appeal.
With many popular neighborhoods to explore and plenty of traditional, world class foods to try. Whatever you're here for, this is a destination that delivers romance, adventure, and family time.
One of the best places to travel to for New Year is Bangkok where the Central World Square is the highlight of the city on the main Eve when various people gather together to celebrate the arrival of New Year. Fascinating fireworks that place here and the square is dotted with various bars and clubs that come to life as soon as the clock strikes 12. Another enchanting thing to do in Bangkok is to take a lavish dinner cruise on the Chao Phraya River where you can relish international and Thai buffet along with exotic drinks and seafood. Witness the intriguing skyline and the fireworks for a soul-satisfying new year experience. Bangkok hosts some of the best new year parties in the world like Meta Music Festival, White Party, Glitter & Glam and Beam NYE. Various rooftop dining venues like Sky Bar at Lebua, Octave Rooftop Bar – Marriott at Hotel Sukhumvit and Sirocco can also be booked to enjoy a spectacular New Year bash.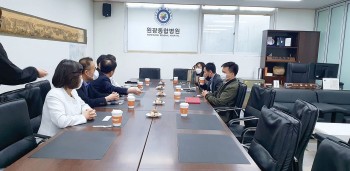 Overseas Vietnamese
A meeting was organized at the Wonkwang Hospital on the provision of medical support for the Vietnamese community in Korea in accordance with the signed cooperation agreement.