The dreamy beauty of Japanese cherry blossoms blooming in Sapa
In this time of the year, thousands of the Japanese cherry blossoms blooming in the hills of Sapa, colouring them with beautiful and gorgeous shades of pink that attracts many tourists to join a tour to these hills.
Sa Pa is located at an altitude of 1,600m above sea level, with a cool and pleasant year-round climate, suitable for growing cherry blossoms. The flower is grown in many places in Sa Pa town, such as Ham Rong tourist area and others including Hoang Lien National Park, and in the centre of town.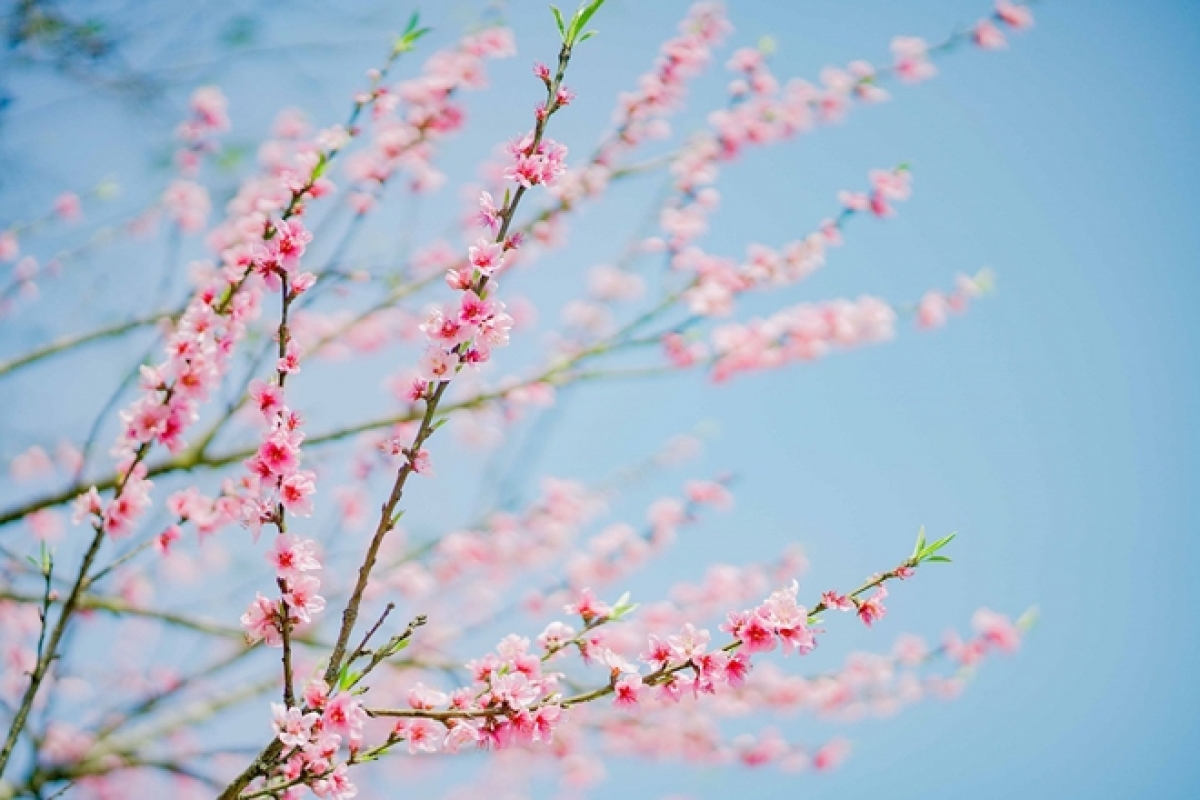 Photo: VOV
Over 200 Japanese cherry blossom trees have turned the Sun World Fansipan Legend tourism site into one of the leading cherry blossom gardens in Sa Pa.
According to Sun World Fansipan Legend, the Japanese cherry blossom trees had originally been planted four years ago. During the Lunar New Year festival, cherry blossoms began to bloom, but it is not until this time that the whole forest is in full bloom to paint a picturesque northwest beauty in the new spring.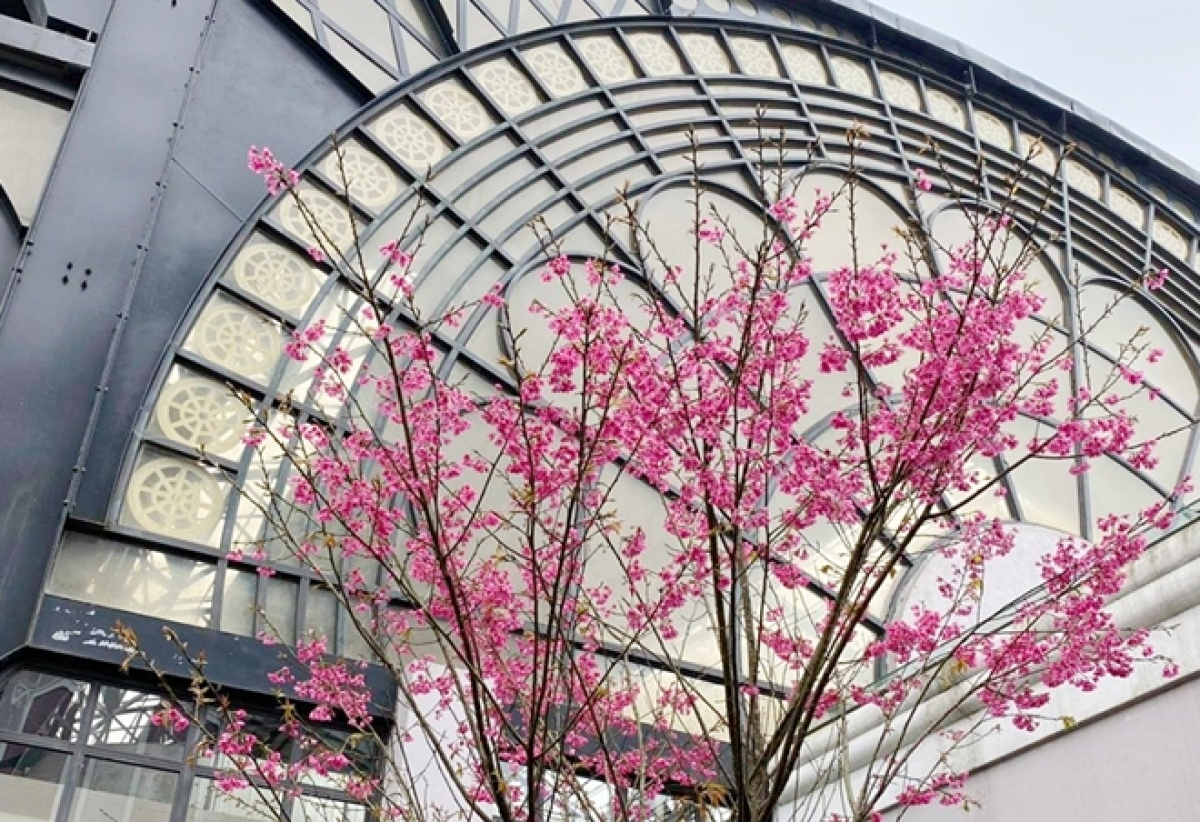 The trees had originally been planted four years ago. Each year, cherry blossoms can be seen beginning to bloom in the spring, therefore attracting many visitors who flock to view them and snap photos. (Photo: VOV)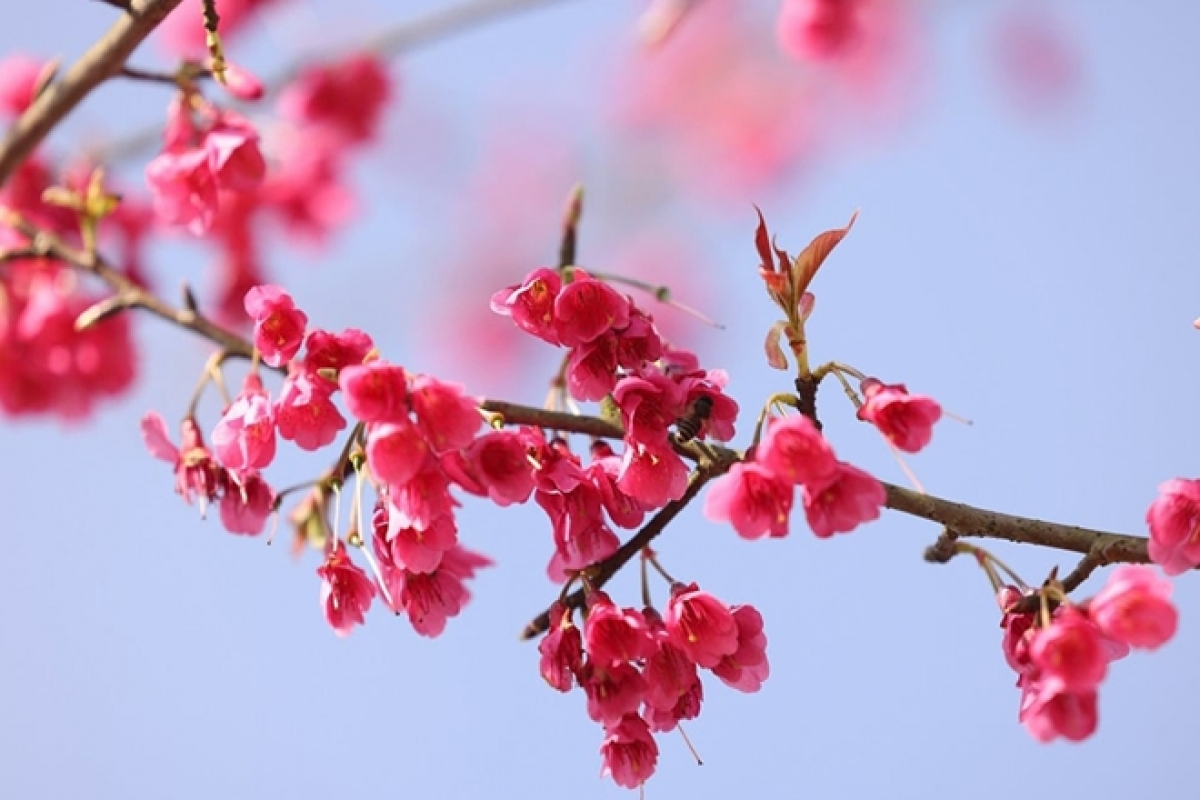 Cherry blossoms bloom at different times depending on the area, but in general they are associated with late March and early April. (Photo: VOV)
Cherry blossoms are characterized by two colours: pink and white, but each has a different density. With the pistil in the centre, petals are arranged in layers around them. As each flower season comes, the green leaves fall off to make room for the flowers to bloom. Flowers bloom in clusters, each cluster helping to form a beautiful pink canopy across the majestic Sa Pa mountain landscape. Cherry blossoms in Sa Pa have three main colours: pink, red, pink and white. Cherry blossoms in Sa Pa bloom simultaneously bloom from the beginning of November and spring, around March-February.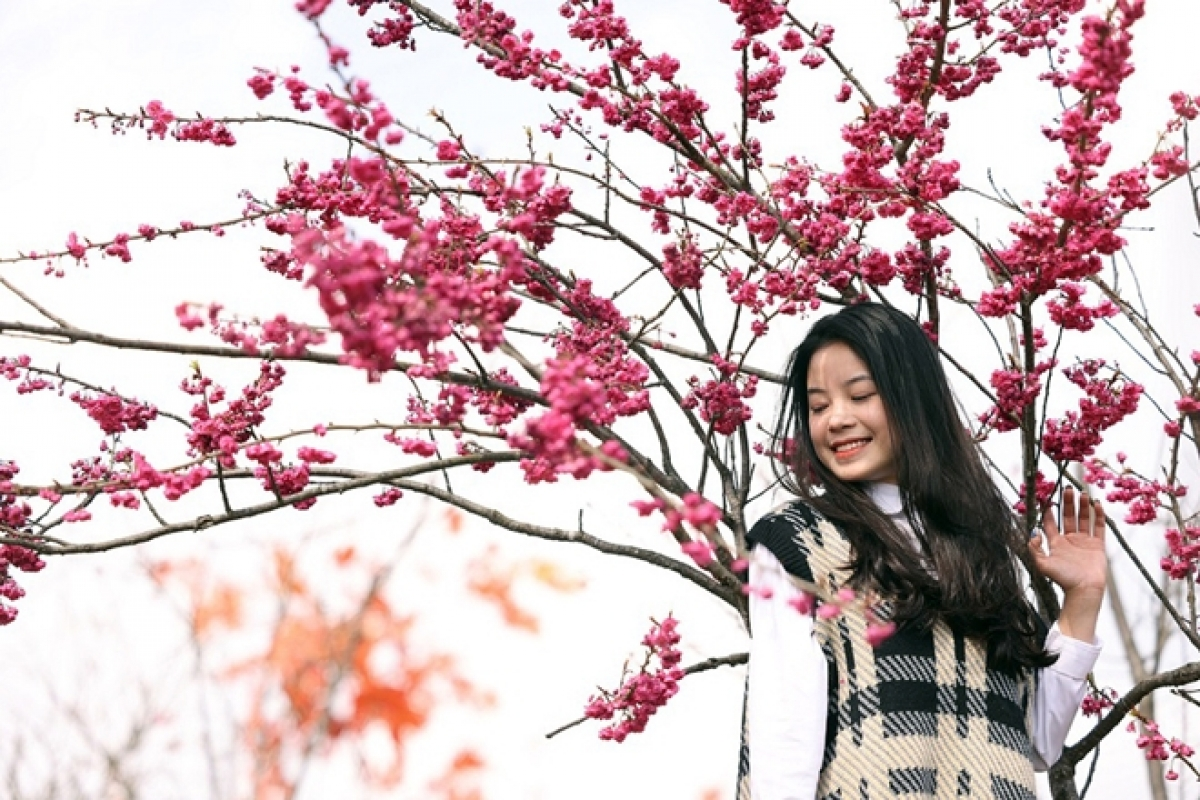 The cherry area is a favourite check-in spot for guests, particularly young people. (Photo: VOV)
In Sa Pa, the cherry blossoms planted on the road along the central tourist lake in front of the office of the People's Committee of Sa Pa town are those donated by the Vietnam – Japan Friendship Association and the European flower garden belongs to the Ham Rong mountain eco-tourism area.
But the most beautiful is surely in O Long Tea Hill, in O Quy Ho ward, about 10km from Sa Pa town, next to Highway 4D to Lai Chau. This is the most popular destination in Sa Pa today. The popularity of the tea hills is spreading throughout the mountains and forests as in the middle of the naturally green visage of the tea hill are rows of cherry blossom trees in both their youth and blooming cycles.
Under the golden rays of sunlight, the buds of the young cherry leaves display their bright orange-yellow and purple-pink flowers and illuminate a peaceful sky. On beautiful days, clouds floating on the tea hill add to the romantic vision.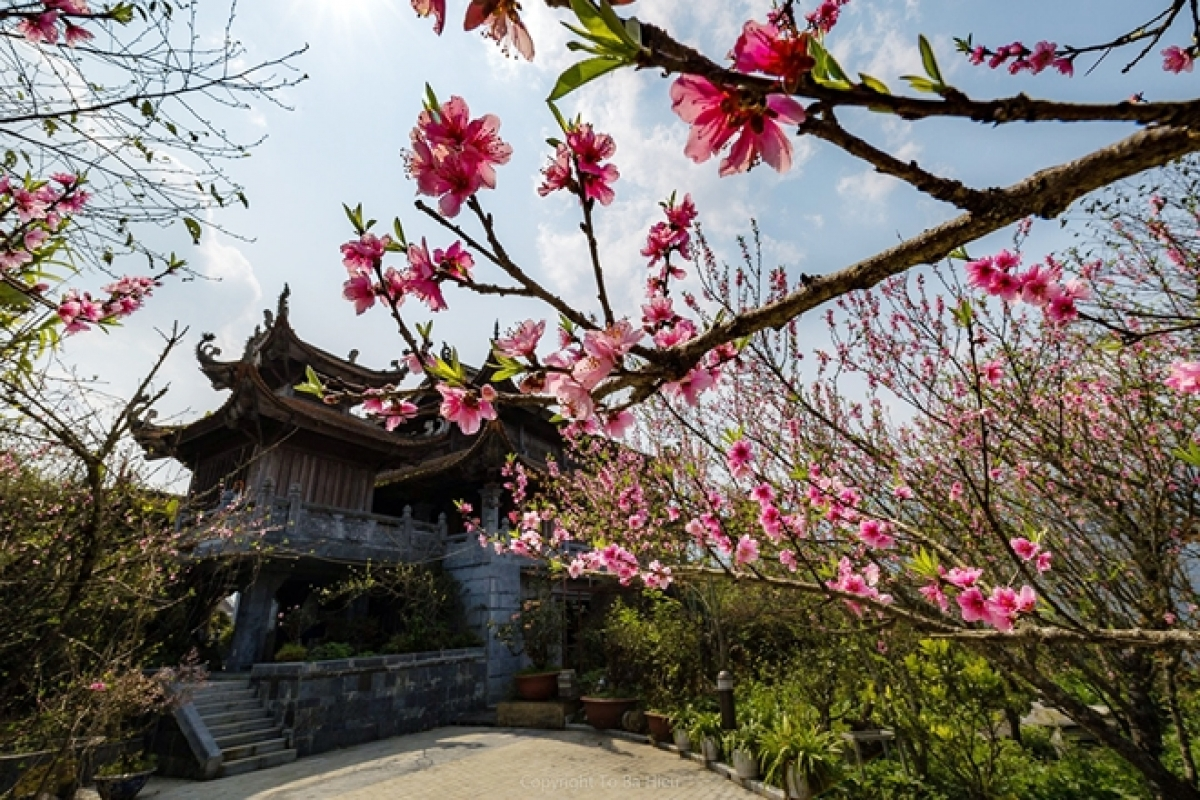 Photo: VOV
About Cherry Blossoms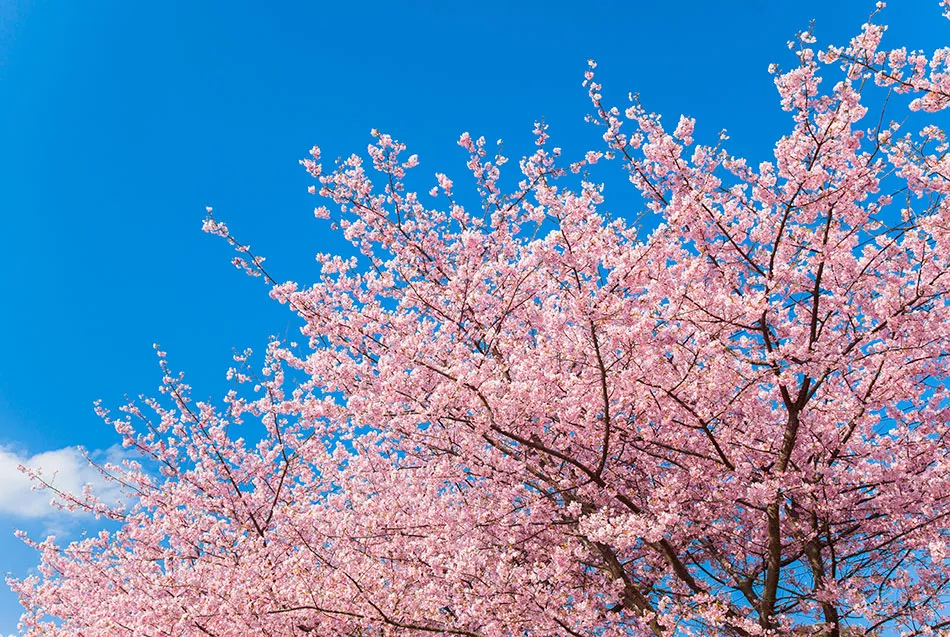 Illustrative photo
A cherry blossom is the flower from a Prunus tree, of which there are many different kinds. Species cherry blossoms are found throughout the world being especially common in regions in the Northern Hemisphere with temperate climates, including Japan, China, and Korea, as well as Nepal, India, Pakistan, Iran, and Afghanistan, and several areas across northern Europe.
Japan is particularly famous for its cherry blossom due its large number of varieties and the nationwide celebrations during the blooming season. As the buds burst open in parks and streets across the country, people throw picnic and hanami (flower viewing) parties to appreciate the transient beauty of the flowers and welcome in the warmer weather. Cherry blossoms in Japanese are known as sakura and it would not be an exaggeration to say they are a national obsession.
Different varieties of cherry blossoms bloom at different times, but most hit their peak in Tokyo at the end of March to the beginning of April. During this season, the atmosphere changes. Just like spring brings the promise of new life and new beginnings, the soft scent of blossom brings a vibrancy and optimism to the streets. The blossoms become a topic of everyday conversation and it is common to see people transfixed in the street, photographing a tree in bloom from many different angles. Products and decorations in stores become pink, flowery shapes and sakura-flavored sweets and drinks adorn menus – the Starbucks sakura-themed drinks have an almost cult-like following!
Cherry blossom festivals are held in many parks and castle grounds across Japan, but their beauty is also celebrated in countries worldwide. Appearing in everything from traditional art and paintings to making a popular choice for wallpapers and even tattoos, these delicate, transient flowers have captured people's hearts and imagination.
Community tourism in Sapa

With its beautiful natural landscape and unique cultural identity of ethnic minorities, Sa Pa town, in Lao Cai province, is focusing on developing community-based tourism ...