Expat: Sapa looks unrecognizable after 26 years
Much to his surprise at the sprawling hotels and resorts in Sapa, Kiril Grudin, 55, from Bulgaria said the touristy tour is no longer as pure and pristine as it used to be.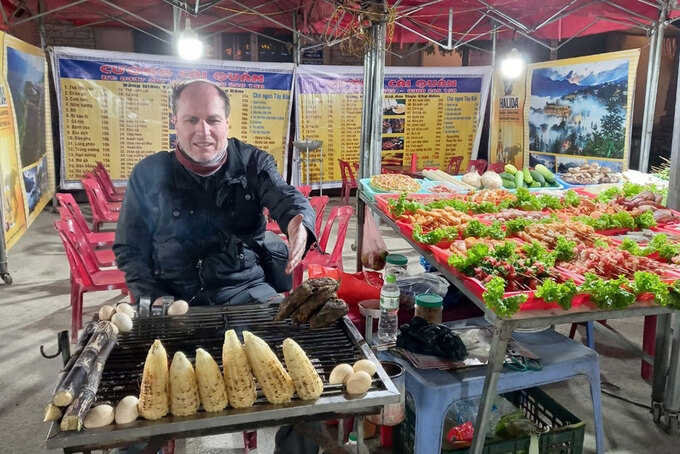 Kiril Grudin at a food court in Sapa (Photo courtesy of Kiril Grudin)
Kiril has been living in Vietnam for the past 30 years. He had the chance to return to Sapa for the first time after 26 years on his 22-day-trip from HCMC to Northwest provinces.
"Sapa in my mind is a stunning place, with magnificent nature, ancient architecture and many ethnic people. I am happy to be back here but surprised by the changes," he said.
Kiril pointed out that back in 1994, lamp posts were rare. Now, streets are illuminated at night. The town center's air now is less clean than its previous state. Its natural beauty is almost obstructed by big hotels that have sprung up in the town center.
The market basically used to be a place for ethnic people to exchange goods but now "it is commercialized and filled with eateries and restaurants along the road to Cat Cat Village. I know these changes are inevitable but couldn't help feel sad", Kiril was quoted by VNE as saying.
Kiril clearly remembers his trip to Sin Chai Village at the foot of Fansipan Mountain, known as the "Roof of Indochina", to gather information about the H'mong language.
"The only way to reach the mountain peak then was by foot on a narrow dirt road. There was a man who pointed at a boulder in a stream that looked like a turtle. Its head faces a small path indicating the way to Fansipan."
The trip to Fansipan has now become convenient with the installation of the cable system, but it has changed the landscape, he said.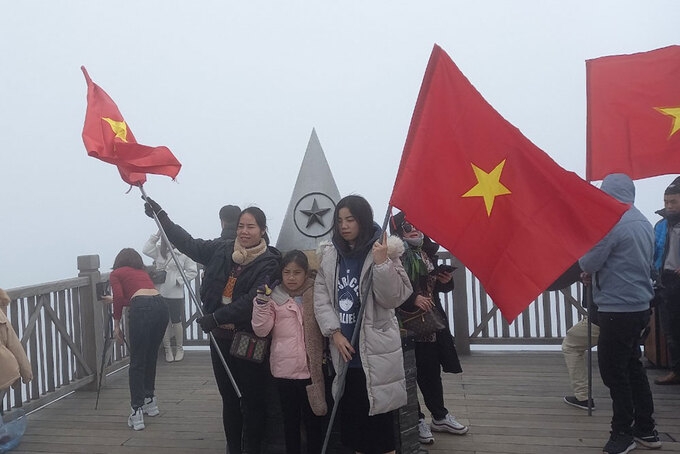 He notices many Vietnamese visitors bring the national flag along or wear shirt with the flag printed on (Photo courtesy of Kiril Grudin)
Standing at the top of Fansipan, waiting for his turn to take photos by the milestone, Kiril was excited and impressed at the sight of Vietnamese people wearing shirts carrying Vietnam's national flag.
"I could feel their pride in the national flag as well as their home country", he shares.
In spite of all the changes, for Kiril, Sapa still boasts its own beauty and ancient patterns. He notices things remain untouched just for or five kilometers away from the town center. Traditional wooden houses with log fires inside and stunning views of mountain ranges and terraced rice fields also leave a long-lasting impression on the expat.
"It is always safe and remains a close-knit community", he said.
During his recent trip, Grudin found his way to the village he had been to in 1995 but did not manage to spot the turtle-shaped rock in the stream. He is not sure if he forgot its location or its disappearance is part of the changes Sa Pa has seen.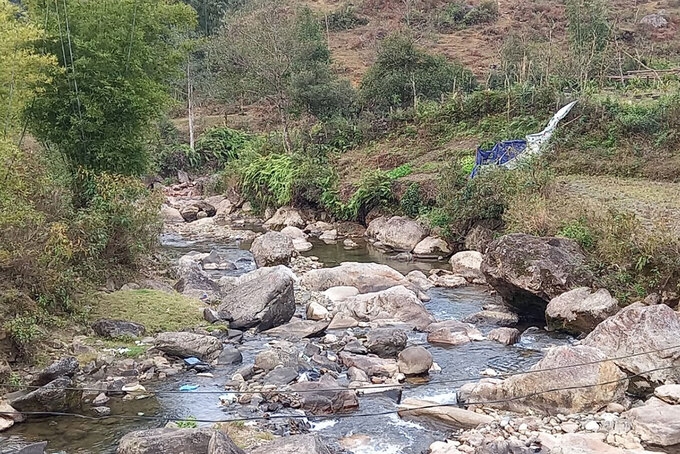 (Photo courtesy of Kiril Grudin)
Sapa is a small, mountain town in Lao Cai Province. It is located about 350 km northwest of Hanoi, close to the Chinese border. Here's where you'll find the Hoang Lien Son range of mountains, which includes Fan Si Pan—the country's highest peak.
This quiet Vietnamese town is home to different ethnic tribal groups. There are five main ethnic groups in Sapa: the Hmong, Dao, Tay, Giay and Xa Pho. It is said that Sapa was first occupied by the first four groups, since the Vietnamese from the lowlands (better known as the Kinh) did not colonise the highest valleys.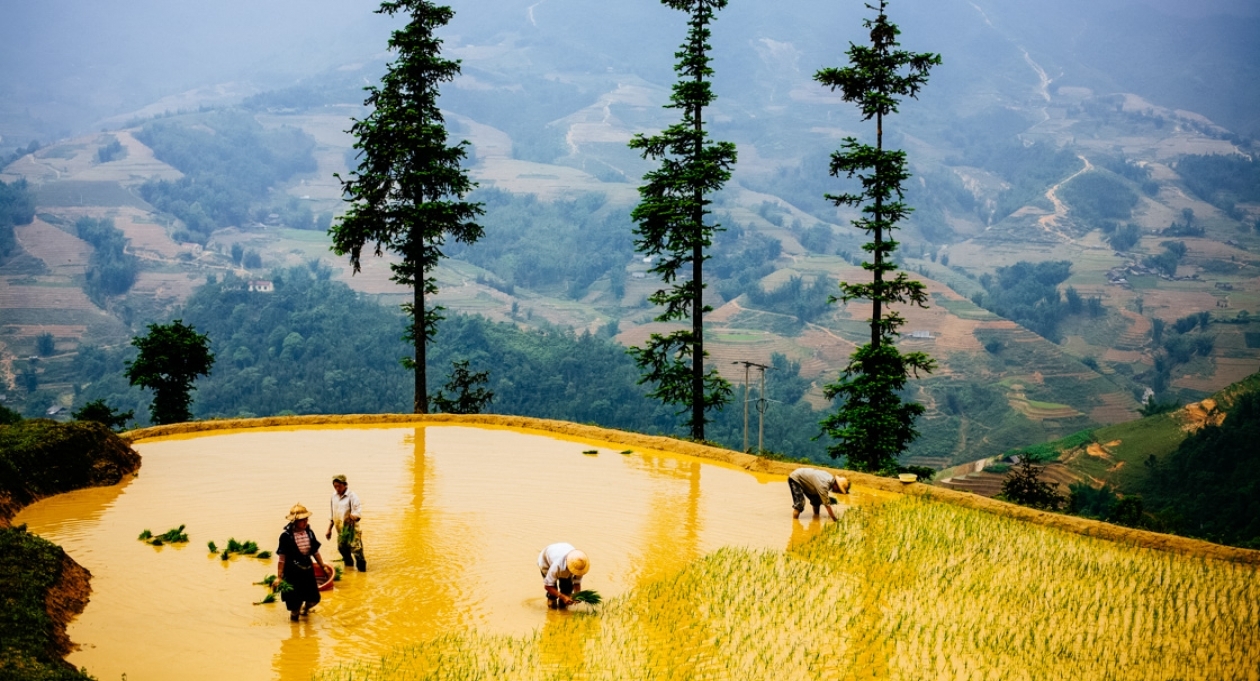 Sapa, Vietnam is famous for terraced rice fields (Photo: Vietnam Tourism)
These days, Sapa welcomes a diverse range of visitors, attracted by the highland tribes, iconic rice paddies and forest treks. The whole area is blessed with awe-inspiring natural beauty.
Hiking and enjoying nature is the name of the game in Sapa. The most prominent attraction in the area around Sapa is Fan Si Pan, Hoang Lien Son National Park, Cat Cat village, Ta Phin village, according to Vietnam Guide.