Sapa welcomes a white Tet as snow covers high north
Just three days before Tet, the Fansipan, Vietnam's highest mountain in Sa Pa, was blanketed with snow for the first time this winter.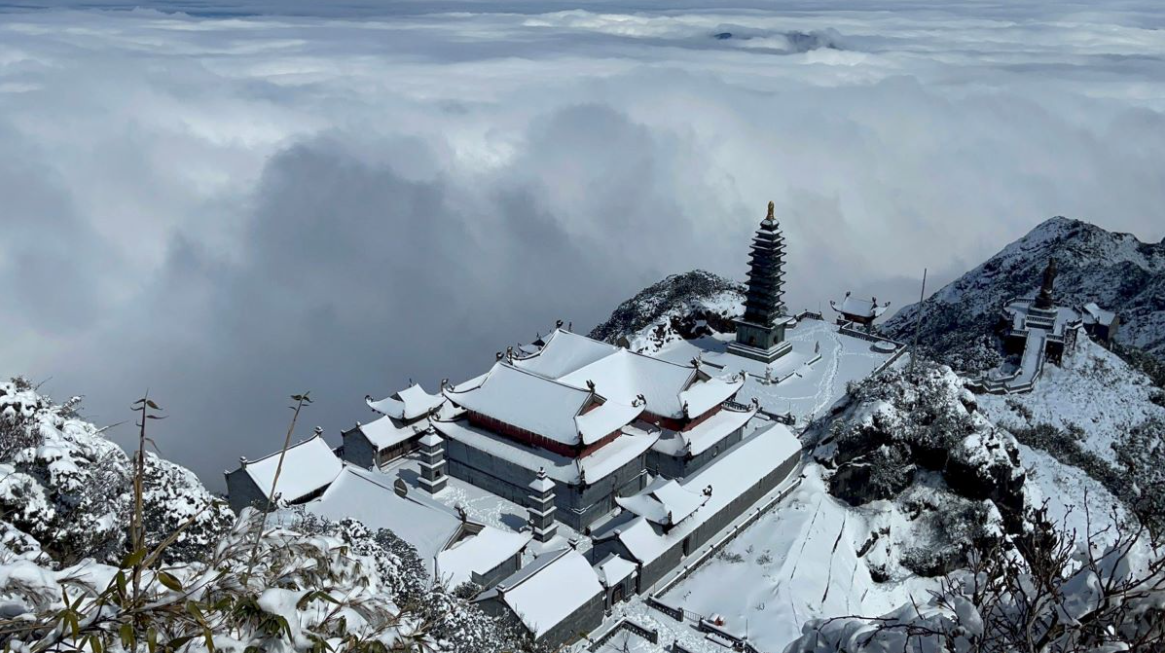 It began snowing at around 8 a.m. Monday. At the peak, temperatures dipped to minus 1 to 3 degrees Celcius. The cold temperatures combined with 91 percent humidity to create this rare occurrence in sub-tropical northern Vietnam. (Photo: VN Express)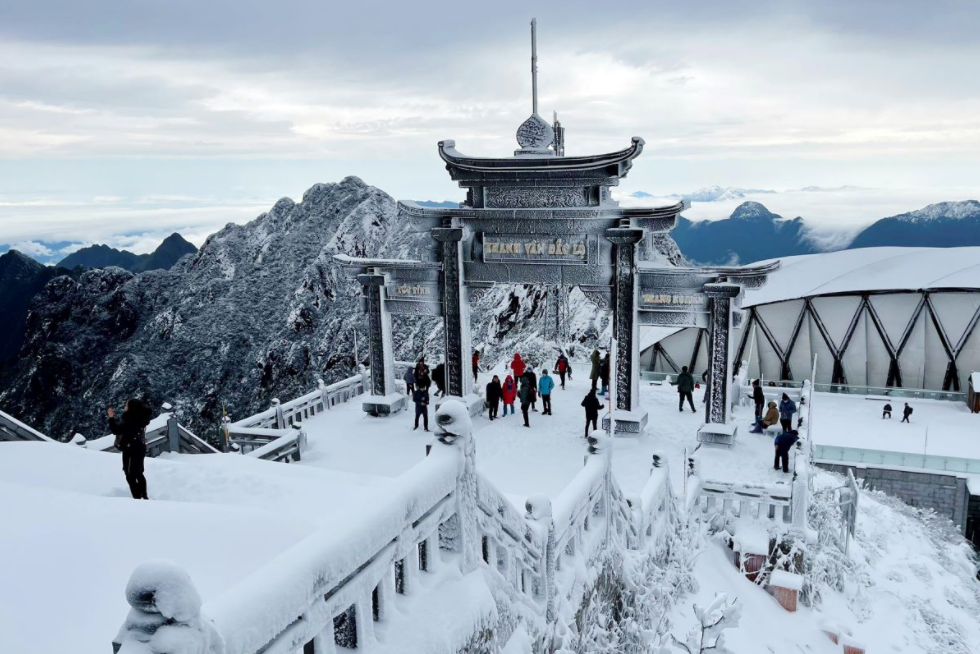 The above photograph shows the major spiritual and cultural complex on Hoang Lien Son mountain and the road to Fansipan, known as the "Roof of Indochina", covered in a 30 cm layer of snow on Tuesday. (Photo: VN Express)
Since October 2020, Fansipan peak in Sa Pa Town of Lao Cai Province has experienced three frost periods, but this was the first time it snowed here this winter. Around a month earlier, there was some snowfall in other areas of the northernmost region in Vietnam, like the O Quy Ho peak in Lai Chau Province and Y Ty Commune in Lao Cai Province. Tourists flocked to Fansipan's "Heaven's Gate" to enjoy the snow. (Photo: VN Express)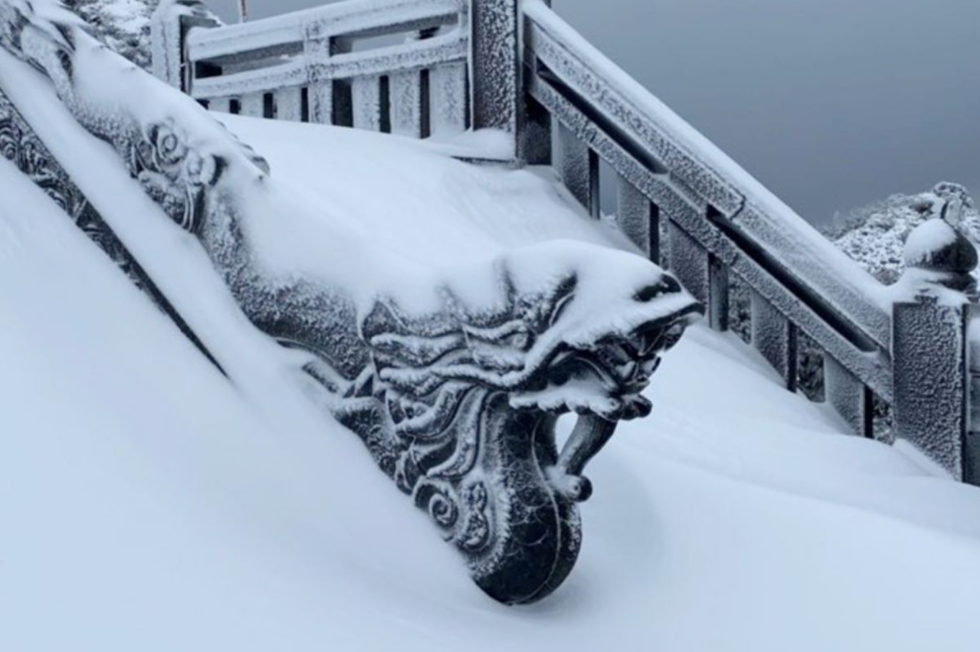 The stair of a pagoda is a smooth white blanket with a thickness of 30 centimeters. A stone dragon lining a set of stairs peers out from a snowy blanket. (Photo: VN Express)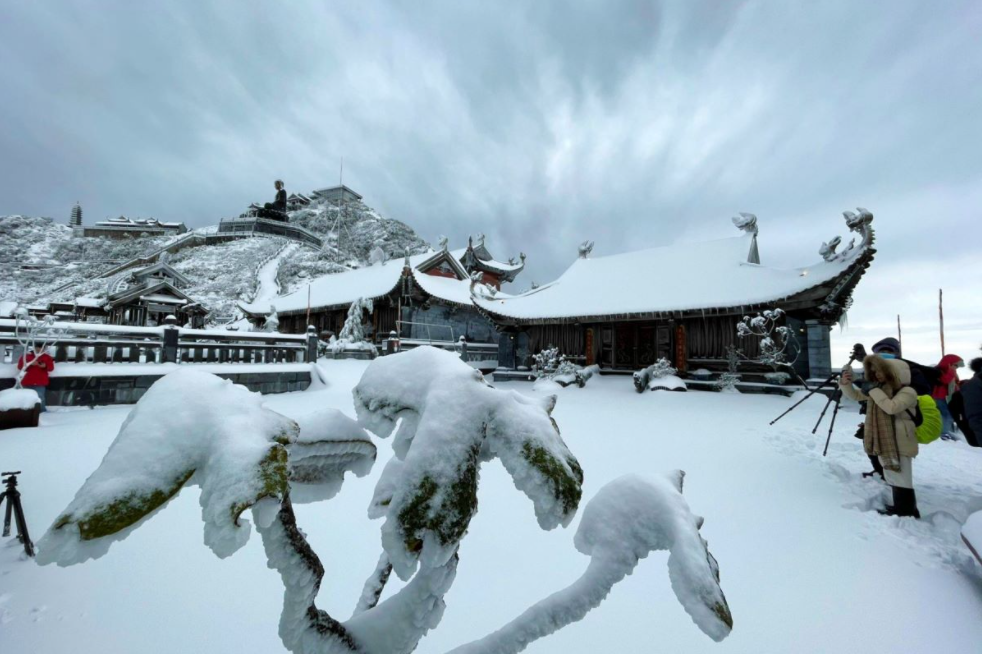 The snow scenes on the mountain peak have captivated locals and visitors, especially near the recently built a padoga complex. (Photo: VN Express)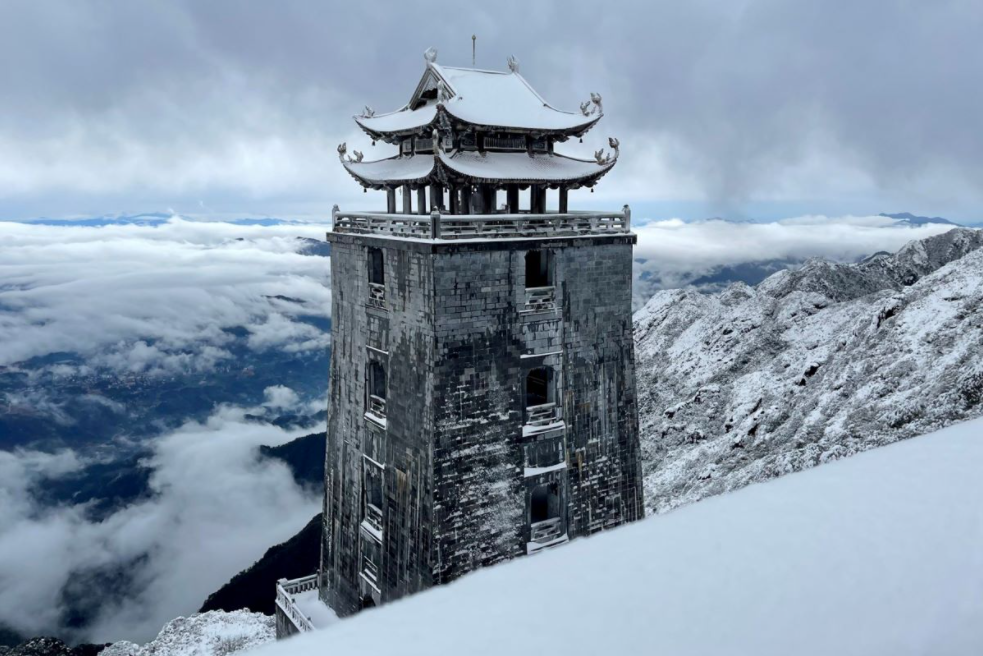 The 32.8-meter Dai Hong Chung watchtower rises from an ocean of white. (Photo: VN Express)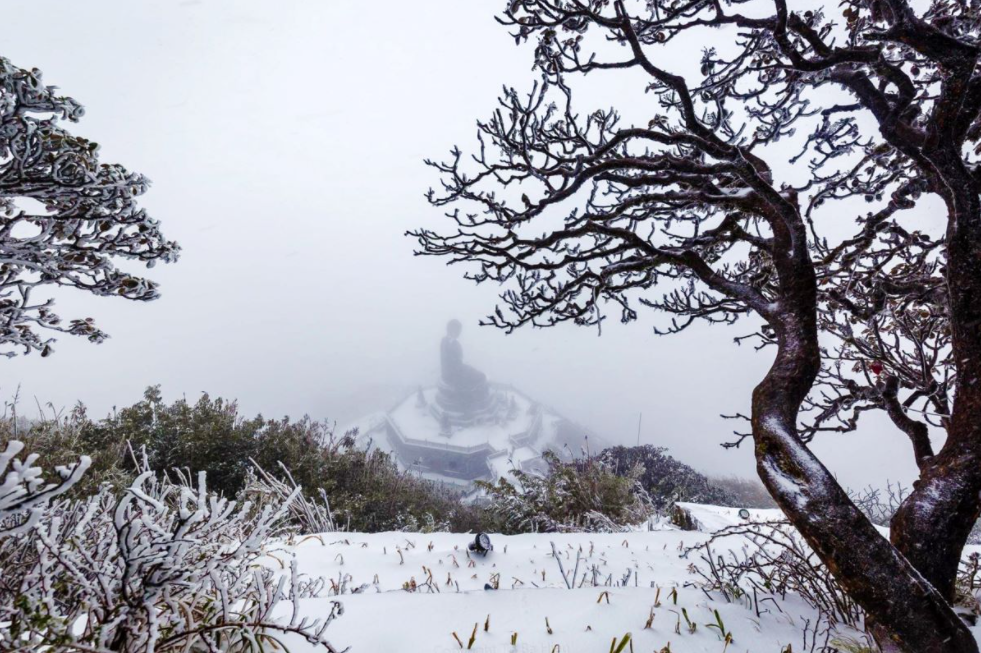 The largest bronze Buddha statue in Vietnam, 21.5 m tall at an altitude of over 3,000 meters, presents a mysterious, spiritual picture. (Photo: VN Express)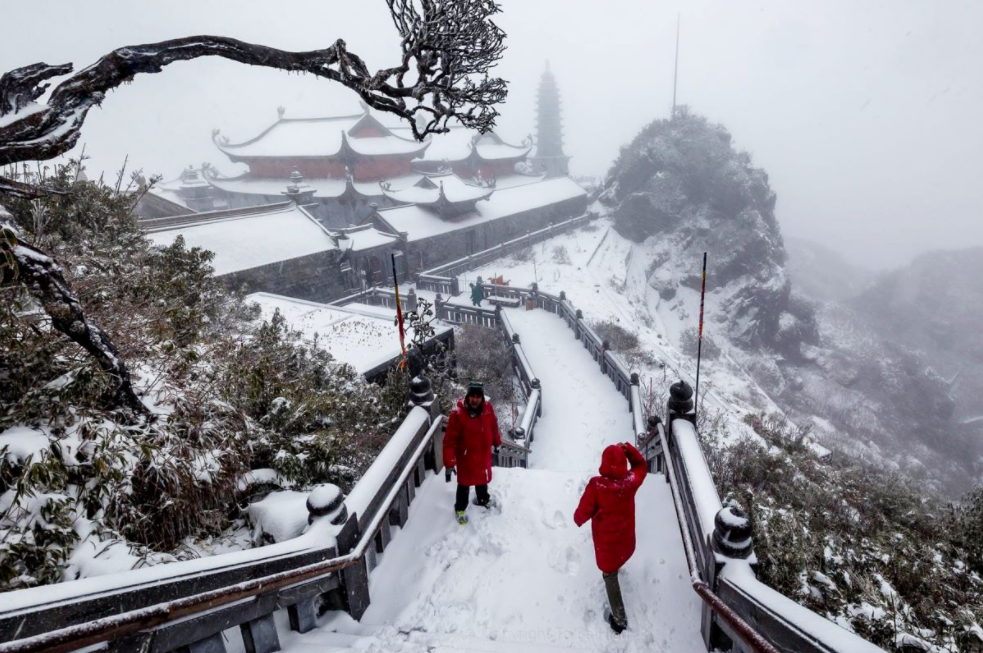 Hoang Tung (left) of Hanoi said: "It is not easy to move around because thick snow has covered the steps. Visitors should move very carefully to avoid accidents," he said. (Photo: VN Express)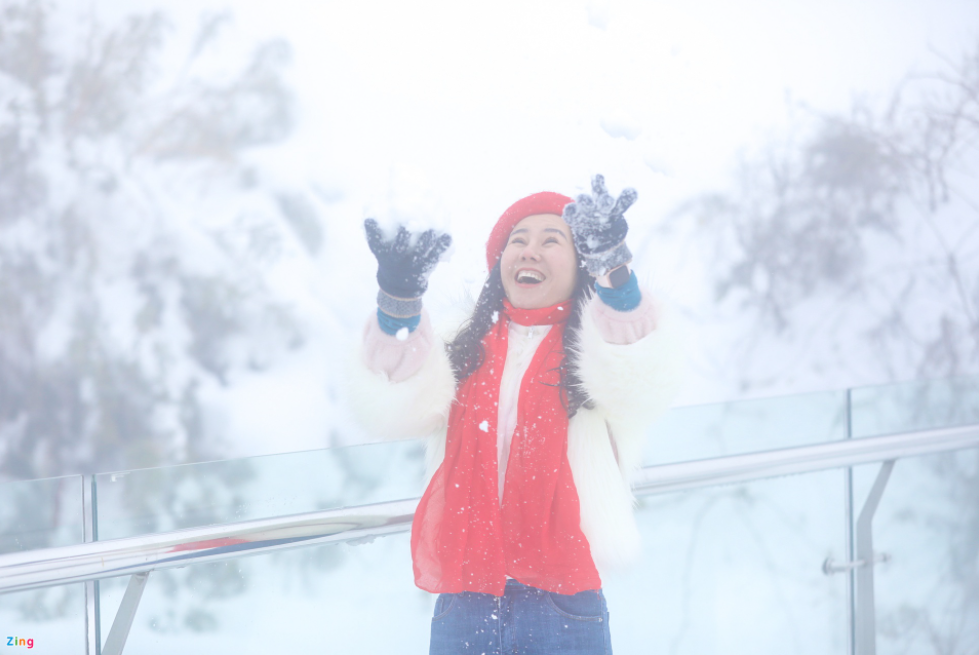 While the snowcapped mountains and white valleys thrill visitors, some locals are ambivalent because their livestock and crops don't take kindly to such unusually extreme weather. (Photo: VN Express)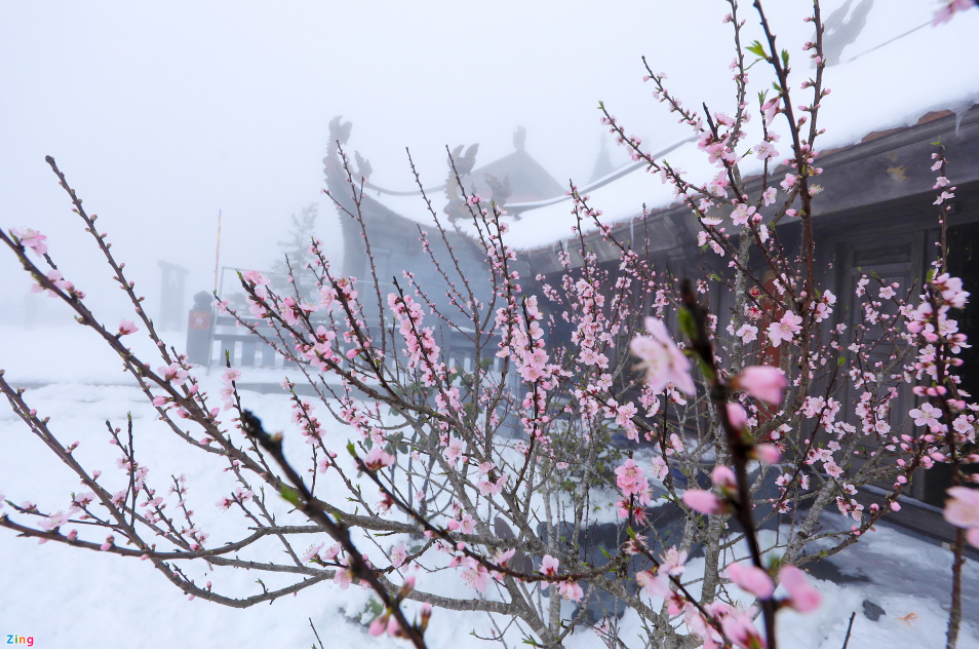 on February 8, Mr. Luu Minh Hai, Director of Lao Cai Hydrometeorology Station, explained that this phenomenon occurred due to snowfall formed from China but being blown south by the wind. When meeting the Hoang Lien Son mountain range, the wind speed slows down, causing snow to fall to the top of Fansipan. (Photo: Zing News)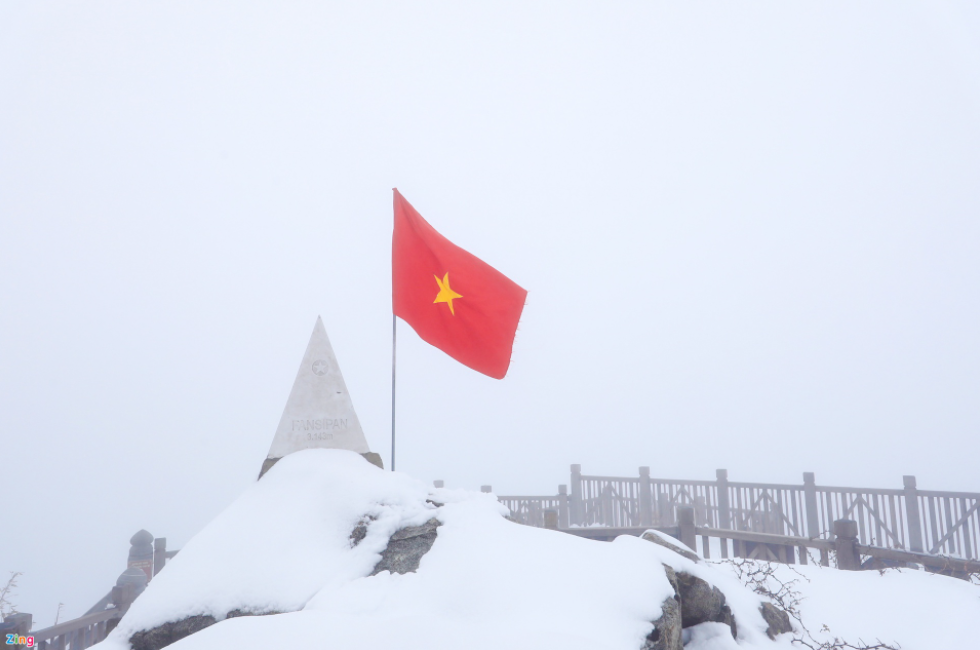 The temperature at the top of Fansipan on February 9 was always at 3 degrees C. Hearing the news of continuous snowfall from the previous day, many tourists from Lao Cai city poured in to admire the scenery. (Photo: Zing News)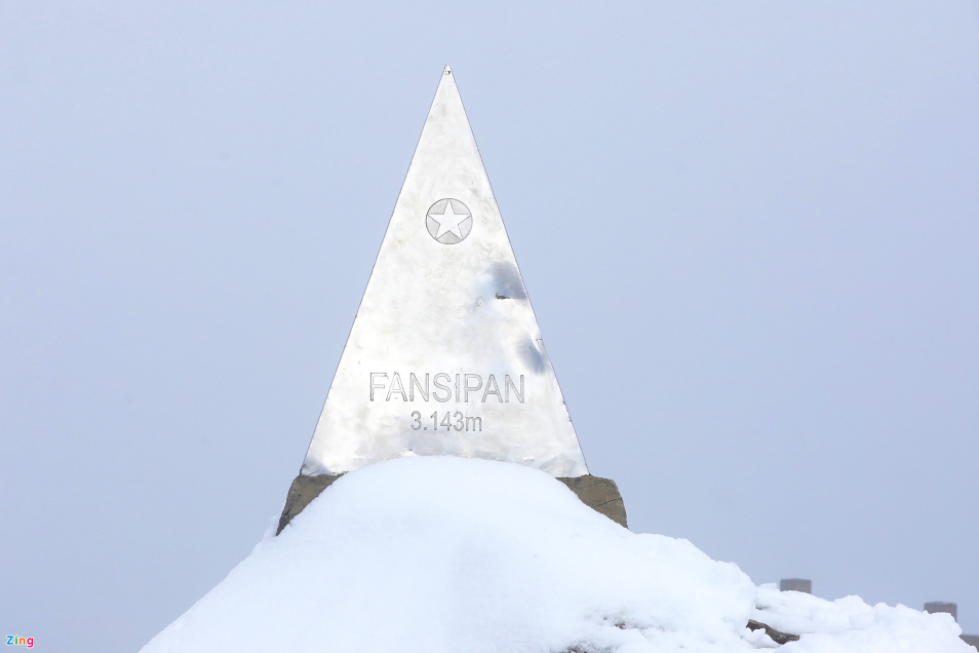 With a height of 3,143m, Sapa has the pride to have Mount Fansipan – the highest peak in Vietnam, Laos, and Cambodia. The Fansipan Mountain is 9km from the center of Sapa Town, Lao Cai Province, Vietnam. It has a height of 3,147m (according to the new statistic in June 2019) and costs about 2 days to be conquered by hiking.(Photo: Zing News)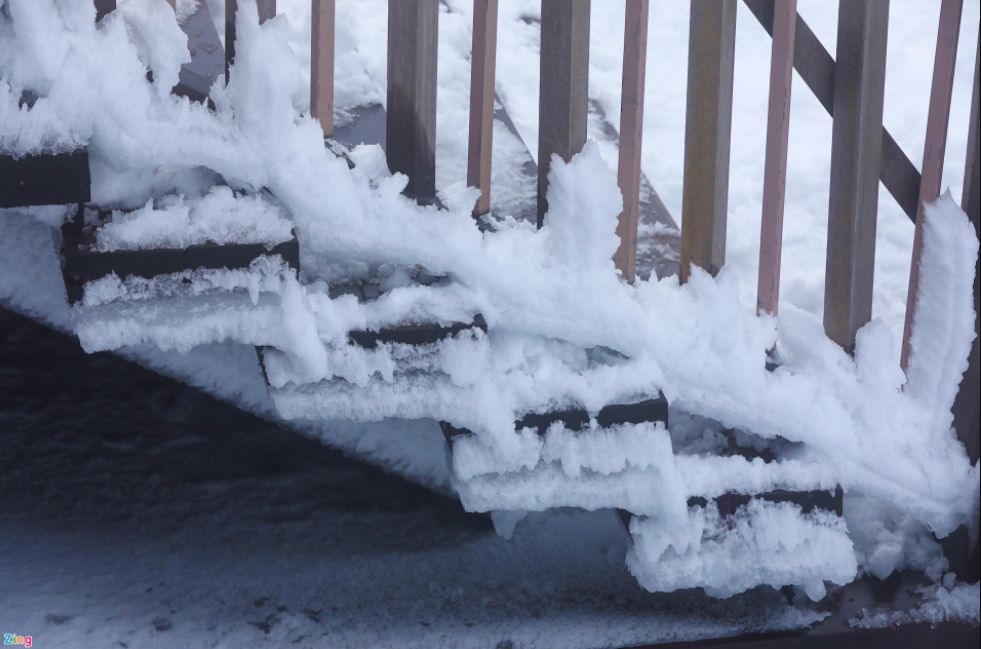 Prior to 2016, Fansipan used to attract at least 1,000 trekkers daily thanks to the magnificent view from the summit and the beautiful, not too tricky path climbing up. However, there is a cable car built to take you from the mountain's foot to a station near the summit from February 2016, which expands tourism to the sky-high attraction. (Photo: Zing News)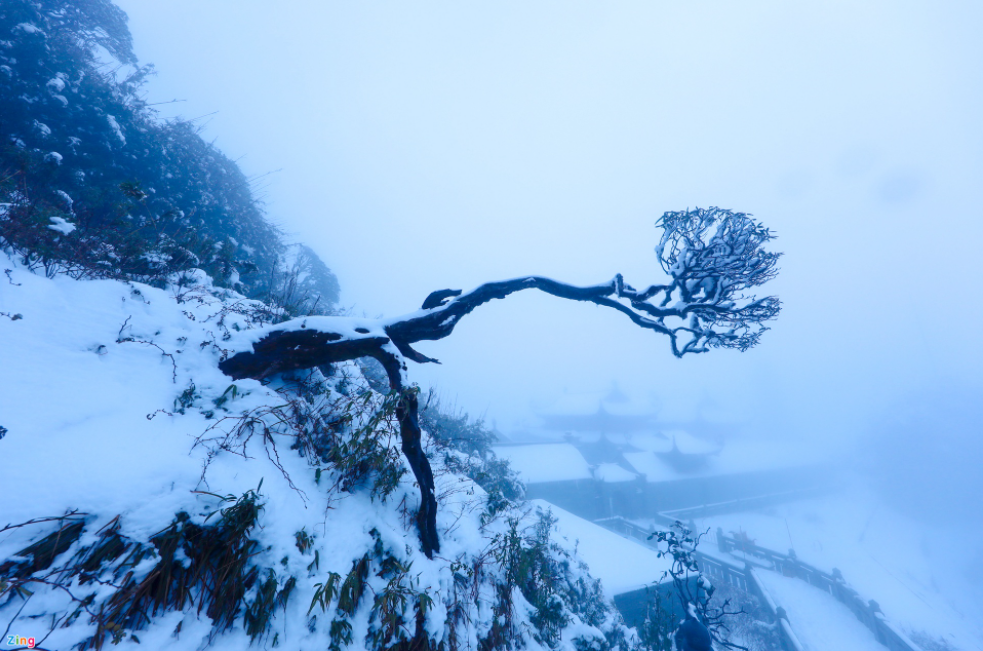 As to get to Fansipan Mountain, you have to arrive at Sapa Town first. Most tourists come to Sapa from Hanoi by train or bus. It takes only about 5-6 hours by bus. But the paths are quite stiff, narrow, and slippery, which can break your heart when drivers driving upwards. (Photo: Zing News)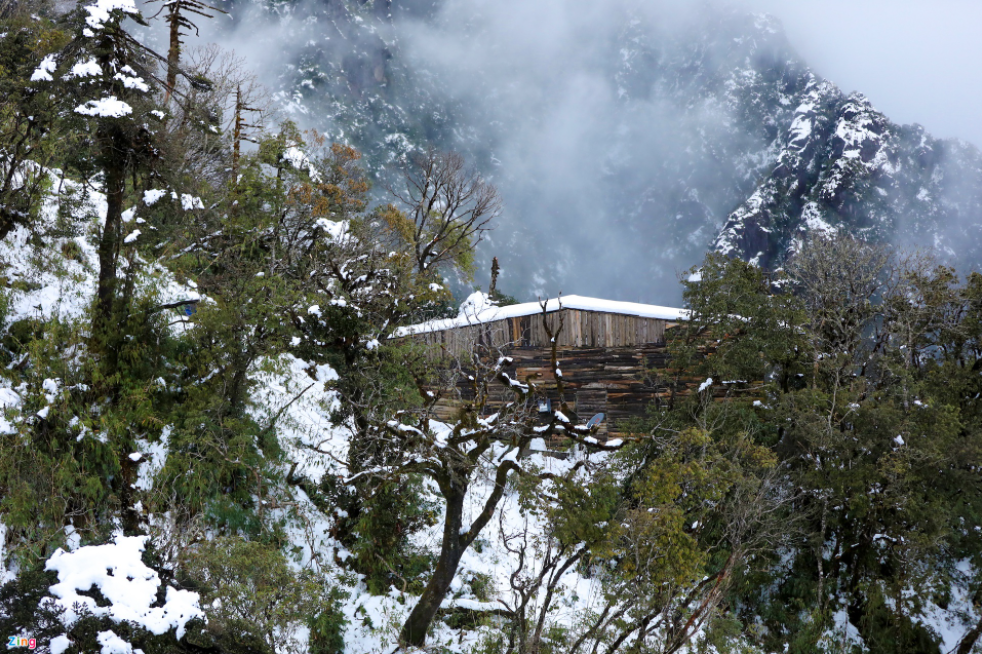 The ecosystem on Fansipan Mountain is quite rich and the flora here is impressively diverse with about 1680 types of trees and some belong to the rare group. (Photo: Zing News)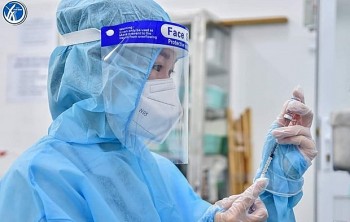 National
Vietnam News Today (December 9): Vietnam confirms 14,595 new Covid-19 cases; Vietnam, New Zealand sign action program to promote strategic partnership; HCM City to inject third Covid-19 vaccine jab from December 10; Hanoi may ban motorbikes in inner areas from 2025.