The First World Drowning Prevention Day To Be Launched In 2021
It is a fact that drowning has been a significant international issue without being recognized relative to its impact. After its declaration, World Drowning Prevention Day is held annually on 25 July to highlight profound impacts of drowning.
The First World Drowning Prevention Day to be marked
World Drowning Prevention Day, declared through the April 2021 UN General Assembly Resolution A/RES/75/273 "Global drowning prevention", is held annually on 25 July.
On 28 April this year, the UNGA unanimously endorsed and adopted a new UN Resolution on Global Drowning Prevention (A/RES/75/273). Bangladesh and Ireland sponsored and led negotiations in March & April this year, and it was further sponsored by 79 other member states (including Vietnam). A tremendous result of countries' effort to prevent drowning, especialy for our children all over the world.
The two new WHO Regional Drowning Prevention Reports - for South East Asia and the Western Pacific - that will be launched at a virtual event this week, on Thursday 22 July (9:30am Delhi / 12:00pm Manila / 2:00pm Sydney).
According to WHO, this global advocacy event serves as an opportunity to highlight the tragic and profound impact of drowning on families and communities and offer life-saving solutions to prevent it. An estimated 236,000 people drown every year, and drowning is among the ten leading causes of death for children and youth aged 1-24 years. More than 90% of drowning deaths occur in rivers, lakes, wells and domestic water storage vessels in low- and middle-income countries, with children and adolescents in rural areas disproportionately affected.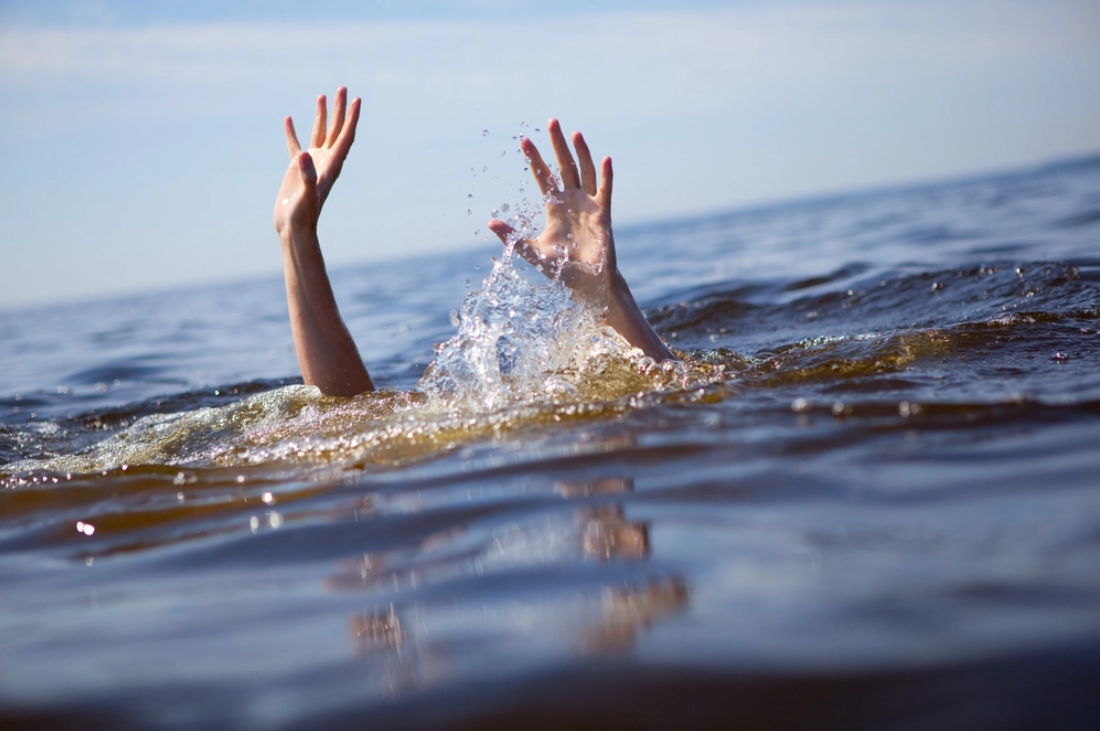 The First World Drowning Prevention Day to be marked - Photo: qCaptain.
All stakeholders are invited to mark World Drowning Prevention Day – governments, UN agencies, civil society organizations, the private sector, academia and individuals – by highlighting the need for urgent, coordinated and multi-sectoral action on proven measures such as:
-installing barriers controlling access to water
-providing safe places away from water such as crèches for pre-school children with capable childcare
-teaching swimming, water safety and safe rescue skills
-training bystanders in safe rescue and resuscitation
-setting and enforcing safe boating, shipping and ferry regulations
-improving flood risk management
A leading cause of accidental death
As reported by BNNRC, drowning is the process of experiencing respiratory impairment from submersion/immersion in liquid. Drowning outcomes are classified as death, morbidity and no morbidity. Agreed terminology is essential to describe the problem and to allow effective comparisons of drowning trends. Thus, this definition of drowning adopted by the 2002 World Congress on Drowning should be widely used.
In 2019, an estimated 236,000 people died from drowning, making drowning a major public health problem worldwide. Just over 50% of these deaths occur among those aged under 30 years, and drowning is the sixth leading cause of death worldwide for children aged 5-14 years. Over 90% of drowning deaths occur in low- and middle-income countries. In 2019, injuries accounted for almost 8% of total global mortality. Drowning is the 3rd leading cause of unintentional injury death, accounting for 7% of all injury-related deaths.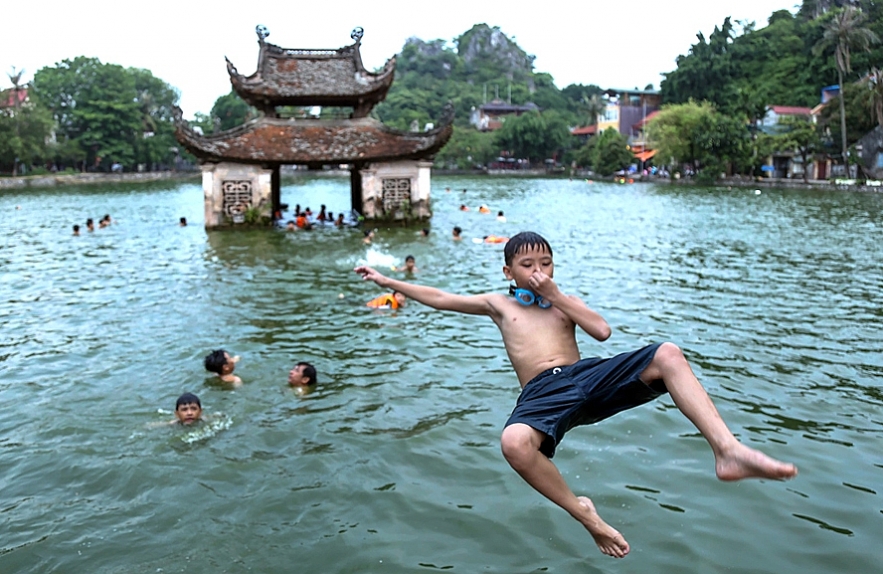 Vietnam looks to tackle child drowning - Photo: Thanh Nam.
According to the United Nations, the global burden of death from drowning is felt in all economies and regions, however:
-low- and middle-income countries account for over 90% of unintentional drowning deaths;
-over half of the world's drowning occurs in the WHO Western Pacific Region and WHO South-East Asia Region;
-drowning death rates are highest in the WHO Western Pacific Region, and are 27-32 times higher than those seen in the United Kingdom or Germany, respectively.
It is a fact that drowning is the 3rd leading cause of unintentional injury death worldwide, accounting for 7% of all injury-related deaths. There are an estimated 236,000 annual drowning deaths worldwide. Global estimates may significantly underestimate the actual public health problem related to drowning. Children, males, and individuals with increased access to water are most at risk of drowning.
How to prevent drowning
Always supervise, whatever the age!
Children who cannot swim or who are younger than 5: must be closely and actively supervised by an adult.
-Close and active supervision is defined as watching the child near or in the water, within reaching distance, while keeping eye contact with the child, and avoiding any distracting activity (such as talking, reading, or talking on the phone).
-If there are other adults or families, have 15-minute shifts of "water supervisors" - each time another adult fully supervises the children who are away from other adults.
Children who can swim: Supervise constantly while in water.
-It is possible to use floats and ring buoys for children, but not as a substitute for active supervision
-Children should be taught to swim beginning at age 4, depending on the capabilities of the child
-Choose swimming sites (sea or pool) that have lifeguards, and follow instructions.
At home
-Make sure to drain the water (from a bucket, a bathtub, a basin and an inflatable pool) after use
-Prevent access to water containers that cannot be emptied (such as private pools, natural water reservoirs, water wells)
Vietnam looks to tackle child drowning
Drowning is the leading cause of death from injury. Drowning accounts for about 50% of deaths from injuries in children and adolescents aged 0–19. As reported by BMJ Journals, the drowning rates in Viet Nam vary geographically, with the highest rates of non-fatal drowning observed in the Mekong River Delta in the Southern-most region of the country. The highest rates of fatal drowning, on the other hand, were observed in the Central Coast region populated heavily by fishermen. The lowest rates were reported in the North Central and Central Highland regions.
According to statistics from the Ministry of Labor, War Invalids and Social Affairs, every year more than 2,000 children die from unintentional drowning in Vietnam. The rate of child drowning in Vietnam is higher than other Southeast Asian countries and 10 times higher than that of developed countries. Roughly 53 percent of children lost their lives by drowning when they play near streams, rivers, lakes, canals, ditches without adults' supervision. More children die during school holidays.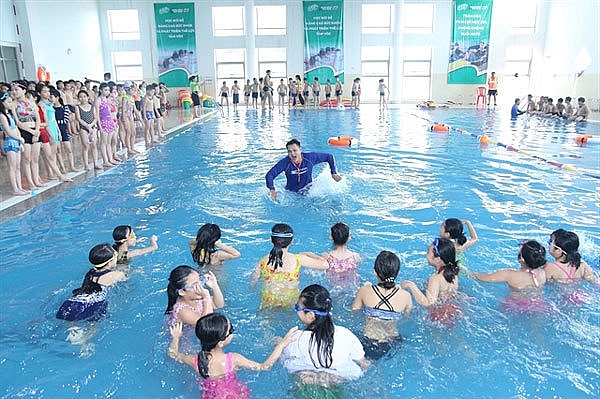 Photo: VNA/VNS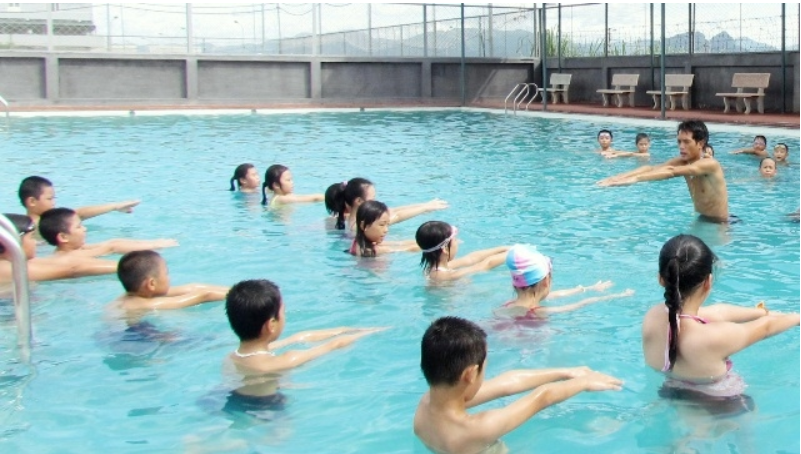 Children need to be taught life-saving skills to prevent drowning when summer comes. Photo: nhandan.
Anuradha Khanai, director of Global Health Advocacy Incubator in Southeast Asia, said the percentage of children's death caused by drowning in Vietnam was 10 times higher than that of other developed countries.
Since 2018, the organisation has helped Vietnam implement a series of children's drowning prevention programmes, Vietnamnews reported.
More than 6,100 children have been equipped with swimming skills and some 550 swimming teachers have been trained in 21 districts of eight provinces which have the highest percentage of child drownings, namely Lao Cai, Yen Bai, Ninh Binh, Thanh Hoa, Quang Binh, Đak Lak, Đong Thap and Soc Trang. The classes teach children swimming skills to survive, not just normal swimming skills, Khanai said.
With the aim to reduce the risk of drowning, the Ministry of Education and Training issued the drowning prevention plan amongst children in 2021 in which the Ministry encouraged schools to organize swimming classes to reduce the risk of drowning. The plan has been carried out from April to the end of November 2021.
The plan aims to raise teachers, students and parents' awareness of drowning accident to actively prevent accidents, injuries and drowning in daily activities. Additionally, swimming is a great way to keep fit.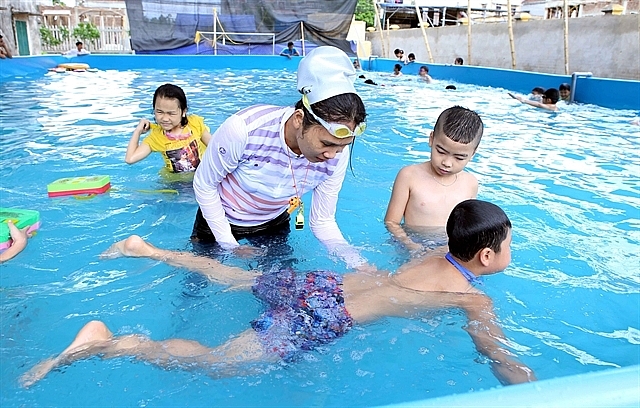 Teaching children how to swim in the northern province of Hưng Yên. VNA/VNS Photo Phạm Kiên
The Ministry of Education and Training will develop an action program on the prevention and control of injuries in children and students in the period of 2021-2030in the education sector according to the government program. Local administrators and schools should encourage people to learn water safety skills and swimming to combat the risk of drowning and injuries on mass media and social networks.
The Ministry will review documents on safe swimming skills for the prevention of accidents, injuries, and drowning. Preschool and high school teachers will be forced to take part in refresher courses of water safety skills and drowning prevention. The Ministry will strengthen the inspection, supervision and evaluation of the results of the implementation of injury prevention and drowning activities at educational facilities.
Schools were instructed to incorporate water survival skills and swimming skills in extra-activities and physical education classes. Moreover, schools were encouraged to call for parents' contribution for swimming classes inside and outside the school.
The Ministry of Education and Training required departments, branches and local administrations to provide water survival skills training and swim lessons to reduce drowning risk for children, as reported by Vietnamnet.
Take actions to end drowning
Drowning prevention interventions range from community-based solutions, such as day care for children and barriers controlling access to water, to effective national policies and legislation around water safety, including setting and enforcing boating, shipping and ferry regulations. Much more needs to be done to prevent drowning, and achieving commitments made under the Sustainable Development Goals will not be possible without addressing drowning prevention.
-Give your child the skills to enjoy the water safely.
-Keep Watch to keep your child safe around water.
-Check your pool fence and make sure the latch closes.
-Make the right call and avoid alcohol and drugs around water.
-Wear a lifejacket when you are fishing or boating.
-Check the weather forecast and water conditions before boating.
-Start a career as a pool lifeguard or swimming & water safety teacher.
-Enroll in a First Aid course and learn CPR skills.
-Avoid driving through flood waters.
Every small step we individually take can help save lives.
Mother's Day: Quotes and Message

Mother's Day is a special day for honoring your mother and the motherhood, contributing to all the hardships that they have been through to raise ...