The Japanese PM's spouse with a special visit amid Hanoi autumn
Japanese Prime Minister's spouse Suga Mariko visited the Temple of Literature and the Vietnamese Women's Museum in Hanoi amid gentle Hanoi autumn.
In the framework of her official visit to Vietnam, on the morning of October 19, in the gentle autumn weather, Ms. Suga Mariko and Ms. Tran Nguyet Thu - Vietnam Prime Minister's spouse - visited The Temple of Literature (Văn Miếu). In the midst of a quiet and solemn space, Lady Suga Mariko was introduced to the history, formation, and development of the temple - the first university in Vietnam.
She visited ancient architectural works such as Dai Trung gate, Khue Van Cac, Dai Thanh palace, learned about the place to preserve and honor the outstanding values of Vietnamese culture. The lady beat three honorary drums at Drum Tower (Gác Trống) and signed a scrapbook here.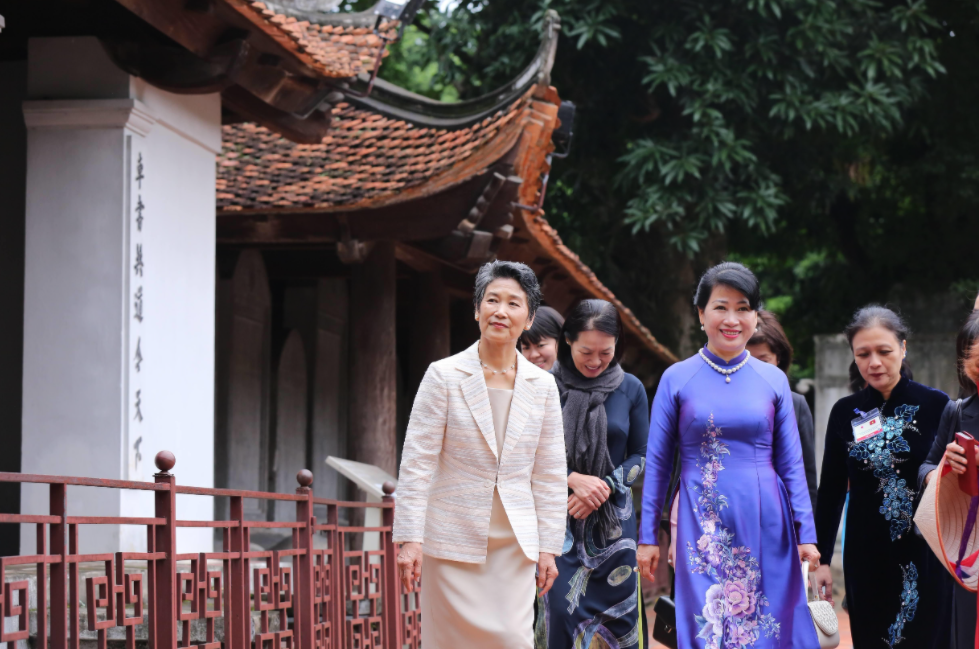 Ladies Suga Mariko and Tran Nguyet Thu visited the Temple of Literature. (Photo: Vietnamnet)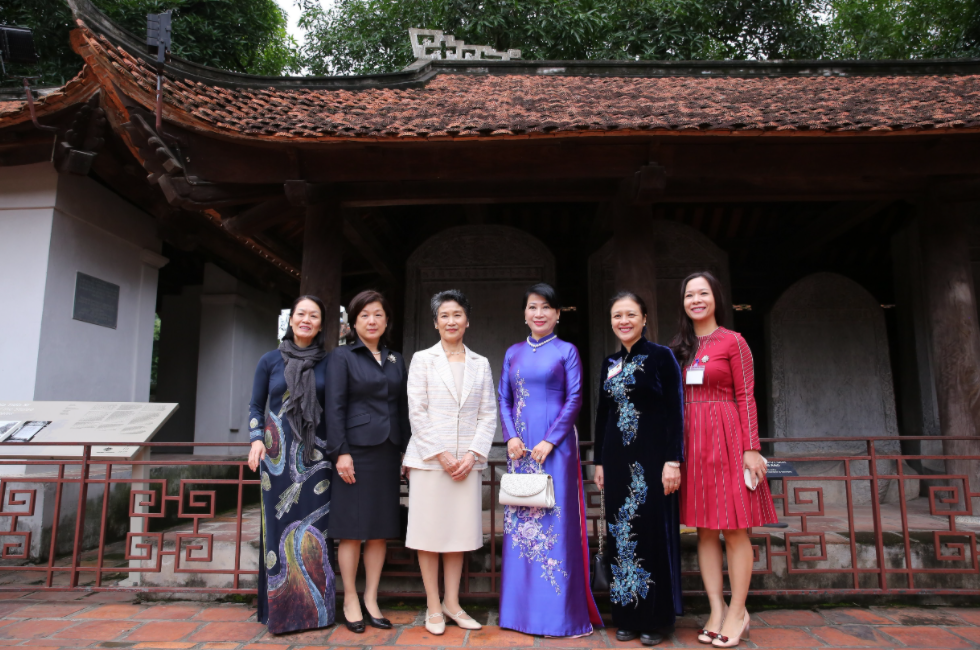 Ms. Nguyen Phuong Nga - the President of the Vietnam Union of Friendship Organisations (VUFO) also accompanied in the visit. (Photo: Vietnamnet)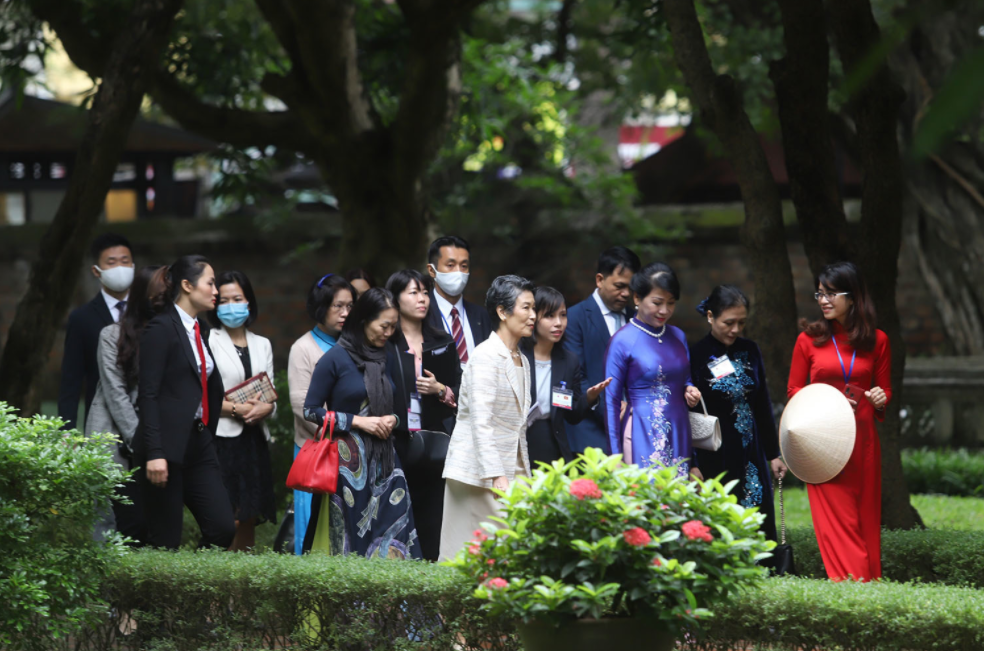 The visit took place in Hanoi iconic pleasant autumn weather. (Photo: Vietnamnet)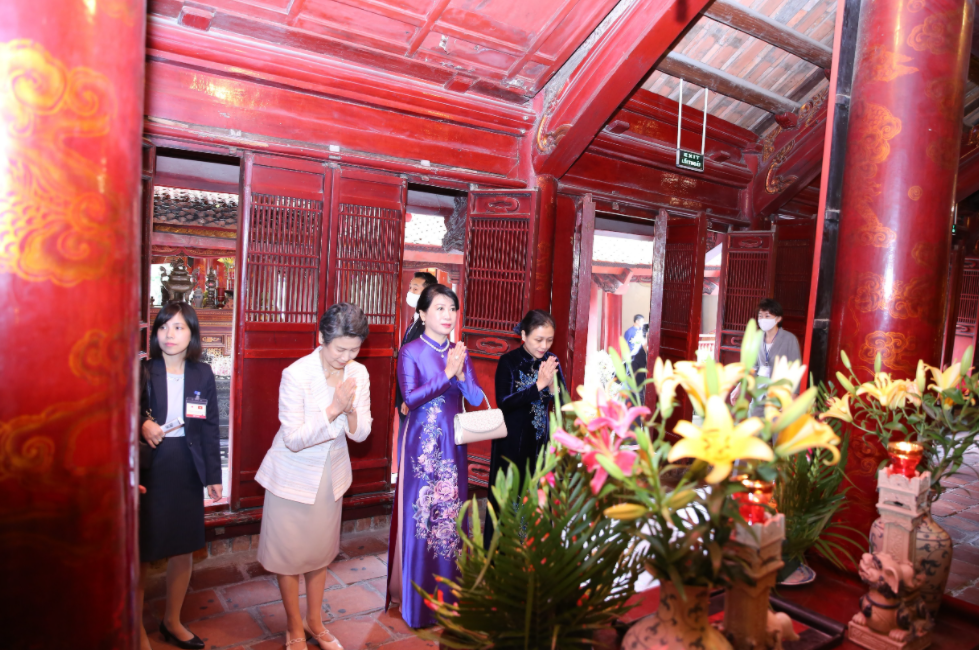 The ladies expressed their honor at the Temple of Literature. (Photo: Vietnamnet)
Over the past years, the Vietnam-Japan cooperation relationship has been increasingly developed, especially in the field of education and training. Japan provides one of the largest grant aid to the education and training sector of Vietnam. The two sides have signed many cooperation documents in this field.
The number of Vietnamese international students in Japan now is more than 80,000. Japan is cooperating to upgrade four Vietnamese universities to reach high standards of quality; building Vietnam-Japan University to train high-quality human resources.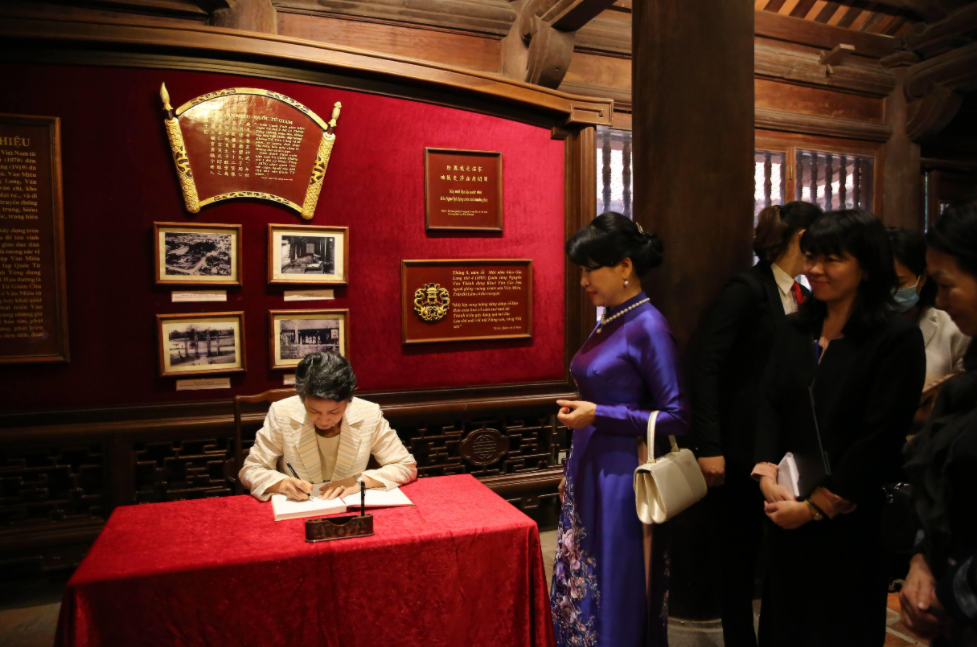 Ms. Suga Mariko and Ms. Tran Nguyet Thu wrote in the guestbook at Chu Van An temple. (Photo: Vietnamnet)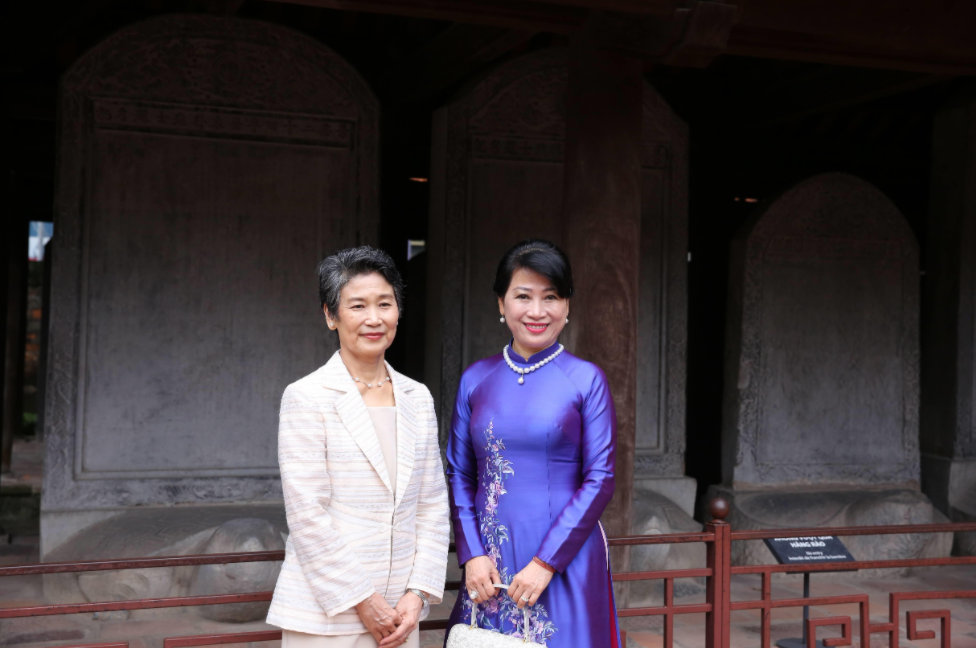 The visit concluded in success. (Photo: Vietnamnet)
In the afternoon of the same day, the Japanese Lady visited the Vietnam Women's Museum to learn about the history, cultural heritage, and life of Vietnamese women. The Vietnam Women's Museum is one of the 25 most impressive museums in Asia.
The Japanese delegation was presented with history of the formation and development of the museum, admirable stories and qualities of Vietnamese women during the war as well peacetime through 3 exhibition areas with themes of: Women in the family; Women in history and Female outfits.
When visiting and learning about embroidery techniques on costumes of ethnic women in Vietnam, Ms. Suga Mariko felt a cultural similarity between the two countries, especially after she experienced the delicate features in Ikebana art and traditional Vietnamese embroidery art at the Vietnam - Japan cultural exchange space at the Museum.
Lady Suga Mariko expressed her admiration for Vietnamese women and their silent contribution that has summarized the traditional values of Vietnamese female: "Heroic, Indomitable, Faithful, Laborious".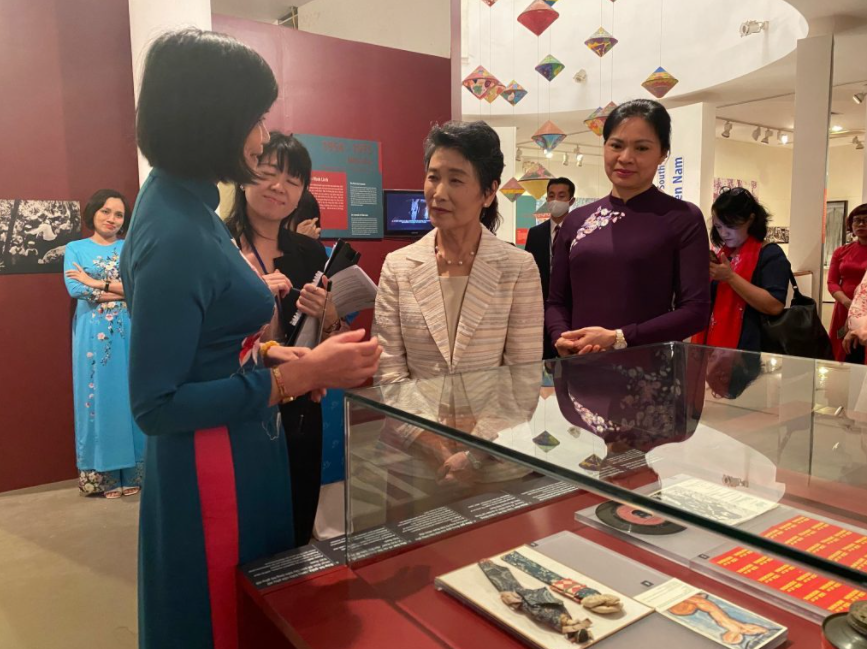 Ms. Suga Mariko took the time to gain understandings of the Vietnamese female's every life as well as the heroic women during the war. (Photo: Vietnamnet)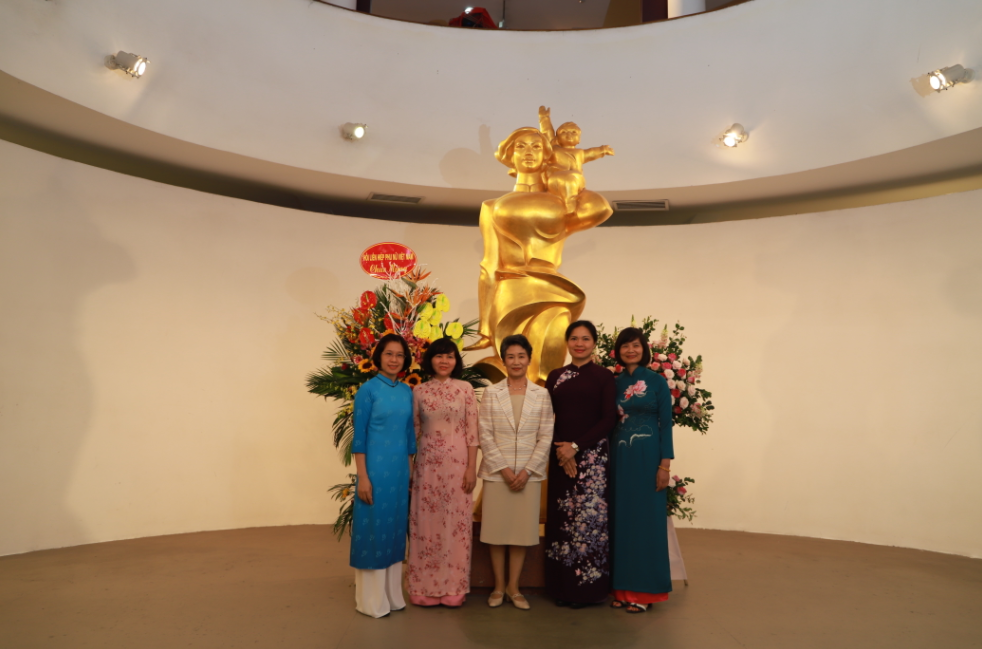 The Japanese Lady, the President of the Vietnam Women's Union, and leaders of the Vietnam Women's Museum. (Photo: Vietnamnet)
The visit leaving good impressions with Ms. Suga Mariko. (Photo: Vietnamnet)