Japanese Prime Minister Suga Yoshihide and his spouse will

visit

Vietnam on October 18 – 20 (Photo: Reuters)
At the invitation of Prime Minister Nguyen Xuan Phuc and his spouse, Japanese Prime Minister Suga Yoshihide, and his spouse will visit Vietnam on October 18 – 20, Vietnamnet reported.
Foreign Ministry spokesperson Le Thi Thu Hang on October 15 said that this was the second time in a row that a Japanese Prime Minister chose Vietnam as the first country to visit after taking office.
In 2013, Japanese Prime Minister Shinzo Abe also chose Vietnam as the first point on his trip right after taking office. The spokesperson said Mr. Suga's choice is a clear testament to the good, strong, and substantive development in many areas of the strategic partnership between the two countries.
The Japanese Prime Minister's visit aims to strengthen relations with Vietnam, to exchanging measures to promote cooperation in all fields, and to exchange views on regional and international issues of mutual interest. Mr. Suga is scheduled to hold talks with Prime Minister Nguyen Xuan Phuc and pay courtesy to Vietnam's senior leaders.
Vietnam and Japan ties: model of friendship and win-win partnership
Like his predecessor Abe Shinzo, PM Suga also chooses Viet Nam for the first foreign trip since assuming his post on September 16, 2020.
Viet Nam and Japan established diplomatic ties on September 21, 1973. Japan is the first G7 country to set up strategic partnership with Viet Nam in 2009.
The bilateral relations were upgraded to extensive strategic partnership on the occasion of State President Truong Tan San's State visit to Japan in March 2014.
The Viet Nam-Japan relationship has become a model of friendship and win-win partnership, creating a foundation for cooperation in ensuring stability and peace in Southeast Asia and beyond, emphasized Vietnamese Ambassador to Japan Vu Hong Nam.
Nam added that the relationship has expanded robustly over the last decade, especially in fields of investment, trade, and people-to-people exchanges, particularly during the administration of PM Abe Shinzo.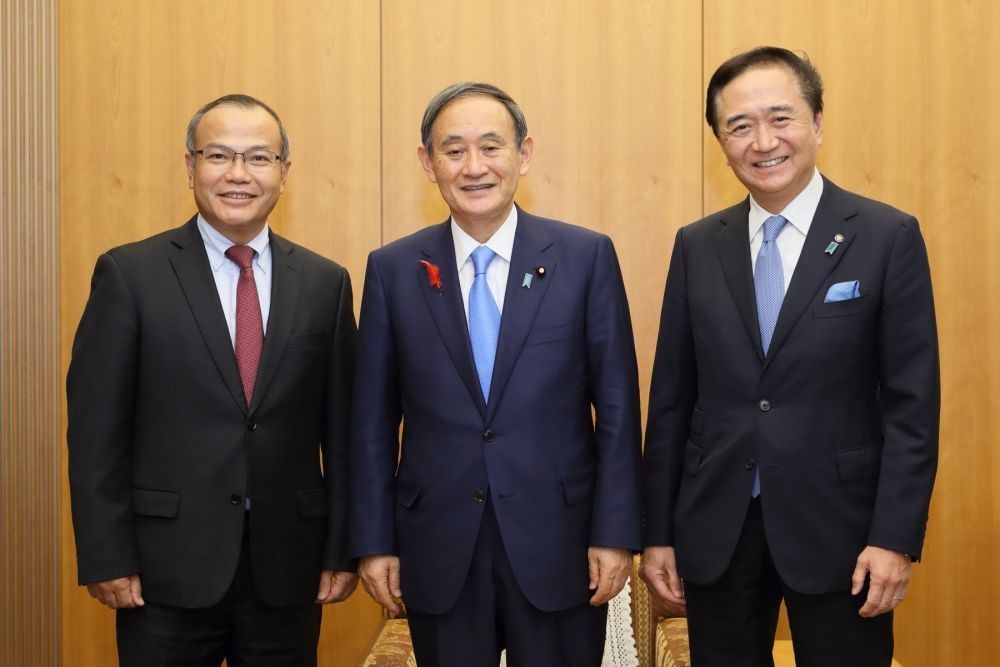 Ambassador Vu Hong Nam paid a courtesy call on Japanese PM Suga Yoshihide (Photo: TGCN)
Japan is one of the top economic partners of Viet Nam and the first G7 country to recognize Viet Nam's market economy status in October 2011.
The Northeast Asian country is also the biggest provider of official development assistance, the third biggest tourism source market, and the fourth largest trading partner of Viet Nam.
Bilateral agricultural cooperation was given a strong boost in September 2015 when both countries signed the Medium-long Term Vision on Agricultural Cooperation, which was renewed in May 2018.
Cooperation in climate change adaptation has also advanced remarkably and substantively thanks to Japan's continued funding to related projects in Viet Nam.
On labor cooperation, Viet Nam has sent more than 230,000 interns to Japan since 1992 and both countries have signed various documents to institutionalize cooperation in this area.
Mr. Suga's visit took place in the context of thriving Vietnam-Japan relationships, and Japan continues to be Vietnam's leading economic partner. Japan is the leading ODA provider to Vietnam, the second-largest investor and the fourth largest trading partner of Vietnam.
Regarding trade, the total import and export turnover in the first 9 months of 2020 reached $28.6 billion, with imports of $14.6 billion (up 3.1% over the same period of 2019) and exports $14 billion.
Japan has 4,595 valid FDI projects in Vietnam with a total registered investment capital of $59.87 billion, ranking 2nd among 136 countries and territories investing in Vietnam.
In 2019, the number of Japanese tourists to Vietnam reached 951,962 people, ranked third, up 15.2% over the same period last year.
Regarding tourism, the number of Japanese tourists rose by 15.2% to nearly 952,000 in 2019, reported the Viet Nam National Administration of Tourism.
From January 1, 2014, Japanese visitors who arrive in Viet Nam for tourism and business purposes shall not have to obtain visa if the period of stay is 15 days or less, VGP reported.
Since the beginning of 2020, the Covid-19 epidemic has affected the extensive strategic partnership between Vietnam and Japan in many fields. However, the two countries still maintain exchanges of high-level and various levels in many forms.
Jasmine Le