The Travel: Phu Quoc Is One Of The Cheapest Islands In The World
The Travel lists the Pearl Island of Phu Quoc as one of the 17 cheapest islands worldwide.
Some of the world's cheapest places to travel also happen to be some of the most beautiful. These stunning yet cheap tropical destinations for vacations are wallet-friendly and bound to keep one smiling.
Of course, those who want to stay closer to home can find a bounty of cheap places to travel in the US, but if one is itching for a faraway beach and doesn't mind hopping on a plane to reach the destination, these fantastic spots will more than fit the bill. One can also score cost-effective plane tickets and accommodations by comparing different deals and booking well in advance, according to The Travel.
Southeast Asia is full of phenomenal beaches, and Vietnam is certainly no exception.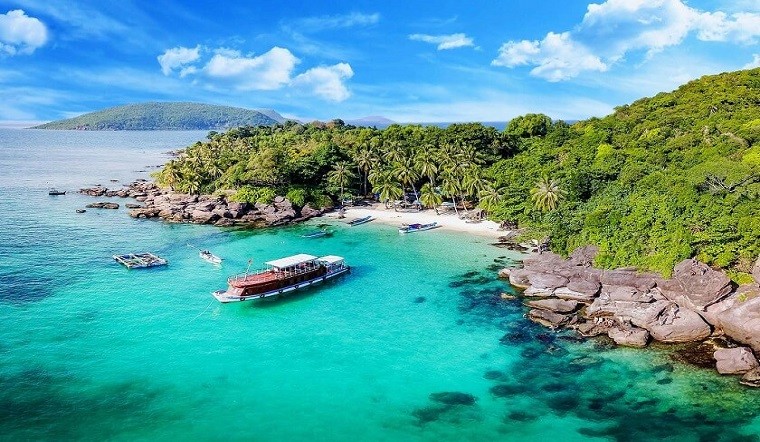 Photo: Vinpearl
This vibrant country is full of lovely stretches of sand and a fun tropical vibe. Plus, it's a very cheap tropical place to visit, and one can see a lot in a short time.
Phu Quoc, situated in South Vietnam, stands out as the largest island in the country, nestled in the Gulf of Thailand. This remarkable island, along with the captivating Tho Chu Archipelago and a collection of charming neighboring islands, forms an exceptional cluster of tourist destinations within Kien Giang Province.
Pearl Island possesses a variety of beautiful beaches stretching from the North to the South. Ninety-nine mountains, majestic hills, and primeval forests with diverse flora and fauna feature the unique beauty of Phu Quoc Island. The dry season starts in November and ends in April. At that time, you can immerse yourself in the warm sunshine and cool seawater while sometimes chilling out with the light rain. Therefore, it is often considered the ideal time to enjoy the best moments in Pearl Island.
The rainy season lasts from May to October. In this period, September and October witness the long and heavy rainfall. If you choose to travel to Phu Quoc Island in the rainy season, consider some destinations in the North of the Island like Long Beach or Xep Beach in the South.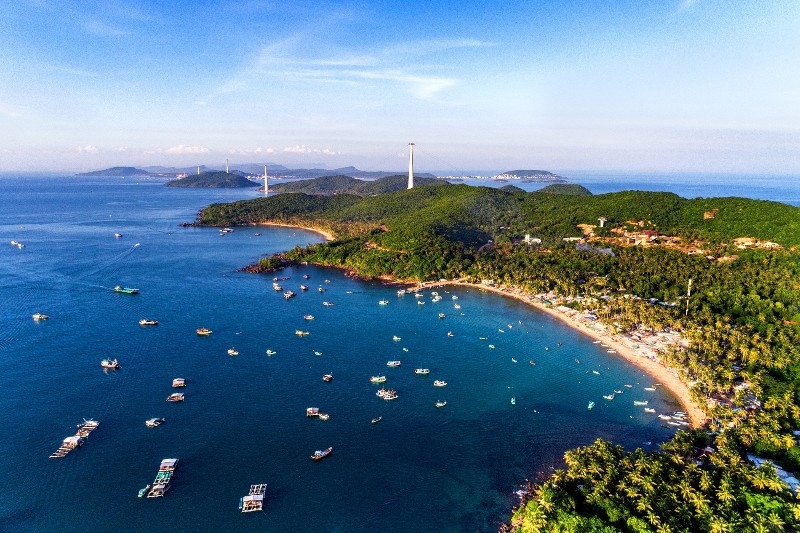 Photo: Vinpearl
Phu Quoc is famous for its fish sauce, and it's well worth touring a fish sauce factory to see how this fermented treasure is made. For a glimpse into everyday life, visit a traditional fishing village like Ham Hinh to eat fresh seafood at a floating restaurant.
Travelers interested in local culture and history will enjoy educational sites like Cay Dua prison and temples like Cao Dai, where believers follow a unique religion that synthesizes elements of Christianity, Buddhism, Islam, Confucianism, Hinduism, Genie, and Taoism.
Phu Quoc, known as the "Pearl Island," is home to some of the most breathtaking beaches in Vietnam. Among its many beach gems, Ong Lang Beach, Starfish Beach, and Khem Beach stand out as exquisite coastal wonders. Ong Lang Beach enchants visitors with its tranquil atmosphere and soft, white sands, offering a serene escape for those seeking relaxation and rejuvenation. Starfish Beach, as the name suggests, captivates with its vibrant marine life and the opportunity to witness starfish scattered along the shoreline. This secluded beach is perfect for snorkeling and exploring the underwater wonders. Khem Beach, renowned for its pristine beauty, boasts crystal-clear turquoise waters and powdery sand that stretches for miles.
Going to Phu Quoc Island
By plane: Traveling by plane is the most convenient and time-saving because there are many big cities with direct flights to Phu Quoc. From Phu Quoc airport, it will take you around 20 minutes to go by car to the center of Duong Dong Town.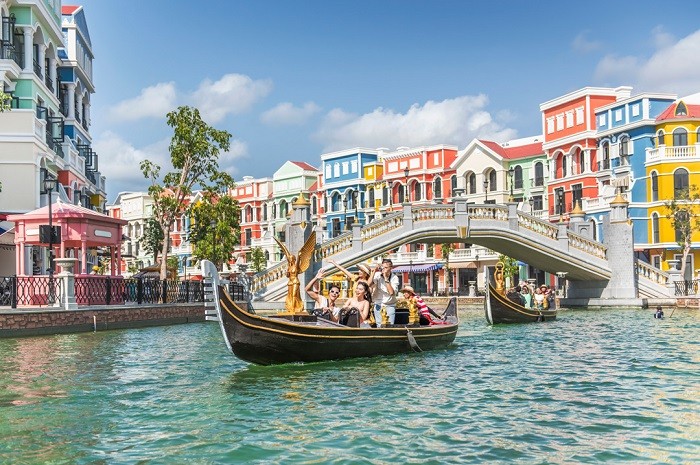 Photo: Vinpearl
By high-speed ferry: This type of transportation is suitable for those with a low budget. However, because the high-speed ferry will depart at a fixed schedule, you should get on board on time. Otherwise, you will need to wait for some time for the next ferry.