Michelle Obama leads attack on Trump at DNC
Photo: The Guardian
According to New York times, Michelle Obama, the former first lady, delivered an impassioned speech about empathy, values and the need to vote at all costs in November as she closed out the first night of the Democratic National Convention, praising the party's nominee, Joseph R. Biden Jr., as a "profoundly decent man" and urging Americans to see President Trump as "clearly in over his head."
"Whenever we look to this White House for leadership or consolation or any semblance of steadiness, what we get is chaos and division and a total lack of empathy," Mrs. Obama said in a speech that was deeply critical of the current administration.
"Let me be as honest and clear as I possibly can. Donald Trump is the wrong president for our country," said Mrs. Obama, who normally criticizes the president in veiled terms. "He has had more than enough time to prove that he can do the job but he is clearly in over his head. He cannot meet this moment. He simply cannot be who we need him to be for us."
"It is what it is," she said.
Mrs. Obama, the keynote speaker on the first of four nights of her party's unprecedented virtual convention, blamed Mr. Trump's victory in 2016 on voter apathy that year and warned that Republicans are currently working to tamper with the election.
The president's attack came hours after the former first lady addressed the opening night of the Democratic National Convention.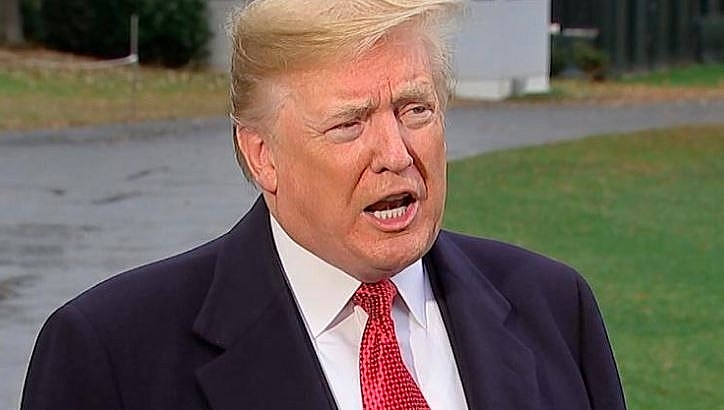 Photo: CNN
President Donald Trump responded on 18 August 2020 morning to former first lady Michelle Obama's forceful rebuke of his character and leadership — claiming that he would not have been elected to the White House were it not for what he called the failings of her husband's administration, reported by Politico
"Somebody please explain to @MichelleObama that Donald J. Trump would not be here, in the beautiful White House, if it weren't for the job done by your husband, Barack Obama," Trump wrote on Twitter.
"Biden was merely an afterthought, a good reason for that very late & unenthusiastic endorsement," he added.
The president's social media post came hours after the former first lady addressed the opening night of the Democratic National Convention, using her prerecorded keynote speech to cast Trump as a commander in chief dangerously deficient in empathy and experience.
Trump pushed back at Michelle Obama in 2018
President Donald Trump pushed back at former first lady Michelle Obama and former President Barack Obama over a forthcoming memoir in which the former first lady said she would "never forgive" Trump for his role in the "birther" movement, stated by CNN
"She got paid a lot of money to write a book and they always expect a little controversy," Trump said.
"I'll give you a little controversy back, I'll never forgive (President Barack Obama) for what he did to our US military. It was depleted, and I had to fix it," Trump said. "What he did to our military made this country very unsafe for you and you and you."
Le Dang