The World's Most Popular Vietnamese Dishes
Vietnam has delicious dishes, from luxury restaurants to street vendors. These places are considered the best in the world by CNN and other travel websites.
Vietnamese food is known to be both healthy and robust in flavor, thanks to its generous combination of fresh herbs and greens, paired with rice, noodles, seafood, pork, and beef.
While many cities such as Hanoi and Ho Chi Minh City offer plenty of fine-dining venues and five-star hotel restaurants decked out in extravagant settings, some of the best (and most authentic) Vietnamese delicacies are actually found at roadside eateries, vibrant street markets, and humble restaurants.
Vietnamese food has achieved cult status around the world due to the global popularity of pho, the ubiquitous noodle soup found in cities as varied as Budapest and Cape Town. However, the 90+ million people who live in the Southeast Asia country eat a lot more Vietnamese foods than just pho.
1. Pho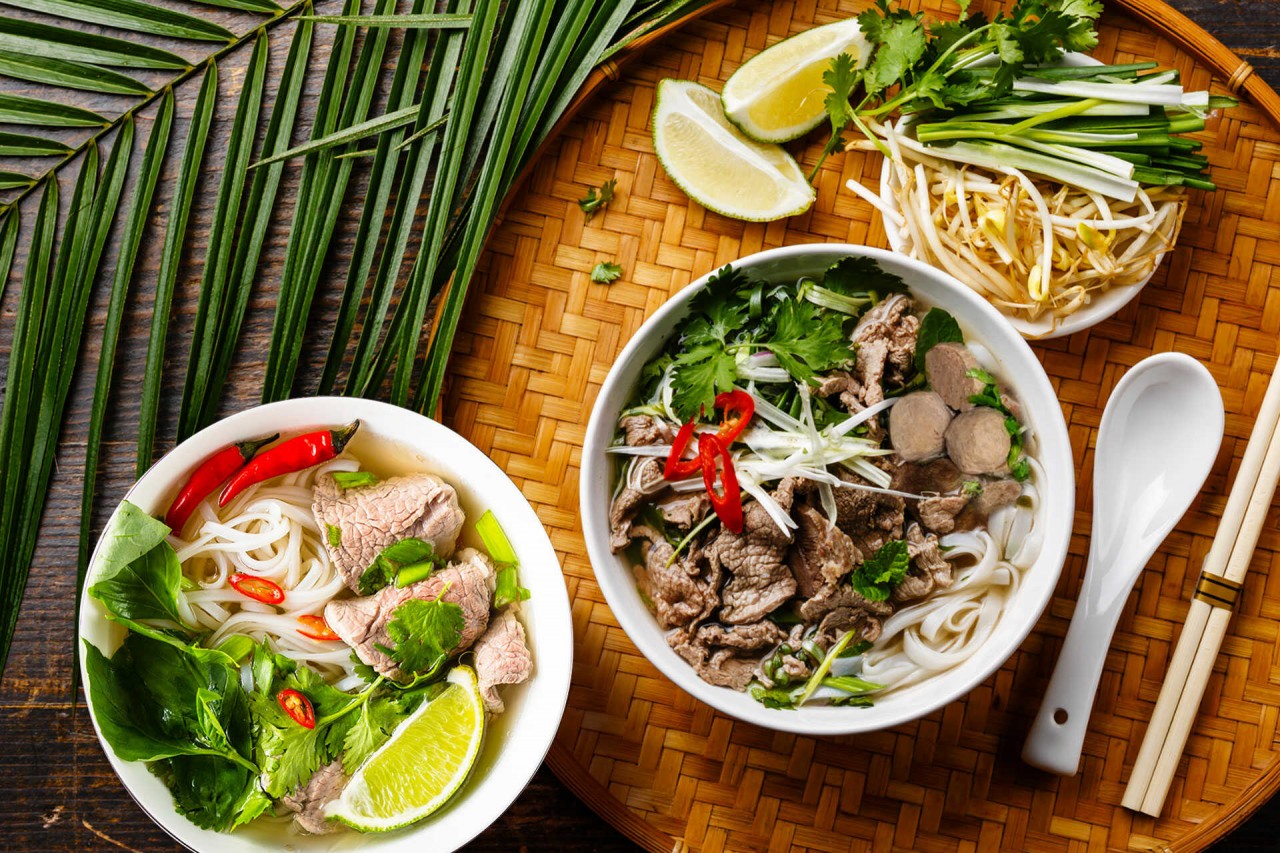 Photo: Asian Inspirations
Pho is a Vietnamese soup dish consisting of broth, rice noodles (bánh phở), herbs, and meat (usually beef, sometimes chicken). Pho is a popular food in Vietnam where it is served in households, street stalls and restaurants countrywide. Pho is considered Vietnam's national dish.
Pho originated in the early 20th century in northern Vietnam and was popularized throughout the world by refugees after the Vietnam War.
Because pho's origins are poorly documented, there is disagreement over the cultural influences that led to its development in Vietnam, as well as the etymology of the name.
The Hanoi (northern) and Saigon (southern) styles of pho differ by noodle width, the sweetness of broth, and choice of herbs.
Pho is served in a bowl with a specific cut of flat rice noodles in clear beef broth, with thin cuts of beef (steak, fatty flank, lean flank, brisket).
Variations feature slow-cooked tendon, tripe, or meatballs in southern Vietnam.
Chicken pho is made using the same spices as beef, but the broth is made using chicken bones and meat, as well as some internal organs of the chicken, such as the heart, the undeveloped eggs, and the gizzard.
2. Banh Mi
Photo: The Thao 247
Banh mi was first introduced to Vietnam during the French colonial period. It is a modification of the baguette, which was a staple food of the French in the 19th century.
The baguette, paired with pork pâté, ham, cheese, and butter was to serve only the French colonists at expensive restaurants and cafes, and was once a luxury product to most Vietnamese.
When the locals learned how to make this food themselves, Banh Mi became a common product, like other Western products such as condensed milk, coffee, and beer.
The bakeries opened one after another in Saigon and became a hit, making Banh Mi the favorite breakfast of the Saigonese.
Banh mi is a unique French-Vietnamese sandwich that's great for when you're in need of a quick meal.
Priced between VND 10,000 and VND 15,000, it consists of a toasted baguette sandwich, pickled vegetables, pate, butter, soy sauce, cilantro, chillies, and hot peppers.
Most banh mi sellers also offer a wide range of meat fillings, including heo quay (roasted pork belly), trung op la (fried egg), thit nuong (grilled pork loin), cha ca (fried fish with turmeric and dill), cha lua (boiled sausages), xa xiu (Chinese barbecued pork), and thit ga (poached chicken).
3. Cha ca
Photo: Bach hoa XANH
Hanoians consider cha ca to be so exceptional that there is a street in the capital dedicated to these fried morsels of fish. This alley is home to Cha Ca La Vong, which serves sizzling chunks of fish seasoned with garlic, ginger, turmeric and dill on a hot pan tableside.
Cha Ca La Vong may be the busiest but the service is a bit gruff and the food overpriced. Instead make your way to Duong Than in Hanoi's Hoan Kiem district, where you'll find plenty of more affordable but just as tasty options.
4. Banh Xeo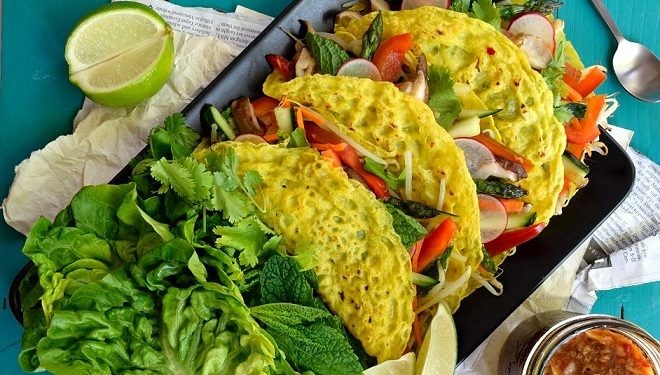 Photo: Eatgo News
Banh Xeo is a crispy, stuffed rice pancake popular in Vietnam. Banh means cake while Xeo means sizzle. The name refers to the loud sound the rice batter makes when it is poured into the hot skillet.
It is a savory fried pancake made of rice flour, water, and turmeric powder. It can also be called a Vietnamese crêpe.
Some common stuffings include pork, prawns, diced green onion, mung bean, and bean sprouts. Banh Xeo is also served with lettuce, mint, Thai basil, and fish mint. The dish is also popular in Cambodian cuisine, where the dish is called banh chhev.
Cambodian banh chhev is more similar to the southern Vietnamese style of bánh xèo rather than the style present in Central Vietnam. There is also a Thai version of Banh Xeo called Khanom bueang Yuan.
Similar to a crepe or pancake, Banh Xeo is made of rice flour, coconut milk, and turmeric, which you can fill with vermicelli noodles, chicken, pork or beef slices, shrimps, sliced onions, beansprouts and mushrooms.
Most roadside stalls, local markets, and restaurants sell a platter of Banh Xeo for about VND 15,000 to VND 25,000, which usually comes with a side of fresh lettuce or rice paper.
Eat like a local by wrapping your Banh Xeo in mustard leaf, lettuce leaves, or rice papers together with nem lui (lemongrass pork skewers), mint leaves, basil, before dipping in fermented peanut sauce.
5. Goi Cuon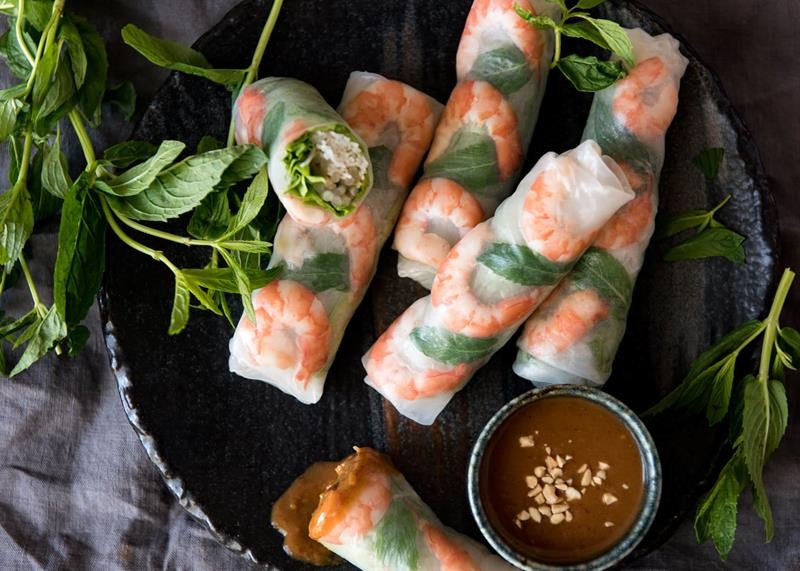 Photo: Netspace
Goi Cuon, salad roll, summer roll, fresh spring roll, spring roll, or rice paper roll, is a Vietnamese dish traditionally consisting of pork, prawn, vegetables, Bun (rice vermicelli), and other ingredients wrapped in Vietnamese bánh tráng (commonly known as rice paper or cold roll).
Unlike other spring roll dishes which are believed to be originated from China, Vietnamese Goi Cuon is the country's own creation using rice paper.
Goi Cuon is served fresh while others are served fried, like the Vietnamese Cha Gio. They are served at room temperature (or cooled) and are not deep-fried or cooked on the outside. These rolls are considered to be a very popular appetizer with customers in Vietnamese restaurants.
The rice paper is dipped in water, then laid flat on a plate with the desired amount of ingredients placed on top. The fresh Goi Cuon is then rolled up and ready to be eaten.
Goi Cuon can be served with hoisin sauce, which consists of ground tuong and mixed coconut water (or broth), before being stir-fried with garlic and some sugar and then sprinkled with chilli powder and ground peanuts.
Alternatively, Goi Cuon can be served with peanut sauce or other Vietnamese dipping sauces, such as nước chấm, a condiment based on fish sauce.
6. Bun bo Hue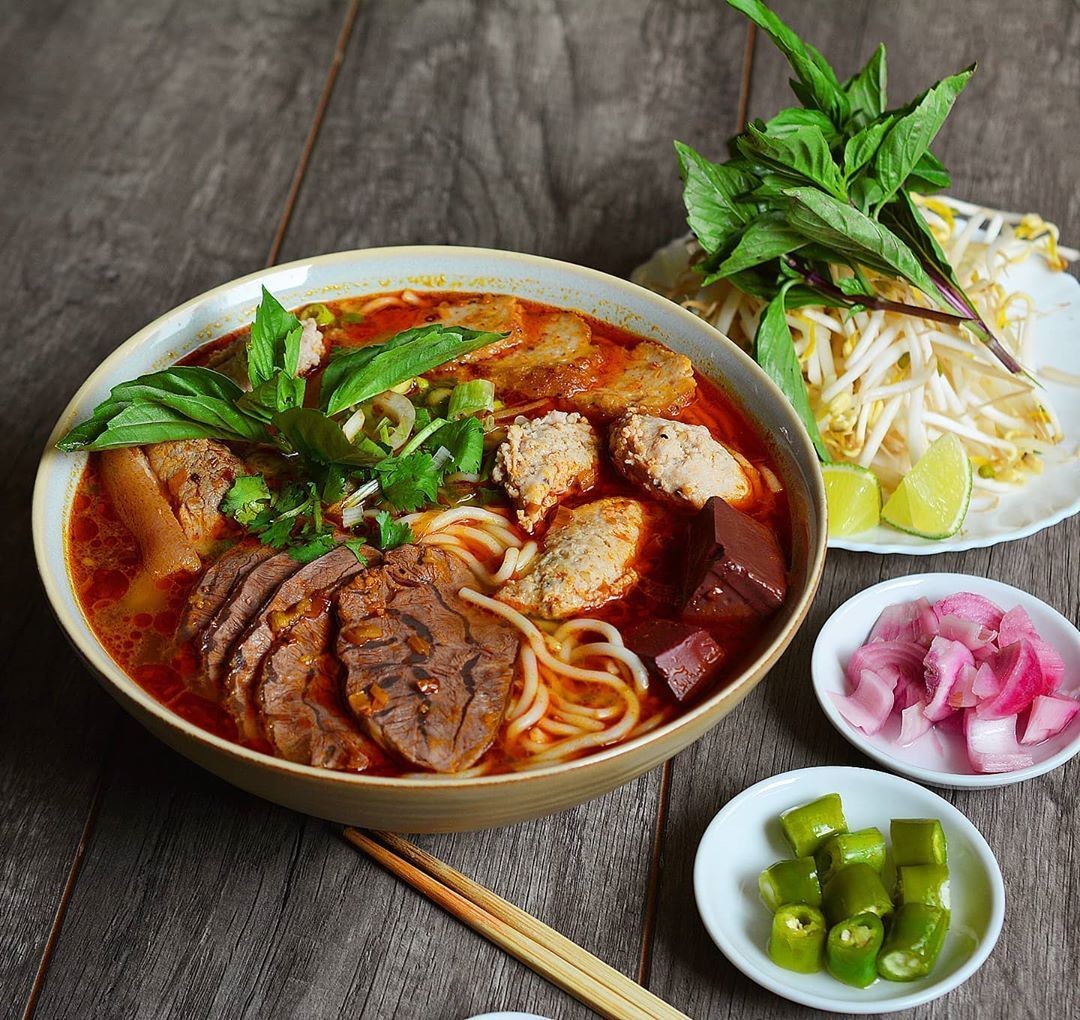 Photo: kickbutz
Once you have tasted this Central Vietnam cuisine, you will understand why Bun Bo Hue must be among the most special and awesome ones.
Bun Bo Hue is a beef noodle soup which originated from Hue. Hue, located in the middle of Vietnam, an old empire of Vietnam in the past, is a land of rich traditions and of course dishes that represent the true taste of Vietnam.
When you come to this city, you can feel the elegant and romantic atmosphere from the people, the historical sites, the picturesque sights, and the flavor of delicious dishes.
And Bun Bo Hue reflects all these characteristics of the city with a great combination of smell, ingredients, color and the flavor of royal cookery.
Bun Bo Hue is a dish containing rice vermicelli, beef, and pork. This soup can be eaten in every meal of the day, from daily meals such as breakfast, lunch, and dinner to more formal events when you want to hold a small family gathering or invite your friends or your colleagues for a farewell party.
A closer look at Bun Bo Hue reveals that there are many special ingredients which all play a crucial role in keeping the bowls tasty and catchy.
Especially, the threemajor ones including rice vermicelli, pork, and beef. It is quite easy to spot the white rice noodle which is cylindrical, thick and a bit chewy, unlike Pho noodles.
Bun Bo Hue literally means Hue's beef noodle soup, so the must-have ingredient is beef. The meat is often thinly sliced, and the tendon part of the cow body makes the soup unique. Tons of people like the taste of beef tendon and the feeling when chewing it is incomparable.
7. Xoi Xeo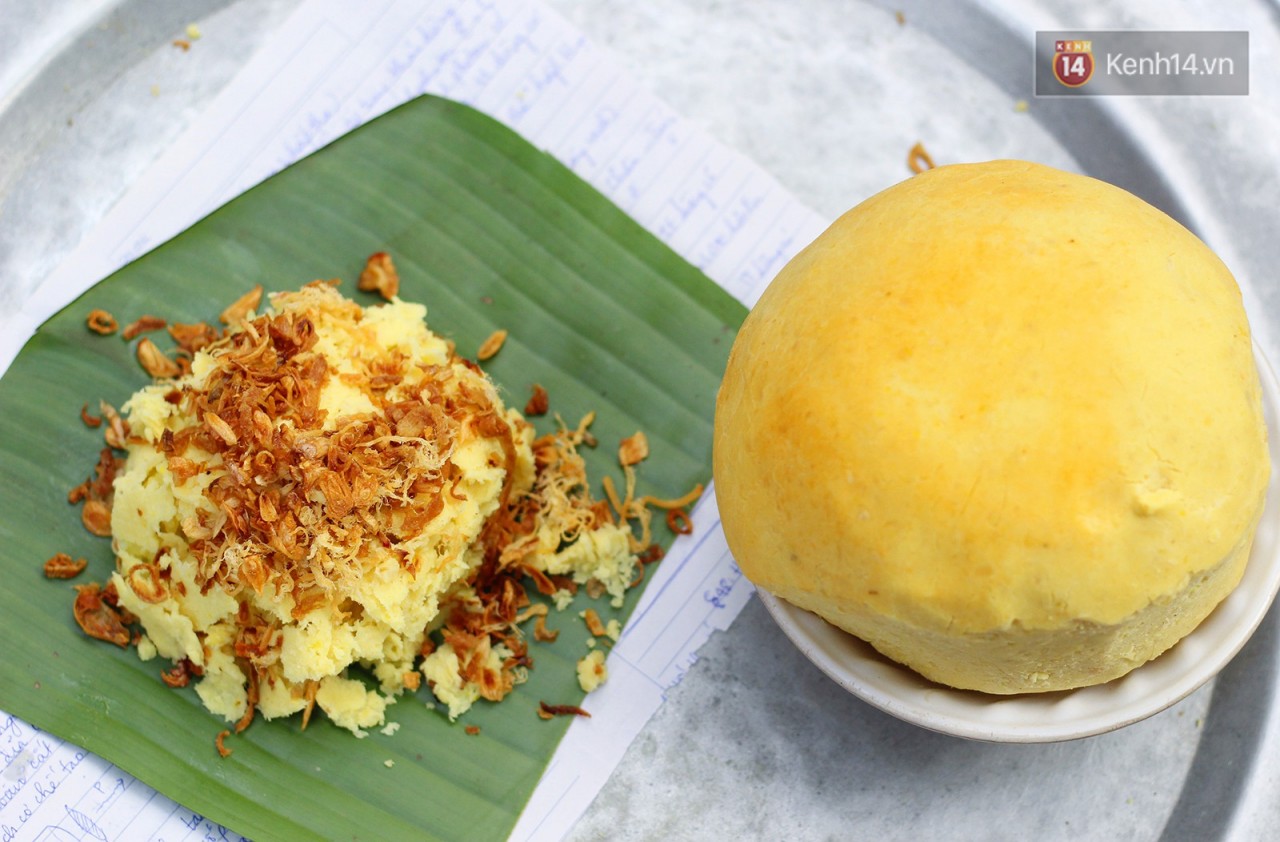 Photo: Kenh14
Xoi xeo is a sweet-savoury Vietnamese snack that's typically topped with green mung bean paste, soy sauce, and dried shallots.
For a more substantial meal, many restaurants now offer a variety of ingredients such as pate, boiled chicken, cha lua (Vietnamese ham), marinated pork belly, or preserved eggs.
A basic bowl typically costs VND 15,000, while add-ins range between VND 15,000 and VND 30,000.
Xoi xeo can also be enjoyed for dessert, which consists of dried coconut shavings, roasted sesame seeds, and crystallised sugar.
Savory sticky rice is less of an accompaniment to meals in Vietnam, and more a meal itself.
The glutinous staple comes with any number of mix-ins (from slithers of chicken, or pork to fried or preserved eggs), but almost always with a scattering of dried shallots on top.
8. Ca Kho To
Photo: Bep Mina
Ca kho to is a must try if you're a fan of fish, consisting of a catfish fillet that's braised and served in a clay pot.
Mostly available in cities in southern Vietnam, particularly Ho Chi Minh, this dish is prepared by slicing a whole catfish into fillets before caramelising it in a thick gravy made with a combination of soy sauce, fish sauce, sugar, shallots, garlic, and various spices and seasonings.
Ca kho to is known for its intense sweet-salty flavour, so this dish is always served with a plate of white rice and fresh greens.
Top Ten Best Cuisines in the World

Thailand, Japan, China, India are 4 Asian countries in the list of 10 countries with the best food in the world according to CNN Travel.