Thematic exhibition highlights Vietnam-Cuba solidarity
A thematic exhibition entitled "Vietnam-Cuba, a faithful sentiment" opened at the Vietnam Military History Museum in Hanoi on December 1 as part of the activities to mark the 60th anniversary of Vietnam-Cuba diplomatic ties (December 2, 1960-2020).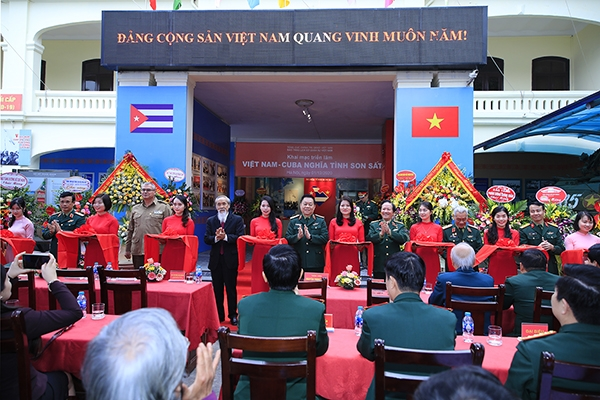 Delegates cut the ribbon to open the exhibition. (Photo: VGP)
With more than 100 photos, documents and artifacts on display, the exhibition reflects the history of the special comprehensive friendship and unshakable solidarity between the two countries.
The exhibition, which lasts until the end of this month, has been arranged into three sections, the first introducing outstanding photos about the activities of the Party, State and army leaders of Vietnam and Cuba.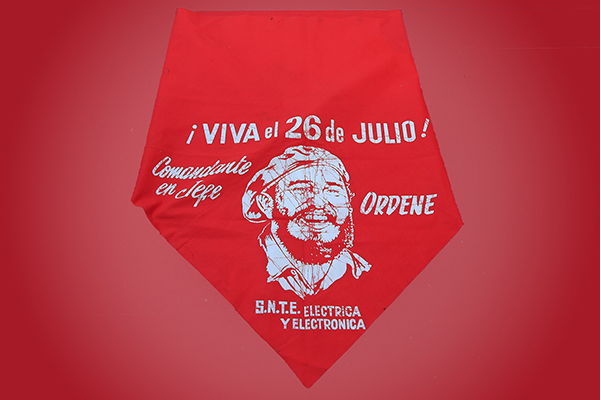 The Cuban scarf presented to Vietnamese hero Dinh Nup by Cuban leader Fidel Castro.
The second section highlights the special comprehensive relationships between Vietnam and Cuba since the establishment of bilateral diplomatic ties; the special feelings of President Ho Chi Minh for the Party, State and people of Cuba; and Cuba's spiritual and material support for Vietnam during past resistance wars.
The third section reflects the continuation of the fine traditions, special solidarity and friendship and mutual support in the current period between the two countries' Parties, States, armies and peoples across various fields.
The hat presented by Fidel Castro to Colonel Phung The Tai, Deputy Chief of the General Staff of the Vietnam People's Army, during the Cuban leader's visit to the central province of Quang Binh, September 1973.
One of the exhibition's highlights is the introduction of many relevant artifacts which are currently being preserved at the Vietnam Military History Museum.
The exhibition aims to raise public awareness of the strong tradition of solidarity between Vietnam and Cuba, affirming that the two countries have built an ideal model of a traditional and faithful relationship in the history of international relations.
nhandan