Thousands of Prisoners across Vietnam get Covid-19 Jabs
Thousands of inmates detained at prisons in Ninh Binh, Da Nang, Son La, and other provinces have received the coronavirus vaccine last year.
The vaccine allocation shows that authorities of all levels, branches and the police force always take care of the inmates, including their rights to health protection. This humane act also helps create a "vaccine barrier," reducing Covid-19 infection risks in detention establishments.
On Nov. 6, the Ministry of Public Security coordinated with the Ninh Binh Provincial Police Hospital to administer the second Covid vaccine jab to over 4,500 inmates serving their sentences at Ninh Khanh prison.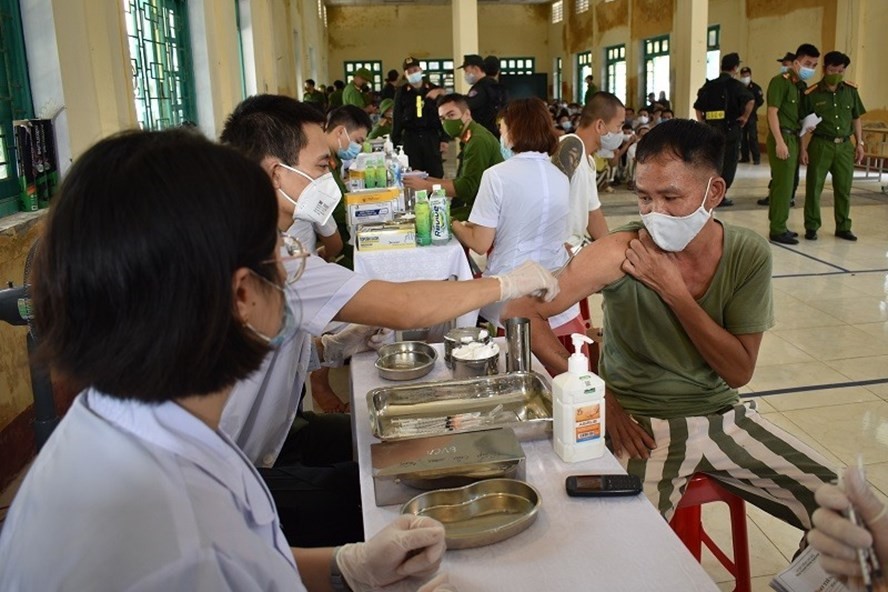 Prisoners at Ninh Khanh prison are given Covid-19 vaccine. Photo: Lao Dong
To ensure absolute security and safety during the vaccination, Ninh Khanh prison had devised plans to uniformly and effectively roll out the vaccination; organized awareness-raising programs to help prisoners better understand the pandemic situation, as well as the effects and benefits of vaccination against the novel virus. Prisoners later voluntarily wrote commitment to consent to the vaccination.
To mitigate cross-infection risks, Ninh Khanh prison carefully divided the vaccination site into separate areas, including pre-vaccination tables, reception, vaccination tables, post-vaccination tables. Medical equipment, tools, supplies are fully equipped for the injection as well as emergency handling.
All prisoners were screened, had their body temperature and medical history checked, given consultant regarding possible post-injection side-effects and healthcare. They were closely monitored throughout the procedure.
At Yen Ha prison, of Phu Yen district, northern province of Son La, another 2,700 detainees got their first jab of Covid-19 vaccine in early November last year. With good preparation, the vaccine rollout was safely carried out, no severe reactions reported after the injection.
In Ha Nam province, northern Vietnam, Ha Nam Provincial prison also worked with Kim Bang District Medical Center to have its detainees immunized. That was the first jab to be given to the special recipients.
According to Thoi Dai, provincial police officers had come up with plans and clearly assigned tasks to each force to effectively carry out the rollout.
Before receiving the jab, all inmates were given thorough health guides, medical checks and had their medical history recorded. 92% of the Ha Nam provincial prison's detainees were reportedly eligible for the injection.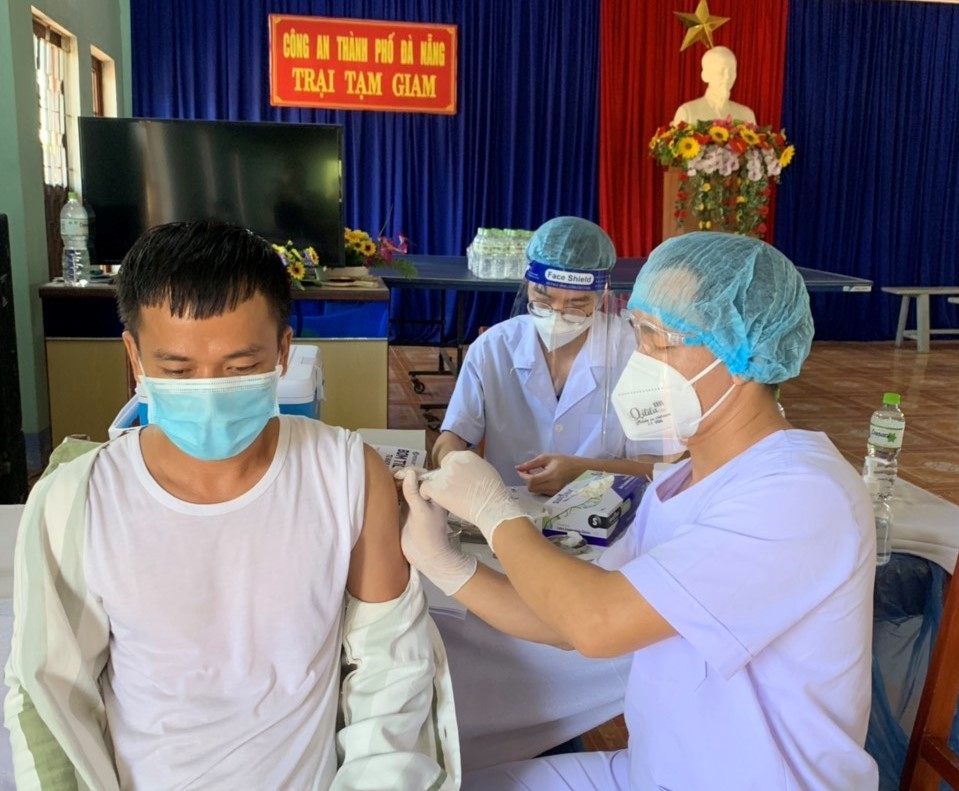 Medical workers in Da Nang give the jab to one prisoner. Photo: Thoi Dai
Another 1,000 prisoners at Hoa Son prison and other detention houses across Da Nang, central Vietnam, were vaccinated on Sept. 16. All had their body temperature and health condition checked prior to getting the dose.
Sparing vaccines for the prisoners is said to be a humane act of each locality and the country at large. There's no discrimination between detained violators and other citizens when it comes to Covid-19 vaccination, which partly contributes to Vietnam's effort to prevent and contain the pandemic, as reported by VNE.
Speaking at a Ministry of Health's meeting held in response to the International Day of Epidemic Preparedness in Hanoi in late December last year, Deputy Minister Nguyen Truong Son said cities and provinces must boost the progress to inoculate all adults with the third Covid-19 jab and cross the finish line within the first quarter of 2022.
"Vietnam's vaccination rate and vaccine coverage rate have reached a high level compared to other countries in the region and around the world."
With the current vaccination rate, by the end of this month, Vietnam will guarantee coverage for all people aged 18 and above with the first dose and have 90 percent of them inoculated with the second dose, he said.
So far, 98 percent of the adult population have received at least one shot, and 86 percent, two shots.
Vietnam allowed mass administration of the third Covid-19 vaccine shot on Dec. 1. On Dec. 17, the health ministry issued a new guideline to reduce the waiting time for the third Covid-19 vaccine shot from six months to three.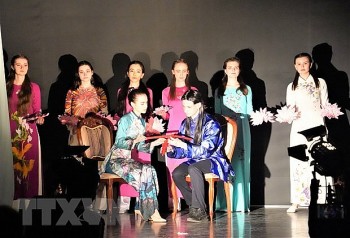 Overseas Vietnamese
Two exchange programmes were held in Russia, attracting manyemany and students of Vietnamese studies from leading universities in Russia.