Prisoners Express Gratitude for Government Amnesty
Thousands of inmates across Vietnam were released Wednesday morning following the State President's leniency decision signed ahead of National Day (September 2)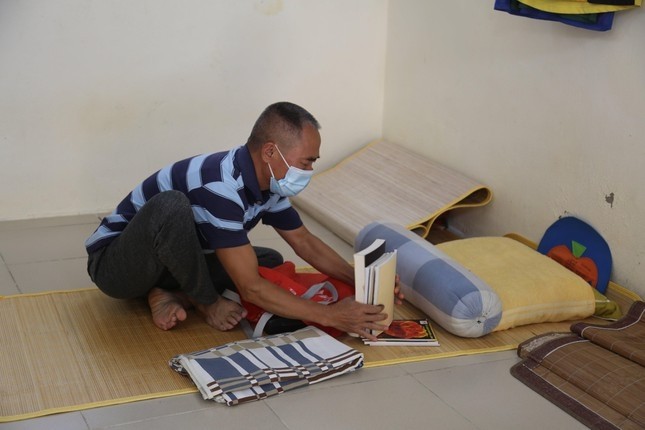 An inmate prepares to leave prison. Photo: Tien Phong
At the amnesty ceremony, many prisoners said they were moved and grateful for the government's amnesty policy.
"I'm grateful for the education programs and proper care from the prison's officials during rehabilitation. Had it not been for such a treatment, I wouldn't be released today," a prisoner, 55, told Vietnam Times. "Once I return to my family and society, I promise to abide by the laws, obligations and local regulations. I will actively learn, work, fulfill my civil rights and do good deeds to the community."
He was among 59 inmates in Hanoi to be released from detention camps. They had reportedly shown repentance, good study and labor results during imprisonment.
Hanoi has 205 detainees were given amnesty in 2021. The municipal Police Department has organized amnesty procedures, provided funds and new clothes for the beneficiaries before transferring them back to their hometowns. The releasing procedures were carried out in line with anti-pandemic protocols.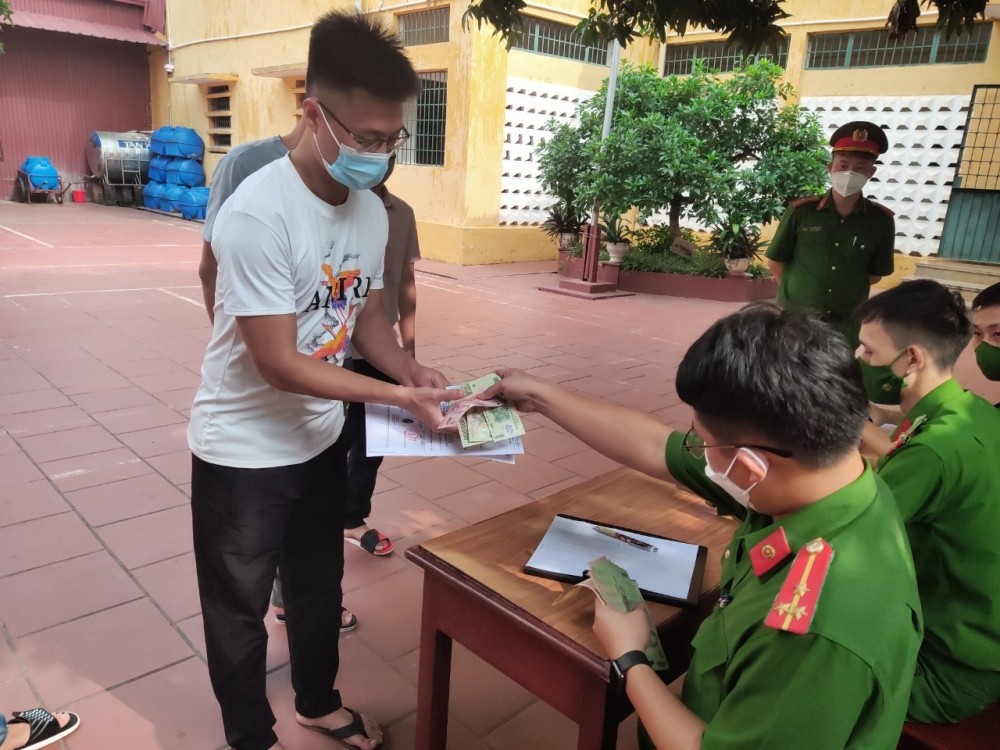 The prisoners are given financial support upon being released. Photo: Thanh Nien
Meanwhile, in Thai Nguyen province, 68 prisoners, including two foreign nationals, were granted humanitarian freedom on Sept 1.
Speaking at the ceremony, Deputy Prime Minister Pham Binh Minh said the State has conducted seven rounds of amnesty and freed 87,000 prisoners ahead of their release date. Most of them had stabilized their life and had a low reoffending rate.
The Deputy PM expressed his belief that those released this time would overcome shame and guilt and soon reintegrate into the community, becoming good and useful citizens, contributing to the development of the country. He also hoped inmates ineligible for the amnesty would perform better during rehabilitation in the coming time.
All the inmates released Wednesday were given Covid-19 tests before leaving given the current complicated pandemic situation.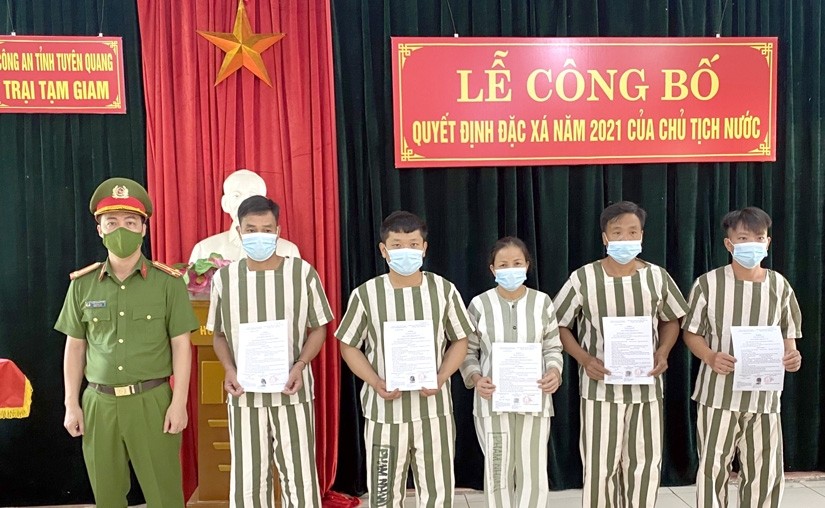 A police officer in Tuyen Quang hands over amnesty certificates to prisoners. Photo: Bao Ha Tinh
Prisons and detention camps in other localities also returned freedom to eligible inmates on Sept. 1, including Tuyen Quang, Lam Dong, Ha Tinh, Thua Thien Hue.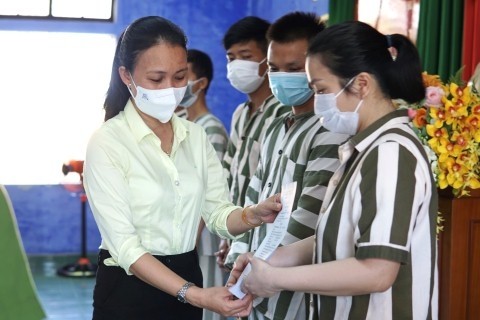 Photo: Bao Thua Thien Hue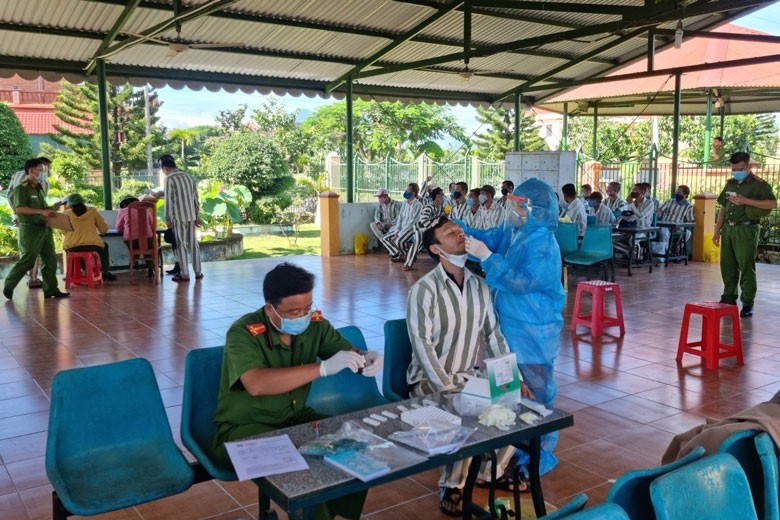 The prisoners are given Covid-19 tests before leaving. Photo: Bao Lam Dong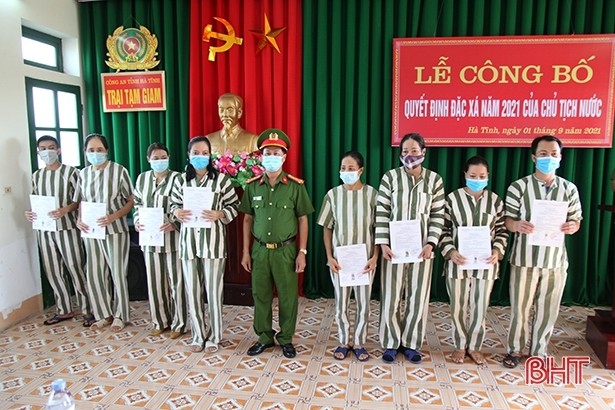 A police officer in Ha Tinh hands over amnesty certificates to prisoners. Photo: Bao Ha Tinh
President Nguyen Xuan Phuc on Aug. 30 signed a decision to grant amnesty to 3,026 inmates ahead of National Day (September 2).
Also enjoying this year's special amnesty are nine others whose sentences have been delayed or suspended, VOV reported.
The decision will come into effect on Sept. 1.
The Prime Minister, the President and members of the Advisory Council on Amnesty, the Chief Justice of the Supreme People's Court, the Procurator General of the Supreme People's Procuracy, and the Chairman of the Presidential Office are responsible for the implementation of the decision.
The Central Advisory Council on Amnesty convened a meeting on Aug. 23 to review the list of inmates nominated for amnesty on a case-by-case basis before it was submitted to President Phuc for approval, according to the Vietnam News Agency.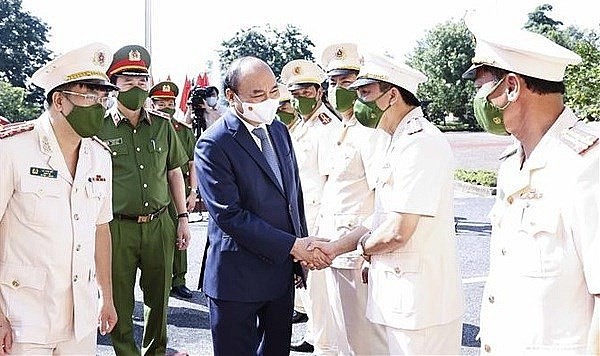 The President inspects implementation of amnesty decision in Bac Giang on Aug. 18, 2021. Photo: VNA
Beneficiaries include those who are serving their fixed-term sentences in jail, those who have life sentences reduced and those who have sentences suspended.
The amnesty will be the first since the 2018 Law on Special Amnesty was adopted.
The State has conducted seven rounds of amnesty from 2009 to 2016, benefitting a total of 87,111 inmates. The rate of relapse among amnesty beneficiaries was reportedly at 1.18 percent during the period.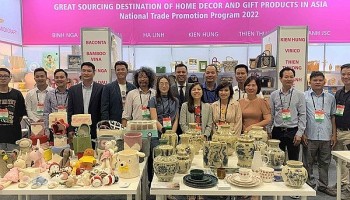 Economy
"Amazing ASEAN 2022 - Discover the flavors of Asia" campaign and the NY NOW exhibition are important events in August 2022 that introduced the rich and diverse goods and products from Vietnam to international markets.