Three generations in one family help children break poverty cycle
Christina Noble Children's Foundation (CNCF) is one of the longest serving NGO's in Vietnam and Mongolia. In 2019 Christina Noble, her daughter - CEO Helenita Noble, and Christina's grandson -Thomas Minter, Director of Operations Mongolia, remain the driving force of the Foundation.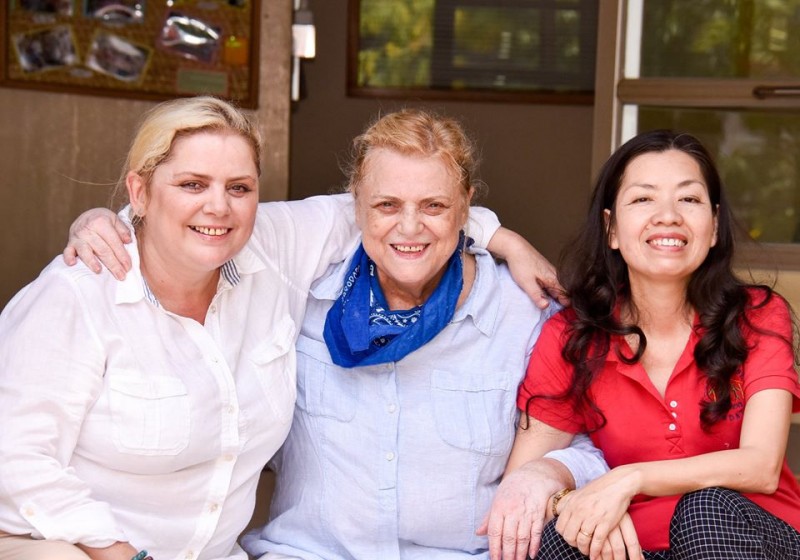 Christina (M) and her eldest daughter, CNCF CEO Helenita Noble (L). Source: CNCF
For almost 30 years the Christina Noble Children's Foundation has been helping abandoned and disadvantaged youngsters across Vietnam and Mongolia, by providing emergency and long-term shelter, medical care, nutritional rehabilitation, educational opportunities, vocational training, and job placement.
30 years ago, CNCF's Founder, Christina Noble arrived in Vietnam with just seven hundred dollars in her pocket spurred by a recurring dream of Vietnam that she'd had for 16 years. It was the dream of thousands of Vietnamese children reaching out for help in a post-war-torn country. Every day, Christina would go out looking for disadvantaged children. Children who were forced to survive on the street of Ho Chi Minh City, hungry, scared and at risk of exploitation and abuse, to offer them the love, care and help they needed.
"When I began here in Vietnam, people said what I wanted to do was impossible. "You are only one person" they said. But when I was a child, I needed only one person to understand my suffering and my pain, one person to love me. One is very important. There are many ones, and they add up," shared Christina Noble.
Since arriving in Vietnam (1989) and Mongolia (1997), Christina and her foundation have established over 160 projects providing education, healthcare and community development humanitarian services to vulnerable and destitute children and their families and poor rural communities. To date these projects have assisted almost 900,000 children and collectively have impacted the lives of over 1 million children and adults.
Christina Noble arrived in Vietnam in 1989 and formally established CNCF as an NGO in 1991. She remembered the process as "incredibly hard—I went to every place I could think of. Believe me, I knocked on every door." Her heart and persistence eventually won the support of a few Vietnamese and British companies, and an article about her brought extra funding after it was published in British tabloid The Sun.
In 1991, Christina's foundation established the Children's Social and Medical Centre in Ho Chi Minh City, which provides free medical care to more than 6,000 street children a year. It also opened a school for 300 street children in 1991 and, three years later, an emergency shelter for boys, both in Ho Chi Minh City. After visiting Mongolia in 1997, Christina decided to set up operations there too.
Hundreds of thousands of children and communities have had their lives transformed by CNCF and we take this opportunity to thank all our supporters who have made this possible, as Christina said "One is very important. There are many ones.. and they all add up."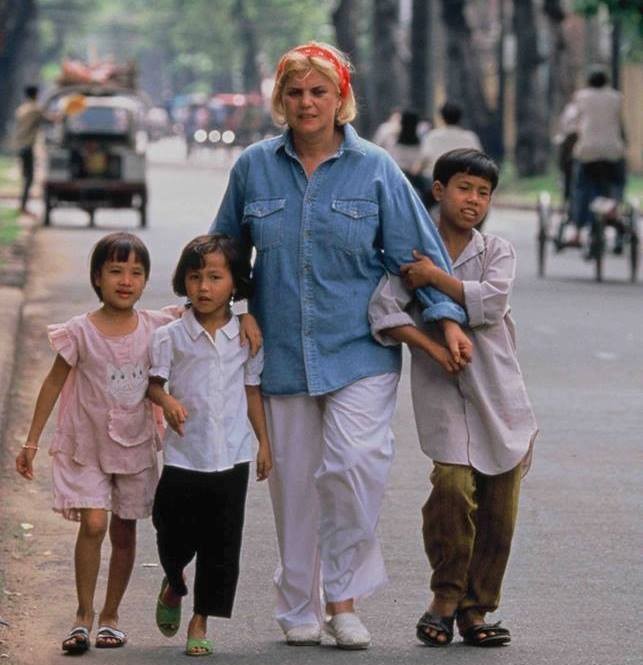 Christina, pictured up left arriving in Vietnam, and her eldest daughter, CNCF CEO Helenita Noble, pictured right at CNCF's flagship project where her mother first began, remain the driving force behind the Foundation.
As one of the top priorities of the Christina Noble Children's Foundation, education plays a significant role in helping children break the poverty cycle.
"When children are educated, they possess something which cannot be lost or taken away from them and offers them some protection from exploitation and abuse. They will have more power in the labour market; they will be better equipped to provide for themselves in a way which protects their integrity and their dignity," said Christina Noble.
Christina knows first-hand what it is like to be denied of her basic human rights, to be isolated and marginalised and to survive on the streets. This adversity in her young life instilled in her a passion for children's rights worldwide.
"It doesn't matter whether you're in a gutter in Dublin or Ho Chi Minh City, it's still a gutter," she said when talked about a film that has been made about her life. "What I want to do is get children out of the gutter because it's no childhood at all – every child deserves love and cuddles and kindness and warm food and a bed, and every child has the right not to be afraid."
Christina is the author of two international best-selling autobiographies, 'Bridge Across My Sorrows' (1994) and Mama Tina (1997) and the subject of a biopic feature film 'NOBLE' (2014) which won seven international film awards, Christina has also been the subject of two feature length award-winning documentaries – Mama Tina (1997) and 'In A House That Ceased to Be' (2014).
Christina's children Helenita, Nicolas and Androula have worked alongside their Mother throughout the last 25 years. In 2016 Helenita Noble undertook the role of CEO to initiate transition from a founder/family Foundation to an independent sustainable organisation with the formation of an independent governing board, CNCF International, which was announced in January 2018.
In 2019 Christina Noble, her daughter, CEO Helenita Noble, and Christina's grandson, Thomas Minter, Director of Operations Mongolia, remain the driving force of the Foundation.
At CNCF's 30 Year landmark black tie gala event, a celebration of the Human Spirit, CNCF pays tribute to its founder Christina Noble, Vietnam, its people and most importantly the incredible children that CNCF have served over the past 30 years who have all overcome great adversity and have gone on to lead heroic lives./.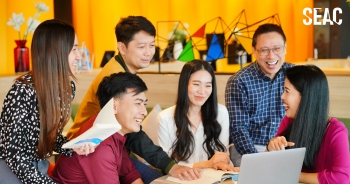 Economy
SEAC, a leading corporate and lifelong education innovator, is shaking up the Thai and ASEAN education market with significant investment to expand its SMART learning solutions across the ASEAN region.