Local Residents Hiking for Disadvantaged Vietnamese Children
The Children's Walk For Hope is a virtual event that will be held globally recently.
A hiking event was recently held in the French city of Domats, with nearly 30 local residents taking part, in response to the "Children's Walk For Hope 2023" campaign initiated by the Christina Noble Children's Foundation (CNCF), VNA reported.
CNCF Secretary General in France Eric Fiat said it is the third time such an event has been held in the country to introduce CNCF's activities and raise funds in support of disadvantaged children in Vietnam who are lacking in both material and spiritual aspects.
The proceeds will be used to fund CNCF's programs, especially in the field of education, in Vietnam and Mongolia.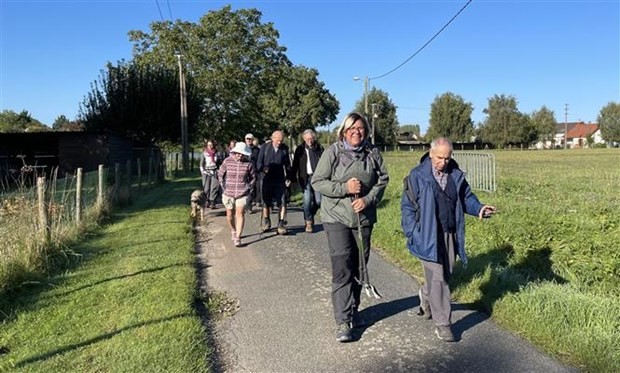 Participants at the event in France. Photo: VNA
After over 3 hours of walking through fields, lakes, forests, and villages, the participants gathered at the Domats community center where they listened to an introduction about the CNCF's activities in Vietnam and Mongolia, contributed to the charity fund, and enjoyed a Vietnamese meal prepared by a local Vietnamese couple
Meanwhile, nearly 1,500 athletes on September 24 finished their runs in the Children's Walk For Hope held simultaneously in Vietnam and Mongolia.
1,500 participants took part in the event from Vietnam, Mongolia, and globally. All have run towards the aim of aiding underprivileged children in transforming their future through quality education.
7,850 km is the total distance achieved by all online participants, with 367.22km reached by one of the athletes—surpassing the adult category's 34km goal by 1080% and doubling the initial target distance set by CNCF at 4,119km.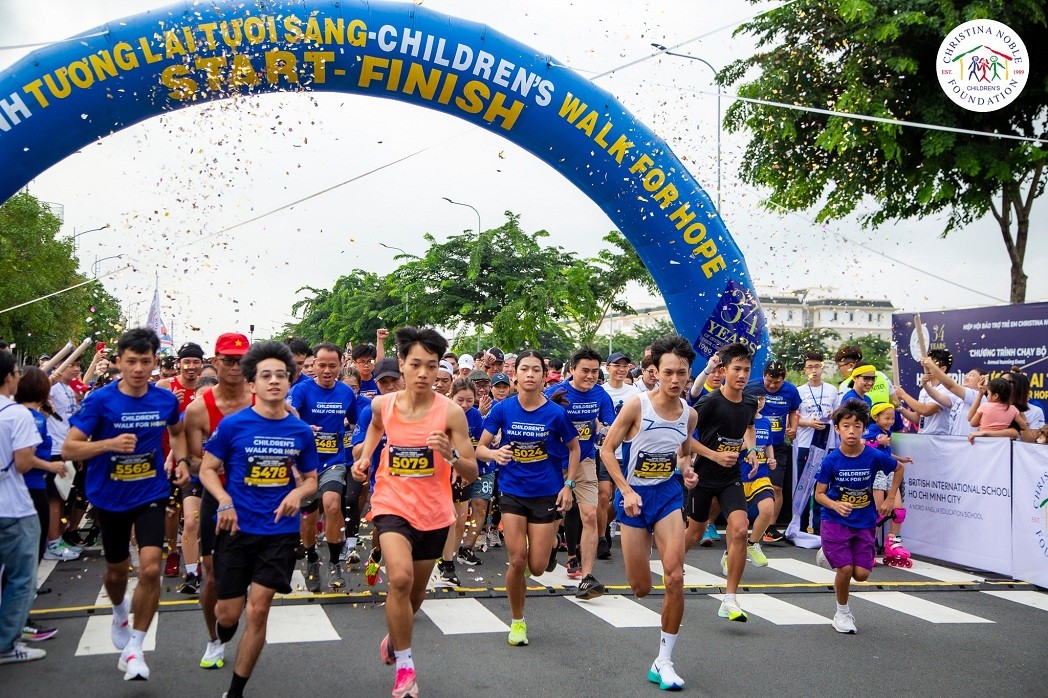 Participants at the event in Vietnam. Photo: CNCF
Christina Noble Children's Foundation (CNCF) is a British Registered, third-generation, family Foundation and one of the longest-serving foreign NGOs in Vietnam since 1989.
It has so far launched over 100 projects in Ho Chi Minh City and adjacent provinces, providing support to hundreds of thousands of disadvantaged children.
In 2010, CNCF founder Christina Noble was awarded the Friendship Order by the Vietnamese President in recognition of her contributions to the relationship between the UK and Vietnam.