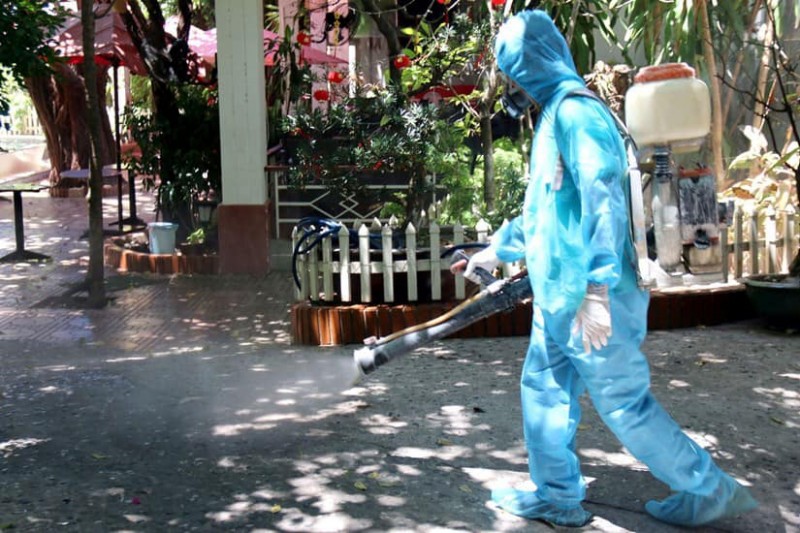 A medical worker sprays disinfectant to sterilise streets. (Photo: VNA)
"At the moment, one case are being treated in Cu Chi field hospital, two other cases are in the Hanoi-based National Hospital of Tropical Diseases, and they are in stable condition," the ministry said in a statement.
The patient 45, a man residing in Ward 7, Tan Binh district, Ho Chi Minh City, had close contact with patient 34. He had a working dinner with patient 34 and her husband in Binh Thuan province on March 3.
On March 4, he returned to Ho Chi Minh City on a private vehicle with three others. On March 10, he isolated himself at home after hearing news regarding the patient 34.
On March 12, patient 45 was isolated in Tan Binh district with throat irritation and stuffiness in the nose, then transfered to the Cu Chi field hospital.
The other cases are two woman both from Hanoi: a 30 –year-old flight attendant on the flight VN0054 with the 17th patient who traveled from London to Hanoi-based Noi Bai International Airport (case 46) on March 9; and a 43-year-old house helper of 17th patient (case 47).
On February 22, the 34th patient flew from Vietnam to New York, transiting at Incheon Airport in South Korea.
On February 29, she flew from Washington to Vietnam, transiting at Qatar airport, and on the morning of March 2, entered Vietnam at Ho Chi Minh city-based Tan Son Nhat International Airport.
On the morning of March 9, the patient was admitted to Binh Thuan General Hospital.
After the 51-year-old woman identified as the 34th patient infected with COVID-19 in Vietnam, the Diseases Control Center of the south central province of Binh Thuan had tracked people who had contact with the patient, strictly monitor the health of all persons who had close contact with her.
As of March 13 evening, Vietnam has confirmed 47 COVID-19 infections. The country has successfully cured 16 cases of COVID-19 infection so far. However, the disease situation remains increasingly complicated as there have been secondary cases related to the 17th COVID-19 patient from Truc Bach district in Hanoi.
Many infection cases came from the same flight with the 17th patient who traveled from London to Hanoi-based Noi Bai International Airport.
COVID-19 had spread to 114 countries and had reached pandemic level.
The World Health Organisation (WHO) has declared COVID-19 as pandemic based on its rapid spread in many places outside of China, where the virus first surfaced in December last year./.
VNF