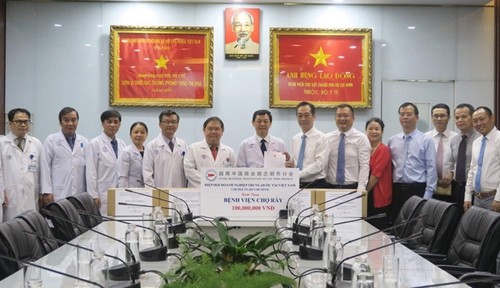 Leaders of the Chinese Consulate General in Ho Chi Minh City visited and presented gifts to Cho Ray Hospital in Ho Chi Minh City.
Chinese Consul General in HCM City Wu Jun, said that more and more Chinese people are visiting or working in Vietnam in general and Ho Chi Minh City in particular. Many Chinese who have health problems often go to Cho Ray Hospital for treatment.
In particular, two Chinese citizens infected with the SARS-CoV-2 virus were successfully treated by doctors of Cho Ray Hospital and returned home. This shows that the Chinese community has faith in the qualifications of Cho Ray Hospital's doctors.
Given the complicated developments of the COVID-19 epidemic around the world, the Chinese Consulate General hopes for a closer cooperation between his office and Cho Ray Hospital in the fight against the disease.
Doctor Nguyen Tri Thuc, Director of Cho Ray Hospital, affirmed that hospital always tries their best to fulfill the role of physicians caring for people. Under the direction of the Ministry of Health, not only Chinese citizens, all foreigners who come to Vietnam and are found positive for the SARS-CoV-2 virus, will be promptly treated.
On this occasion, representatives of the Chinese Consulate General and the China Business Association – Ho Chi Minh City branch presented 600,000 N95 medical masks and VND 100 million (about USD 4,500) to Cho Ray Hospital to support Vietnamese health workers in the fight against COVID-19.
Receiving the gift from the representative of the Chinese Consulate General, Dr. Thuc shared that these masks are a valuable gift for the medical team and doctors of Cho Ray Hospital.
Also according to him, the cash sum will be donated to the hospital's Social Affairs Department to support poor and disadvantaged patients.
VNF