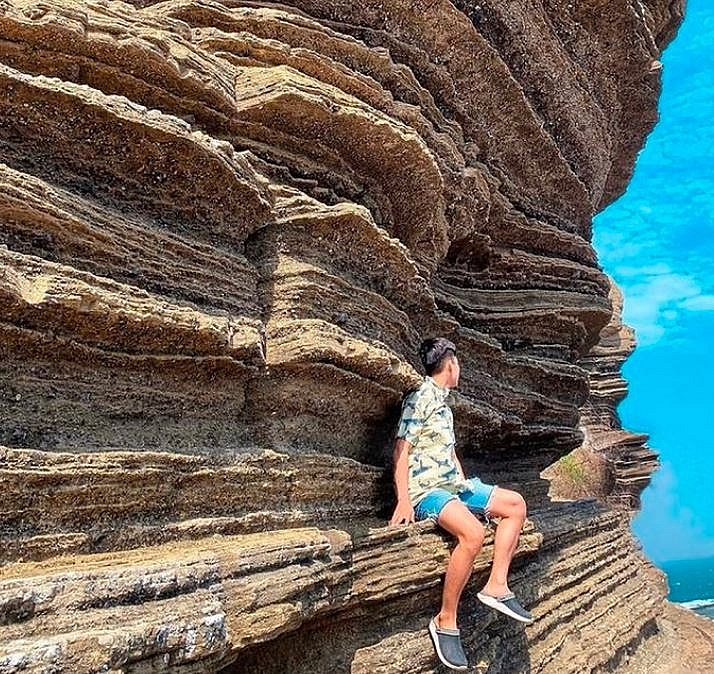 Photo: baomoi
Cliffs in Cao Cat Island, Binh Thuan
Phu Quy Island is an extremely famous destination among young Vietnamese in summer where travelers can enjoy clear blue beaches or delicious seafood. Addition to those, travelers also can trek to Cao Cat Mountain and take impressive photos with extremely magnificent cliffs.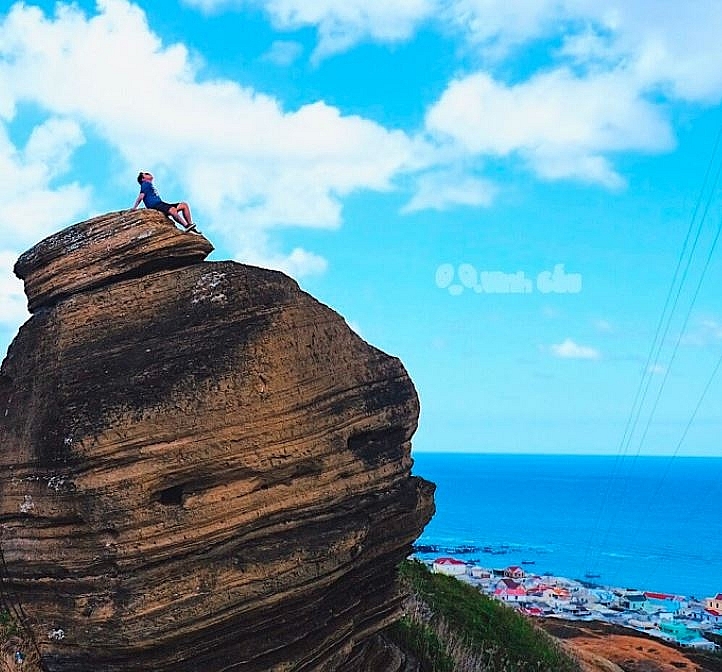 Photo: Vinh Gau
Cao Cat Mountain is located in the North of the island and the local consider this place as a holy land because there is a majestic statue of the Buddha in Linh Son pagoda which protect the people on the island.
When you visit to Cao Cat, in addition to visiting Linh Son Pagoda, you definitely have to spend a day to visit, check in with the cliff.
The cliff on Cao Cat mountain has strange shape with random arrangement. Challenging outcrops of rocks. Each rock is "sculpted" by mother of nature with a strange shape, some look like a mushroom while others look like animals.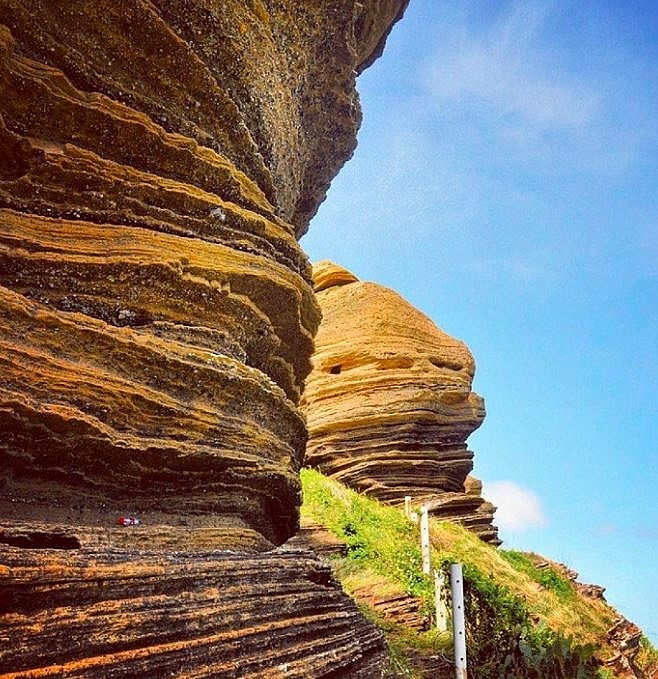 Photo: stikerfactory
From above, you will see this cliff lined up in layers by layers, sometimes it is winding, sometimes it is piled up that create a very majestic picture on Phu Quy island.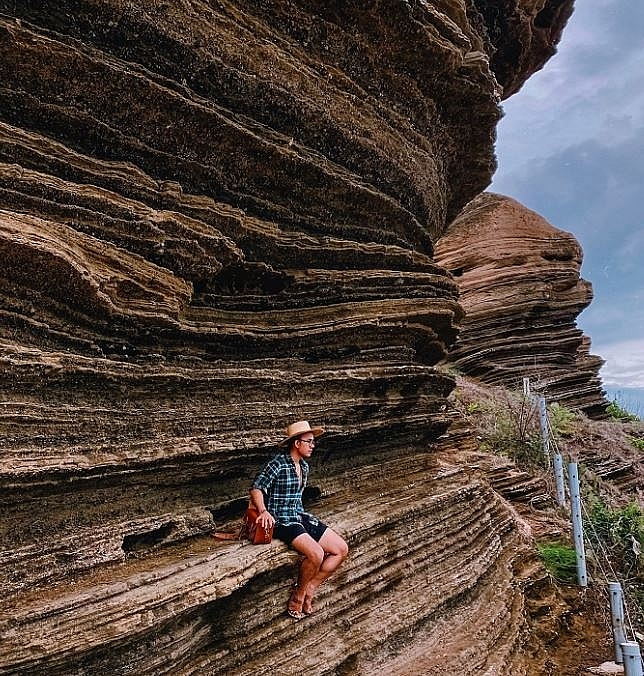 Photo: Vnexpress
Cliffs in Cau Cave, Ly son Island, Quang Ngai
Cau Cave is located in Dong village, An Hai commune, right at the foot of Mount Thoi Loi, Ly Son Island, Quang Ngai. Although this place is far from Ly Son port, it still attracts a lot of tourists because of its beautiful scenery which is a harmony between immense blue ocean and majestic cliffs.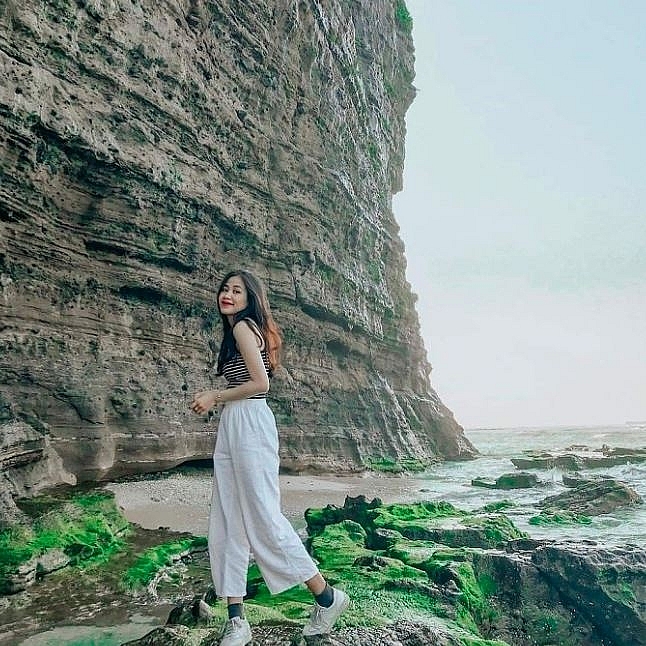 Photo: Pinterest
In Cau Cave, you will be amazed at a very wild scene with one side of the cliffs standing up, looking like an ancient wall tinged with time while the other side is a beautiful beach with blue emerald water. If you look closely at the cliffs, you will see that this place is a bit similar to the cliffs on Cao Cat Mountain.
The cliff is covered by a typical plant species of Ly Son waters, which is the jelly. Therefore, this place is called Hang Cau, which is both easy to remember and expresses its true beauty gifted by nature.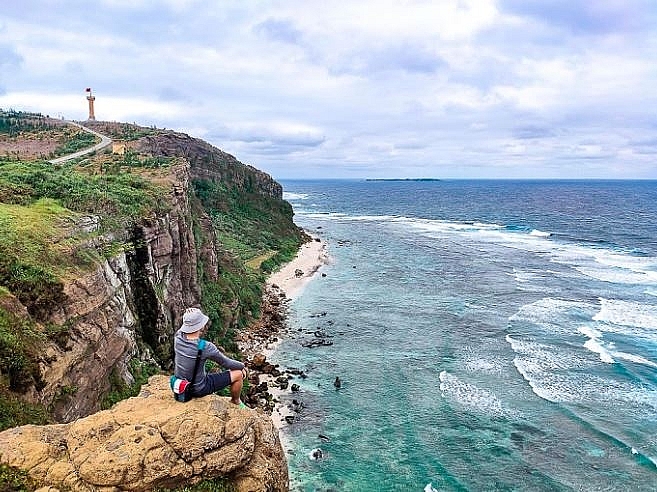 Photo: Gody
Beside the high mountain, standing in the middle of the sky are rocky tissues eroded by waves and wind for thousands of years, that creates a unique and magnificent beauty that is both. Over time, the rocky mountain wall gradually becomes wavy and rugged with many different colors. The green of the moss is in harmony with the gray color of stone that create an impressive beauty
Cliffs in Latina lake, An Giang
Latina Lake is in the border between Tinh Bien and Tri Ton districts of An Giang which is a small lake located at the foot of the Cam Mountain. It will only be a normal lake if Latina does not possess beautiful cliffs surrounding. In this place, you feel like you are lost in an open cave with wild and mysterious beauty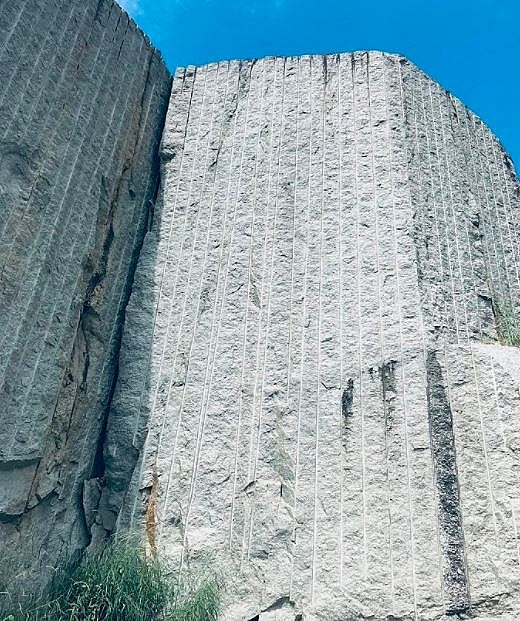 Photo: amyngoctruong
The cliffs in Lake Latina stand upright like a solid wall and protecting this lake for peace. The giant rock with a distinctive silver-gray color creates many wonderful corners for visitors to checking.
If the two cliffs on Phu Quy and Ly Son islands are eroded by the sun and wind with strange shapes. The cliffs in An Giang look flat and straight, as if they were carefully trimmed.
Photo: Thanh_hole
This cliff is very large and stretches. There are vertical stripes on the body of the cliff, like someone holding a pencil and drawing strange parallel lines. You can stand, sit, run, dance, and pose in all sorts of different poses when visiting the cliffs of Lake Latina.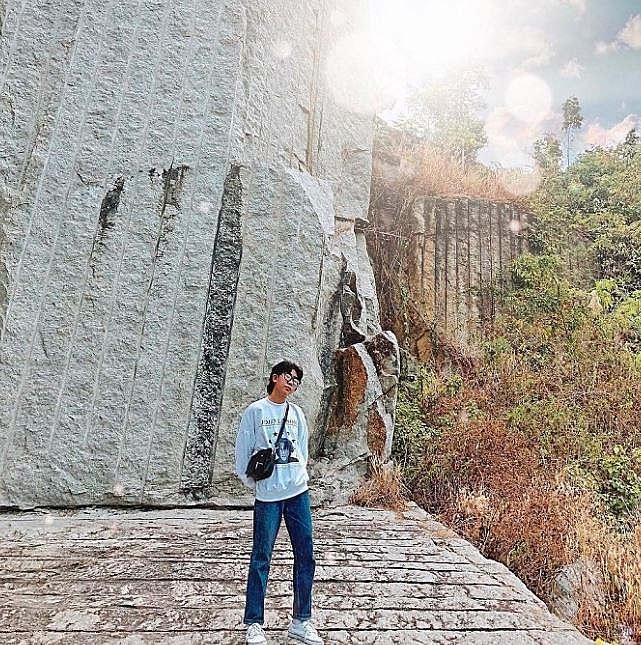 Photo: Mytour
Photo: travelsgcc
Le Dang
Vietnam Sport