Three Vietnamese among Forbes list of Asia's 100 most influential digital stars
Comedian Tran Thanh, singers Chi Phu and Dong Nhi are three Vietnamese celebs listed on Forbes Asia's 100 Digital Stars together with series of prominent characters in the region such as BTS, Blackpink, EXO, Lee Min Ho…
The inauguralForbes Asia's 100 Digital Stars list launched earlier this week highlighting celebrities from across the Asia Pacific region who have taken the digital world by storm.
"The inaugural Forbes Asia's 100 Digital Stars list couldn't have come at a more relevant time. Artists rely on social media platforms to connect and communicate with fans, especially in the absence of live entertainment due to Covid-19 restrictions around the region," said Rana Wehbe Watson, editor of the list. "The 100 celebrities highlighted on the list range in age from 20 to 78, proving that social media influence is a cross-generational phenomenon."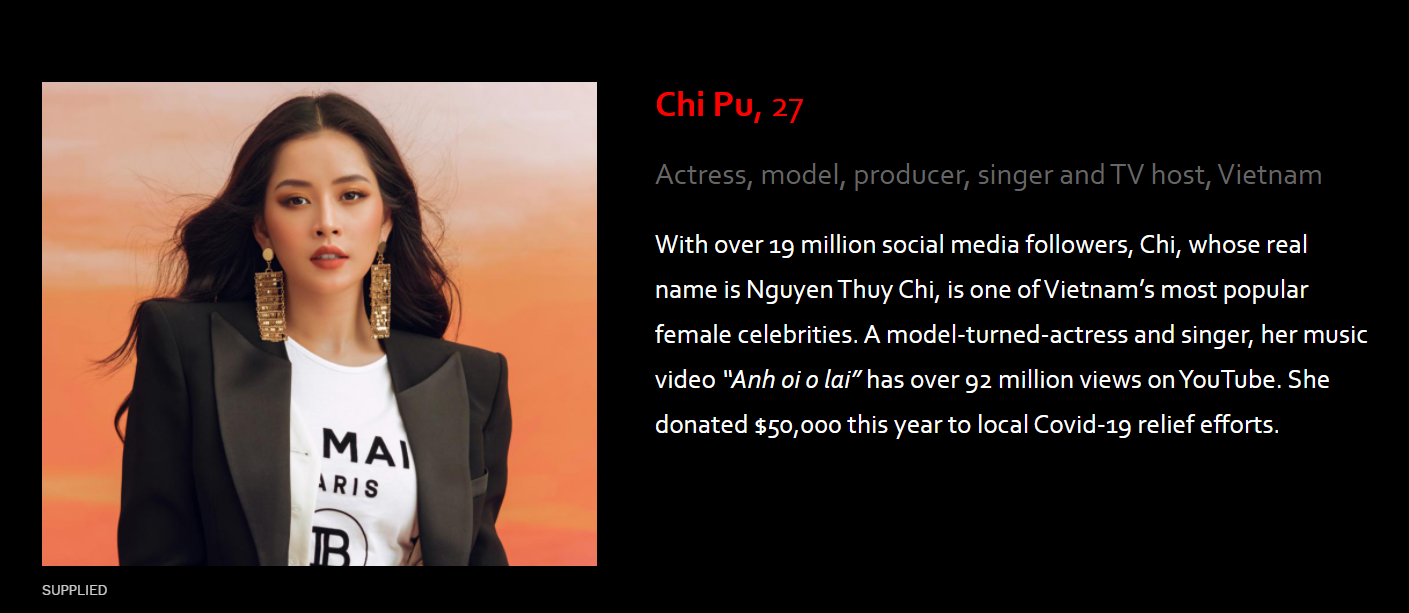 Screenshot photo from Forbes.
In the list, Chi Pu, 27, was introduced as a Vietnamese actress, model, producer, singer and TV host. "With over 19 million social media followers, Chi, whose real name is Nguyen Thuy Chi, is one of Vietnam's most popular female celebrities. A model-turned-actress and singer, her music video "Anh oi o lai" has over 92 million views on YouTube. She donated $50,000 this year to local Covid-19 relief efforts." Forbes write.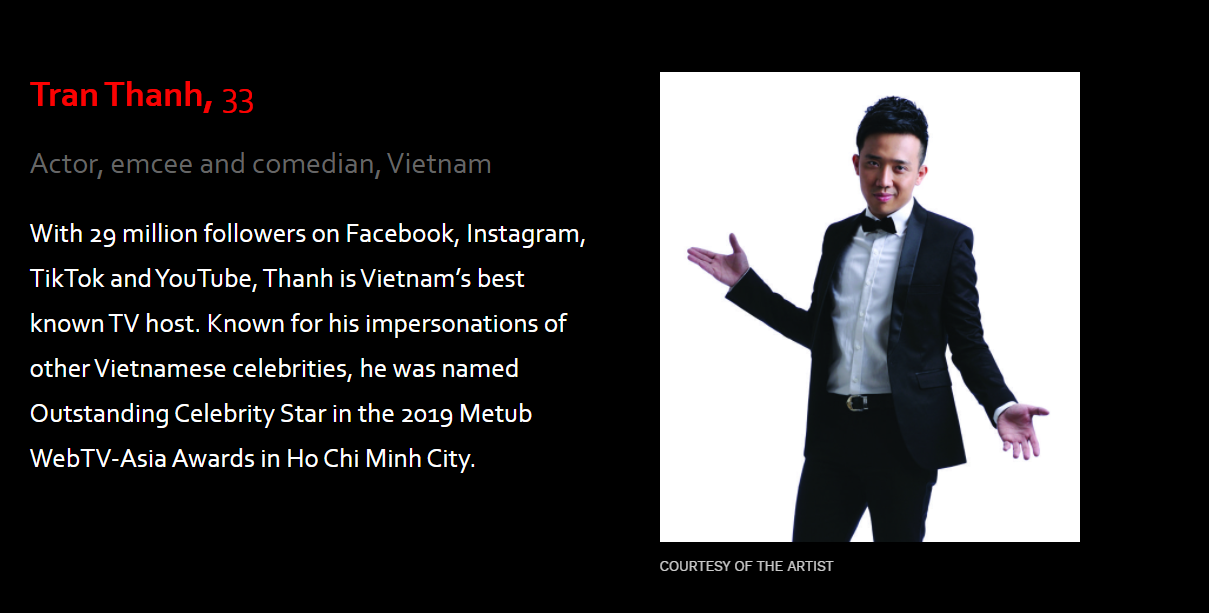 Screenshot photo from Forbes.
Thanh, 33, is well known as a comedian, actor, voice actor, and television presenter. In recent years he has become the popular face of many television programs and game shows.

Forbes Asia said: "With 29 million followers on Facebook, Instagram, TikTok and YouTube, Thanh is Vietnam's best known TV host. Known for his impersonations of other Vietnamese celebrities, he was named outstanding celebrity star in the 2019 Metub WebTV-Asia Awards in Ho Chi Minh City."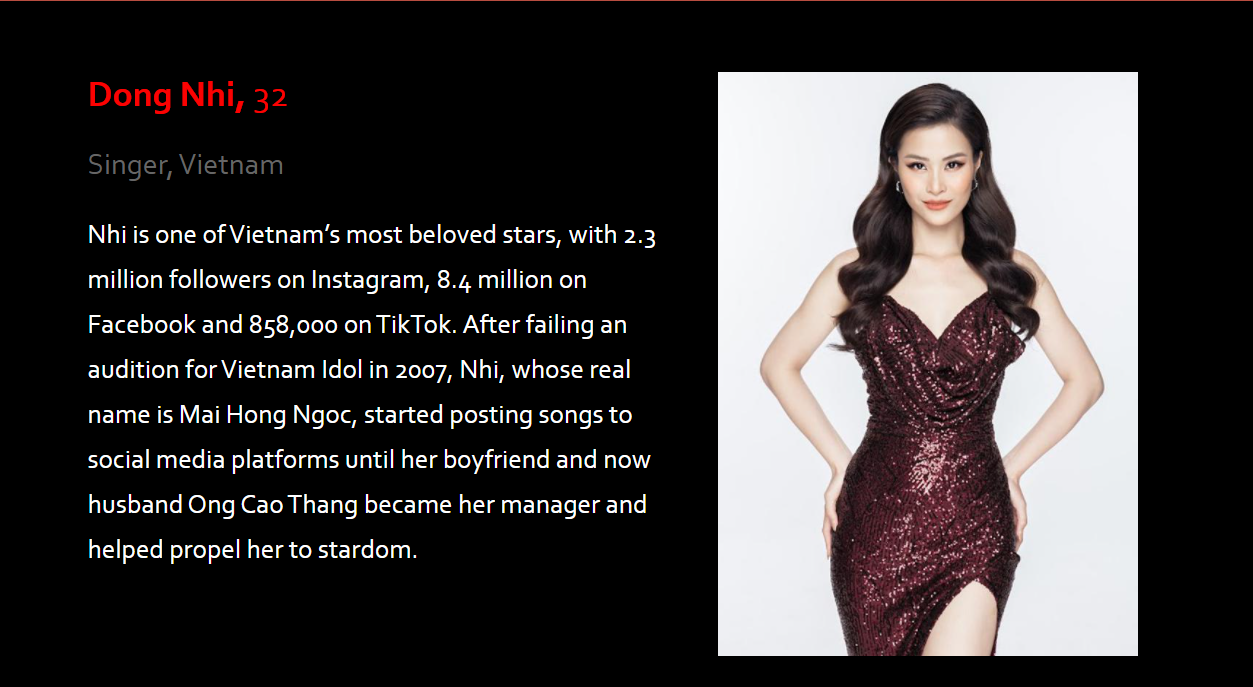 Screenshot photo from Forbes.
While Dong Nhi, 32, the beloved singer among Vietnamese youngsters has "2.3 million followers on Instagram, 8.4 million on Facebook and 858,000 on TikTok". After failing an audition for Vietnam Idol in 2007, Nhi, whose real name is Mai Hong Ngoc, started posting songs to social media platforms until her boyfriend and now husband Ong Cao Thang became her manager and helped propel her to stardom, according to Forbes.
This is the first time that Forbes has made a list of 100 influential stars in the Asia-Pacific region from social networks. The 100 singers, bands, and movie-TV stars from countries in the region are listed as influential factors in regional media.
During the selection process, Forbes paid attention to the fact that even though artists had to postpone and cancel a series of events because of Covid-19, they still made efforts to maintain their activities, use social networks to interact with fans, and survive. extreme and raise awareness of epidemic prevention.
Among the prominent faces on the list is

BTS

, the seven-member band from South Korea. One of the world's most successful musical groups ever, with over 33 million Instagram followers, BTS's song "Dynamite" reportedly made YouTube history as the first video to get over 100 million views within 24 hours of being posted.

With almost 110 million Weibo fans, Chinese actress and singer Yang Mi has multiple endorsement deals that include Crocs, Estée Lauder, Stuart Weitzman and Victoria's Secret. In 2019, Yang was named Super IP Actress at the China Literature Awards and in January was crowned Weibo Goddess at the annual Weibo Awards.

Bollywood's highest-paid actor, Akshay Kumar is also one of India's most-followed stars, with over 131 million followers on Facebook, Instagram and Twitter. As a philanthropist, Kumar donated $4 million to Covid-19 relief in India and took part in the "I For India" fundraising concert on Facebook Live in May, which raised 520 million rupees ($7 million) for GiveIndia's Covid-19 fund.

Known as the king of Mandopop, Jay Chou is the most-followed artist from Taiwan on Instagram, with over 6 million followers. This year, Chou launched his own Netflix travel show J-Style Trip and, in June, the release of his single "Mojito" caused music streaming service QQ Music to crash due to high demand. In January, Chou and his wife donated 3 million yuan ($455,000) to support frontline medical workers in Wuhan.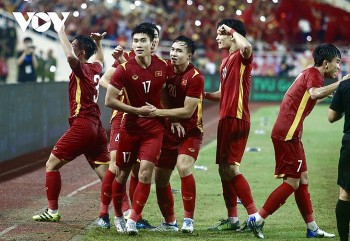 Viet's Home
The Vietnamese football team, both male and female, played their best, devoted themselves, united, and promoted the collective spirit, successfully defending their SEA Games champion title.