Three young dancers killed in a fire broking out in a bar in Vinh Phuc province
There were three fatalities as a fire broke out at a bar in the northern province of Vinh Phuc sparked by fireworks on Monday night.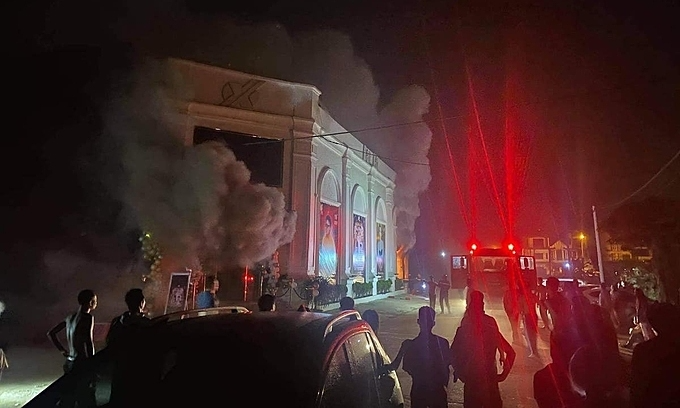 The scene of the fire at X5 bar in Vinh Phuc province. Photo by Mai The Tung via Vnexpress.
According to Vnexpress, at around 11:30 pm Monday night, the firestruck X5 bar on its first anniversary of grand opening right after the series of fireworks launched on the stage.
Some minutes later, the bar ceiling was ignited and burst into the fire causing chaos following a huge smoke, a witness said. The firefighter crews were called to the scene but they found it hard to access the bar because the bar had only one main door and was covered by a series of objects. Functional forces then had to broke the wall to put out the fire inside.
Until this morning (November 3), the police detected discovered three women inside a toilet with the door locked. These victims, in their mids 18s and 19s then confirmed dancers, who were hired to work at the party, were taken into hospitals but they were declared dead due to asphyxiation.
"These three women were able to run away but they did turn back to take their belongings, that the smoke may frighten them and forced them to shield in the toilet.", Senior Lieutenant Colonel Bui Minh Tien, a top firefighting official said.
Representatives of Vinh Phuc provincial police department confirmed the initial cause of the fire was due to the fireworks came into contact with hydrogen in balloons.
The fire is investigated further.
In the first nine months of this year, Vietnam reported 2,530 fires in which at least 56 people died and property worth VND416 billion ($17.96 million) was damaged, according to official statistics, Vnexpress reported.