Top 10 Greatest TV Shows Ever, Australians Voted
If you are wondering what you should watch on a Sunday morning, here is a list of greatest TV shows of all time according to Australian voters, from crime drama to comedy that will greatly entertain you.
Australians have voted on the best television shows ever made with some obvious choices at the top and also a few surprises that are sure to spark a debate.
The results came from a poll conducted by Australian film and television news site flicks.com.au, who got 10,000 online respondents to list the top 50 best TV shows of all time.
The list starts off with the popular crime drama series Breaking Bad in the number one spot - a common choice after being lauded by many as the greatest TV show put to screen.
Number two is Game of Thrones, another highly favoured selection even with the mixed reviews over the epic fantasy series' eighth season.
Possibly the most controversial rank in the list is Friends being placed at number three and Seinfeld at number four.
The two long-running sitcoms are often a hot debate topic amongst fans over which is the better show.
Here are top 10 of the greatest TV shows, according to Australian voters.
1. Breaking Bad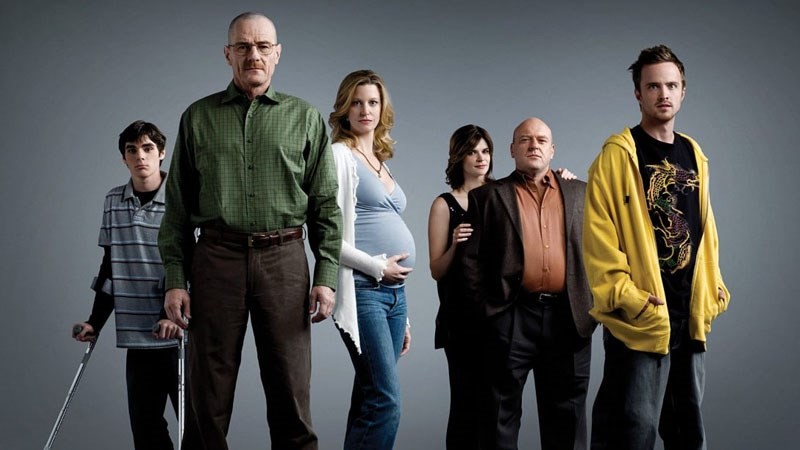 Photo: Sony Pictures
Imdb score: 9.4/10
When it comes to Breaking Bad, Vince Gilligan has already pulled off several extremely difficult tricks, beyond just creating an all-time great show.
First, Gilligan and his team arced a classic final season, peaking with the Mt. Rushmore episode "Ozymandias" and building to a finale that, while probably too tidy, still stands as effective and satisfying.
Then Gilligan and Peter Gould dared to follow-up Breaking Bad with a spinoff, Better Call Saul, which is almost astoundingly close to being on the same level.
So when it was announced that Gilligan and Aaron Paul were reuniting for Netflix's El Camino: A Breaking Bad Movie, it sounded like the sort of foolhardy endeavor you'd scoff at, except that Gilligan has made a career of pulling off the unlikely. So does El Camino: A Breaking Bad Movie give Gilligan a trifecta of TV unicorns?
No, but there's nothing disastrous about that. El Camino is a high-quality piece of suspense and action filmmaking carried by Paul's still-tremendous performance as Jesse Pinkman. It looks great, sounds great and if you're a fan, it's full of cameos and references that are sure to amuse. It's also — and this is not an insignificant problem — largely unnecessary as it pertains to the larger Breaking Bad narrative. At least it's unnecessary in an innocuous and entertaining way. It doesn't do any harm. It just gives answers I'm not sure I cared about to questions I'm not sure I asked.
Keeping spoilers to a bare minimum — assuming you've watched Breaking Bad — El Camino picks up instantly in the aftermath of the 2013 Breaking Bad finale, with Jesse (Paul) driving away from the firefight that left a lot of Nazis, and also Bryan Cranston's Walter White, dead. The movie, with a running time of a solid two hours, is the immediate aftermath of that frenzied exit, not really in real time, but with enough sequences of the kind of step-by-step, tension-building process that fans of Breaking Bad and Saul have come to expect.
2. Game of Thrones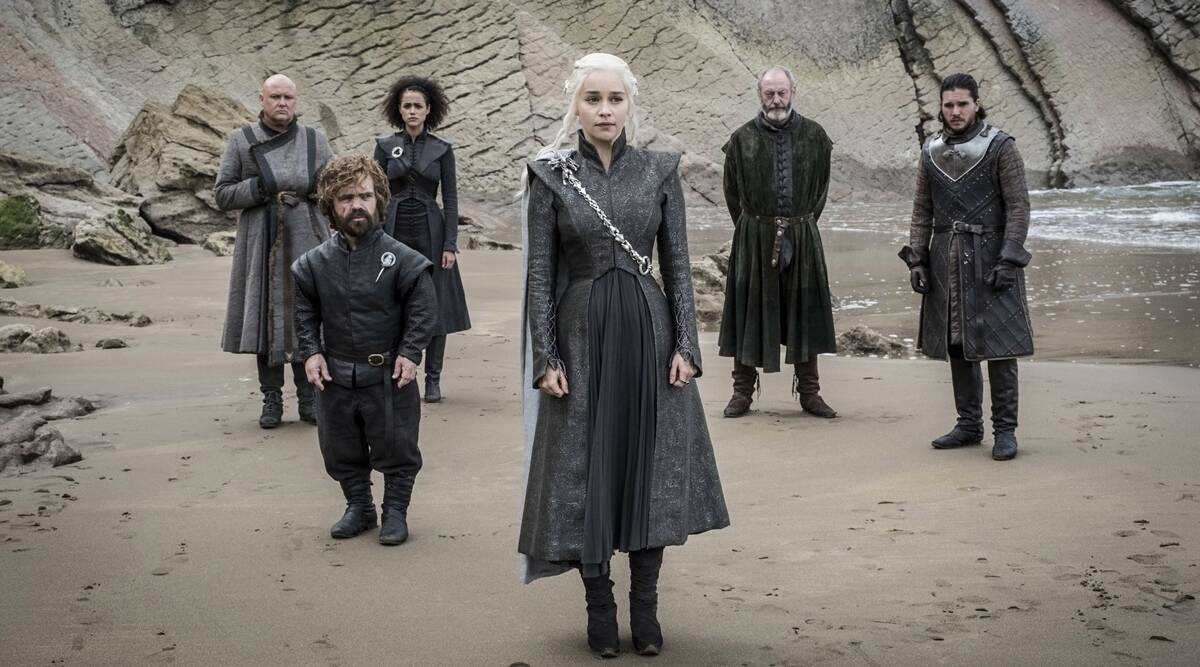 Photo: HBO
Imdb score: 9.2/10
Game of Thrones is an American fantasy drama television series created by David Benioff and D. B. Weiss for HBO. It is an adaptation of A Song of Ice and Fire, a series of fantasy novels by George R. R. Martin, the first of which is A Game of Thrones. The show was shot in the United Kingdom, Canada, Croatia, Iceland, Malta, Morocco, and Spain. It premiered on HBO in the United States on April 17, 2011, and concluded on May 19, 2019, with 73 episodes broadcast over eight seasons.
Set on the fictional continents of Westeros and Essos, Game of Thrones has a large ensemble cast and follows several story arcs throughout the course of the show. The first major arc concerns the Iron Throne of the Seven Kingdoms of Westeros through a web of political conflicts among the noble families either vying to claim the throne or fighting for independence from whoever sits on it. A second focuses on the last descendant of the realm's deposed ruling dynasty, who has been exiled to Essos and is plotting to return and reclaim the throne. The third follows the Night's Watch, a military order defending the realm against threats from beyond Westeros's northern border.
Game of Thrones attracted a record viewership on HBO and has a broad, active, and international fan base. Critics have praised the series for its acting, complex characters, story, scope, and production values, although its frequent use of nudity and violence (including sexual violence) has been subject to criticism. The final season received significant critical backlash for its reduced length and creative decisions, with many considering it a disappointing conclusion. The series received 59 Primetime Emmy Awards, the most by a drama series, including Outstanding Drama Series in 2015, 2016, 2018 and 2019. Its other awards and nominations include three Hugo Awards for Best Dramatic Presentation, a Peabody Award, and five nominations for the Golden Globe Award for Best Television Series – Drama. Many critics and publications have named the show as one of the best television series of all time.
3. Friends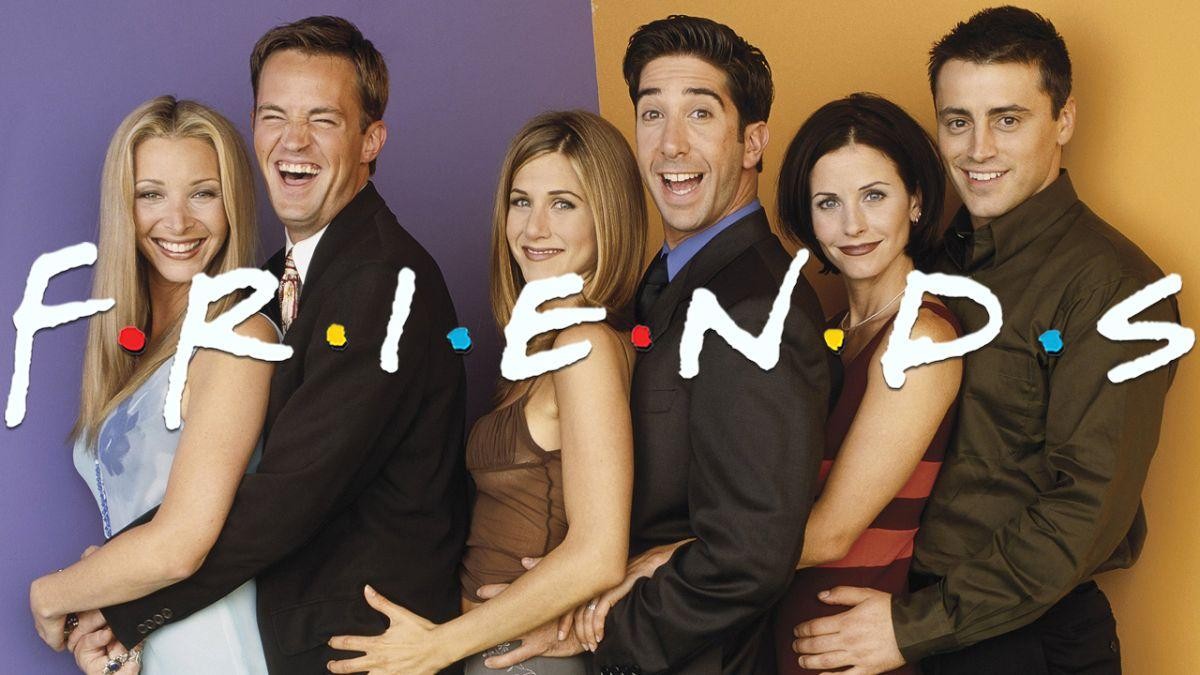 Photo: Warner Bros.
Imdb score: 8.8/10
"Friends" was easy TV at an elite level. So many jokes, so much body comedy, so many surprises and awwws, and squeals of live-studio audience excitement. Hairdressers were doing — and not infrequently botching — the Rachel. Coffee shops became people's second homes. Tens of millions of Americans watched all of that writing and directing and acting, all of that seemingly effortless effort, for all 10 of its years. That work and a country's devotion to it feels like proof of a golden age of something.
Familiarity is the magnet of every decent American sitcom. The "com" can't compete alone and neither can the "sit," even though, together, they're obviously quite the sandwich. But the many nights I've spent recumbent on my sofa laughing at, say, Ross and Phoebe debating evolution, or Phoebe, Joey and Ross impersonating Chandler, or Chandler blanching at Monica's desperate new cornrows or Rachel taking forever to tell somebody who the father of her baby is — those nights have never really been about the situation comedy of "Friends."
"Friends" actually is enormously easy to watch. "The genius of "Seinfeld" (and "The Simpsons," too) has everything to do with the "com" arising from the "sit." What trouble will Jerry and the gang instigate? Whether you're watching an episode for the first time or the 27th, the inciting premise is a major element of the pleasure. The premise of "Friends" is the friends.
Of course, the friends started out with a touch of the Jerrys. They, too, were a white cohort living in New York City (the West Village rather than Seinfeld's Upper West Side). And many an early episode involved defending social etiquette ("Those are not the rules!" Ross barks at a foe in a laundromat) and trying out twisted dating schemes (Monica and Joey try to bust up a couple in order to have the newly single partners for themselves). But on "Seinfeld," the city and the characters' righteous belief in their own norms spurred them on to increasingly lunatic misanthropy. They were anti-socialites.
4. Seinfeld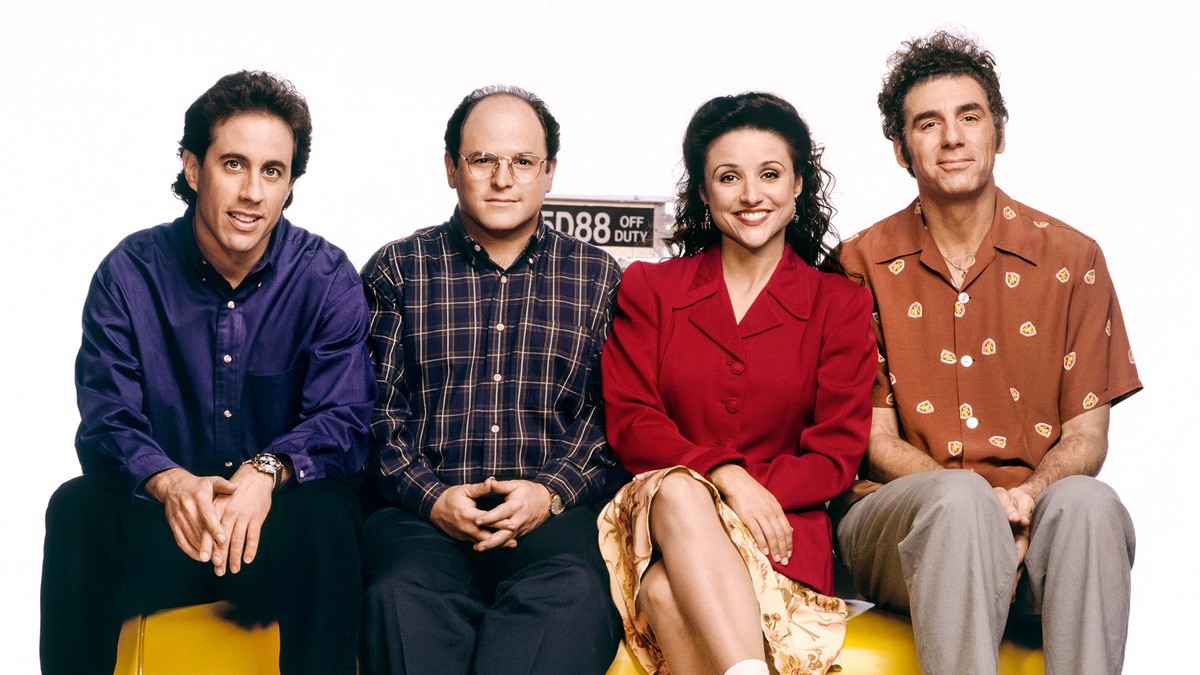 Photo: Netflix
Imdb score: 8.8/10
At a time when even the buzziest shows seem to come and go in the blink of an eye, there's something to be said for shows that never seem to go away. Twenty-three years after its finale (and 32 years after its premiere), Jerry Seinfeld and Larry David's Seinfeld remains deeply embedded in pop culture — not just as an influence on the shows that followed, or as a fountain of iconic quotes, but also as a still-beloved staple of streaming and cable reruns.
Case in point: Its debut on Netflix arrives with more fanfare than most of Netflix's new shows receive. But with nearly 200 episodes, it can be hard to know where to jump in first now that it's all at your fingertips. (Surely not with that awkward, Elaine-less first episode, "The Seinfeld Chronicles"?) So here's a chronological list of 12 episodes to watch now, whether you're getting ready to mouth along with lines you've heard a million times before, or digging in for the very first time.
Seinfeld's wry sense of humor shines through from the start, and even the weakest of the early episodes are good for some laughs. But "The Chinese Restaurant" is when the series truly clicks into place as a show about nothing. The entire episode unfolds in real time as Jerry, George and Elaine do nothing more exciting, or more aggravating, than wait for a table that the host (James Hong) has reassured them will be ready in just "five, 10 minutes." In the end, nothing is learned, nothing is solved, and nothing is accomplished — not even dinner, since the group leaves just seconds before they're finally called to be seated. With its focus on everyday inconveniences and grumping about social niceties ("We are living in a society!" George barks after someone cuts ahead of him to use the pay phone), "The Chinese Restaurant" is a perfect early example of the quintessential Seinfeld formula.
5. The Sopranos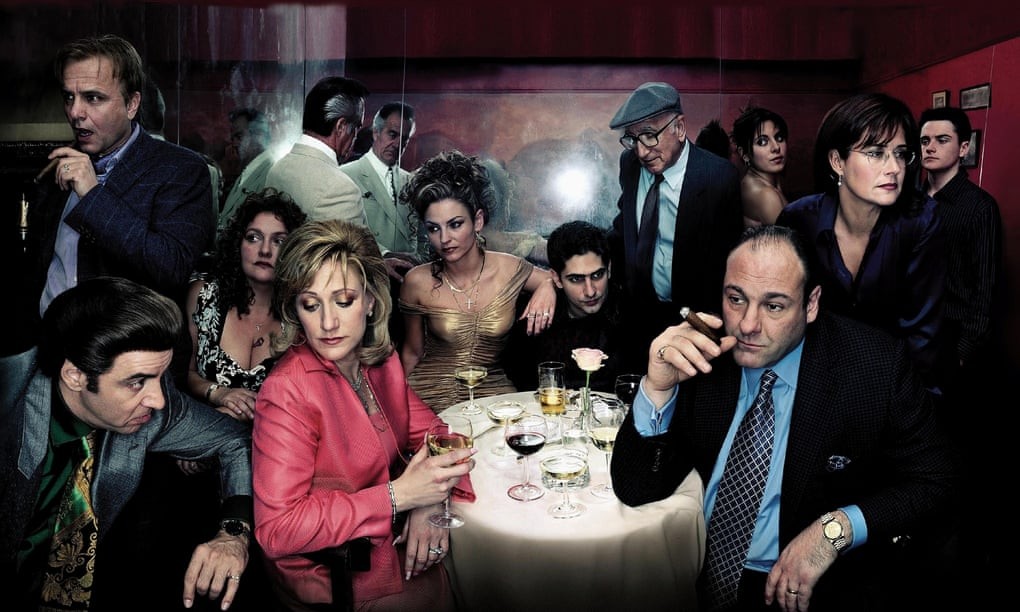 The show that made the small screen huge … The Sopranos. Photograph: Allstar/HBO/Sportsphoto Ltd
Imdb score: 9.2/10
Iresisted The Sopranos when it started in 1999 because it came out at the same time as Analyse This, the comedy starring Robert De Niro as a mafia boss who enlists the help of a psychiatrist.
Starring the late James Gandolfini as Tony Soprano, the series showed a hulking New Jersey mobster who was so violently, effectively intimidating that even as a viewer you were nervous of him, felt a strange need to be in his good graces and were flush with relief at the humanity he occasionally exuded. He represented a masculinity that was morally obsolete and yet enviable in the power he was able to wield. Women were his playthings and yet powerful women broke his balls – his ogress of a mother, Livia (Nancy Marchand), like some foul creature who would eat her own children, and who despite Tony's desperation to please her, co-conspires to have him killed. Then there was wife Carmela (Edie Falco), no Lady Macbeth, apparently not wishing to know all the grisly details of how he provided for his family, but a formidable domestic partner nonetheless. Finally, there was Dr Melfi (Lorraine Bracco), with whom he seeks therapy following a panic attack and in whose sessions his vulnerable sense of supreme male security is exposed and queried.
The Sopranos was preceded by the 1990 Martin Scorsese film Goodfellas and features prominent actors from that film including Bracco (Melfi) and Michael Imperioli (Christopher). It also shares its nervous mixture of comic bonhomie and sudden, violent murder, either calculated or out of sheer rage. The Sopranos, too, has a jukebox for a soundtrack, eschewing the emotional prompts of incidental music; it's as if to say that in these postmodern times, the mafia-as-entertainment is a firmly embedded part of popular culture. The occasional Godfather references are a reminder that the series is conscious of its genre. What's more, we are implicated as viewers, via Dr Melfi. Her combination of proper moral contempt laced with shameful fascination reflects the viewer's own ambivalence as we sit in thrall to this series about the everyday doings of very violent men.
6. M*A*S*H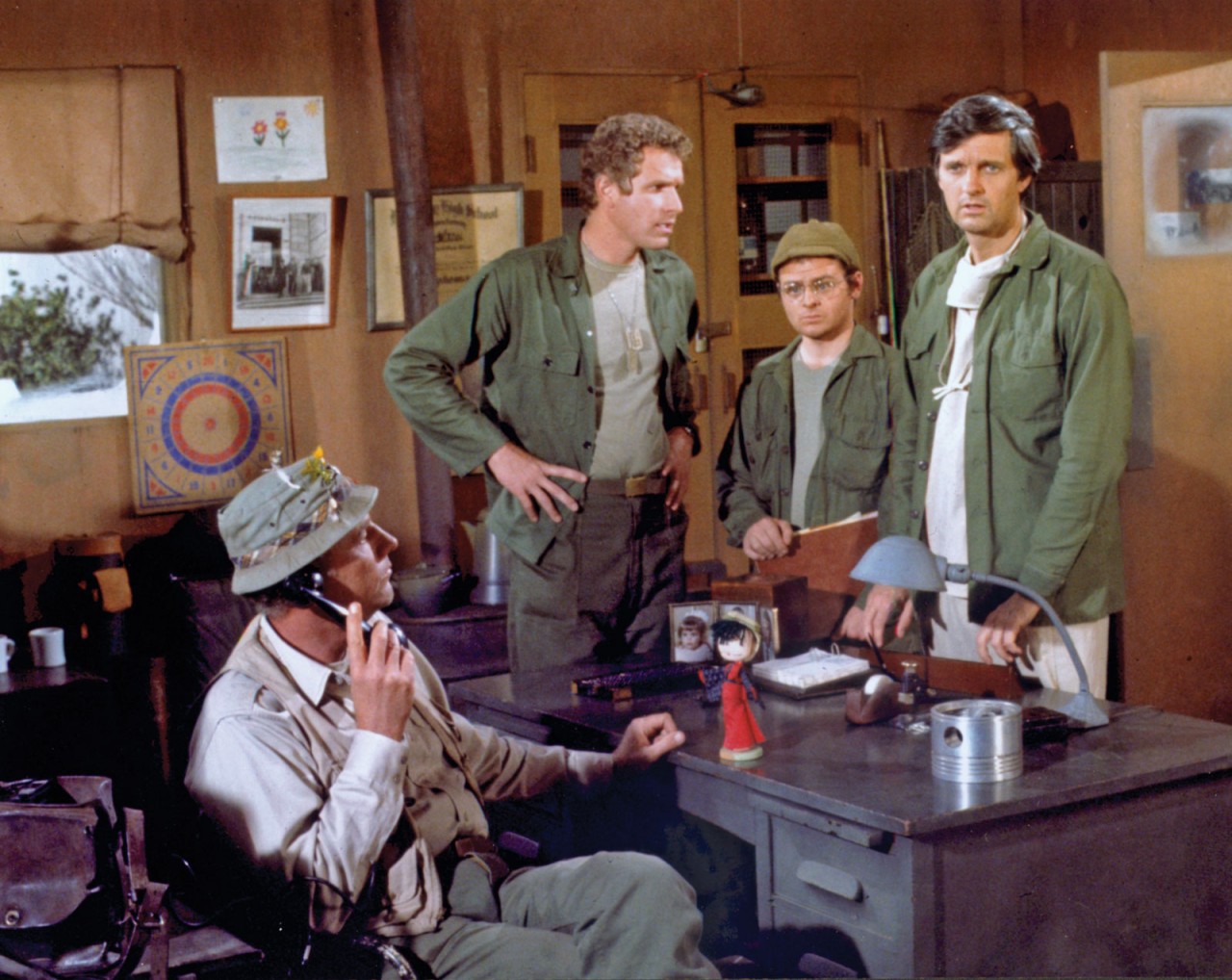 (From left) Actors McLean Stevenson, Wayne Rogers, Gary Burghoff, and Alan Alda in a scene from the television series M*A*S*H. © Columbia Broadcasting System
Imdb score: 7.5/10
M*A*S*H, Ingo Preminger's debut production for 20th-Fox, is the finest American comedy since Some Like It Hot, the Mr. Roberts of the Korean War, The Graduate of 1970, and the film that has been expected from director Robert Altman for some short time. It stars 28 of the freshest, funniest comic improvisers around, recruited from San Francisco's American Conservatory Theatre, The Committee, Second City, the Charlie Brown Company, Canadian Television and the Gridiron.
The picture will make a fortune, most of it profit, since the company had no need to travel to Korea when it could use Calabasas, no urge to construct a $3 million recreation of Japan when a Fox alleyway was all that was needed to give setting to the crucial ingredient, a superior script by Ring Lardner Jr., adapted from the novel by Richard Hooker.
M*A*S*H is irreverent of many things: war, sex, bureaucracy, military decorum, but never of the unquenchable spirit of its people, who work with the Mobile Army Surgical Hospital near the front lines of the Korean War and acknowledge therefore that they, too, are prisoners of war in a sense.
While the point of the comedy requires that much of it be played against some gory backgrounds of emergency field surgery, only a negligible portion of the potential audience is apt to be offended. Nor, in context, will the language of M*A*S*H greatly offend, though at its most commercially groundbreaking, it includes such lines as "Schmuck!" and "All right, Bud, your fuckin' head is coming right off!"
Word of mouth for the film should take about three days to build, though the public has a sense which clues it the first day. M*A*S*H was previewed in San Francisco during the latest international film festival and for a day or so eclipsed discussion of all other local film activity.
Altman and Lardner sustain their outrageous, relieving comedy and a sense of the grimmer time and place and job being done by resorting to wild caricature in many of the roles. It is no more than that reduction which takes place when servicemen recall the more improbable anecdotes and personalities of their own tours of service. Additionally, this bold line cartooning allows for the greatest exposure and comic exploitation of the large and talented cast.
7. The Simpsons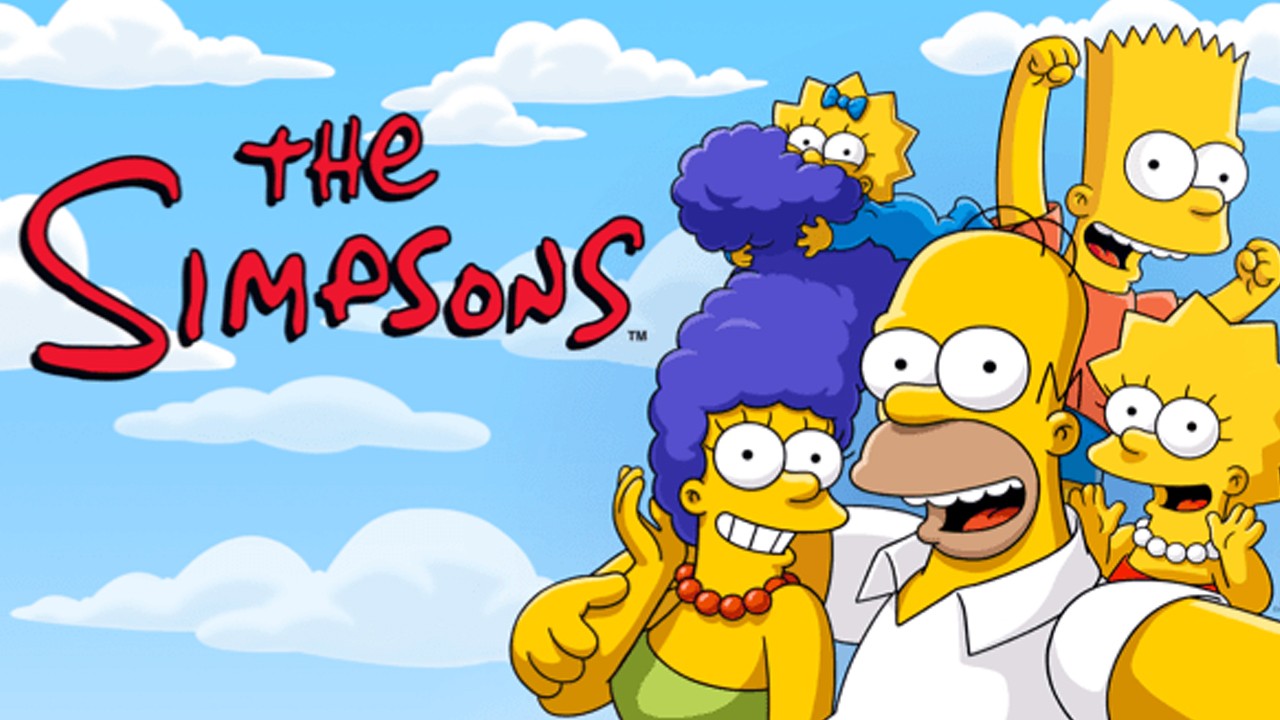 Photo: 20th Television Animation
Imdb score: 8.6/10
The Simpsons is an American animated sitcom created by Matt Groening for the Fox Broadcasting Company. The series is a satirical depiction of American life, epitomized by the Simpson family, which consists of Homer, Marge, Bart, Lisa, and Maggie. The show is set in the fictional town of Springfield and parodies American culture and society, television, and the human condition.
The family was conceived by Groening shortly before a solicitation for a series of animated shorts with producer James L. Brooks. He created a dysfunctional family and named the characters after his own family members, substituting Bart for his own name; he thought Simpson was a funny name in that it sounded similar to "simpleton". The shorts became a part of The Tracey Ullman Show on April 19, 1987. After three seasons, the sketch was developed into a half-hour prime time show and became Fox's first series to land in the Top 30 ratings in a season (1989–1990).
Since its debut on December 17, 1989, 709 episodes of the show have been broadcast. It is the longest-running American animated series, longest-running American sitcom, and the longest-running American scripted primetime television series, both in terms of seasons and number of episodes. A feature-length film, The Simpsons Movie, was released in theaters worldwide on July 27, 2007, and grossed over $527 million, with a sequel in development as of 2018. The series has also spawned numerous comic book series, video games, books, and other related media, as well as a billion-dollar merchandising industry. The Simpsons is a joint production by Gracie Films and 20th Television. On March 3, 2021, the series was announced to have been renewed for seasons 33 and 34, which were later confirmed to have 22 episodes each, increasing the episode count from 706 to 750. Its thirty-third season premiered on September 26, 2021.
8. The Wire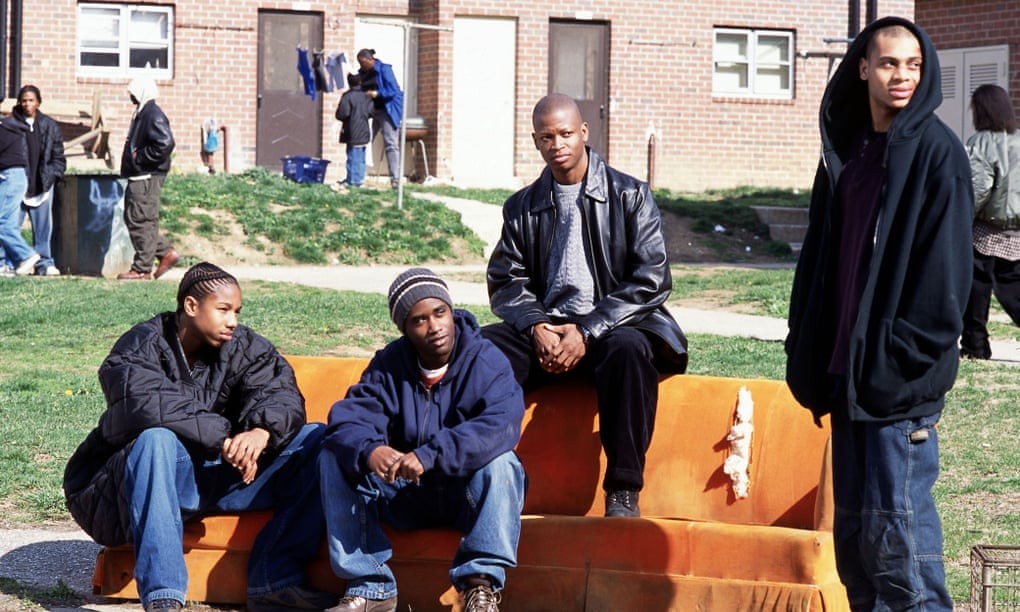 'Greek tragedy for the new millennium' … Michael B Jordan, Tray Chaney, Larry Gilliard Jr and JD Williams in season one of The Wire. Photograph: HBO
Imdb score: 9.3/10
Exactly 10 years after its final episode aired, The Wire is established as one of the greatest shows in the history of US television – some would say the greatest. But, while shows such as The Sopranos and Mad Men launched with loud fanfares and walked paths strewn with accolades, strong ratings and Emmy awards, The Wire's route to the pantheon was a long slog. "David Simon had to fight for every season," says Clarke Peters (Det Lester Freamon). "Nothing was ever guaranteed."
The story began in 1984, when Simon, then a journalist on the Baltimore Sun, was covering the wiretap-related arrest of a local drug lord, Melvin Williams. Ed Burns, 14 years his senior, was the detective leading the case. As both of them were blunt, abrasive, fiercely intelligent and morally enraged by the status quo, they became friends. After Simon's 1991 nonfiction masterpiece Homicide: A Year on the Killing Streets became a hit NBC show, Homicide: Life on the Street, which ran for seven seasons between 1993 and 1999, both men quit their jobs. Burns became a teacher, and the two collaborated on the 1997 book The Corner: A Year in the Life of An Inner-City Neighbourhood, which examined the futile cruelty of the war on drugs from the other end of the telescope.
Simon would later describe The Wire in different ways: as "Greek tragedy for the new millennium," with sclerotic institutions playing the role of callous, indifferent gods; as a story about "the triumph of capitalism over human value"; and as a chronicle of "the decline of the American empire". On Homicide: Life on the Street, NBC executives would repeatedly ask the writers: "Where are the victories?" The Wire avoided victories, preferring to show corruption, failure and decay. In this show, reformers would be thwarted, crooks rewarded and ordinary people ground down by the system. The Wire was as much journalism as entertainment – a form of protest television. The most frequent question asked in this writers' room was: "What are we saying?"
"The Wire deals with every element of society, from the lowest of the low to the highest of the high," says Faison. "Sometimes the 'good' people are not so good and sometimes the 'bad' people are striving to be good. It was something a great deal of people could identify with. We never pulled back. We met everything head on and dealt with the truth."
That fundamental truth, which explains why The Wire illuminates the era of Trump and Black Lives Matter just as it spoke to Hurricane Katrina and the financial crisis, was best summed up by Simon in a 2007 interview with Nick Hornby. "This is part of the country you have made," he said. "This, too, is who we are and what we have built. Think again, motherfuckers."
9. The Office (US)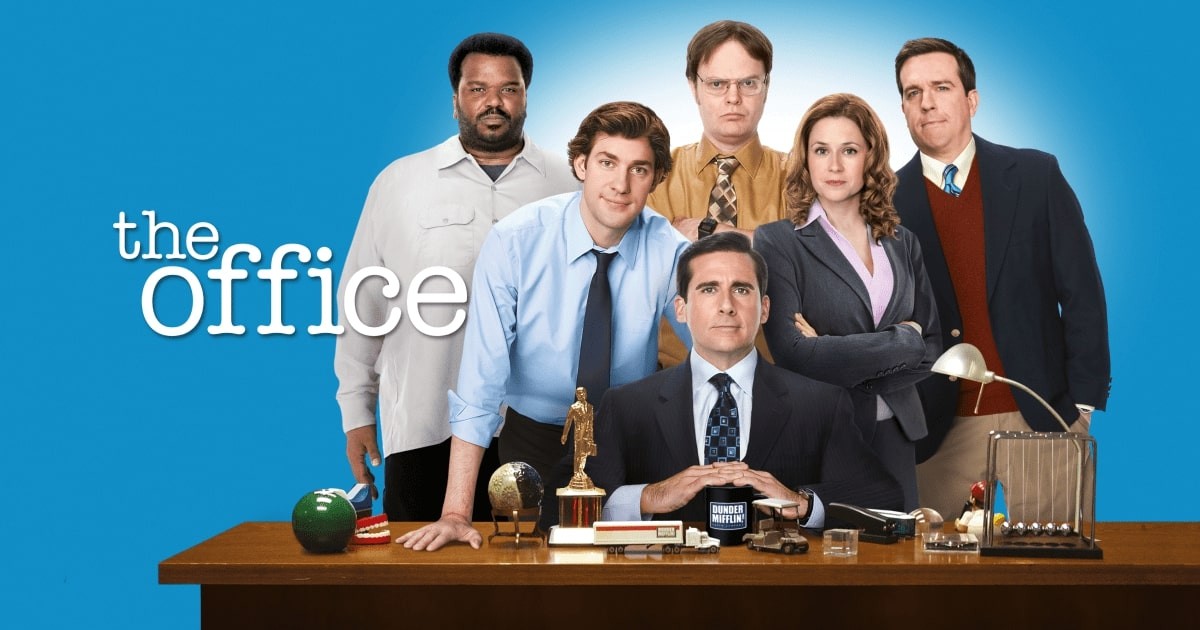 Photo: Peacock
Imdb score: 8.9/10
The Office is an American mockumentary sitcom television series that depicts the everyday work lives of office employees in the Scranton, Pennsylvania, branch of the fictional Dunder Mifflin Paper Company. It aired on NBC from March 24, 2005, to May 16, 2013, spanning a total of nine seasons. Based on the 2001–2003 BBC series of the same name created by Ricky Gervais and Stephen Merchant, it was adapted for American television by Greg Daniels, a veteran writer for Saturday Night Live, King of the Hill, and The Simpsons. It was co-produced by Daniels's Deedle-Dee Productions, and Reveille Productions (later Shine America), in association with Universal Television. The original executive producers were Daniels, Gervais, Merchant, Howard Klein, and Ben Silverman, with numerous others being promoted in later seasons.
Like its British counterpart, the series was filmed in a single-camera setup without a studio audience or a laugh track to simulate the look of an actual documentary. The series debuted on NBC as a mid-season replacement and aired 201 episodes for its run. The Office originally featured Steve Carell, Rainn Wilson, John Krasinski, Jenna Fischer, and B. J. Novak as the main cast; however, the series experienced numerous changes to its ensemble cast during its run. Notable stars outside the original main cast include Ed Helms, Amy Ryan, Mindy Kaling, Craig Robinson, James Spader, Ellie Kemper, and Catherine Tate.
The Office was met with mixed reviews during its short first season, but the following seasons, particularly those featuring Carell, received significant acclaim from television critics as the show's characters, content, structure, and tone diverged considerably from the British version. These seasons were included on several critics' year-end top TV series lists, winning several awards such as a Peabody Award in 2006, two Screen Actors Guild Awards, a Golden Globe Award for Carell's performance, and four Primetime Emmy Awards, including one for Outstanding Comedy Series, in 2006. The eighth season was criticized for a decline in quality. Many saw Carell's departure in season seven as a contributing factor; however, the ninth and final season ended the series' run with a generally positive response. The series finale, which originally aired on May 16, 2013, was viewed by an estimated 5.69 million viewers and garnered critical acclaim.
10. Big Bang Theory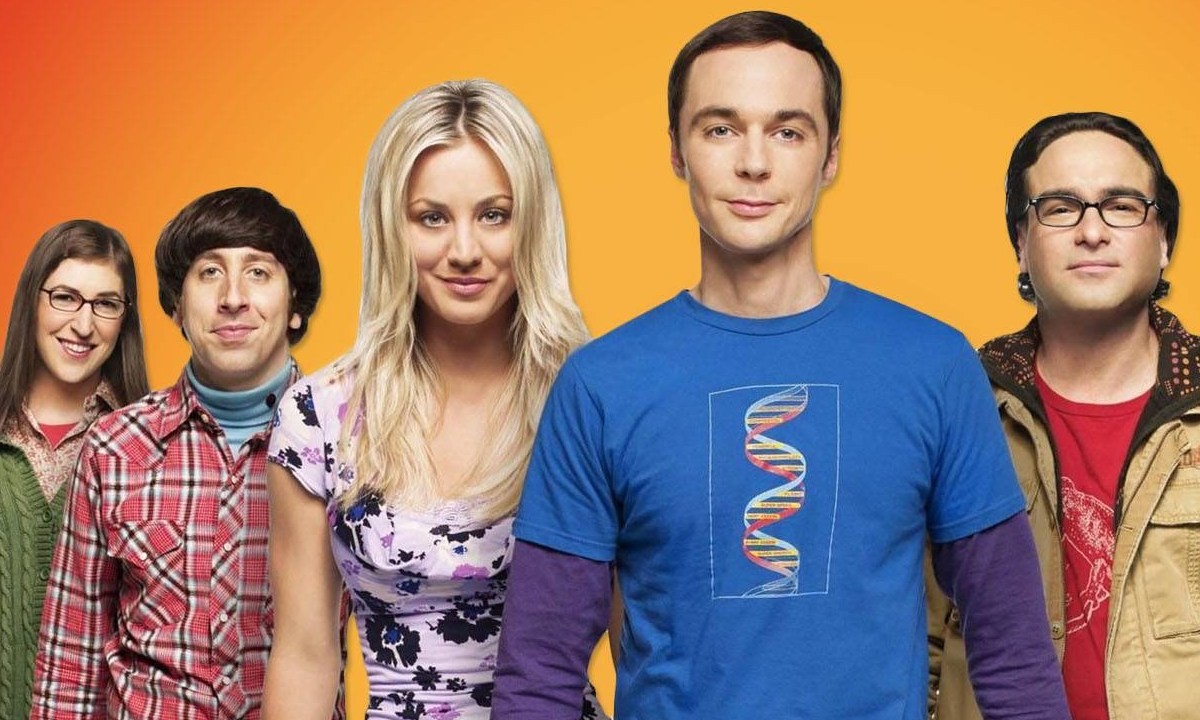 Photo: Hello Magazine
Imdb score: 8.1/10
(knock, knock, knock) "Penny?"
This iconic line is said by Sheldon over 60 times throughout the 280 episodes according to a Big Bang Theory Fandom article.The Big Bang Theory first hit American's screens on Sept. 24, 2007. The show is centered around physicists Sheldon and Leonard, whose lives are forever changed when Penny, a cute waitress and aspiring actress, moved into the apartment across from theirs. The group also includes Howard, a Jewish engineer who lives with his mother, and his best friend and astrophysicist Raj. The show was different compared with other shows that were popular at the time: The characters in the Big Bang Theory are the type of people the Friends cast would make fun of. Before the prominence of the Marvel film franchise, before the return of Star Wars movies, and before superhero TV series took over the CW with shows like The Flash and Green Arrow, The Big Bang Theory was telling stories about four men with careers at CalTech, who frequently sat around the living table playing Settlers of Catan. However, Americans certainly loved the change of pace as of the first five seasons only one received a score below 89 percent on the tomatometer according to a rottentomatoes.com article.
The three most vital components that make a good tv show to me are relatable characters, funny/memorable moments, and a quality on-going plot. The Big Bang Theory hits all three of these on the spot.
The top 25 greatest TV shows according to Aussies
1. Breaking Bad
2. Game of Thrones
3. Friends
4. Seinfeld
5. The Sopranos
6. M*A*S*H
7. The Simpsons
8. The Wire
9. The Office (US)
10. Big Bang Theory
11. Buffy the Vampire Slayer
12. Doctor Who
13. The West Wing
14. The X-Files
15. Twin Peaks
16. Star Trek
17. Brooklyn 99
18. Dexter
19. Schitt's Creek
20. Mad Men
21. The Walking Dead
22. Supernatural
23. The Handmaid's Tale
24. Lost
25. Grey's Anatomy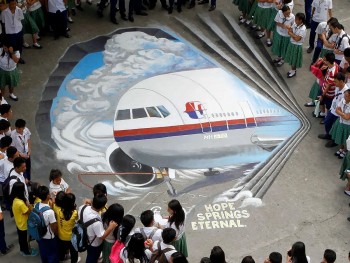 World
The world might never know what really happend when these planes went off the radar. Let's take a look at some of the unsolved mysteries of aircraft disappearances.