When is Halloween in 2021: Date, Origins, Traditions And Best Wishes
Halloween is a beloved time of year for many reasons - costumes, scary movies, sweet treats like toffee apples and more. Let's scroll down to find out more information on this special day.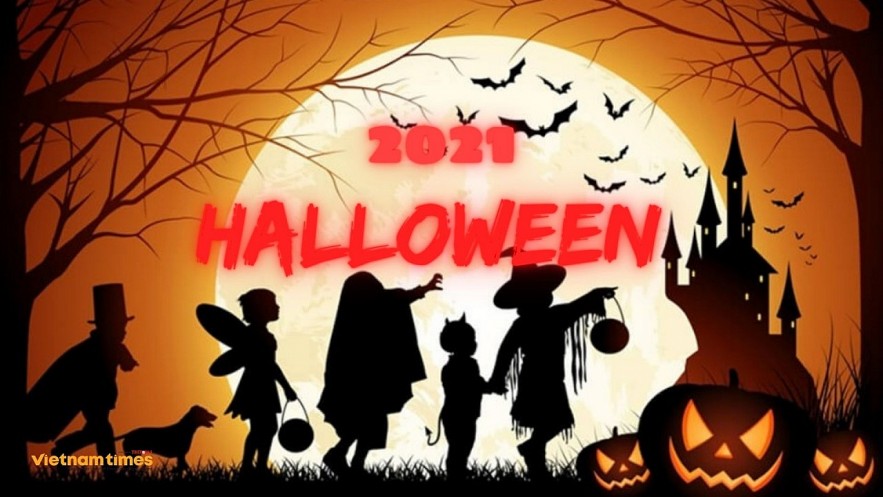 Halloween 2021: Date, Origins, Traditions And Best Wishes. Photo: vietnamtimes.
It's also a boon to the retail industry — even during a pandemic. According to the National Retail Federation, Halloween spending in the US is projected to reach $8 billion in 2020, with 58% of people planning on celebrating. And, with more people indoors and looking for a little cheer during a tough year, pet costumes are "flying off the shelves."
The Halloween fever isn't contained to the US, either. In fact, people around the world celebrate the holiday in many different ways. But where did all these strange practices come from? Turns out, a lot of these customs date back centuries. The holiday has changed over time, transforming from an ancient tradition to the flashy fright fest we know and love today.
Halloween 2021: When is Halloween 2021?
Halloween is a celebration in remembrance of the dead that occurs annually on the evening of October 31. According to Calendarpedia, the name Halloween, sometimes spelled Hallowe'en, is a contraction of All Hallows' Even(ing), meaning All Saints' Evening, as it is celebrated on the evening before All Saints' Day, also known as All Hallows' Day. Saints have historically been known as hallows, derived from the Old English word hālig and related to the German word heilig, meaning holy.
Halloween 2021 is on Sunday, October 31, 2021.
Halloween 2021: Where does Halloween come from?
It's believed that Halloween is descended from the festival of Samhain, a Gaelic celebration which marked the end of the harvest season and the beginning of winter, or the darker period of the year.
According to National World, observers believed that it was during this time that the boundary between the world of the living and the world of the dead became thin and blurred. A similar idea is also believed in regards to the Jewish holiday Yom Kippur, which also tends to occur in October and has people saying prayers for the dead.
During the Samhain celebrations, great bonfires would be lit and loud drums would be played in order to guide visitors from the underworld. The Celts would wear costumes in order to ward off any malevolent spirits.
With the influence of the Roman empire taking over Great Britain and much of Europe, the Samhain festival gradually got mixed in with the Roman celebrations of Feralia.
The Feralia celebrations also honoured the dead, and Pomona, which paid tribute to the goddess of fruits and trees.
Pope Gregory III, in the eighth century, declared 1 November to be a day on which all the saints and martyrs would be honoured, which came to be known as All Saints Day.
The day before All Saints Day was known as All Hallows Eve, as hallows means a saint or a holy person, which later evolved into Allhalloween and then eventually Halloween.
Much of what we know about modern day Halloween is a product of the Americanisation that the day has gone through over the years.
It began with immigrants from Europe arriving in America and as different European ethnic groups and American Indians meshed, a new version of Halloween began to emerge.
By the middle of the 19th century, yearly autumnal festivities were common, such as telling ghost stories and celebrating the harvest, but Halloween was not yet celebrated across the country.
In the second half of the 19th century, a new wave of immigrants arrived in America, especially the millions from Ireland fleeing the Irish potato famine. It was these Irish immigrants that helped Halloween become a national celebration.
Halloween 2021. Photo: lala.com.
Halloween 2021: What are some Halloween traditions?
Carving Halloween Jack-O'-Lanterns
According to travel earth, carving pumpkins into Jack-O'-Lanterns is one of the most popular Halloween traditions. The carved pumpkins are used as decorations both within and outside houses. The creepy carvings are supposedly based on a legend about a man named Stingy Jack who repeatedly trapped the Devil and only let him go on the condition that Jack would never go to Hell.
When he died, Jack learned that his soul wasn't allowed to enter heaven either and he was condemned to wander the Earth as a ghost for eternity. The Devil then gave Jack a lump of burning coal in a carved-out turnip to light his way. Over time, locals began to carve pumpkins into frightening faces to ward off spirits.
Wearing Scary Costumes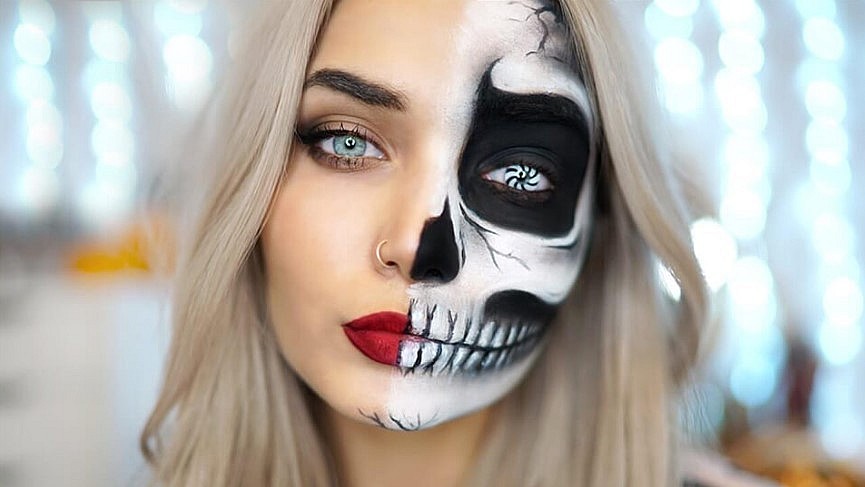 Halloween 2021. Photo: lala.com.
Halloween is synonymous with crazy costume parties. People go out of their to dress up in the most terrifying outfits! How did this tradition come to be? Apparently, during Samhain, the Celts got creative to avoid evil spirits. To confuse ghosts, they began dressing up as spirits themselves, so they would be left alone.
Going Trick-or-Treating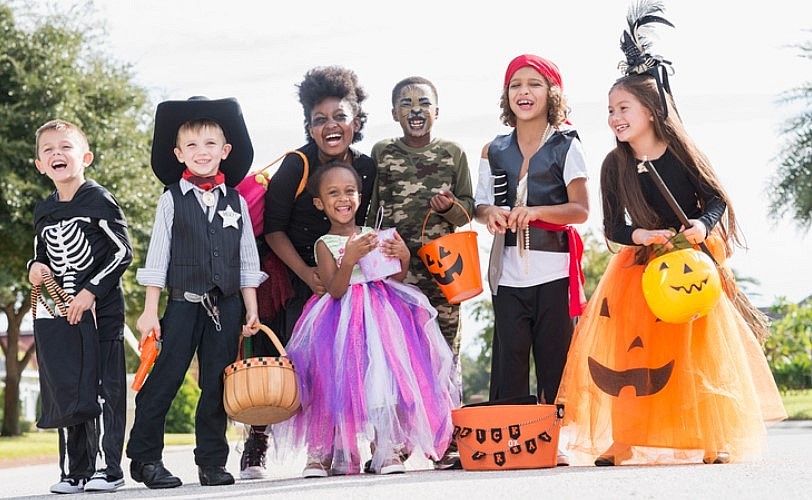 Halloween 2021. Photo: travelearth.
Borrowing from European traditions, Americans began to dress up in costumes and go house to house asking for food or money, a practice that eventually became today's "trick-or-treat" tradition. Young women believed that on Halloween they could divine the name or appearance of their future husband by doing tricks with yarn, apple parings or mirrors.
In the late 1800s, there was a move in America to mold Halloween into a holiday more about community and neighborly get-togethers than about ghosts, pranks and witchcraft. At the turn of the century, Halloween parties for both children and adults became the most common way to celebrate the day. Parties focused on games, foods of the season and festive costumes, as history.com reported.
Parents were encouraged by newspapers and community leaders to take anything "frightening" or "grotesque" out of Halloween celebrations. Because of these efforts, Halloween lost most of its superstitious and religious overtones by the beginning of the twentieth century.
Bobbing For Apples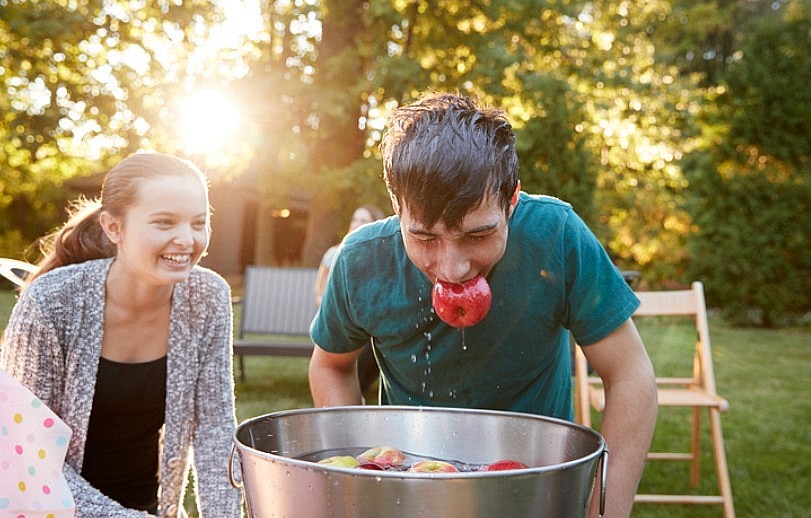 Halloween 2021. Photo: travelearth.
Bobbing for apples is a fun game played at most Halloween parties. A large tub of water is filled with apples that bob at the surface. Players have to try picking up an apple with their teeth. The origin of the game can be traced to a courting ritual that was part of a Roman festival honouring Pomona, the goddess of agriculture and abundance. The essential gist of the tradition is that young men and women would be able to foretell their future relationships based on the game.
Soul cakes for prayer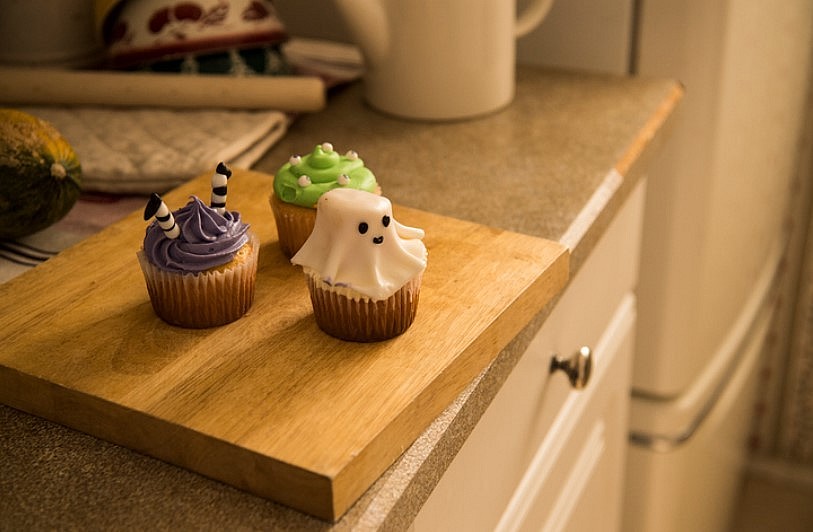 Soul cakes for Halloween. Photo: travelearth.
This Halloween tradition originated in England during the Middle Ages. People were mostly overworked and did not have the time to offer prayers for dead relatives to allow them to cross over into the afterlife. They eventually got impoverished people to offer prayers on behalf of them on All Saints Day. The underprivileged were offered 'soul cakes' in return for the prayers they offered. This then became a tradition that involved soul cakes being used as offerings for the dead on the eve of All Saints Day.
Lighting a bonfire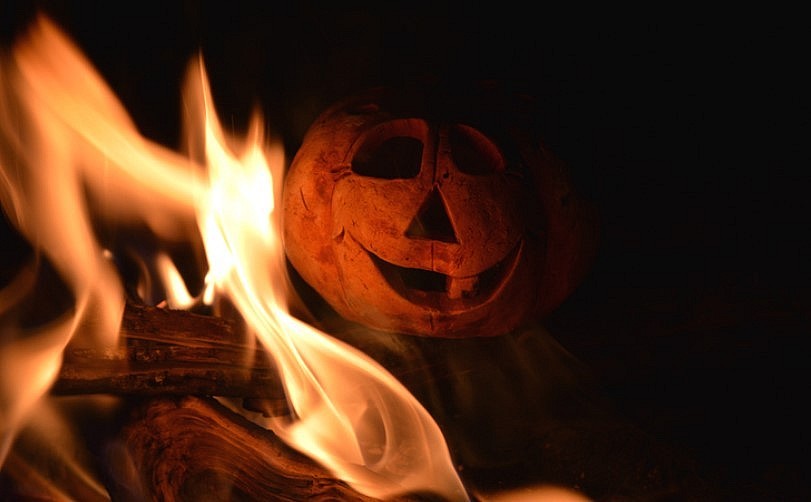 Halloween 2021. Photo: travelearth.
Lighting a bonfire while exchanging spooky stories is a beloved Halloween tradition. The idea of lighting a bonfire is to frighten away ghosts and spirits. In ancient English culture, the bonfire was used to determine who was going to die soon. If a stone thrown into the ash was not visible the next day, the person who threw it was going to die within a year. In modern times, it's just a fun way for friends and family to get together on the night of Halloween and spend some quality time together!
Halloween Movies
Speaking of commercial success, scary Halloween movies have a long history of being box office hits. Classic Halloween movies include the "Halloween" franchise, based on the 1978 original film directed by John Carpenter and starring Donald Pleasance, Nick Castle, Jamie Lee Curtis and Tony Moran. In "Halloween," a young boy named Michael Myers murders his 17-year-old sister and is committed to jail, only to escape as a teen on Halloween night and seek out his old home, and a new target. A direct sequel to the original "Halloween" was released in 2018, starring Jamie Lee Curtis and Nick Castle. A sequel to that—"Halloween Kills," the twelfth film in the "Halloween" franchise overall—was released in 2021.
Considered a classic horror film down to its spooky soundtrack, "Halloween" inspired other iconic "slasher films" like "Scream," "Nightmare on Elm Street" and "Friday the 13." More family-friendly Halloween movies include "Hocus Pocus," "The Nightmare Before Christmas," "Beetlejuice" and "It's the Great Pumpkin, Charlie Brown."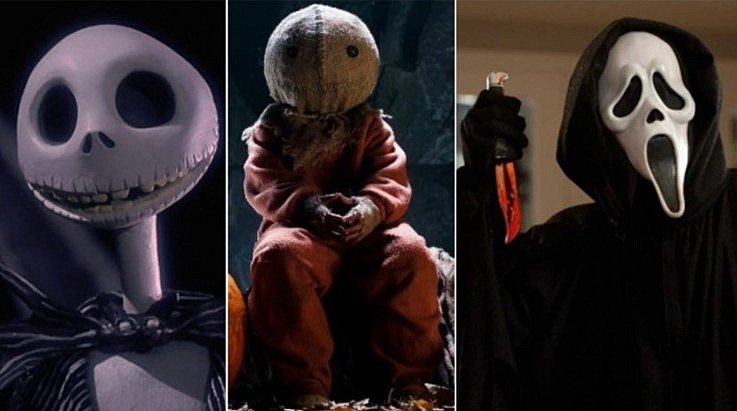 halloween movies. Photo: pastemagazine.
Halloween 2021: Bewitching Halloween Wishes
Every year, Halloween casts its spell over people of all ages. Of course, some of us catch the Halloween spirit more than others. You know the people we're talking about – the ones who plan their costumes for months in advance, host elaborate haunted houses with animatronic props, and heap overly generous amounts of candy on trick-or-treaters.
Fortunately, you don't have to go to those lengths to express your king-sized appreciation for the holiday. Sharing thoughtful Halloween wishes with your friends is another option (and as an added bonus, it doesn't promote tooth decay).
Whatever you're looking for, we've got the right Halloween message for you. To give you some ideas, we've assembled some best Halloween greetings according to allwording, goodhousekeeping and birthday wishes as below:
Halloween Wishes and Sayings
- Happy Howl-o-ween! No matter were you are on October 31, I'm sure you will wolf down a lot of candy.
- Michael Myers with his creepy eyes. Jason, Freddy, Pennywise. As you look out your window, they all draw near. Don't be afraid – Halloween is here!
- Hope you don't have a scare in the world this Halloween!
- Eat as much Halloween candy as you want – I won't say boo.
- Park your broom and sit for a spell.
- This October, may your treats be many and your tricks be few. Hope you have a sweet Halloween.
- May your candy supply last you well into the Christmas season.
- Happy Halloween from someone who can be a real witch at times. Thanks for accepting me, warts and all.
- Hope your Halloween is exactly as spooky as you want it to be – no more, and no less.
- Halloween is almost here! Best witches for a haunting All Hallows Eve!
- Have an awesome autumn, an outstanding October, and most of all, a Happy Halloween!
- I'm so glad you're my [boo-friend/ghoul-friend]. When I met you, it was love at first fright. Happy Halloween!
- October brings crisp, cool nights and Halloween frights.
- I hope you get lots of trick-or-treaters this year. Unless, of course, you'd prefer to keep all that candy for yourself!
- Wishing you a spooky good October and a fang-tastic Halloween!
- This Halloween, remember that friends don't let friends dress up as creepy clowns.
- Hold onto your broomstick – Halloween is almost here!
- Fangs for being a bloody good friend!
- Happy October, from one Halloween fiend to another.
- Isn't it spooky how Halloween always falls on October 31? #scaredstupid
- Wishing you an eerie October and a boo-tiful Halloween!
- Happy Halloween, you handsome devil!
- Halloween is a time for horror movie marathons, but if you want to watch something really scary, just turn on the news!
- Trick or treat, Smell my feet, Hope your Halloween, Is spooky sweet!
- You're so awesome, it's spooky. Have a fiendishly fun Halloween!
- Hope you have as much fun today as the ghost who has been haunting your house.
- When Halloween is here the monsters appear and the candies disappear.
- This letter is sealed with a vampire kiss and bite.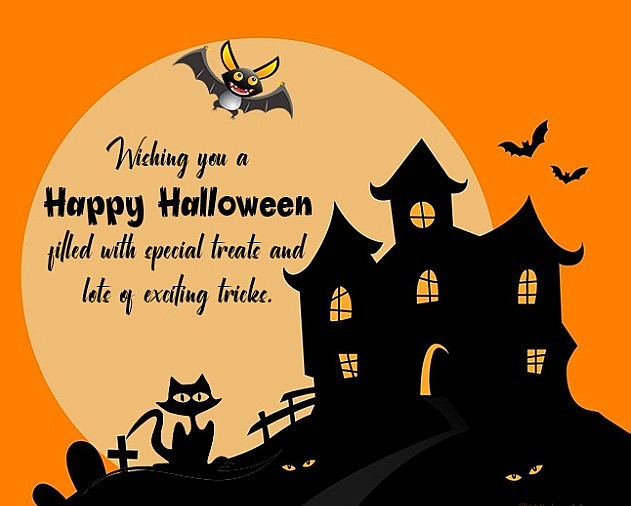 Halloween 2021. Photo: wishesmsg.
- The dead rise again, bats fly, terror strikes and screams echo, for tonight it's Halloween.
- If the werewolves are breaking out the extra body conditioner, it must be Halloween.
- Have a killer Halloween!
- When the dark night appears and everything turns into evil, just remember it's Halloween, just chill!
- A candy a day keeps the monsters away.
- I witch you a happy Halloween, I hope it doesn't suck like a vampire.
- I wave my wand and put on my cape and wish you lots of treats and success coming your way. Happy Halloween!
- Dress up on Halloween if you must, just as long as you turn back into your awesome self on November 1.
- When black cats prowl and pumpkins shine, when shivery shivers run down your spine, when ghosts and goblins ring the chime, beware and be scared – it's Halloween time!
- Ghosts and goblins, spooks galore, scary witches at your door, jack-o-lanterns smiling bright, wishing you a haunting night.
Halloween Wishes for Kids
- May your candy supply last you well into the Christmas season.
- Pumpkins, candies, spider webs and scary costumes. Halloween is finally here! Now go out there and scare them away. Happy Halloween!
- Wishing you a Halloween full of treats! Remember though that if you eat them all at once you may turn into a green looking monster.
- So much candy, so little time.
- Tonight, I am wishing you an unforgettable Halloween adventure filled with creepy memories and deadly encounters. Happy Halloween!
- Wishing you the best Halloween sugar high.
Halloween Birthday Wishes
- Another year older … forget the trolls and let's celebrate the best and scariest birthday ever.
- Here's a wish to a special someone who shares a birthday with the ghost, witches and the vampires. You are still way cooler and hipper. Happy birthday!
- I hope your Halloween birthday screams with excitement!
- Literally no one can scare us that much merely by celebrating their birth anniversary. Have a happy frightening birthday!
- The happiest of Halloween birthday wishes to you, dear friend! May your year be full of surprising magic and unexpected treats.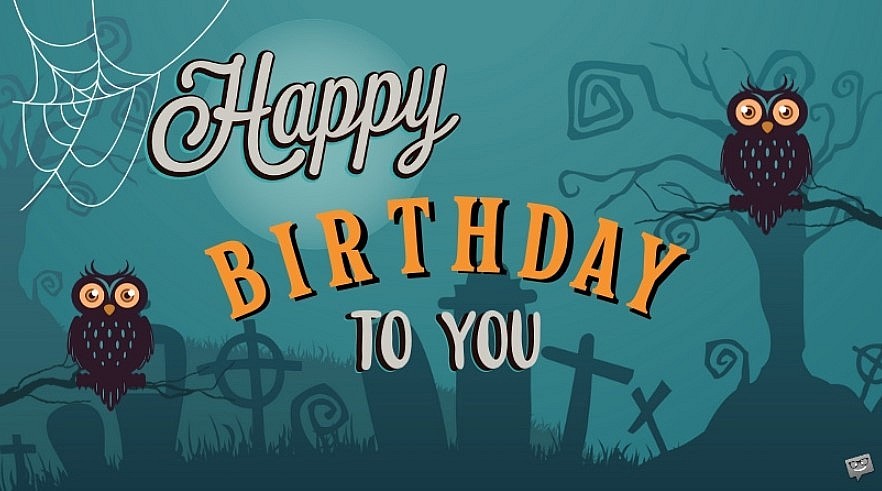 Halloween 2021. Photo: birthdaywishes
- Magical birthday wishes for you! May the lights of the night brightly lead you on your way this year.
- Happy wicked birthday, my pal! It's time to dust off the cobwebs and fly into another good year together.
- Who's having a frighteningly good birthday? It's BOO! Enjoy your coming year.
- For your birthday, I bought you the biggest cake I could find. Here's to getting as full as a pumpkin today. Happy Halloween birthday!
- Happy birthday to you! May your day be filled with buckets full of candy and dreams full of magic.
- Here's to a haunt free day and nightmare free night. Happy Halloween birthday, sweet friend!
- Happy birthday to the sweetest little spook I know! Life with you is more amazing and magical every year. As your mummy, I feel extremely blessed. Love to you always!
- Happy birthday to my very own beautiful Glenda! You shine with magic and love with song. I am so blessed to be sharing this great ride of life with you, my dear.
- Here's hoping your surprise party didn't cause a scare. You are so magical that you deserve nothing but the best. Happy birthday to my favorite ghoulish friend!
- Strange noises and spooky lights – just what we need to celebrate tonight! Happiest of Halloween birthdays to you, my sweet friend! We're destined to stay together until the end.
- When your bones are creaking and your muscles are shrieking, it must mean that you are another year older. Happy birthday to the best looking spook around! Love you, babe!
- You might have thought I'd miss your birthday this year, but you're not that good of a wizard! A day like today cannot be forgotten. Happy birthday, neighbor!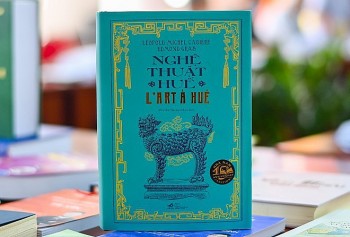 Expats in Vietnam
Inspired either by Vietnamese art or the people themselves, foreign authors often find inspiration in the S-shaped nation.