Top 10 Halloween Specials To Watch With Your Kids
Halloween is coming, and what is better than bing watching a good cartoon with your kids. This 10 new Halloween specials, special episodes, and series are kid-friendly spooky alternatives, and fresh-as-a-newly killed corpse in the post below.
When you get in a Halloween mood, sometimes all you want to do is draw the curtains, turn out the lights, pop some popcorn and settle in for a Halloween movie. But if there are kids who want in on the fun, you have to figure out what level of spookiness they can handle. With so many streaming services and rentals available, however, you can definitely find something that fits your family's preferred level of terror.
If you and your kids are tired of watching It's the Great Pumpkin, Charlie Brown and The Paul Lynde Halloween Special over and over and over every October, these 10 new Halloween specials, special episodes, and series are kid-friendly spooky alternatives, and fresh-as-a-newly killed corpse—and all of them are streaming now.
1. Muppets Haunted Mansion (2021)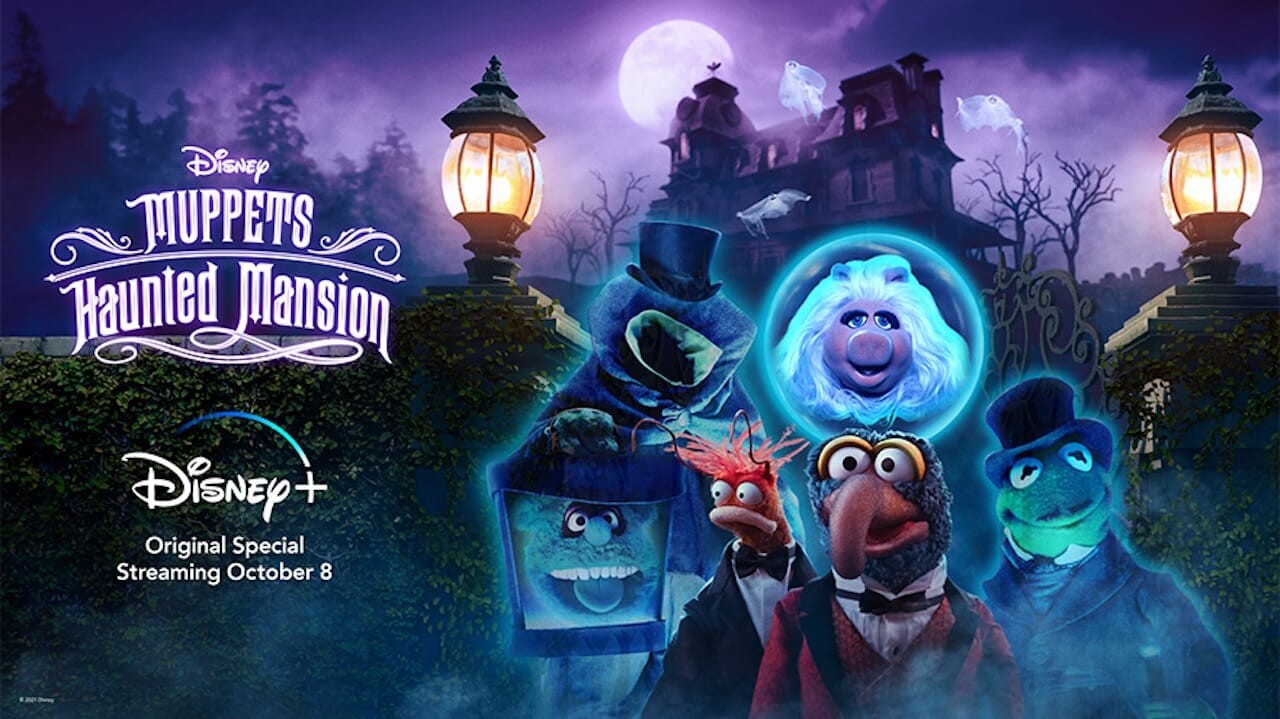 Photo: Disney+
Imdb score: 6.7/10
The Muppets have a long and glorious history of taking nothing seriously. Muppets Haunted Mansion is a first, though: this time they're not mocking TV genres, pop culture cliches or a beloved piece of literature, but a classic Disney theme park attraction. It's been a long time coming; the Muppets made their Disney parks debut over 30 years ago, and have been outright owned by the Mouse since 2004. Fans of Jim Henson's creations and Walt Disney's theme parks can rest easy—this one-off special is a loving homage to both Kermit's crew and Disney's grim grinning ghosts.
Muppets Haunted Mansion feels like a special episode of the classic Muppet Show. It's a cameo-filled goof that roughly follows the structure of the ride, but with a story that sees Gonzo and Pepe the King Prawn visiting an infamous haunted house on the 100th anniversary of a legendary stage magician's disappearance within. (Shades of Abracadabar, the swanky magic-themed bar at Disney World with a similar backstory.) Gonzo hopes to find out what happened to the magician, while Pepe just hopes to meet some celebrities at what he assumes is a high-end Hollywood party. Along the way they're haunted by the house's large lineup of ghosts, characters from the ride played by classic Muppets and the occasional guest celebrity. A valuable lesson about confronting your fears is learned, and the fourth wall isn't just broken but jumped through again and again like the Kool Aid Man blasting through walls on a bender. Most importantly, laughs are had by all, with the combination of intentionally cornball Vaudeville schtick and genuine irreverence that the Muppets have long been known for.
2. Lego Star Wars Terrifying Tales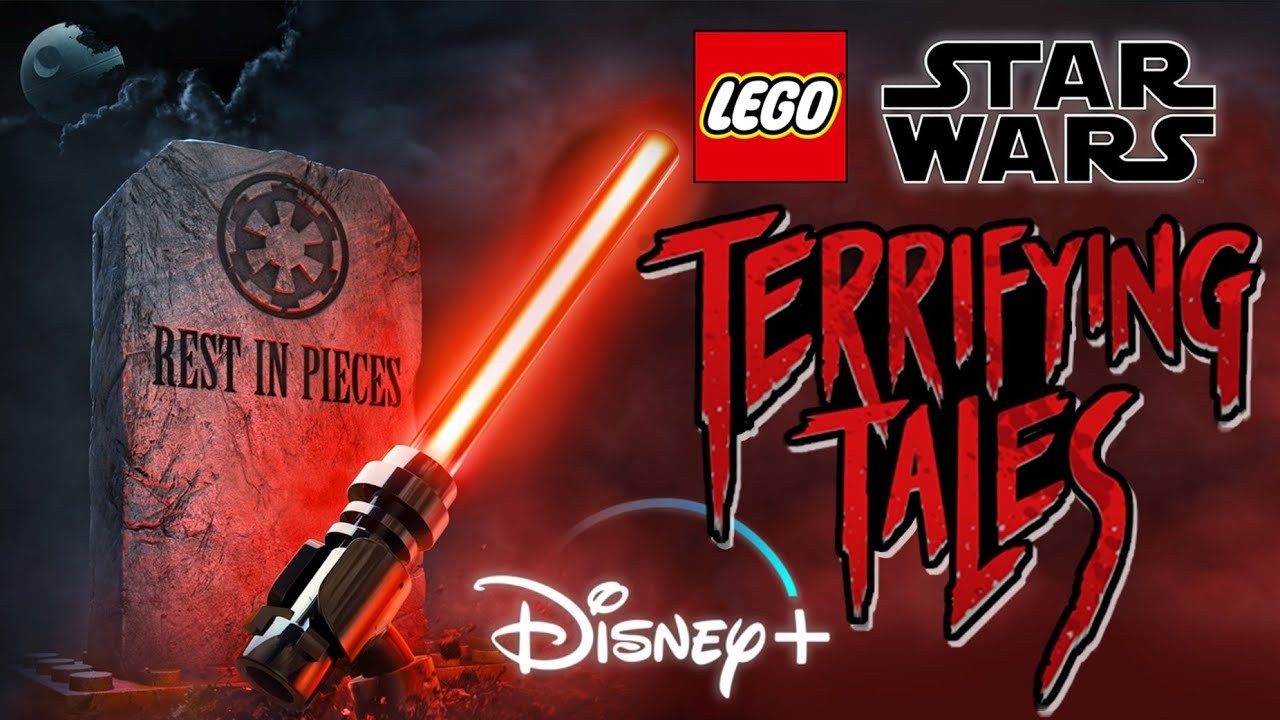 Photo: Disney +
Imdb score: 6.3/10
Disney+ kicks off the most frightful time of the year with a brand new LEGO Star Wars special. Like last year's LEGO Star Wars Holiday Special, LEGO Star Wars Terrifying Tales consists of a few shorts unified by one overarching story, all featuring assorted characters from a galaxy far, far away.
In the main terrifying tale, Darth Vader's old attendant Vaneé (Tony Hale) hands over the keys to his long dead boss's castle to the greedy real estate developer Graballa the Hutt. Graballa's mission: turn the castle into a swanky resort for those wanting to unwind by feeling the dark power of the Force throwing through them and, like, presumably catch some rays by a lava river.
Poe Dameron and BB-8, who make an emergency landing on Mustafar and run afoul of Graballa, Vaneé, and Vaneé's irrepressible desire to tell spooky stories—three of them, in fact!
Vaneé is a great example of why Star Wars is such a fun franchise. Vaneé is an obscure character who was briefly seen in Rogue One: A Star Wars Story and then recurred in one of IDW's—not even Marvel's!—Star Wars comics. But pair him with a talented actor (Tony f'ing Hale!) and the right story and you have a campy villain who is a sniveling delight to watch onscreen.
Graballa apologizing for Vaneé's whole vibe by saying, "Sorry, he came with the place." Also Emperor Palpatine seeing Darth Maul's new robo spider look and awkwardly saying, "Well, look at you… you're alive. Oh, and look, you've got legs. A whole bunch of legs."
3. Cruella (2021)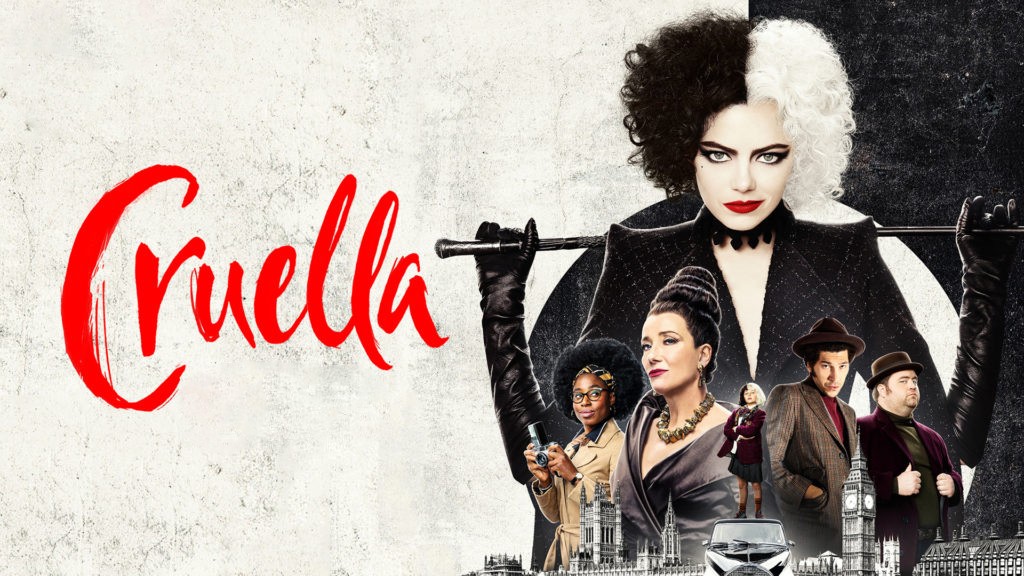 Photo: Disney
Imdb score: 7.4/10
Given the current Hollywood model of churning out sequels, prequels, remakes and reboots one could be forgiven for looking at 2015's Cinderella as the first film in Disney's current line of live-action remakes. However, upon closer inspection it is apparent that the company's obsession with cashing in on the success of previously successful properties began over ten years ago with the live-action remake of Alice in Wonderland. Though the output was much slower pre-2015's Cinderella, the studio very obviously were finding out just how much money could be made via adaptations, remakes, reboots, spin-offs, sequels and prequels of already established properties. On top of the healthy box office profits that could be made, these movies also obtained characters, worlds and lore that were already established with audiences, therefore needing much less development on the screen in these areas. Soon after Cinderella came unwelcomed Pirates of the Caribbean sequels, remakes such as The Jungle Book and The Lion King, and perhaps most interestingly Maleficent.
As enjoyable as Stone is in the lead role, it is Emma Thompson who truly steals the show with her own villain Baroness von Hellman. Thompson brings this dastardly character to life with a charismatic performance, one that works to highlight the few outstanding aspects of the screenplay.
4. Sharkdog's Fintastic Halloween
Photo: Netflix
Imdb score: 8/10
SHARKDOG'S FINTASTIC HALLOWEEN takes viewers back in time, as present-day Max tells a story "The Legend of the Fearsome Fog" when present day Foggy Springs was called Fishy Springs, long long ago. Max's story is a silly and mysterious adventure, as he tells the tale of the town's Halloween thief who went around stealing the people's candy and Halloween decorations. Max includes himself, Sharkdog, Royce, and Olivia in the story as they must uncover the identity of the thief, or risk being unable to trick-or treat. Determined to prove that Sharkdog isn't the criminal, Max and his friends find the Kraken sea monster and they think they've saved the day -- but the mystery isn't quite over yet. Will Max and his friends succeed in saving Halloween?
This animated holiday special provides viewers with an adventure-filled and mysterious view of Max and Sharkdog's town on Halloween. Sharkdog's Fintastic Halloween has a big presence on-screen, similiary to the orginal show, with its bold animation style, bright colors, and fast-paced soundtrack. Kids can learn some light problem-solving skills, and there are some diverse characters. This special is a fun way for children to get into the spooky spirit.
5. Scary Stories to Tell in the Dark (2019)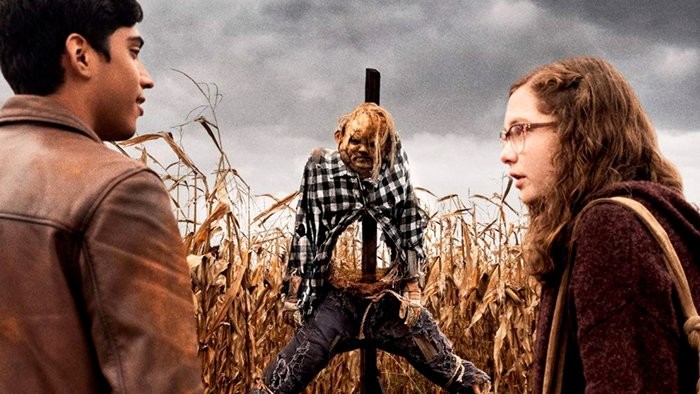 Photo: Lionsgate
Imdb score: 6.2/10
In SCARY STORIES TO TELL IN THE DARK, nerdy, horror-loving outcast Stella (Zoe Margaret Colletti) is urged to come out on Halloween night, 1968, with her two misfit best friends, Augie (Gabriel Rush) and Chuck (Austin Zajur). Their plan is to prank the town bully (Austin Abrams), but they're caught and chased. At the drive-in, the teens duck into the car of Ramon (Michael Garza), a loner who's passing through town. Later, when the coast is clear, they take Ramon to the local haunted house and tell him about the legend of Sarah Bellows, whose ghost is said to tell scary stories and make children disappear. In a secret room, Stella finds Sarah's actual book, and before long, scary things start happening and kids begin to vanish. Stella must find out the real story behind Sarah Bellows and set things right before her own name comes up in the book.
Somewhat similar in mood and tone to It, this hugely entertaining scary story has its own delightfully demonic vibe, with strong characters, striking atmosphere, and furious frights. Based on a collection of short horror stories from the early 1980s by Alvin Schwartz (with horrific illustrations by Stephen Gammell), which was intended for kids, Scary Stories to Tell in the Dark cooks up its own mythology as a way of packaging the books' mini-tales into a cohesive story. Set in 1968, the movie conjures up a kind of freedom in which the young heroes have the space and gumption to run about town and do their own thing. (Stella's room is filled with classic horror movie posters and monster magazines, as well as a half-finished tale in her typewriter.) We love hanging out with them, and their ghost chase is as secretly thrilling as it is scary.
It begins on Halloween night, and then Night of the Living Dead is playing at the drive-in, while Vietnam hovers in the background and Richard Nixon's re-election is right around the corner. Oscar-winning filmmaker/monster-maker Guillermo Del Toro -- who co-wrote Scary Stories' screenplay with his Trollhunters co-writers Dan and Kevin Hageman -- seems to have added the Ramon character as a way to highlight bigotry, which can be just as scary as ghosts. At the helm, talented Norwegian director Andre Ovredal keeps a measured, tense pace and uses physical space -- including the haunted Bellows house, a cornfield, a creepy hospital, and even a bedroom -- to great shocking effect. Scary Stories to Tell in the Dark has the stuff to become a perennial re-watch when the frost is on the pumpkin.
6. Gnome Alone (2018)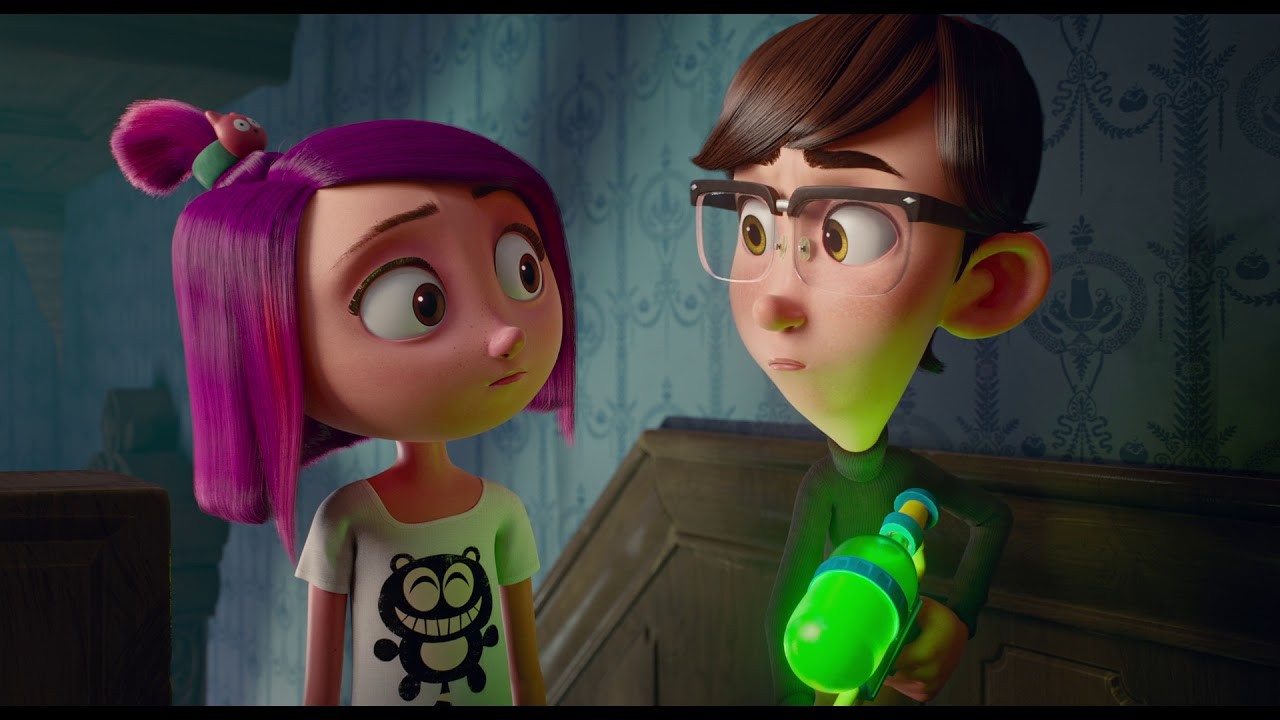 Photo: 3QU Media
Gnome Alone is a 2017 comedy film directed by Peter Lepeniotis (The Nut Job) and produced by 3QU co-founder John H. Williams (Shrek). 3QU is a fairly young (2013) American/ Canadian studio with Gnome Alone representing their debut piece of animation. They have since followed up the effort in 2019 with a holiday-themed film called Charming.
The story centers on a single mom (Tara Strong) and her teen daughter Chloe (Becky G) who relocate to a creepy old house in a small town and quickly discover that things inside aren't as they seem. It actually starts out feeling a bit horror-film by nature only to lighten up immensely once the source of the weirdness of the house is revealed.
The home scenes are interlaced with some lighthearted teen and school moments where Chloe tries to make new friends while hanging with the nosy neighbor Liam (played by Josh Peck who is clearly trying to summon his best Charles Mintz-Plasse).
It turns out that Chloe's new home is the staging area for an ancient battle taking place between mythical creatures — gnomes have been protecting the planet from menacing little monsters that look like grapes called Troggs, who have invaded the house through a portal from another world.
When the only solution to stop the Troggs is given to a friend in school, Chloe and Liam and a rag-tag group of gnomes come together to confront the Troggs while the fate of humanity hangs in the balance.
7. The House With a Clock in Its Walls (2018)
Photo: Amblin Entertainment
Imdb score: 6.1/10
THE HOUSE WITH THE CLOCK IN ITS WALLS is based on author John Bellairs' classic children's novel set in 1955 about tween orphan Lewis Barnavelt (Owen Vaccaro), who's sent to live with his single Uncle Jonathan (Jack Black) in New Zebedee, Michigan. Soon after arriving at Uncle Jonathan's large, haunted-looking mansion, Lewis discovers that the eccentric Jonathan and his best friend/neighbor, Mrs. Florence Zimmerman (Cate Blanchett), are (spoiler alert!) actually a warlock and witch -- and the house is full of magical, creepy occurrences. One of those eerie elements is the titular clock, which is loudly counting down to something designed by the house's former inhabitants. Lewis convinces Jonathan to teach him spells and other magic, and the sessions result in a climactic problem for the trio of magicians.
Director Eli Roth's first foray into family-friendly movies isn't a masterpiece, but it's just spooky and funny enough to entertain young moviegoers who are new to the horror genre. Black and Blanchett are an amusing pair, trading barbs, bickering, and working together to keep Lewis safe. Given her mostly serious filmography, it's easy to forget that Blanchett has finely honed comedic skills. Unfortunately, the laughs here are sometimes awkwardly timed. But Black, as always, is goofy and hams it up in an affable way for the audience. And Vaccaro, who played the son in both Daddy's Home movies, is believable as a shy, slightly nerdy orphan who's hoping to fit in at a new home and school.
The movie is technically well made, but its story is uneven in parts. It's young-kid friendly one moment and then unsettling the next. And once the villains are revealed, the movie gets downright creepy. A lot starts happening rather quickly in the final act, and a few flashbacks and the big magical battle scenes may frighten kids who are sensitive to scary stuff. Roth still has some wrinkles to iron out if he wants to continue making starter horror films for kids, but this first attempt is serviceable enough to be on rotation for Halloween night and sleepover viewings.
8. Just Beyond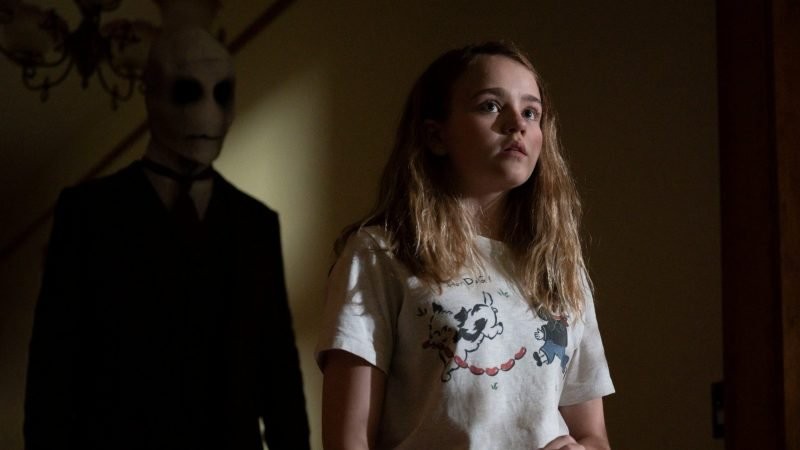 Photo: Disney +
Imdb score: 5.5/10
Just Beyond is an anthology series, created by Seth Grahame-Smith, that's loosely based on the Just Beyond series of graphic novels by R.L. Stine. The tales told in the eight episodes are about teens their worlds rocked by situations that are "just beyond" reality. Sure, in most episodes, the teens get the upper hand over the silly grownups in their midst, but do the stories go "just beyond"
In the first episode, "Leave Them Kids Alone", 14-year-old Veronica (McKenna Grace) has started to protest about everything at school, and she's suspended for going on her "streaks". Her parents send her to Miss Genevieve's School for Difficult Girls; when she gets there, she sees that all of the girls are polite, listen to Miss Genevieve (Nasim Pedrad), the schoolmaster, and all have the same bob that was last fashionable in the mid-'60s. Her roommate Heather (Lauren Lindsey Donzis) warns her that "no music, ever" is allowed. With the help of a fellow student, Claire (Leeann Ross), she finds out what it means to "get her hair done" at the school and why everyone is so damned vacant.
In the second episode, "Parents Are From Mars, Kids Are From Venus," Jack (Gabriel Bateman) and Ronald (Arjun Athalye) are noticing that their parents are acting weirder than usual towards them, and they're pretty weird to begin with. When they go over to Arnold's house to get something on the adults' "game night", they see their parents (Tim Heidecker, Riki Lindhome, Parvesh Cheena, Rajani Nair) in robes levitating a lit globe. They go to Chris (Henry Thomas), owner of their favorite curiosity shop, to show them evidence they found, and he tells them that their parents are aliens, and they're waiting for them to mature so they could eat them.
9. Coco (2017)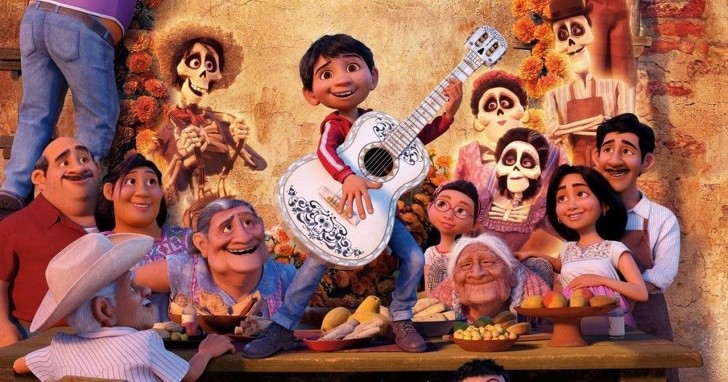 Photo: Pixar
Imdb score: 8.4/10
Miguel (Gonzalez) is a 12-year-old boy whose family have banned music. He longs to play, but when he steals a guitar belonging to his deceased icon, Ernesto De La Cruz (Bratt), he's transported to the Land Of The Dead and must escape before dawn.
After Inside Out, Pixar dips again into the metaphysical with a trip into the afterlife. Of course, being Pixar, it doesn't simply slip beyond a veil but stride across a gigantic arched bridge made of marigolds, because there's no concept so difficult that Pixar can't make it breathtaking. Powell and Pressburger would cheer.
While this film packs in adventure and desperately colourful characters, it's ultimately a moving story about family connections and the complicated ways we love one another. Coco is also one of the most impressively animated films ever. There are sequences in the 'real' world where the attention to detail creates such a life-like environment that it's almost jarring to see an animated boy running along what appears to be an actual, fluorescent-lit Mexican street. From the glow of candles to the magic shine of a huge, otherworldly city hanging in the air to the ugliest cute dog ever put on film, every design element here is spectacular, and the sheer beauty holds the attention even during the film's more familiar chase sequences.
Pixar has raised the animation bar again, with its most musical — and arguably most magical — film yet. If this is the afterlife we're all headed to, don't fear the reaper.
10. The Osbournes: Night of Terror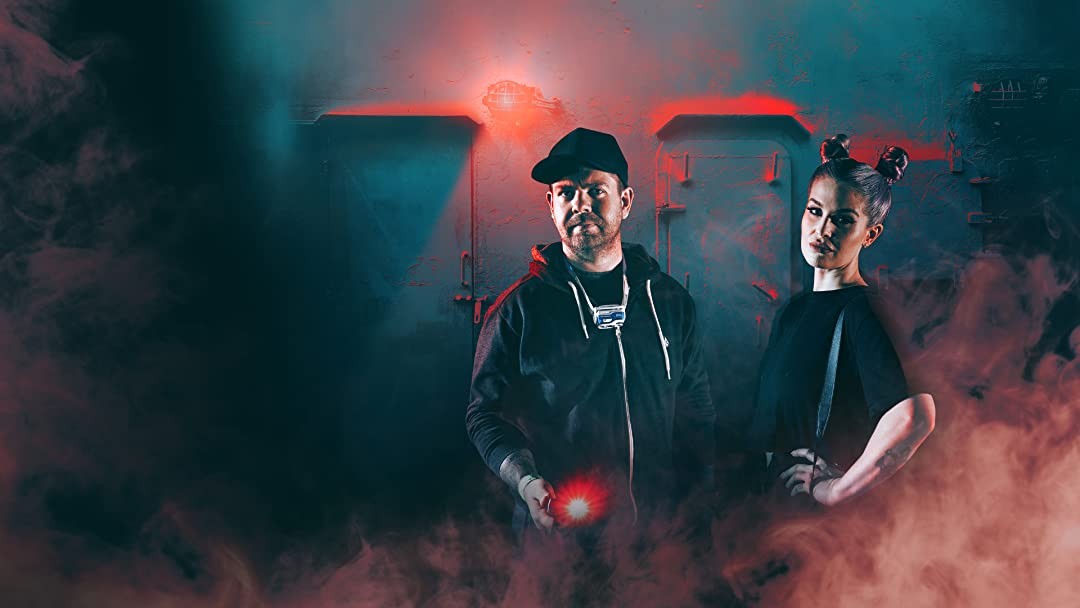 Photo: Amazon
Imdb score: 7.0/10
The Osbournes enter the gates of hell as they go inside the Heritage Square Museum, a frightening and haunted historical site in the heart of Los Angeles. A "living museum," Heritage Square is a collection of relocated Victorian-era houses taken from different spots around the city. It's believed to be the most haunted hotspot in the area and has never been investigated for TV. Staff and guests have reported an uptick in paranormal activity, and they're eager to understand what's causing this ghostly phenomenon.
As Jack and Kelly go deep into the night to investigate the prolific spirit activity, Ozzy and Sharon monitor the action from basecamp. Multiple houses on the property each come with its own set of ghosts. The Perry House is rumored to be haunted by the original owner's daughter, Mamie, who now roams the halls, spreading regret and despair. Inside the Hale House, Kelly makes a surprising connection to the spirit world, where it's believed former occupant Bessie Hale is still tied to the house after a bitter divorce from her husband. But, it's the Octagon House that cripples everyone with fear. As Jack and Kelly prepare for a night of terror, the frightening encounters begin almost immediately.
In true Osbourne fashion, there's never a dull moment. With Kelly and Jack on the front lines confronting unexplained disturbances, skeptics Ozzy and Sharon provide lively feedback and guidance hoping to mitigate the paranormal danger their kids are sure to face. Bringing additional clarity and context to the precarious situation are psychic mediums Cindy Kaza and Sarah Lemos and paranormal expert Ben Hansen.
"Most families go pumpkin picking around Halloween. The Osbournes – we go ghost hunting," said Jack. "My family has always been intrigued by my work in the paranormal, so I decided it was time for them to experience it themselves. Heritage Square is a very haunted location that not many people outside of Los Angeles know about – everyone is in for a real treat. Expect crazy paranormal activity, creepy encounters – especially with Kelly, classic Osbourne humor and naturally, a few guest appearances from the dogs."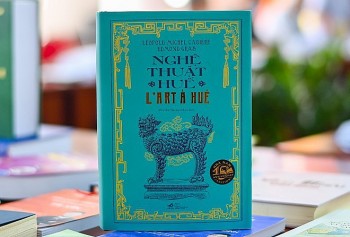 Expats in Vietnam
Inspired either by Vietnamese art or the people themselves, foreign authors often find inspiration in the S-shaped nation.