Top 5 Best Air Purifiers
A great air purifier can really improve your life—reducing allergens such as pollen and mold spores, and protecting against wildfire smoke and other kinds of smoke. Let's take a look with our top 5 best air qualifiers below.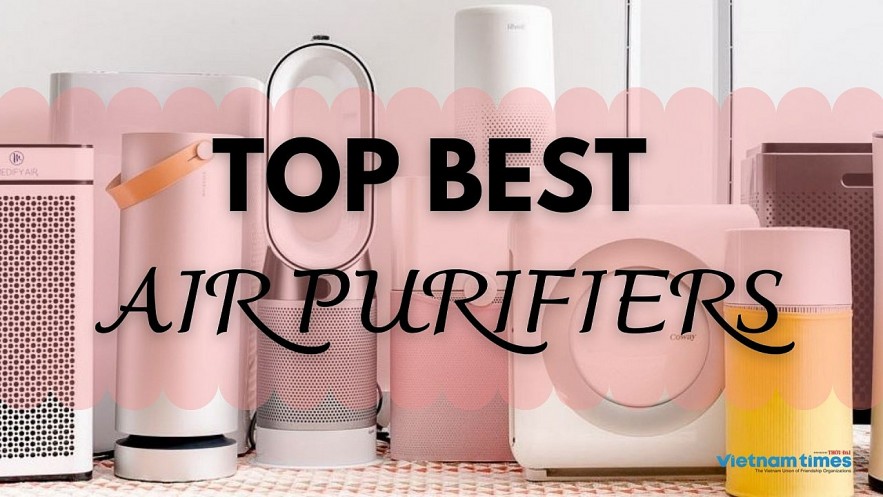 Top Best Air Purifiers. Photo: vietnamtimes.
Under what circumstances should people use an air purifier during the COVID-19 pandemic?
Your own home is generally the safest place you can be during the COVID-19 pandemic. So, the average person probably doesn't need an air purifier. This is especially true if you're socializing only with members of your own household, wearing a mask whenever you go out, and following good social distancing practices.
But if someone in your household has COVID-19 or needs to quarantine until they can be sure they don't have it, it might make sense to have an air purifier in their room with the door closed, if only to help protect caregivers from possible exposure.
It's also something to consider if someone in your household is at extremely high risk — either of contracting COVID-19 or of developing complications from it, as reported by MD Anderson.
What are the best air qualifiers?
1. Blueair HealthProtect 7470i
This being a product from a Swedish company, the Blueair HealthProtect 7470i air purifier features a minimalistic Scandinavian-style design, which works rather nicely. The bulk of the casing is white, which is offset by the SpiralAir outlets that come finished in black. These are clever in that they create a spiral of circulating air that Blueair reckons will deliver better distribution around your rooms.
The Blueair HealthProtect 7470i air purifier looks like it means business and, based on its size alone, the appliance should be great for improving the air quality inside your home. It's smart too, with real-time pollutant tracking of fine particles (PM1 - 2.5), which includes smoke, bacteria and viruses.
It'll also catch coarse particles (PM10) such as dust, pollen and spores. There's voice control via Amazon Alexa and Google Home, or the unit can be controlled remotely using the Blueair app. It certainly warrants closer inspection. This is a high-specification bit of kit, and able to purify rooms up to 62 sq m. It's up there with the best air purifiers boasting features designed to let you get optimum use from the unit, enjoy cleaner air and have less to worry about upkeep-wise.
Better still, the booklet-shaped filter has been so designed to avoid you having to touch the grubbier bits of the internals. So, if you've got a hatred of dust and dirt then the Blueair looks set to be a good friend.
If you are looking for a premium, quiet, and truly smart Blueair air purifier, then the Blueair HealthProtect 7470i is a perfect choice. The HealthProtect mainly has two series. The 7400-series is for medium rooms while the 7700-series is for large rooms. Featurewise, the HealthProtect has 3 lineups: the 10-models, the 40-models, and the 70-models.
Suitable for medium rooms, Blueair HealthProtect 7470i has all the premium features in the HealthProtect series.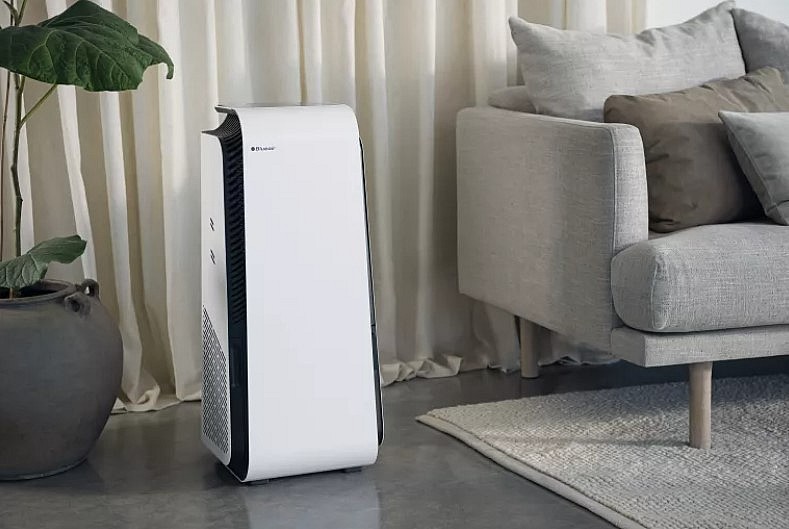 (Image credit: Blueair)
Germshield Technology
Normally, the filters of the air purifiers collect microorganisms along with other contaminants, which are odor-causing bacteria, molds, and viruses. Over time, the odor starts to come out of the filter.
To solve this problem, Blueair HealthProtect has Germshield protection. It stops any secondary pollution from the filter. Even it activates automatically when the purifier detects high levels of pollutions.
The Germshield technology deactivates 99% of those microorganisms trapped in the filter, ensuring no growth of bacteria and mold. So, you will enjoy fresh air day after day out of it.
A good option if you live in a household full of people or with sniffle-prone children, the Blueair's "GermShield" automatically activates when it detects that conditions are optimal for germ growth.
In the UK the Blueair HealthProtect 7470i air purifier costs £586.11 from Amazon and in the US it costs $639.99 for the 7440i model that is suitable for rooms up to 38sq.m.
2. Levoit H133 Tower True
A perfect air purifier is one that filters both particulates and gaseous pollutants from the air without releasing ozone or other harmful byproducts. Levoit air purifiers are the safest on the market. Because they only use mechanical filters in their air purifiers and don't use any electronic filtrations.
Levoit LV-H133 is a 23.6-inch tall cylindrical-shaped air purifier that has a complimentary 3-in-1 filter with a built-in dust sensor suitable for a 400 sq ft room.
Levoit is a trusted American brand with a focus on making smart air quality improvement devices. For years, they have built air purifiers with high efficient multi-stage filtration systems.
In terms of what it will filter, it also does well, removing up to 99.97 per cent of 0.3 micron particles. At night time, you can switch off the LED screen and set a timer so that it doesn't disturb sleep quality. We were impressed by the sound – or lack thereof – it produced while working and liked how easy it was to use.
Effective 3-in-1 Filter
The purifier has a three-stage filtration system. They include a pre-filter, a True HEPA filter, and an activated carbon filter in a 3-in-1 cartridge. The preliminary net filter captures large particles such as hair, lint, pet fur, dust, and pet dander.
After the pre-filter, you have the H13-grade true HEPA filter. With a 99.97% efficiency rating, this filter traps and removes particles as small as 0.3 microns from the air. They include pollen, fine dust, smoke residue, and many others.
Lastly, we have an activated carbon filter. Composed of granular activated carbon, the filter absorbs cooking odors, household odors, cigarette smoke, and VOCs.
All three filters come as a single unit. This makes replacement an easy task. The filter has a lifespan of 6 to 8 months. To track the lifespan of your filter, check the filter replacement indicator.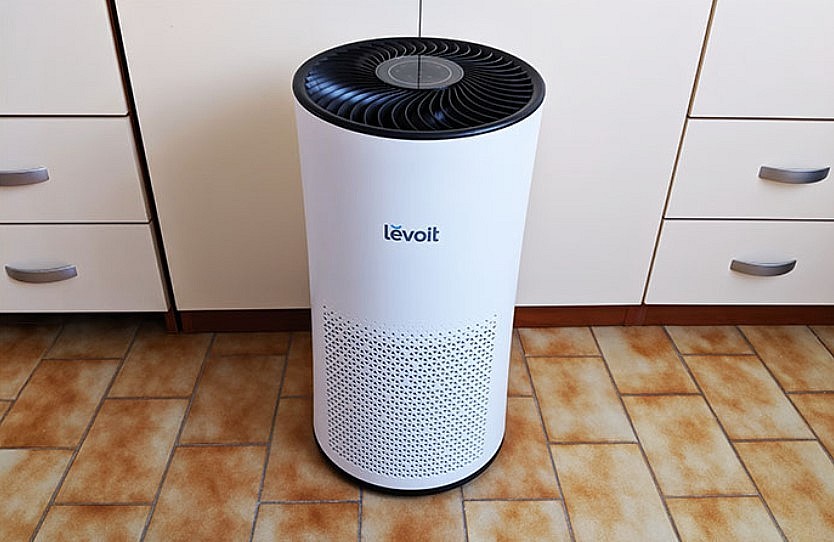 LV-H133. Photo: mbreviews.
The Levoit LV-H133 launch price was $319, which saw it slide it below some of its key competitors, but that price has dropped and the Levoit LV-H133 can now picked up for only $199. In fact, a bump of cost from the $109 LV-H132 is predictable. Levoit needs a mid-range air purifier to close the experience gap with high-end air purifier brands, like Rabbit Air, Coway or Blueair. The tactical Levoit LV-H133 is the 2018's result to enhance this company's brand awareness.
In Vietnam, Levoit LV-H133 costs approximately $341.49.
3. AEG AX91-404GY 400 air purifier
At first glance, the AEG AX91-404GY, also known as the AX9 400 AP, doesn't look like an air purifier, as its grey mesh covering makes it look more like an audio speaker. With a five-stage filtration system and an app that lets you control your home's air quality even when you're not there, is this air purifier the key to consistently clean air?
This AEG AX9 Air Purifier is designed to adapt and respond to your home, giving you cleaner air and blend seamlessly into every room. The AX9 has 5 stage filtration which captures microscopic pollutants, traps harmful gases and odours, and offers projection against airborne bacteria. The pre-charged ultrafine filter traps 99.5% of particles as small as 0.3 microns and eliminates 99.9% of bacteria.
Get automatic adjustment and continuous measurements of your indoor air quality levels with the unique PureSense technology. Sensing particle matter, temperature, humidity and light to fully understand your space. The AX9 light ring means you can see the quality of your air at a glance in the room or on the AEG Wellbeing app, plus each AEG filter has a smart tag keeping track of its usage.
Use the AEG Wellbeing App on your Smartphone to control your purifier. Control your purifier, understand your indoor air, schedule events and get a live status on your filters and air quality.
The AirSurround system creates a powerful spiral movement of the indoor air, efficiently circulating and cleaning the air. Combined with the ultra-fine cylindrical filter which has a large surface area which means a bigger volume of air cleaning and a longer lifetime of each filter.
With a minimum noise level of just 17 dB(A) the AX9 runs so quietly, you will hardly notice it. Even at maximum speed, the noise level is just 49 dB(A), quieter than your dinner conversation at home.
If you're after an all-rounder that looks great, is a doddle to operate, and will cover lots of bases, this is the one to go for. A classic grey with two fabric handles made of recycled PET bottles (which makes it easy to move from room to room if you need to purify different areas), this is part of the range by AEG that won a RedDot design award.
Once plugged in, the purifier goes to work without much ado, continuously measuring indoor air-quality levels and automatically adjusting the purification rate as needed, with the ability to clean a 10sq m room in seven minutes. It's also really quiet. We tried it right next to a TV and neither the sound nor the dim light on the monitor competed with the rather sedate Austen miniseries we were watching.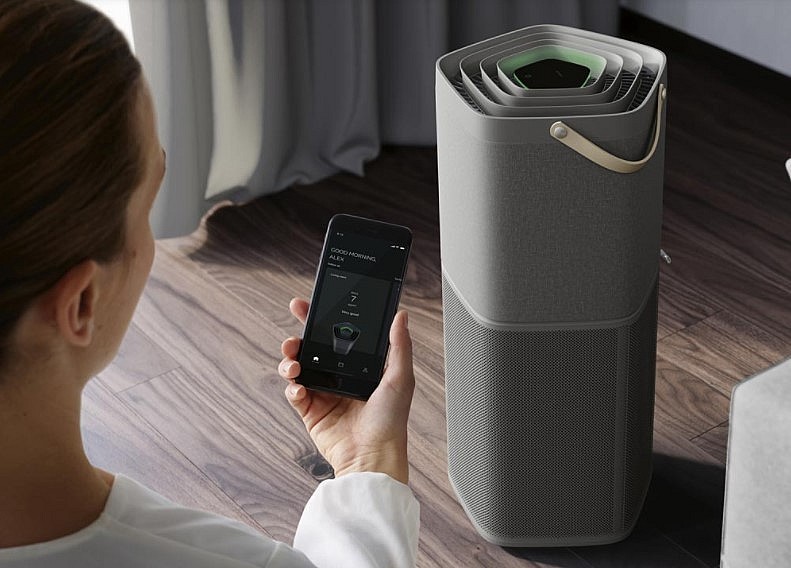 AEG AX91-404GY AX9 air purifier. Photo: mobile-raumluftfilter.
Best: For low noise level
CADR: 400m cubed per hour
Particle size removal: As small as 0.03 microns, including 99.99 per cent bacteria
Remote control: App
Room size: Up to 37sq m
Additional Features
-Customizable filters – adapt to the season
-Smart filter tags – keep track of filter usage, improve performance and reduce waste
-Simple colour code system for air quality feedback
-Allergy friendly and quality tested - this AEG Air Purifier has received a 5 Star allergy rating from ECARF
Price comparison
-Amazon: £379 ($525.80)
-AO.com: £379 ($525.80)
-John Lewis & Partners: £399 ($553.55)
-eBay: £409.99 ($568.82)
4. Philips AC3033/30 expert series 3000i connected air purifier
Offering a speedy clean of the air (20sq m in less than eight minutes), the filters in this remove 99.97 per cent of airborne allergens, pollen, fine dust, particles and bacteria. It is easy to navigate, with the display both on the machine and in the app showing numbers to denote the amount of hazardous gases, a particulate matter score and the perceived "allergen risk". What's more, the machine and app assign colours to the air standard, so a cursory glance at your phone or at the machine from the other side of the room can tell you approximately what the quality of the air is.
It operates on a few modes, so you can ask the machine to automatically navigate, switch it on turbo if you want to ramp the effects up a notch, or pop it onto night mode. Turbo mode is a bit noisy, sounding rather like a fan, but the other modes are quieter and were more like a background hum.
The app to control this purifier works well, allowing for remote control as well as an up-to-date reading of the air quality. This works especially well if you suffer from allergies and would like to return from being out to a house where the air quality is noticeably better; all you do is switch it on from your phone on your way back. The machine itself stands on the floor and is 64cm high, making it a not-insignificant size, but it looked good and we didn't mind having it on display.
The Philips AC3033/30's Clean Air Delivery Rate (CADR) is stated as 400m³/h for particles. This means that if you want the air in your room to be changed five times an hour, it can be used in a space that has a volume of up to 80m³. Breaking that down, that means with a standard ceiling height of 2.5m your room can measure up to 32m² for this air purifier to work at its best.
The Philips' test results were good with smaller particles – it removed 94% of PM2.5 in an hour on its top setting. It scored incredibly well with larger particles, too, removing 99% of PM10.
The machine's sound is stated as being 33-66dB, which fits with our general impression of it. At its loudest, on turbo mode, it made a lot of noise for an air purifier – it sounded like a big fan, and you couldn't ignore it. For a short, sharp air scrub – to remove the smell of burnt toast, for instance – it was possible to live with though. In automatic mode, however, it really is very quiet most of the time: the built-in sensor ensures you don't filter more than necessary.
Energy consumption is 55W.
The Philips is undoubtedly pricey, but it has a discreet design and it works really well – and very quietly – to purify the air in a home. Left in automatic mode, the sound is easy to get used to, and you'll soon forget it's even there.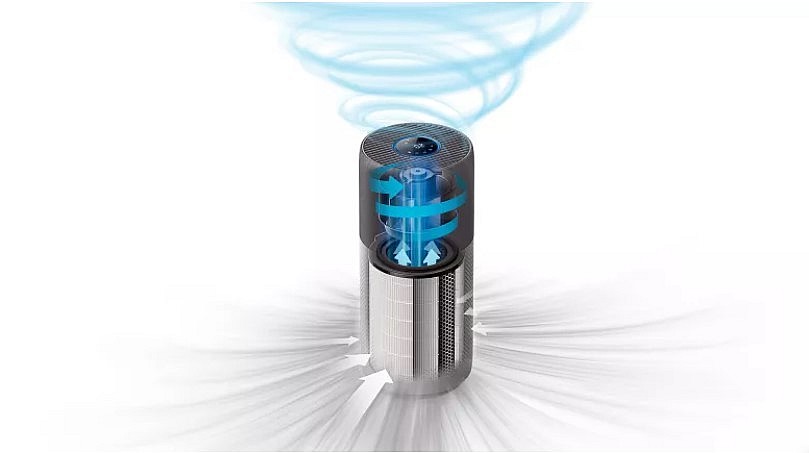 Philips AC3033/30 expert series 3000i connected air purifier. Photo: Philips.
Best: For allergies
CADR: 520m cubed per hour
Particle size removal: As small as 0.003 microns, including 99.97 per cent of PM2.5
Remote control: App
Room size: Up to 104sq m
You can pick up this fine machine for £450 ($623.96) in the UK. It is not available in the USA, as is the case with most Philips stuff – you're missing out there guys
5. Dyson Purifier Hot+Cool Formaldehyde
According to The Independent review, it's designed to clean the air not only of the usual particles picked up by purifiers with a high efficiency particulate absorbing (Hepa) filter, but also to grab all formaldehyde-based resins that come from plywood and fibreboard, insulating materials, paint, wallpaper, varnishes, and some household cleaning products. It continues to off-gas – aka continually release airborne chemicals – until absorbed.
This is no small task: formaldehydes are 500 times smaller than particles of 0.1 microns (10 microns is the limit for the naked eye, and you can't see anything smaller), and to be efficient specifically at catching this chemical, Dyson created an intelligent formaldehyde sensor that's gel-based and will accurately catch and destroy it at a molecular level without confusing it with other volatile organic compounds.
In short: if you've been doing a lot of DIY, or if you make things in your house, it's likely that you may well have some formaldehyde floating around, and therefore have reason to consider this model over the other air purifier on the market.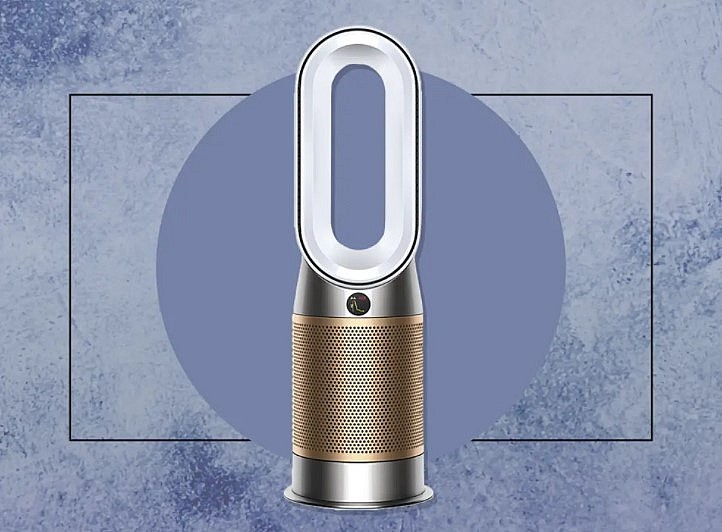 Dyson purifier hot + cool formaldehyde/ Photo: The Independent.
How easy is it to use?
Once you've unwrapped the filter and plugged it in, you can either let the machine do its thing and keep it on automatic, or control it via the app or the remote control provided (that attaches to the top of the purifier via a magnet). The app will track all the info in a series of graphs, and you can compare current to previous air quality in quite some depth. The machine itself also has a small monitor that you can look at for information, and where you can schedule the heater (the in-built thermostat also means you can set it to only heat when the indoor temperature falls below a certain level, if you want to). Once going, expect it to deliver 520sq m of clean air an hour.
The downside of this machine is the cost. It costs approximately £599.99 ($832.32) in Argos.co.uk. That said, if you are looking to invest in a purifier and are keen to own a machine that triples up as a heater and fan and which is easy to operate and looks great, it's unbeatable.
If, however, you simply want a purifier without any bells and whistles and don't want to reach so deep into your pockets for it, you might be better off sticking to one that doesn't have this many other functions.
Best: Overall
CADR: Not provided
Particle size removal: As small as 0.01 microns, including 99.95 per cent of bacteria, pollen, and mould spores, as well as capturing and destroying formaldehyde
Remote control: Through app and remote control, and compatible with Google Home, Alexa and Siri
Room size: Up to 27 sq m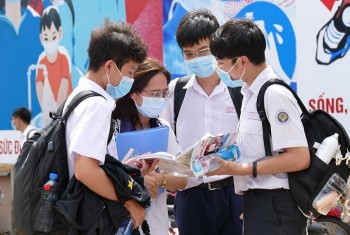 National
About 75 million vaccine doses have been administered nationwide, with nearly 22 million people getting their second shot.