Top 10 Most Photographed Places In Vietnam - For Instagram Lovers
From beautiful Ha Long Bay to historical Hanoi's Old Quarter, here are top 10 most photographed places in Vietnam for Instagram lovers, photographers and artists.
Boasting an extensive collection of natural wonders, colonial structures, and ancient citadels, Vietnam is undoubtedly a haven for photography enthusiasts. Vietnam's tropical climate also means relatively clear skies and mild temperatures throughout the year, resulting in spectacular sunsets and sunrises. Stunning photo opportunities in Vietnam range from traditional architecture, such as Hanoi's Temple of Literature and Hoi An Ancient Town, to the stunning UNESCO-listed Ha Long Bay and stepped rice terraces of Sapa. Here is the 10 most photographed places in Vietnam for Instagram lovers.
1. Ha Long Bay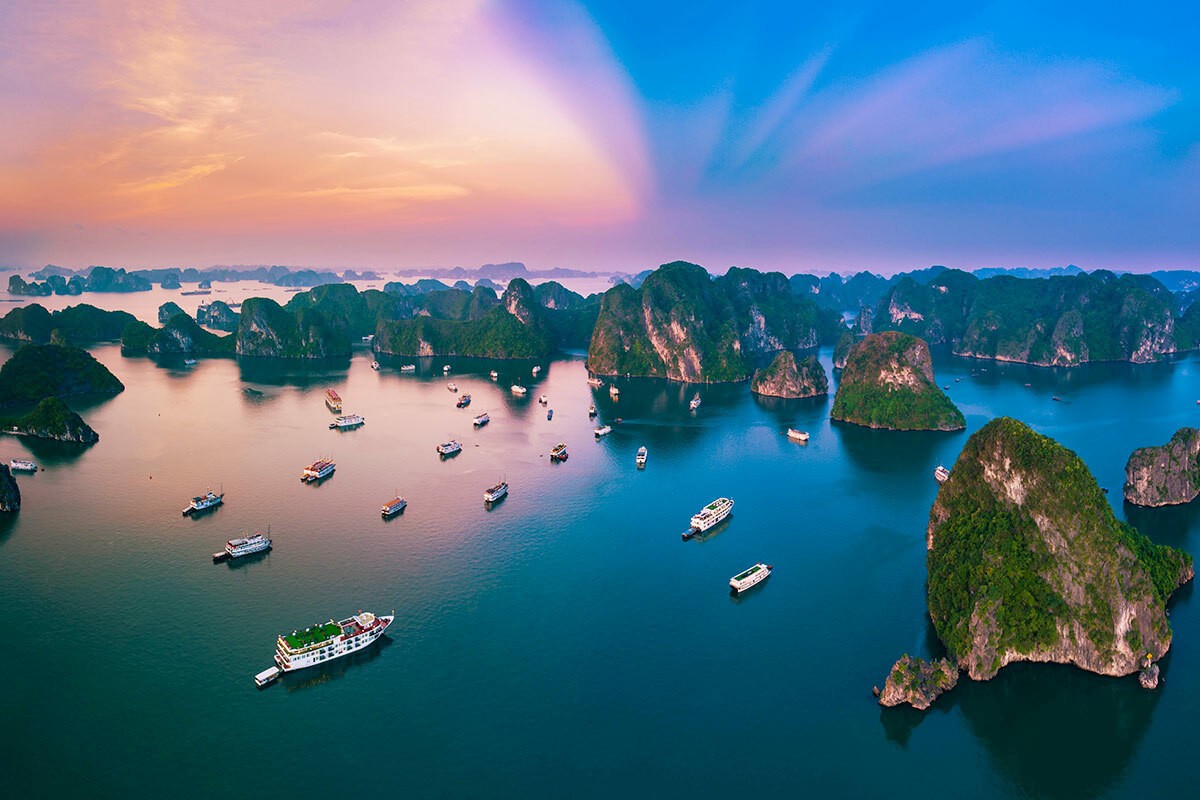 Photo: VnExpress International
Towering limestone pillars and tiny islets topped by forest rise from the emerald waters of the Gulf of Tonkin. Designated a World Heritage Site in 1994, Halong Bay's scatter of islands, dotted with wind- and wave-eroded grottoes, is a vision of ethereal beauty and, unsurprisingly, northern Vietnam's number one-tourism hub.
Sprawling Halong City (also known as Bai Chay) is the bay's main gateway, but its high-rises are a disappointing doorstep to this site. Most visitors opt for cruise tours that include sleeping on board within the bay, while a growing number are deciding to eschew the main bay completely, heading straight for Cat Ba Island from where trips to less-visited but equally alluring Lan Ha Bay are easily set up.
All visitors must purchase entry tickets for the national park (40,000d) and there are also separate admission tickets for attractions in the bay, such as caves and fishing villages (30,000d to 50,000d).
2. Hoi An Ancient Town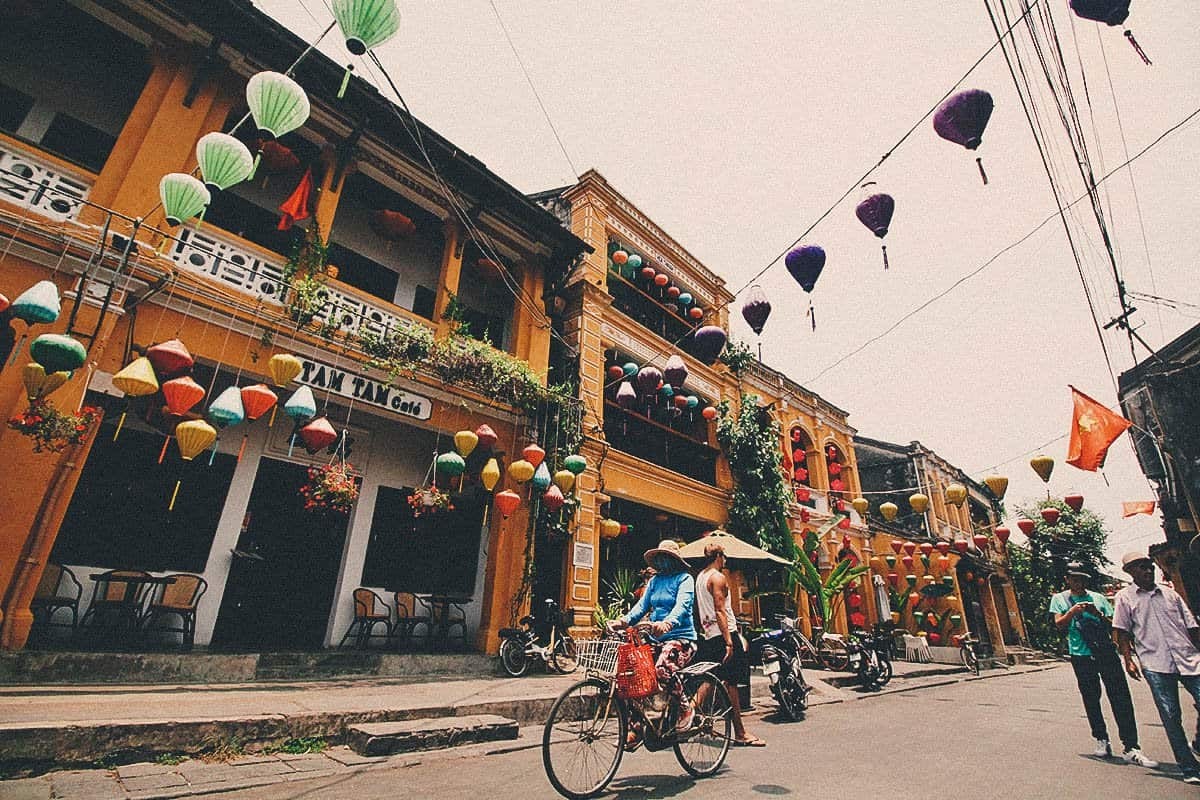 Photo: Will Fly For Food
Hoi An has been through a few centuries of history but still remains as in the very first days of its being born. Its two main historical landmarks are the occupying of the Japanese & Chinese, and the Western (Dutch and Spanish) during the 16th and 17th centuries.
During the period of the China trade, the town was called Hai Pho (Sea Town) in Vietnamese. Originally Hai Pho was a divided town, because across the "Japanese Bridge", it used to be the Japanese settlement (16th-17th century). Then it was known to the French and Spanish as Faifo, a major international port city.
Thanks to these days, the foreign comprehensively positive and special pastimes and culture had made deep influences on today's Hoi An.
Hoi An's delicacies are plentiful and particularly tasty and cheap. Let's take an example, one of the most popular one – Cao lầu, a dish of rice noodles somehow closer in texture to pasta. What is its secret?
It is the water used to make it, being collected from a special well in the city. The noodles are topped with slices of roast pork, dough fritters, and lots of fresh herbs and veggies. I think you should try one of these, or else you will soon regret!
Let's see, you are sitting on stools, eating a bowl of Cao Lau with wooden chopsticks, and sipping ice cold "White Coffee with vinamilk"! Oh, this is really an interesting adventure!
3. Sand Dunes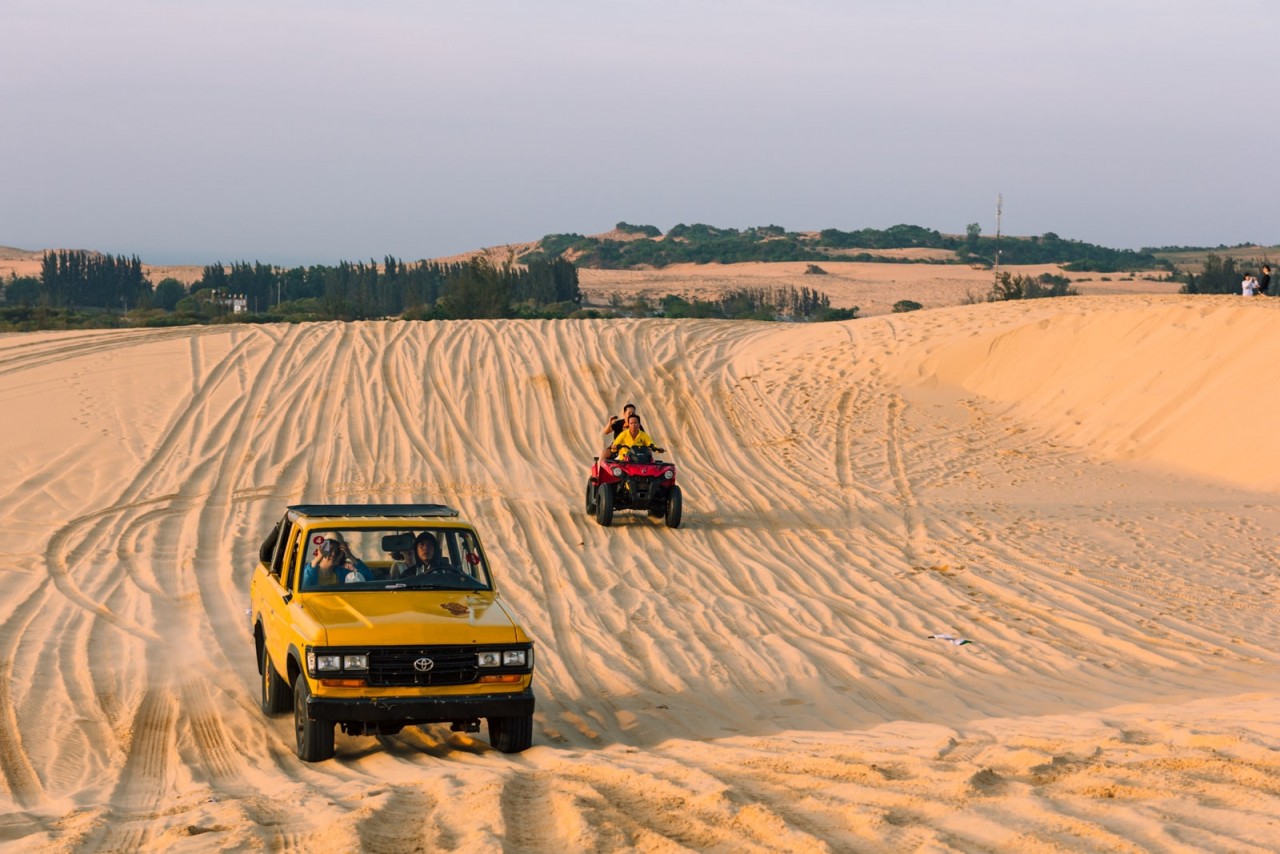 Photo: Culture Trip
Mui Ne in Phan Thiet city, Binh Thuan province is not just famous for marvelous beaches with turquoise water and azure sky near luxury resorts, but also an enormous sand area stretching to Ninh Thuan. The nature here bestows a wonderful scenery in these Mui Ne sand dunes. If you are wondering for an amazing destination to reach this year, you should not ignore this place!
One of the most exciting touring activities in Mui Ne is riding Jeep to conquer these sand dunes. This is one of should-not-miss sports games when popping in White Sand Dunes. The feeling of riding on Jeeps seemingly brings a sense of conquering and enjoyability. Many races are held by tourists as small contests to relax and entertain. The most wonderful feeling is that you can ride alone along sand dunes, contemplate the scene and take some photos. These wonderful "roads" will make you more cheerful or inferior to the nature. We would recommend you visit this site in the early morning or late afternoon to view the best scene there. One thing you should always remember is to bring along lots of water as you will really need it for the trip under the hot and amid weather.
In case you want to experience the enjoyable and fun time full of activities, the Red Sand Dunes will be a perfect choice for sure. Activities to relax in this sand hills are quite various. Tourists can drop by the foot of sand dunes, gather with friends and relatives and contemplate the beauty of Red Sand Dunes. For young tourists, the special sand dunes are perfect places for strolling, taking photos and having funny time together. The stunning beauty of sand dunes attracts not just photographers, but also artists and artisans.
4. Son Doong Cave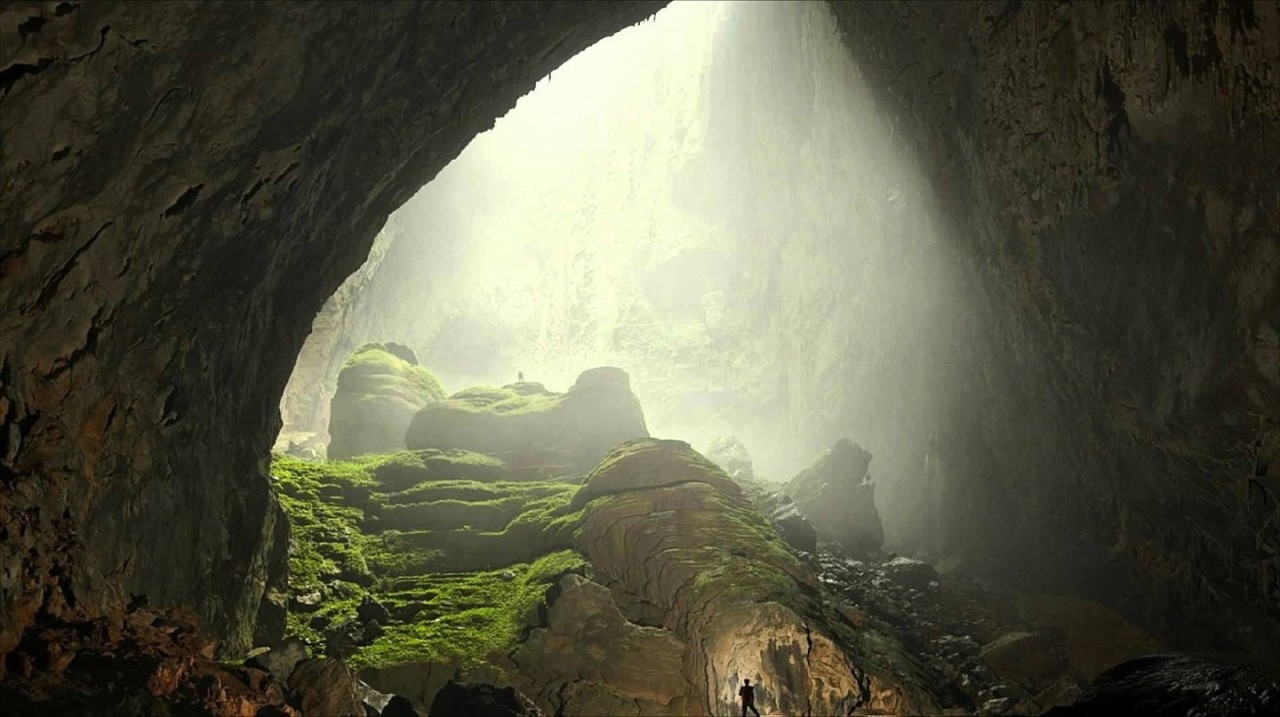 Photo: Flickr
Hang Son Doong (Mountian River Cave), the largest cave in the world, is located right in the heart of Phong Nha-Ke Bang National Park in the Quang Binh province of Vietnam. It was formed during the Cambrian-Permian geological eras, putting it at a date between 400–450 million years old. No words can do justice to the size of this UNESCO protected cave—it stretches for over three miles (five kilometers), and it reaches heights of 650 feet (200 meters). The main cavern is large enough to house an entire New York City block.
What's even more amazing is that the ecosystem created within the cave has its own weather system and creates its own clouds. Inside, you will find the largest stalagmite known to man, hanging at 262 feet tall (80 meters), and fossils dating back millions of years. Collapsed ceilings have created openings known as dolines, and this has allowed foliage to grow inside the cave. You will come across jungles and rivers enveloped by misty clouds, and microorganisms thriving in the darkness. It is a whole other world, devoid of much human interaction. You will be walking into an image of Earth as it was hundreds of million of years ago. Think of it like A Journey to the Center of the Earth by Jules Verne. Maybe you will find dinosaurs inside.
5. Temple of Literature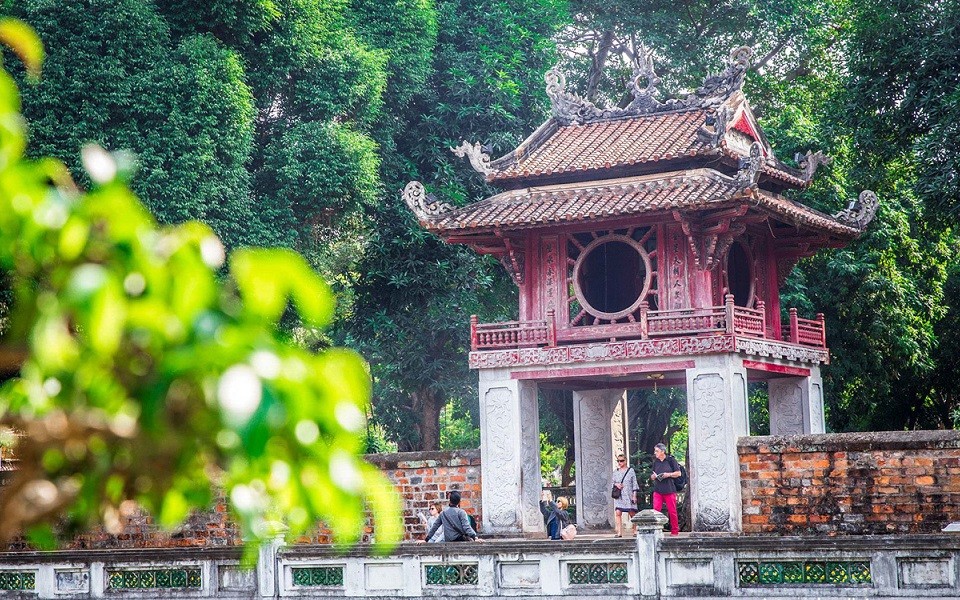 Photo: Indochina Voyages
Tucked behind a walled compound with five separate courtyards, the Temple of Literature (Van Mieu) was built under Ly Thanh Tong's dynasty in 1070 to honour Confucius. It became Vietnam's Imperial Academy (Quoc Tu Giam) shortly after – a prestigious school for top academics. Today, the temple honours Vietnam's finest scholars and signifies the beginning of a uniform educational system in Vietnam.
Students began enrolling at the Imperial Academy in 1076. Once accepted, students would study there between three to seven years. The curriculum was largely Chinese-influenced and involved reading extensively about Chinese history, as well as classical Chinese literature and poetry.
The Academy held four major tests per year with minor tests each month. Scholars had the opportunity to sit the National Exam after completion, and if their scores were high enough, they sat the Royal Exam, administered by the Emperor himself.
Needless to say, it was a high honour to attend such a prestigious academy and it graduated some of the most brilliant minds in Vietnamese history.
6. Sapa Rice Terraces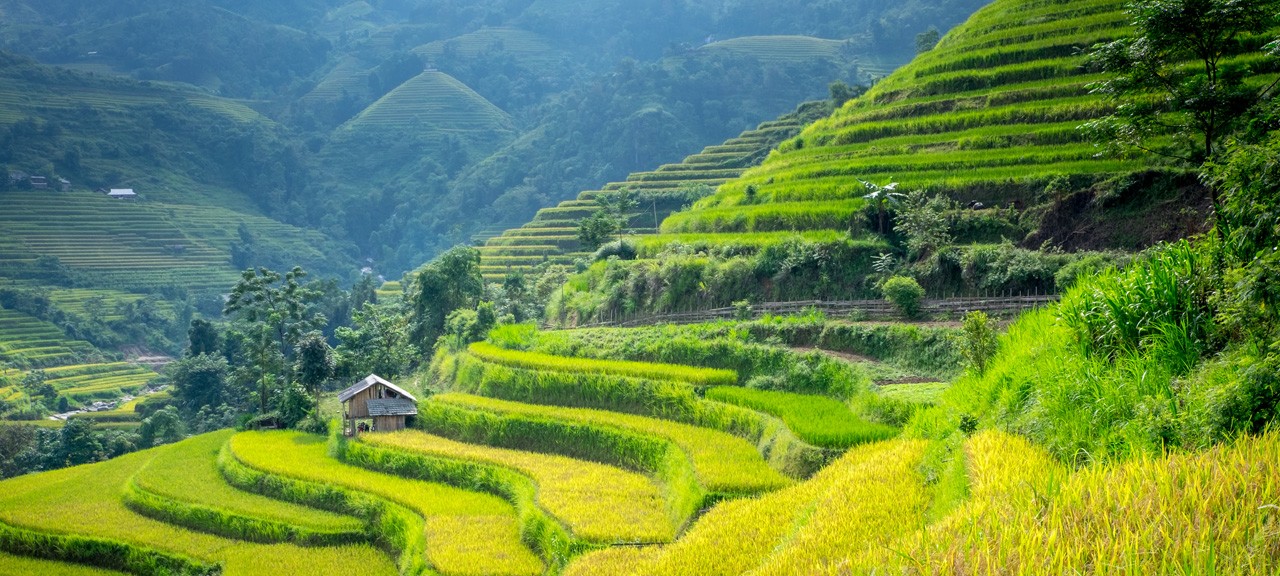 Photo: Trails of Indochina
Terrace rice fields in Sapa is one of the most interesting things to do while traveling sapa with its beautiful natural beauty every autumn and the bustling fields along the mountain slopes creating a lively natural picture. It's been published by the Travel and Leisure Magazine (America) has announced the 7 terraced fields beautiful and most Asian and world readers of this magazine voted, including Sa Pa name of Laos Cai (Vietnam).
Together with other world natural wonders, the Terraced Rice Fields are recognized as natural and man-made masterpieces. Nowadays the world's seven most beautiful terraces: Banaue (Philippines ); Yuangyang (Yunnan Province, China); Ubud (Indonesia, Indonesia); Annapurna (Neve); Mae Rim (Chiang Mai, Thailand); Sa Pa (Lao Cai province, Vietnam) and Long ji (Guilin, China).
On terraced fields and famous Sa Pa tourism area of Vietnam, Travel and Leisure writes: "With a wonderful landscape that looks like a ladder climbing up the terraces. Sa Pa has become one of the most tourist attractions of Vietnam.
You can take the train from Hanoi to Lao Cai city and then go to Sa Pa. You can see the scenic rice fields along road to Sapa. Also here visitor have chance to see the girl Mong, Dao … with page colorful and hospitable. "
It is a sub-tropical monsoon climate (called the flooding season). Lao Cai highland as well as some Northwestern provinces to May 5-6 each year in the new season. sowing rice. This is the time when the most beautiful scenes of the summer appear on the terraced rice fields around the high mountains of Sa Pa, Bac Ha, Bat Xat and Si Ma Cai.
7. Hanoi's Old Quarter
Photo: Pinterest
Hanoi, Vietnam's capital, is a diverse and bustling city with much to offer to eager tourists and settled locals alike. Walk north from Hoan Kiem Lake, across Cau Go, and suddenly you're in the tumultuous streets of the Old Quarter, a congested square kilometre that was closed behind massive ramparts and heavy wooden gates until well into the nineteenth century. As one of the city's hot-spots, Hanoi's Old Quarter is considered the main business hub as well as the best tourist spot in the city. This charming part of the city offers an impressive insight into the complex and long history of Hanoi, whilst alongside rife modernisation.
The Old Quarter's street names date back five centuries to when the area was divided among 36 artisans' guilds, each gathered around a temple or a dinh (communal house) dedicated to the guild's patron spirit. Even today many streets specialise to some degree, and a few are still dedicated to the original craft or its modern equivalent. The most colourful examples are Hang Quat, full of bright-red banners and lacquerware for funerals and festivals, and Hang Ma, where paper products have been made for at least five hundred years. Nowadays gaudy tinsel dances in the breeze above brightly coloured votive objects, which include model TVs, dollars and cars to be offered to the ancestors. A selection of the more interesting streets with an element of specialisation is listed below. Note that hang means "merchandise", not "street".
A dynamic and ancient area full of cafes, food stalls, restaurants and various vendors there is always something interesting to find in the Old Quarter. Apart from one gate, at the east end of Hang Chieu, the walls have been dismantled, and there are few individual sights in the quarter; the best approach is simply to dive into the back lanes and explore. Alternatively, you might like to see it first from the seat of a cyclo or one of the new electric cars that zig-zag through its streets to help you pinpoint places you'd like to come back to.
8. Hue Imperial City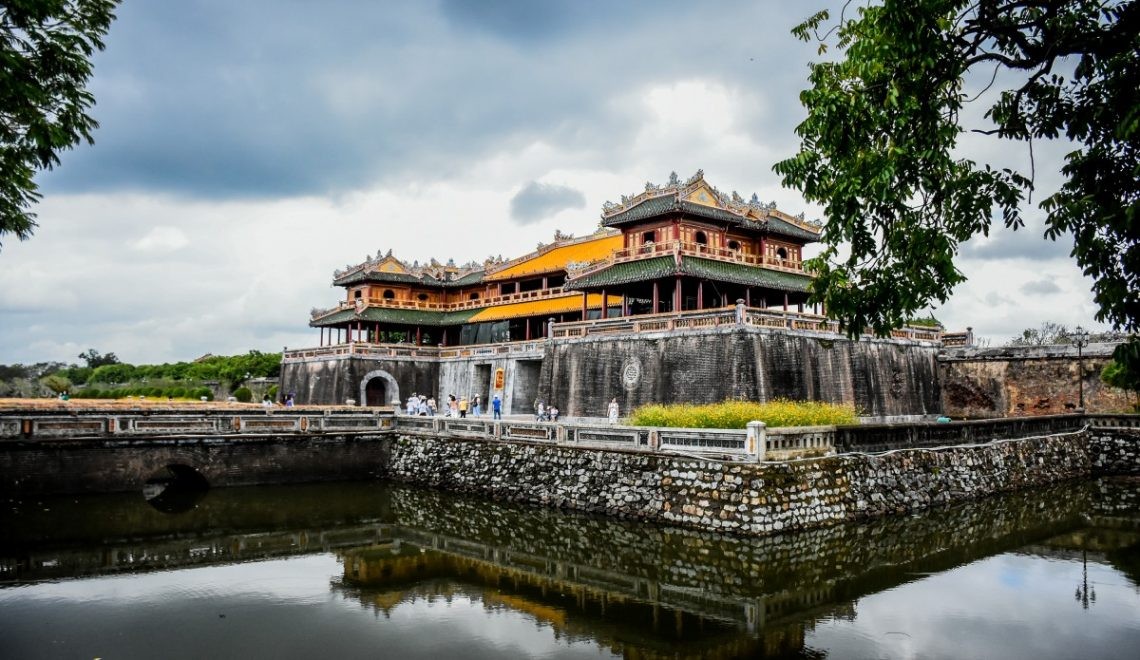 Photo: We wander the world
Hue was found as the capital of Vietnam by King Gia Long in 1802 until abdication in 1945. The Imperial City of Hue was built in 1805 under King Gia Long and took 30 years to finish during the reign of King Minh Mang.
Hue Citadel was built on an area of over 500 hectares and limited by three city walls in the order of Kinh Thanh, Hoang Thanh, and Tu Cam Thanh.
It's a nearly square citadel, about 2.5km from each side, with the front curved in the direction of the Perfume River.
The construction is 6.6m high, 21m thick, including ten doors. The fortress is equally spaced, accompanied by cannons and ammunition.
You should visit in the morning or early afternoon to have more time exploring the construction because the citadel closes at about 5 pm.
Also, although you can visit Hue anytime, January and February are the ideal time to wander around the historic venues in Hue, thanks to the pleasant weather. If you're interested in joining the festivals, April to June is an excellent time to visit.
The area of Hue Citadel is enormous and consists of 140 constructions. Therefore, if you'd like to take a comfortable, leisurely trip, it takes from half a day or a whole day to feel and thoroughly explore the architecture.
9. My Son Sanctuary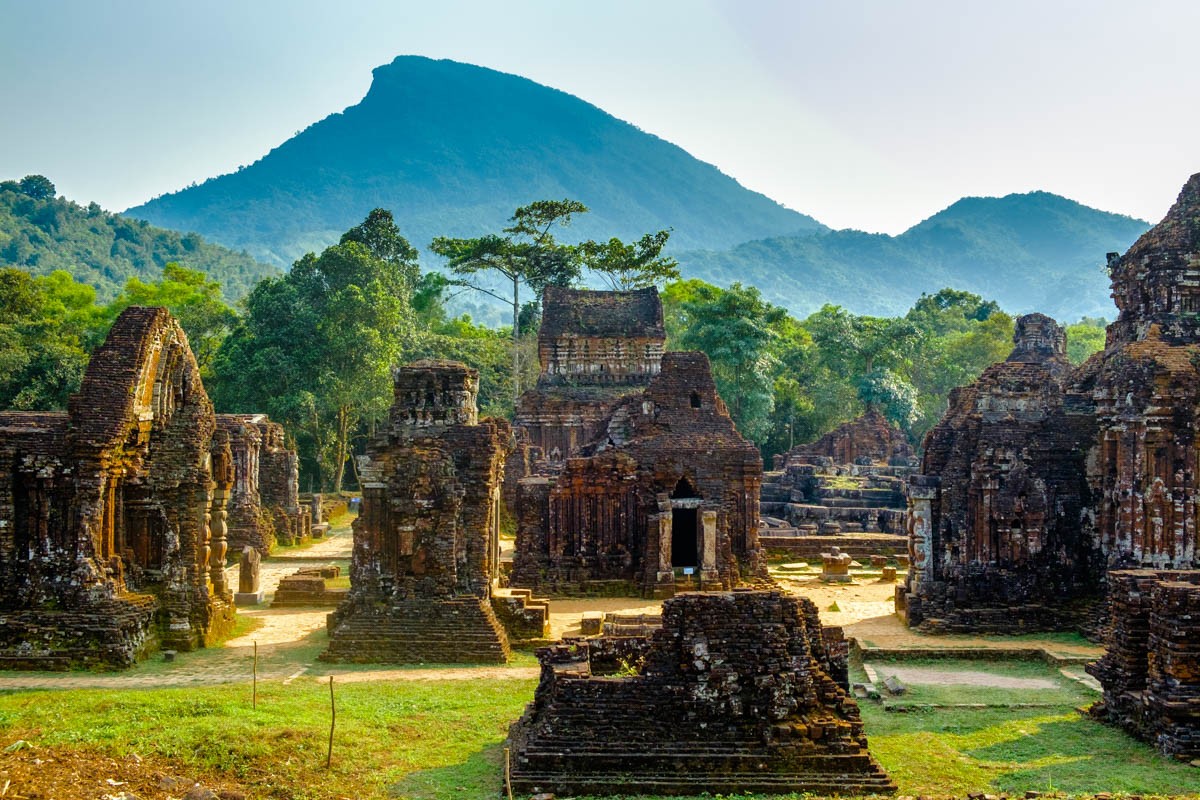 Photo: Normad is Beautiful
My Son Sanctuary is situated in Duy Phu commune, Duy Xuyen district, Quang Nam province, about 69 km from Da Nang City and 20 km from Tra Kieu ancient capital. It is the complex of numerous Champa tower-temples in a valley roughly two kilometers wide, surrounded by two mountain ranges. This used to be a site of religious ceremony for kings of the ruling dynasties of Champa, as well as a burial place for Cham royalty and national heroes. My Son Sanctuary is regarded as one of the main religious centers of Hinduism in Southeast Asia and is the foremost heritage site of this nature in Vietnam. Notably, among 225 Cham vestiges that are founded in Vietnam, My Son possesses 71 monuments and 32 epitaphs, the content of which is still being studied. My Son Sanctuary is often compared with other historical temple complexes in Southeast Asia, such as Borobudur of Java in Indonesia, Angkor Wat in Cambodia, Bagan of Myanmar or Ayutthaya in Thailand.
My Son Sanctuary was honored as one of the UNESCO World Heritage Sites at the 23rd session of the World Heritage Committee in 1999. Based on architectural remains, My Son perhaps began construction in 4th century. Over many centuries, the holy land added a great number of multi-shaped towers to become main vestiges of Cham culture in Vietnam. Beside ceremonial functions, My Son is a cultural and religious center of Champa Dynasty, as well as the burial place for Kings, royalty and powerful national heroes. My Son is greatly influenced by Indian architecture - reflected in the temples immersed in the glorious past, and Indian culture - reflected in ancient Sanskrit inscription on steles. One of the most important steles found at My Son is erected by Dharma Prakasa in 657 AD. The purpose of steles was to commemorate the king's establishment of a god identified as the ruler of the world, i.e. Shiva. These steles are important because it sets forth the king's ancestry and is of great help in reconstructing the sequence of Champa's rulers.
10. Cao Dai Temple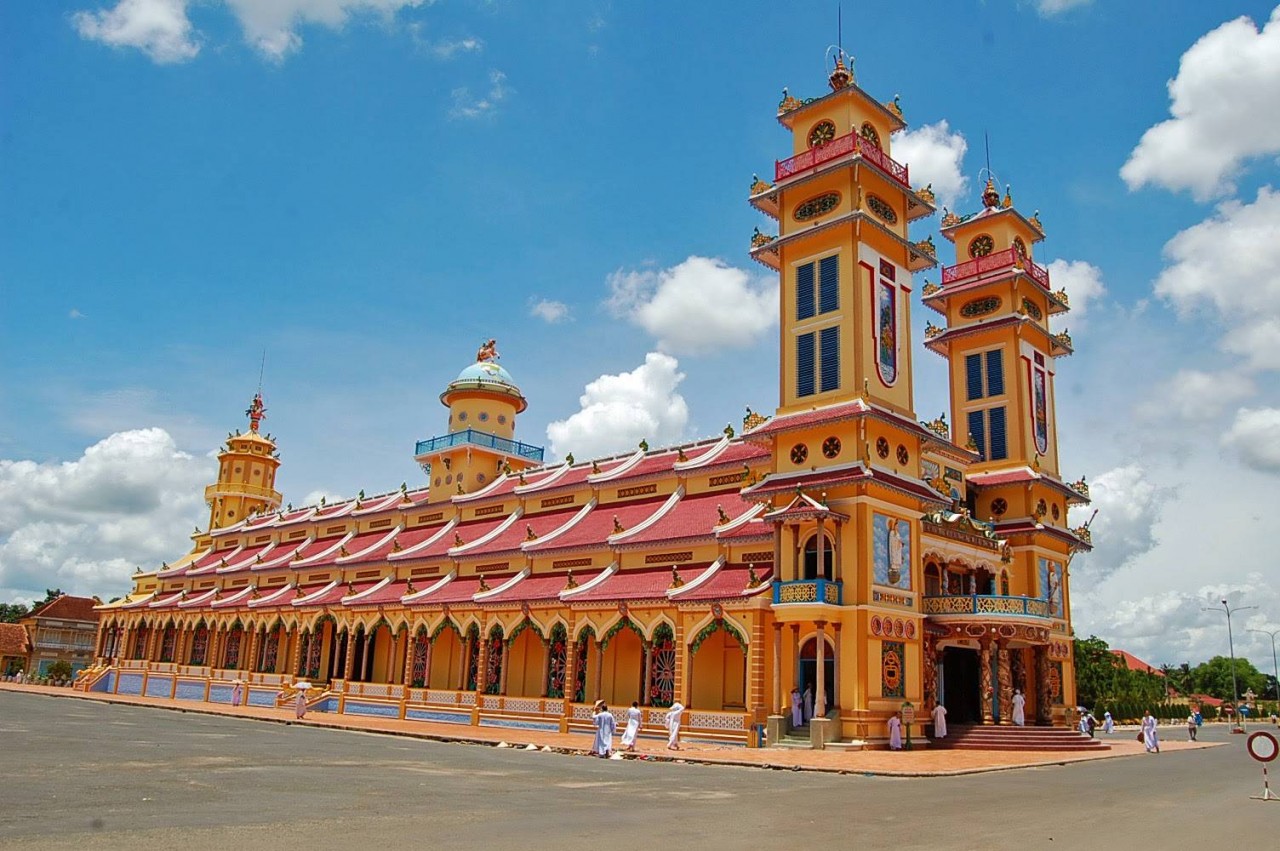 Photo: Asianway Travel
Cao Dai Temple (also known as Cao Dai Holy See) was constructed in 1933 in a unique architectural style that reflects its blended traditions. Of all the places most people visit on a day trip from Ho Chi Minh City, going on a day tour to Cao Dai temple is one of the best things to do in Ho Chi Minh city to fully embrace the unique local vibe.
The Cao Dai religion (Caodaism) is unique to southern Vietnam and was established in 1926, this temple was built by the French around that time. It's something completely different and rather mysterious. Cao Dai blends Buddhism, Christianity, Taoism, Confucianism, and Islam. It is the 3rd largest religion in Vietnam and the temple you will visit is absolutely stunning.
The founder of the Cao Dai religion was Ngo van Chien, a Vietnamese official who worked for the French administration. The literal translation of Cao Dai is A Top Place. This religion has distributed 5 million adherents by Vietnam, Europe, and The United States. Its symbol is an eye within a triangle, the third eye or the eye that everything he sees and the triangle is the triangle of justice.
Cao Dai's pantheon of saints includes such diverse figures as the Buddha, Confucius, Jesus Christ, Muhammad, Pericles, Julius Caesar, Joan of Arc, Victor Hugo, and the Chinese revolutionary leader Sun Yat-sen. These are honored at Cao Dai temples, along with ancestors.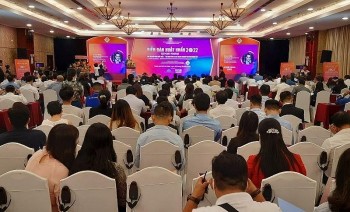 Focus
Vietnam News Today (Dec. 9): Vietnam - Singapore innovation centre helps firms transform production; HCM City among most searched destinations by travelers; Vietnamese digital technology industry's revenue estimated at 148 billion USD in 2022; Two Vietnamese films up for consideration at Oscars.