Travel To Phan Thiet – Mui Ne: What's Best Things To Do During Your Visit
Mui Ne is one of the must-visit places when you travel to Vietnam. Here are the best things to do in the region, and where to visit.
Vietnam has all of the things that make your trip to this country unforgettable and fabulous. The country has great mountains, ornate pagodas and temples, perfect beaches, outstandingly beautiful architecture, historical sites, cultural centers, distinctly delicious foods, and many things more to see, admire, enjoy, and learn about. Each region or area in the country has its specific attractions. Besides the Nha Trang, Phu Quoc, Phan Thiet – Mui Ne features famous beaches, unique local life at fishing village, amazing dishes from fresh seafood, sand dunes, Fairy stream, the ancient towers of Cham people. Phan Thiet – Mui Ne is also well-known for kite and wind surfing.
While Phan Thiet and Mui Ne are among the busiest coastal towns in Vietnam, it remains relatively untouched by urban development, making it an ideal retreat from the bustling cities of Saigon and Hanoi. The most famous attractions here are the Red and White Sand Dunes, where travellers can enjoy a fun-filled day of riding ATVs or sliding down the slopes on rickety sleds. With that being said, there's more to this town than the extraordinary desert plains, so here are a list of Phan Thiet and Mui Ne's most popular attractions.
1. Red Sand Dunes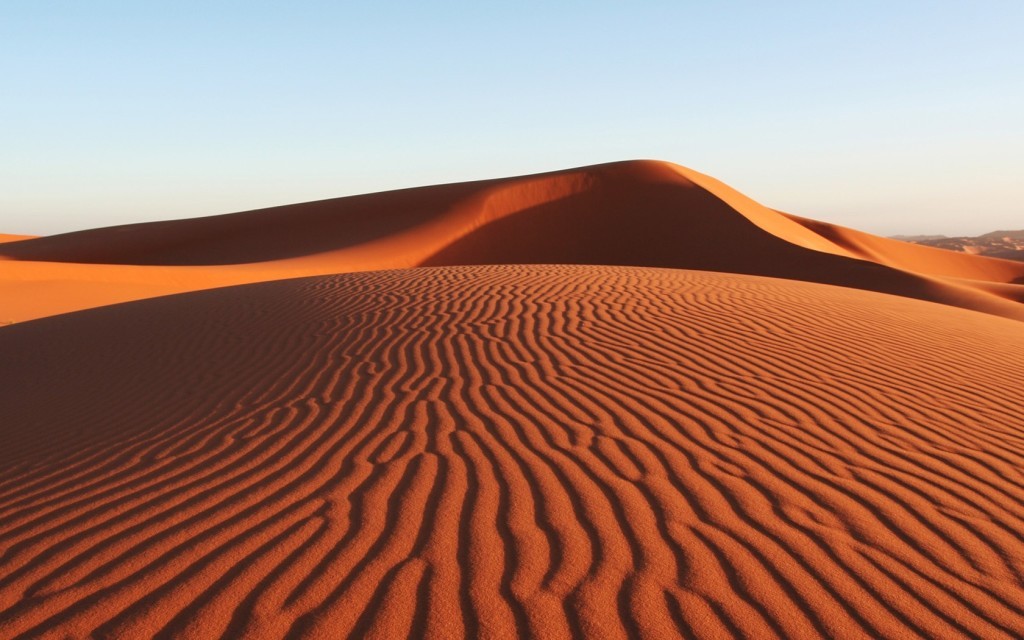 Photo: Exploratrip
Red Sand Dunes stretches along the sand strip of Binh Thuan. The scenery here is painted with a red pink color under the influence of monsoon seasons all year round. These sand dunes appeal both domestic and international tourists.
Mui Ne - Phan Thiet is not just famous for marvelous beaches with turquoise water and azure sky near luxury resorts, but also an enormous sand area stretching to Ninh Thuan. The nature here bestows a wonderful scenery in these sand dunes. Mui Ne Red Sand Dunes is located in the North of Mui Ne Village, about 20 km from Phan Thiet City. Whithout outstanding scenery like White Sand Dunes, Red Sand Dunes fascinates tourists by its convenient resorts, and beautiful beach view.
Hiking in these sand dunes will make you imagine about enormous deserts in the Middle East or Africa. Somewhere around this area, there are children enjoying such entertainment as sand sliding, while photographers are trying to record splendid moments of the Nature. Experiencing in Red Sand Dunes is one of unforgettable memories in Mui Ne.
From these sand dunes, an amazing scene will appear in front of your eyes. Flurries will throw the top layer of sand and creates various and unique shapes. By dint of this, Red Sand Dunes becomes more beautiful. Coming to Red Sand Dunes, tourists have a chance to admire this "natural wonder" which changes day by day and hour by hour in the harmony with beautiful sunlight. Red Sand Dunes in Mui Ne are so special. The color of sand changes constantly from yellow to white, pink and red, depending on the sunlight.
2. Mui Ne Beach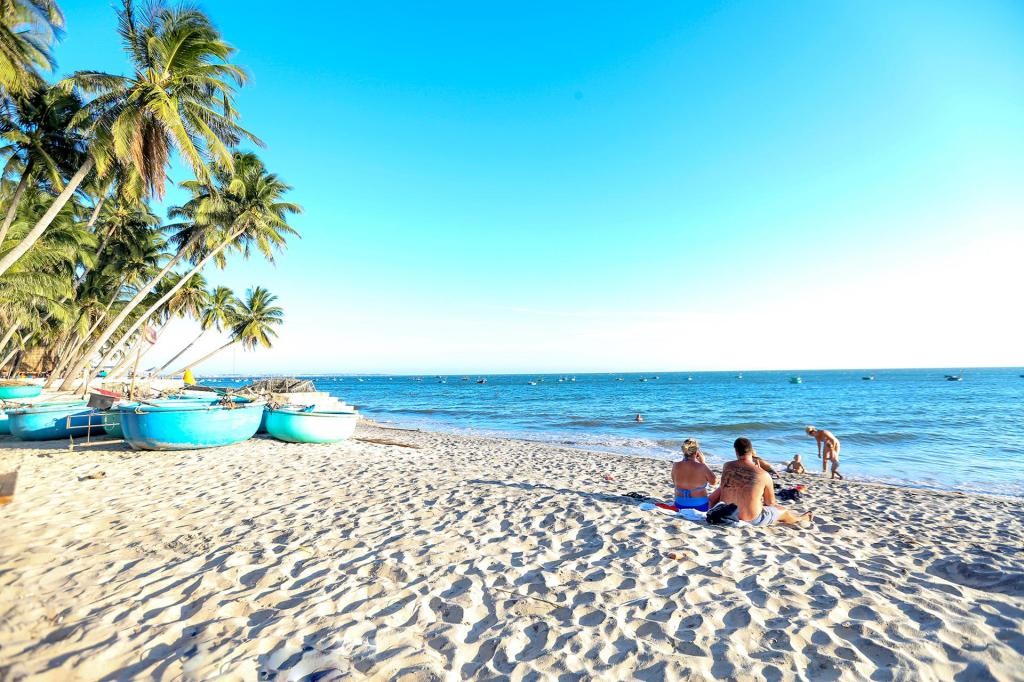 Photo: Agoda
Mui Ne is Phan Thiet's most prominent coastal resort town, spanning 15 kilometres of sandy beaches that are lined with an array of dining and shopping venues as well as luxurious beachfront resorts. Great for experiencing the daily lives of the local population, the northern end of Mui Ne Bay is home to a traditional fishing village which also offers a picturesque view of the coastline lined with swaying palm trees and colourful fishing boats moored on the water.
Visiting the fishing harbour at dawn is a must-do as you'll see local fishermen sorting out hundreds of fresh seafood such as crabs, scallops, groupers, and stingrays. While it remains relatively authentic, the growing numbers of visitors to Mui Ne Fishing Village has resulted in a number of gift shops and affordable seafood restaurants.
The southern area of Mui Ne Beach is dedicated to swanky retail outlets selling quality beachwear, clothes, local handicrafts, and jewellery. There are also plenty of kitesurfing schools offering short courses and equipment rentals. Thanks to its rock-free waters, Mui Ne Beach is ideal for a day of swimming, kitesurfing, kayaking, and surfing. The best time to enjoy these activities are between the months of November and March, when skies are sunny with strong winds, resulting in optimum temperatures and wave conditions.
3. Mui Ne fishing village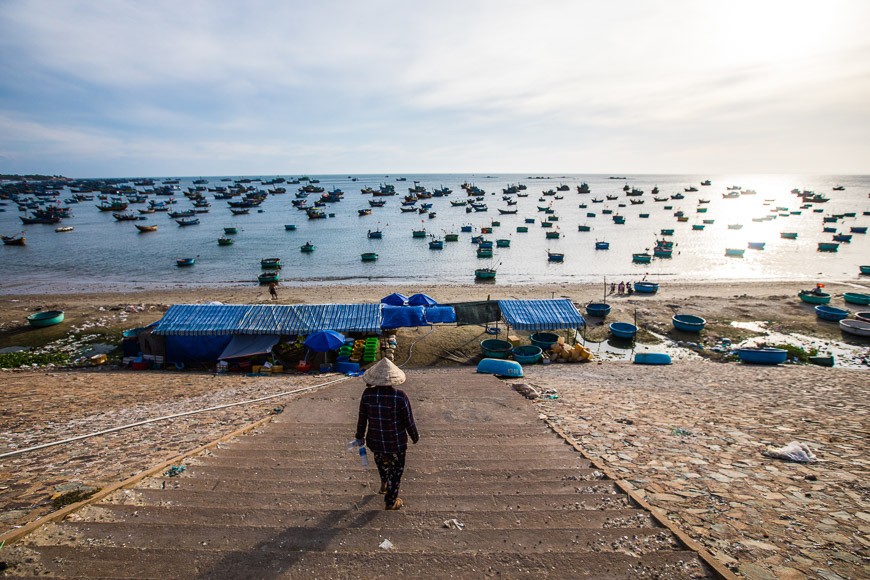 Photo: Vietnam Tourism
Mui Ne fishing village is located on Huynh Thuc Khang street. It's about 200m from Mui Ne bus station, about 23km from the center of Phan Thiet city to the North. Just only 1km from Mui Ne market. From the crowded Ham Tien area, where many resorts and hotels of Phan Thiet city gather , just a 5km drive will take you to the fishing village of Mui Ne, close to the beach.
The fishing village of Mui Ne is located along the coast of about 1km long, the beach here is quiet waves, windy year round. It's an ideal location for shelter ships.
Nestled quietly on Huynh Thuc Khang street and interspersed among the soaring coconut trees of Phan Thiet beach. The fishing village always has a strange charm from dawn until the sun disappears. Viewed from above, the familiar scenery of the sea, the fishing boats in the distance are interspersed with eye-catching green baskets.
Step down a step stairs, you will "fall" into the Mui Ne fishing village fish market. This is where the locals conduct netting every morning as well as buying crabs, shrimps and fresh fish from the basket boats that have just been brought in. The bustling business scene here and there continues day after month like a cycle.
4. Po Shanu Cham Towers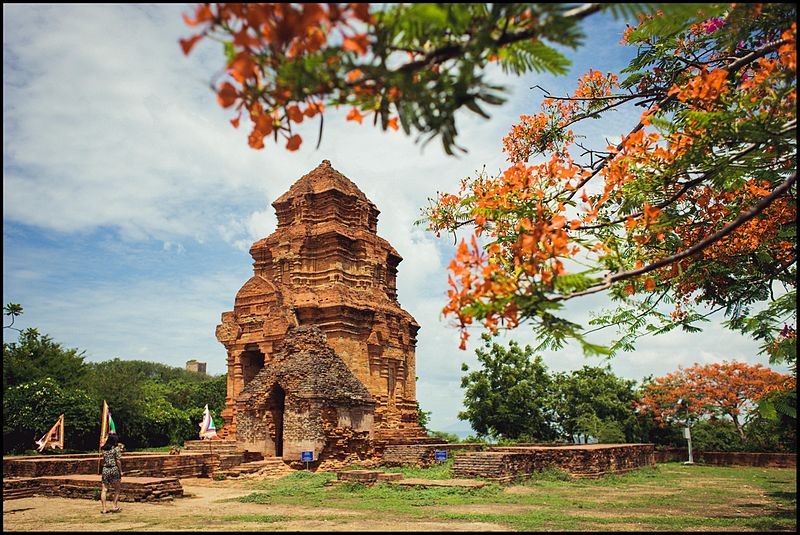 Photo: Well Known Places
The towers are located a few kilometers east from Mui Ne on the way to Phan Thiet. The ruins have been here since the 9th century, and the towers are used to this day by the local Cham people to worship their gods, Mbang Kate festival, Ramadan and other religious celebrations. Mbang Kate is the highlight of the year, celebrated at the beginning of October for ten days when Cham people honor the dead and heroes by giving offerings and performing sacred dancing. The drive itself to the towers is enjoyable, and you will be rewarded by gorgeous views from Ba Nai Hill when you get to the Towers.
Further west on the way there is Ta Ku Mountain, so it's best to combine these two attractions. There's also Viet Sand Art Exhibition "Forgotten land" on the way. It is the closest stop going west from Mui Ne, before Cham Towers, right after Sea Links Golf Country Club. The sand park offers many impressive sand sculptures of castles, gods, animals, and characters for fairy tales that might be admired not only by children.
5. Fairy Stream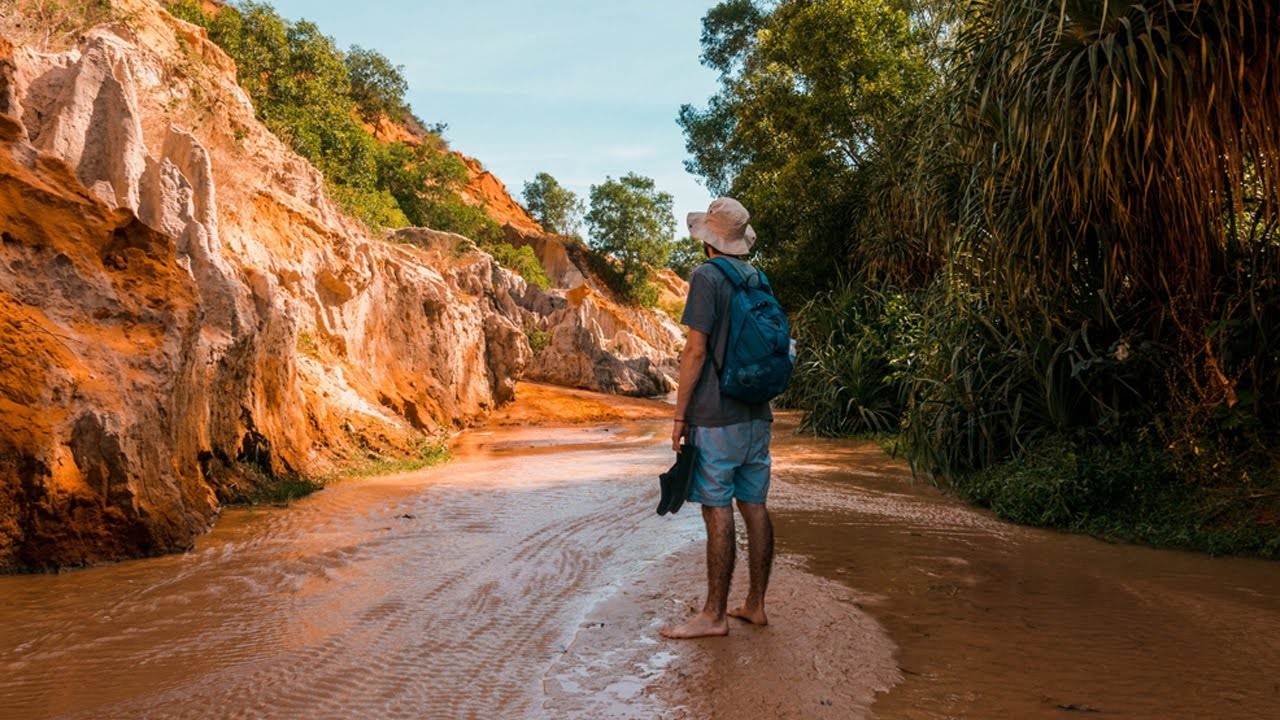 Photo: Noahvde
Winding its way through bamboo forests, boulders, and the dunes behind Mui Ne, the whimsically-named Fairy Stream resembles a miniature version of the Grand Canyon in places. For the most part, the stream is about ankle-deep and no more than knee-deep even at its deepest and visitors are encouraged to take off their shoes and follow right along the creek-bed. The soft red dirt is remarkably pleasant to walk through, avoiding the exposed sand and rocks on the shore that can get quite hot.
The pitted rock formations off to the sides of the stream also seem like the perfect hiding place for any potential fairies which may be where the stream gets its name. However it could also simply be the image of people strolling through the opaque red waters as though it were a groomed hiking trail, like the hikers themselves were children of nature.
6. The Prince's Castle
Photo: Guide Vietnam
Prince's Castle Phan Thiet covers a complex of mountains, rivers and towers creating the spectacular scenic spot. The most prominent is the relatively high mountain and 4 undulating hills adjacent the sea. Ba Nai Hill, Phu Hai estuary, the coast along with the ancient fishing villages 7 km far from Phan Thiet to the northeast are touches attracting tourists to go to Prince's Castle Phan Thiet. Located on top of Ba Nai Hill - Phan Thiet, Prince's Castle Phan Thiet is considered as the highlight for the beautiful natural scenery famous in South Central Vietnam. It preserves the ancient taciturn features deserving one of the appealing tourist attractions in Phan Thiet - Mui Ne.
Nearly a century ago, Duke De Montpensier landed on top of Ba Nai Hill in a hunting trip. The area was extremely wild at that time. Stopping for a long time to enjoy the beauty of each point of view, he decided to build a palace for relaxation and sightseeing. The locals do not know his name, they thus call the place Prince's Castle to mention a French rich man retaining the particular affection with the beauty in Phan Thiet. From the top of the hill with Prince's Castle Phan Thiet, tourists will take the best panoramic view of entire Phan Thiet city. The city is situated in a huge valley. There are also the endlessly stretching mountain ranges of Lam Dong Plateau dimming in the mist. The facade of the city is the blue sea water along with white undulating waves rolling into the shore. Discovering Prince's Castle is definitely one of the most unforgettable things to do in Phan Thiet - Mui Ne.
7. White Sand Dunes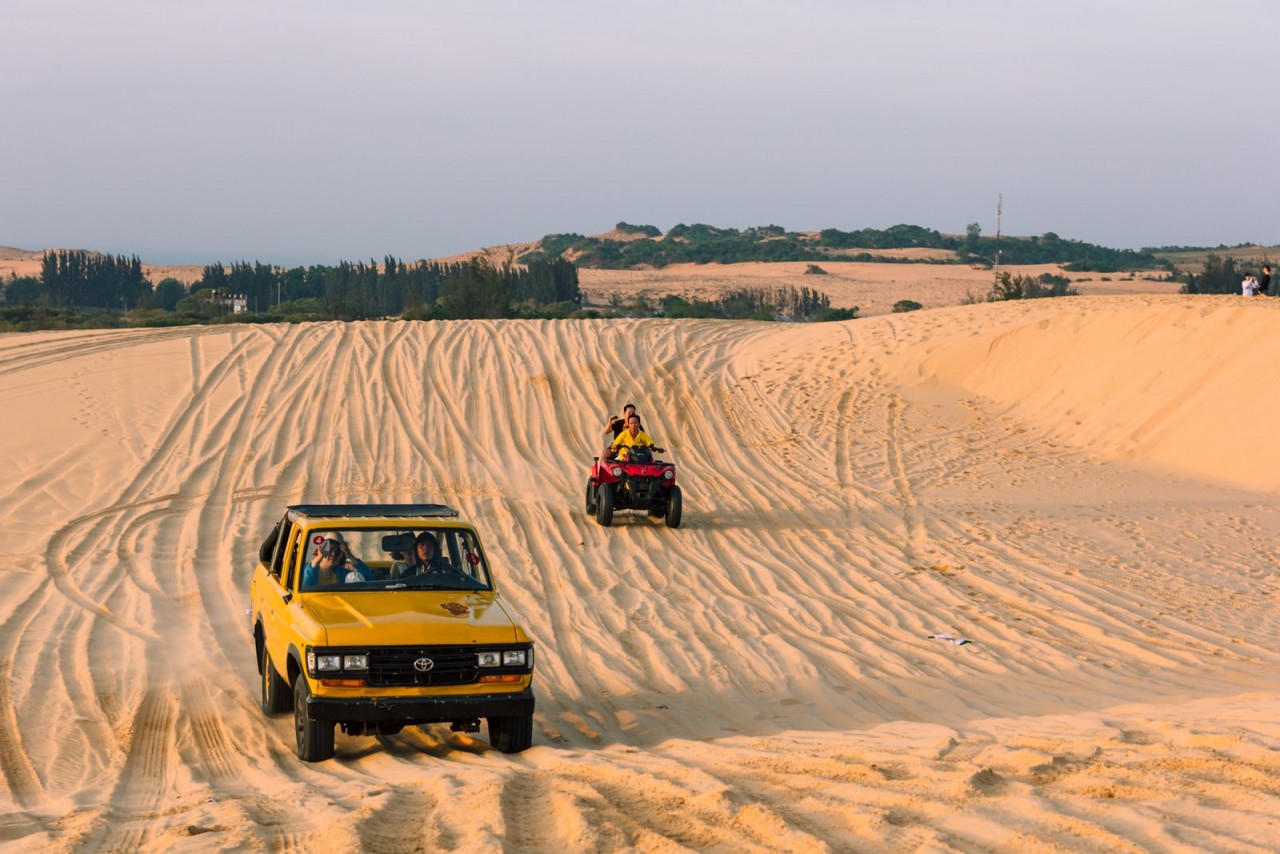 Sina Abasnejad / @ Culture Trip
The White Dunes are by far the larger dunes and are known by locals as Bau Trang or White Lake. There are quite a few small stands selling food and drinks to visitors within the area along with pine trees offering much-needed shade.
The Sand Dunes of Mui Ne are two geological wonders no visitor should ever miss out on their travel itinerary. There are numerous tour operators in Mui Ne that organise daytrips to these Saharan-like red and white sand dunes, but you can easily make your way to both locales if you prefer exploring according to your own pace.
Visitors can rent plastic sleds and it is a wise idea to check the price and agree on it beforehand. Some travelers have had unpleasant experiences with the youngsters renting them out so be alert and keep cool. Another interesting activity is kite flying as well as catching the beautiful sunset here. These dunes are a popular picnic place for locals too.
8. Phan Thiet Central Market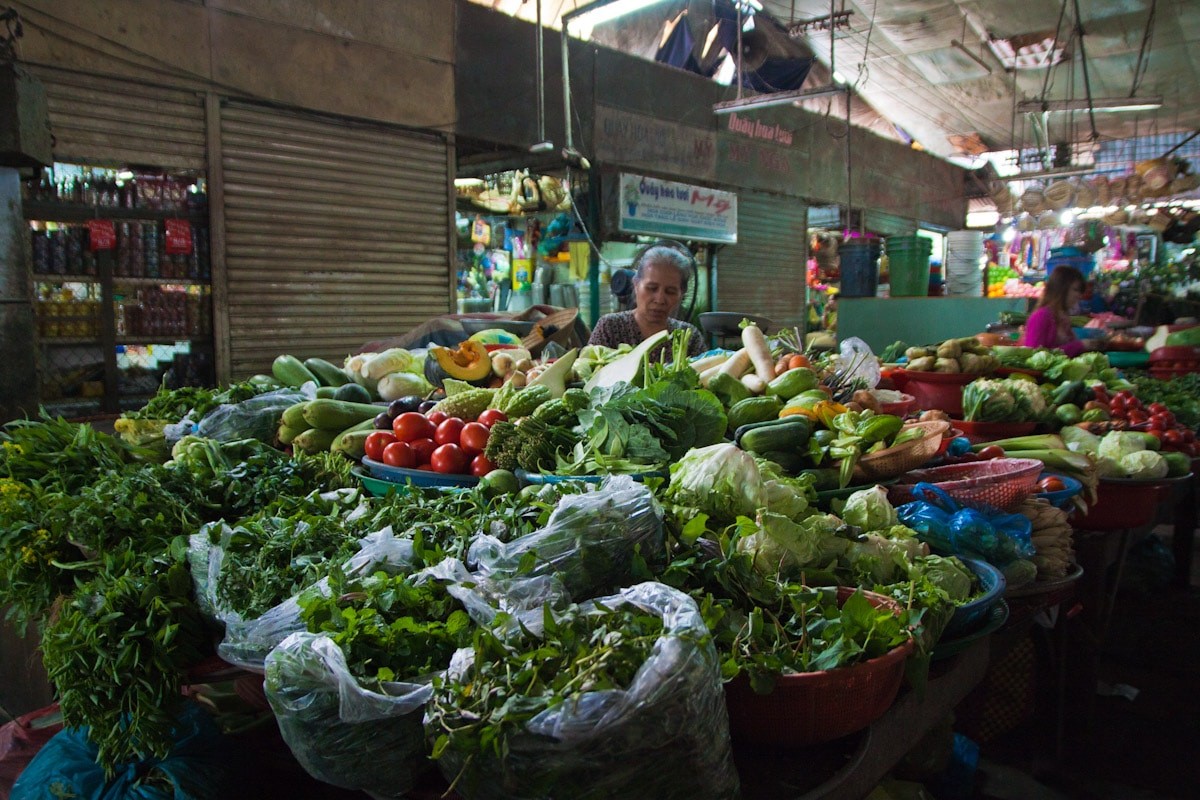 Photo: Uncover Vietnam
Much like the Han Market in Da Nang, Phan Thiet Central Market offers a tapestry of fresh products and handy household items. Packed with delicious seafood, blossoming flowers, and local delicacies, Phan Thiet Central Market is a must-visit for foodies.
Close to Mui Ne's fishing villages, one of the region's highlights, Phan Thiet Central Market is renowned for its bustling maritime trade, the area boasts some of the country's most delicious seafood. Each morning, fresh crab, scallops, and fish arrive in Phan Thiet and are sold on the market that same day, feeding hundreds of hungry locals and travelers.
In addition to the wonderful seafood, there are also homemade Vietnamese delicacies such as pancakes, noodles, sauces, and delicious spices available. Prices are generally very cheap but don't let that stop you from testing out your haggling skills. Phan Thiet Central Market is also a great place to purchase textiles, household items, and stunning ceramic plates and bowls.
Its versatility has been one of the main reasons behind its prolonged success, and a visit there is definitely recommended if you are looking for things to do in the city. Keep in mind that the region gets extremely hot in the summer and the market can get busy, so be sure to dress appropriately for the weather and arrive early.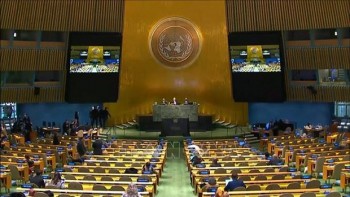 National
Vietnamese Ambassador Dang Hoang Giang underlined the historic significance of the 1982 United Nations Convention on the Law of the Sea (UNCLOS) to all humankind, while representing more than 40 member states of the UNCLOS Group of Friends at a meeting in New York on December 8.