Top 10 Movies to Watch on New Year's Eve of 2022
Enjoy these entertaining and heartfelt flicks carefully picked out for your best 2022 New year experience.
Starting off your 2022 with a bang by revisiting many of Hollywood best entertainment, from off-beat comedies, classics to box office blockbusters. You might find parties with loud music and crowded places more suitable for celebrating New Year 's Eve, but a quiet night with a good movie and a bottle of wine has its own charm. Just sit back and enjoy.
Life with father (1947)
Legendary Hollywood stars Irene Dunne and William Powell have captured to a considerable extent the charm of the play by Howard Lindsay and Russel Crouse (based on the book by Clarence Day Jr). The major humor of the story, based on Father's eccentric characteristics and Mother's continual mollifying of his tantrums, is still evident in the pic.
All that the fabulous play had to offer in the way of charm, comedy, and gentle pathos is beautifully realized in the handsomely Technicolored picture.
How to be single (2016)
The film celebrates independence without implying that we should all become cave-dwelling hermits, cited from The Guardian.
The screenplay by Abby Kohn, Marc Silverstein and Dana Fox is satisfyingly nonjudgmental, framing the women's escapades as natural and healthy, and all their decisions as having relative positives and negatives. Plus, the male characters, while very much secondary, are as sensitively wrought as the female heroes.
Last but not least, Dakota Johnson and Rebel Wilson notch up winning performances in an unsentimental comedy celebrating the highs and lows of being on your own.
Phantom Thread (2017)
Craving dinner night outs? Check out Phantom Thread - a devastatingly beautiful film visually, there are shots of perfectly steamed asparagus dipped into a pool of pale yellow butter, crumpled mushrooms dug up from the earth and the soothing stream of tea poured at breakfast time.
It captures the romantic, frustrating, boring and profound moments that happen over food, and all of the humdrum of life that the dining table witnesses.
Four rooms (1995)
There's no mistaking Four Rooms for anything other than a New Year film… Basically, Four Rooms is a quartet of stories set in the Hotel Mon Signor on New Years Eve.
Each segment is directed by a different director with a, mainly, different cast. Running through the different sections is the sole on-duty bellhop, Ted, played by an impossibly youthful looking Tim Roth.
Fruitvale Station (2013)
Long before super-team duo Michael B. Jordan and Ryan Coogler teamed up in the Marvel Cinematic Universe, they did so in Oakland with Fruitvale Station.
It is an indie film turned critical darling, which documented the life of 22-year old Oscar Grant before he was shot and killed by BART police on New Year's Day in 2009.
Although it was deeply personal, the audience can feel that it gave a face to a polarizing debate about race and authority in America — humanizing one the biggest national discussions of the current time.
Just my luck (2006)
Next one on the list is Linsay Lohan and Chirs Pine's chick-flick "Just my luck".
Not only is luck an onscreen commodity that seems randomly distributed by an unseen force called fate, but the film presents fate as something people can gain knowledge of via the occult.
It tells us that the "wheel of fortune" spins, and you will yourself tangled in the ups and downs in life. It might just be the perfect movie to cheer you up on the first day of the year.
Kung Fu Panda (2008)
It is your favorite Panda from 2008. Why don't revisit this zero-to-hero flick to gain yourself some confidence in 2022? With hard work and determination, even a lazy panda can become a kung fu master and defeat the most evil villain in the jungle.
The film was hugely successful at the box office with global takings in excess of $631 million and was largely welcomed by critics who were won over by the film's humour, animation and action sequences.
200 Cigarettes (1999)
When it first premiered in 1999, this MTV-produced movie wasn't exactly warmly received by critics. In fact, The New York Times called it "a chain-smoking shambles, but an enjoyable one."
But many other cult films were considered bombs at first. And while 200 Cigarettes has not enjoyed the sort of mainstream redemption of, say, The Big Lebowski, it has continued to live on. The plot tells the tale as old as time, New Year's Eve of a group of 20-somethings in New York City looking for party to join The main reason this movie is so enjoyable is the wonderful cast: Kate Hudson, Ben Affleck, Casey Affleck, Dave Chappelle, Guillermo Díaz, Jennifer Albano.
Happy New Year (2014)
From Drama to Action to Comedy to Romance… to what not, This Bollywood movie has everything that you expect in a movie!!
The movie starred many famous Indian stars, including Deepika Padukone - the queen of Bollywood who has created a record for back-to-back hits and there has been no actress yet who has been able to beat her record.
Ocean's Eleven (1960)
Perhaps no other film symbolizes the "cool" of the early 1960s more than this movie. Although a major box-office success, it was dismissed at the time as a virtual home movie for the Rat Pack - the legendary group of three Las Vegas entertainers, including Frank Sinatra, Sammy David, Jr. and Dean Martin.
Ocean's Eleven inspired a later popular trilogy (2001, 2004, and 2007) that starred Geogre Clooney, Brat Pitt and Matt Damon.
Honorable Mention
High School Musical
Perhaps one of the most iconic meet-cutes of all time, Troy and Gabrielle spend New Year's Eve singing karaoke. However, when Troy realizes his one-night singing partner is his new classmate, the two begin a relationship and star in their high school's spring musical.
With its requisite group countdown and end-of-night kiss, New Year's Eve is inherently a cinematic holiday.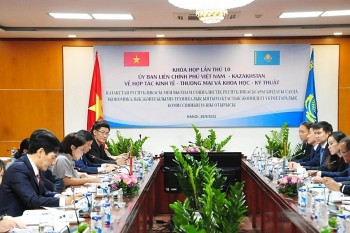 Friendship
The 10th session of the Vietnam-Kazakhstan Intergovernmental Committee on economic-trade and scientific-technical cooperation was held in Hanoi on September 26.