Top 10 Places To Visit In Vietnam By Lonely Planet
With its dizzying metropolises, blissful islands and immense national parks (not to mention a legendary cuisine!), Vietnam tops many traveller's bucket lists. The highlights of the country are innumerable, but there are some spots that simply can't be skipped. Here's the list of top places to visit in Vietnam by Lonely Planet.
Halong Bay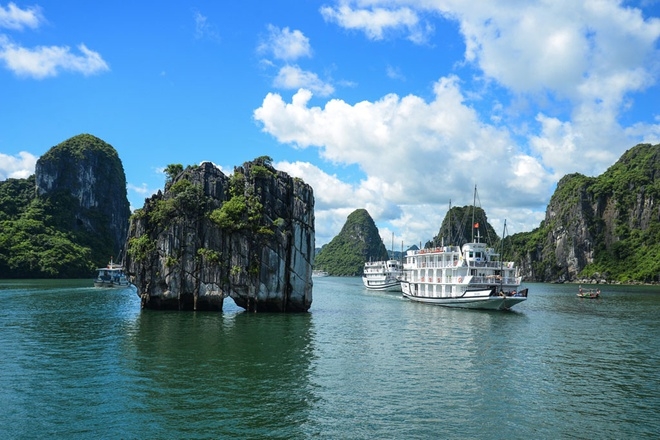 Cruise on Ha Long Bay. @internet
Halong Bay's stunning combination of karst limestone peaks and sheltered, shimmering seas is one of Vietnam's top tourist draws, but with more than 2000 different islands, there's plenty of superb scenery to go around. Definitely book an overnight cruise and make time for your own special moments on this World Heritage wonder – rise early for an ethereal misty dawn, or pilot a kayak into grottoes and lagoons. Prefer your karst landscapes a little less… crowded? Try the less touristy but equally spectacular Lan Ha Bay, located a little way to the south, or Bai Tu Long, to the north.
Phong Nha-Ke Bang National Park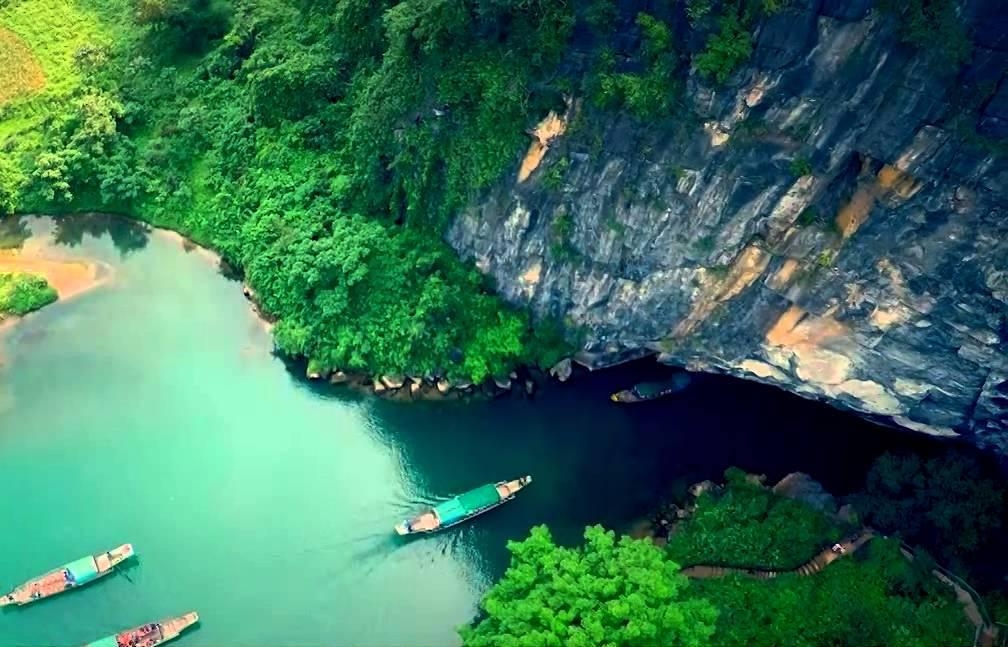 @internet
Vietnam's headline natural wonder is the jaw-dropping Hang Son Doong, one of the world's largest caves, located in the heart of Phong Nha-Ke Bang National Park. The images of ant-like travellers shining head torches around the vast, empty caverns tug on the wanderlust strings; however, unless you have a cool $3000 to spend on a tour, you won't be able to enter this subterranean marvel. But fear not, Phong Nha-Ke Bang has a wealth of other caves that you can clamber, crawl, boat or zipline through for a fraction of the cost, including Hang En, which boasts its own beach. More so, there are plenty of attractions above ground, including guided treks around the oldest karst mountains in Asia, home to tigers, elephants and 300 species of bird.
Ho Chi Minh City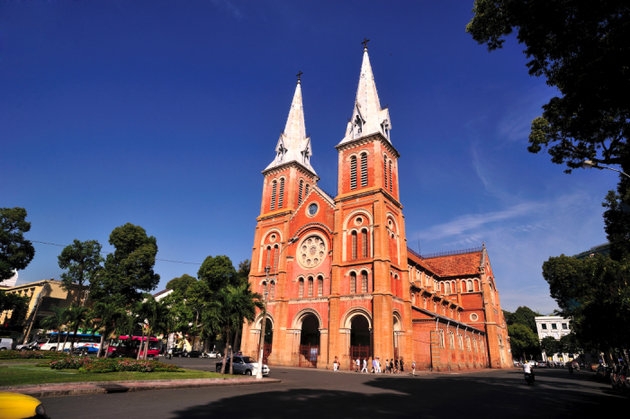 Duc Ba church, Ho Chi Minh city @internet
Increasingly international but still unmistakable Vietnamese, former Saigon has visceral energy that will delight big-city devotees. HCMC doesn't inspire neutrality: you'll either be drawn into its thrilling vortex and hypnotised by the perpetual whir of its orbiting motorbikes, or you'll find the whole experience overwhelming (and some visitors seem to be perpetually seesawing between the two!). Dive in and you'll be rewarded with a wealth of history (the War Remnants Museum an essential stop), delicious food and a vibrant nightlife that ranges from beers on street corners to swanky cocktail lounges. The heat is always on in Saigon; loosen your collar and enjoy.
Phu Quoc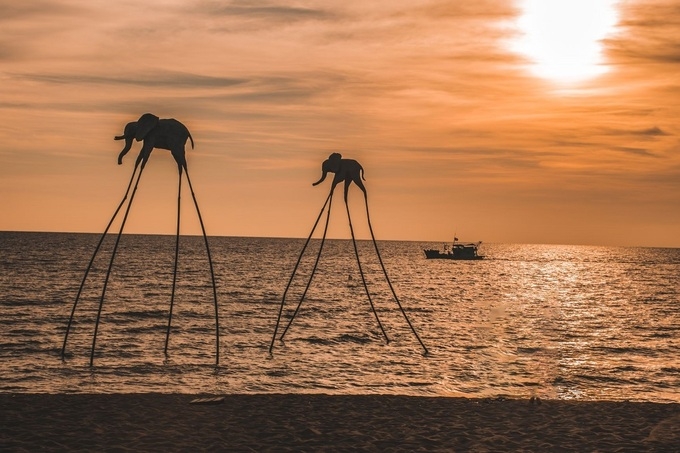 Sunset on Phu Quoc beach. @Shutterstock
Lapped by azure waters and edged with the kind of white-sand beaches that make sun-seekers sink to their weak knees, Phu Quoc – way down in the south of Vietnam – is ideal for slipping into low gear, reaching for a seaside cocktail and toasting a copper sun as it dips into the sea. And if you want to notch it up a tad, grab a bike and hit the red-dirt roads: the island is relatively compact, and offers areas of natural, unblemished jungle alongside some newer, less-serene additions (a Vietnamese version of Disneyland and the world's longest over-sea cable car as two examples).
Hanoi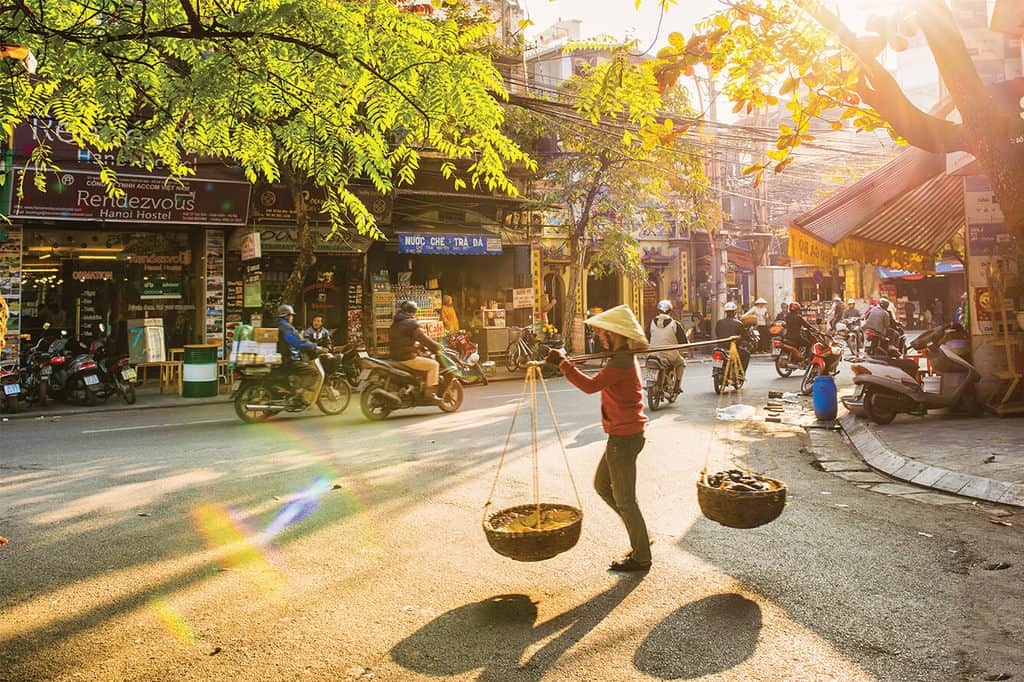 Hanoi in the autumn. @internet
Vietnam's capital is a city with one foot buried in a fascinating past, while the other strides confidently towards tomorrow. Sample Hanoi's heady mix of history and ambition by wandering the streets of the Old Quarter, sipping an egg coffee (coffee prepared with egg yolks) or slurping on a hearty bowl of bun rieu cua (a sour crab noodle soup) while watching businessmen breakfast on noodles or play chess with goateed grandfathers. When you're done, check out the crumbling decadence of the French Quarter then zip up the cosmopolitan Tay Ho for fine dining options and the lowdown on Hanoi's growing art scene.
Hoi An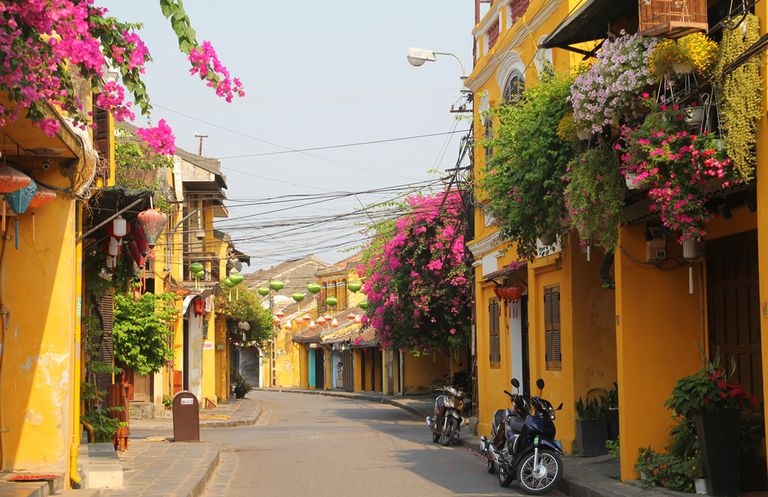 Hoi An Old Town. @internet
Historic Hoi An is Vietnam's most atmospheric and charming town. Once a major port, it boasts the grand architecture and beguiling riverside setting that befit its heritage. The face of the Old Town has preserved its incredible legacy of tottering Japanese merchant houses, elaborate Chinese guildhalls, and ancient tea warehouses – though, of course, residents and rice fields have been gradually replaced by tourist businesses. Lounge bars, boutique hotels, travel agents, a glut of tailor shops and vast numbers of daily tourists are very much part of the scene here. If it gets too much, hop on a bike to explore the town's outskirts and pristine surrounds, where you'll find that life moves at a much more sedate pace.
Ba Be National Park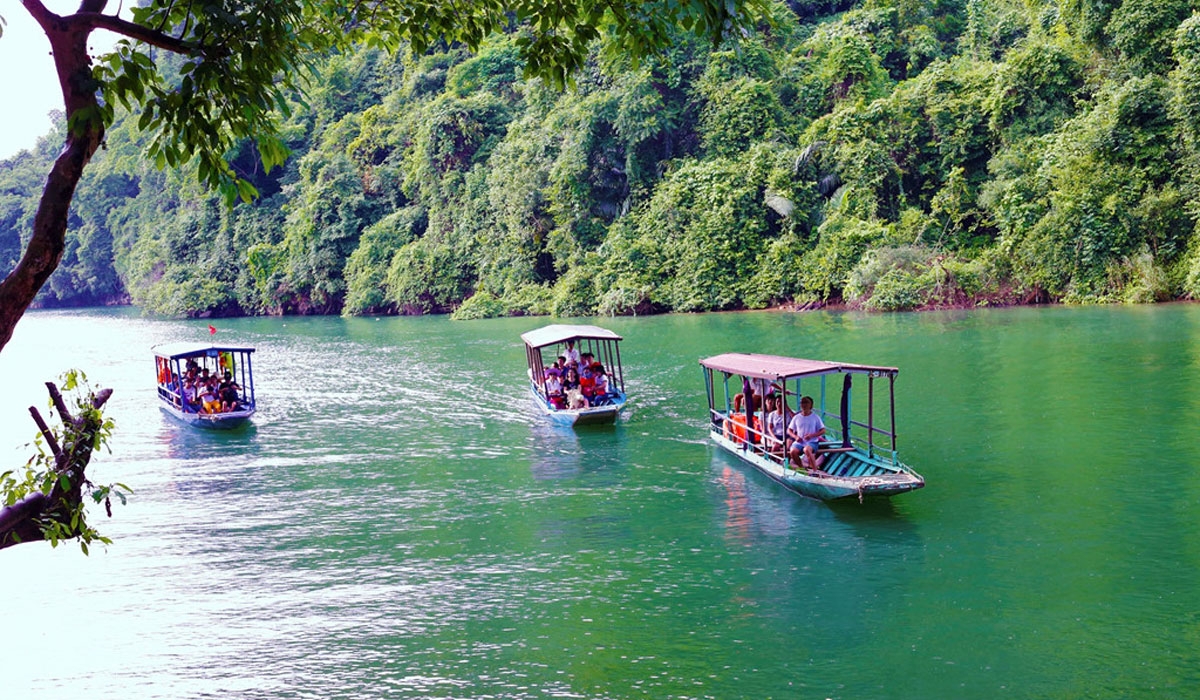 @internet
Detour off the regular Vietnam tourist trail in Ba Be National Park, an essential destination for adventurous travellers. The scenery here swoops from limestone mountains peaking at 1554m down into plunging valleys wrapped in dense evergreen forests, speckled with waterfalls and lakes. The park is a haven for hundreds of wildlife species, including monkeys, bears and pangolins (the only mammals wholly-covered in scales) as well as the highly endangered Vietnamese salamander, while birders will want to keep an eye out for the spectacular crested serpent eagle and the oriental honey buzzard, which can be spied on boat trips or trekking excursions. After a day of animal-spotting, recharge in rustic homestays and village guesthouses of the local Tay ethnic minority.
Nha Trang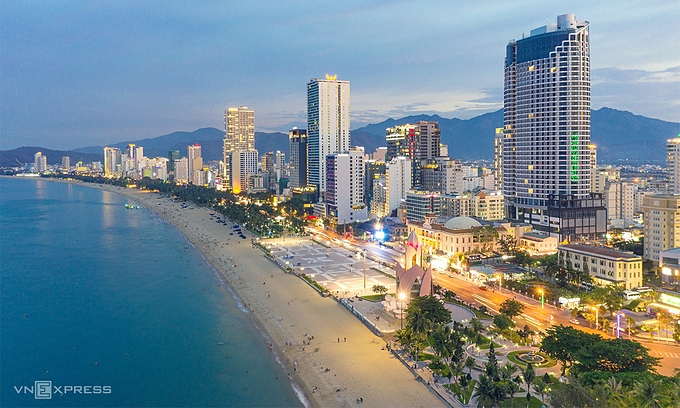 @Vnexpress
The high-rise, high-energy beach resort of Nha Trang enjoys a stunning setting: it's ringed by a necklace of hills, with a turquoise bay dotted with tropical islands. A sweeping crescent beach of white sand defines the shoreline, backed by an impressive promenade dotted with parks and sculpture gardens. Inland there's a cosmopolitan array of boutiques and dining options, but as restaurant service winds down for the evening, nightlife cranks up – central Nha Trang is a party town at heart. Looking for a more tranquil vibe? The city also makes for a great launching pad for a beach crawl up the coast to the city of Quy Nhon, with stop offs at Doc Let, Bai Bau and Bai Xep.
Hue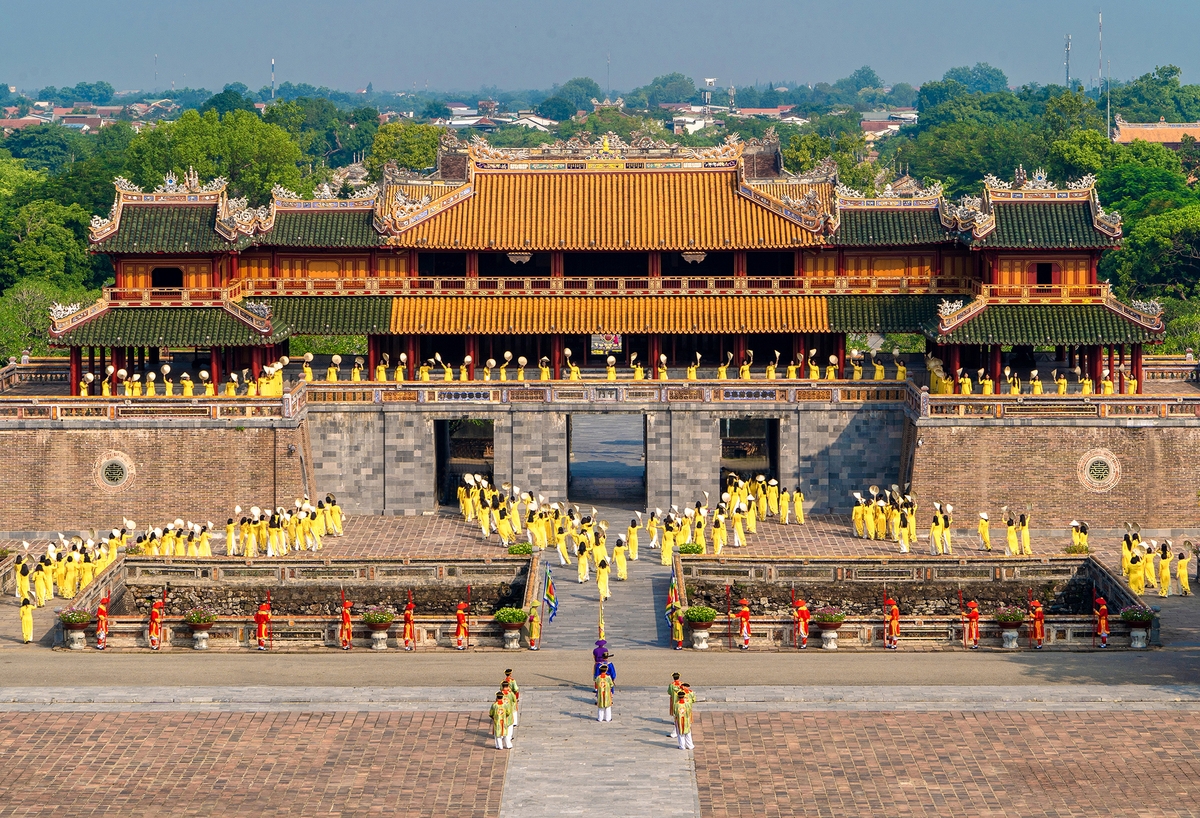 Hue Citadel
The capital of the nation in the 19th and early 20th centuries, Hue is perhaps the easiest Vietnamese city to love and spend time in. Its situation on the banks of the Perfume River is sublime, its complex cuisine justifiably-famous, and its streets are relatively traffic-free. And that's without mentioning the majesty of the Imperial City, a citadel-within-a-citadel, housing the emperor's residence, temples and palaces, and the main buildings of state, within six-meter-high, 2.5km-long walls. Explore the city's fringes to find some of Vietnam's most impressive pagodas and royal tombs, many in wonderful natural settings.
Ha Giang
@bao dan toc
Ha Giang province is Vietnam's spectacular destination for intrepid bikers, with dizzying ascents up the Quan Ba Pass (Heaven's Gate), jaw-dropping vistas on the epic ride between Dong Van and Meo Vac and the opportunity to venture to Lung Cu, a hilltop flag tower that marks the most northern point of the country. And with improved roads, new trekking routes, and a wider choice of guesthouses, homestays and restaurants in the province's small towns and villages, Vietnam's far north is firmly planting itself on the travel map as a hotspot for bikers and non-bikers alike.
Vietnam plans to resume regular international flights
The Civil Aviation Authority of Vietnam (CAAV) has submitted the three-phase plan to the Ministry of Transport, in which the first phase will only allow charter flights (combos) for Vietnamese nationals.
Starting from July 2021, the resumption of international routes will be transferred to phase 2, with deployment of regular passenger flights into Vietnam and quarantine after entry applied for both Vietnamese nationals and foreigners (must have a negative test for COVID-19). These flights will initially operate on routes between Vietnam and Japan, the Republic of Korea and Taiwan (China), with a frequency of four flights per week on each route, applied for each airlines of each party from both sides
Phase 3 is expected to start from September. Depending on vaccination progress in Vietnam and an assessment of herd immunity after public mass vaccination, the CAAV will deploy regular flights carrying passengers into Vietnam that do not require post-entry isolation with "vaccine passports" applied.
The market for deployment during the third phase is countries/territories that announce the acceptance of the COVID-19 epidemic effect of the same vaccines Vietnam has announced for wide application in its territory. The initial frequency is expected to be seven one-way flights per week on each route for the airlines of each party. According to Nhan dan Online
Top cheapest places to live in Vietnam

In 2020, Hanoi had the most expensive cost of living index while Hau Giang province was the cheapest, according to the General Statistics Office (GSO).