Top 3 charming destinations on Ca Na' coastal road
A dreamy coastal road not to be missed for travel enthusiasts while traveling from Ninh Thuan to Phan Rang.
This charming coastal road was completed and put into circulation since August 2017. It is located in the South Central Coast region, bordering Khanh Hoa city to the North, Lam Dong province to the West, Binh Thuan Province to the South and East Sea to the East. It is a long coastline connecting Phan Rang city to Ca Na port in Ninh Thuan province, which remains a favorite route for backpackers.
Ca Na's coastal road. Photo: Vietnamnet/Ngoc Anh
This coastline road was originally built with the purpose of connecting two future nuclear plants of Ninh Thuan province. Hence, tourism was not the main reason for the construction of the road so the beautiful scenery surrounding this area remains unspoiled. If you travel down this road you can have a view of the ocean on one side and the beautiful mountains on the other side.
Mui Dinh's sand dunes. Photo: Vietnamnet/Ngoc Anh
Mui Dinh's sand dunes and beach
The first location to visit while traveling down this coastal road is Mui Dinh's sand dunes. You can ride a motorbike down the sand hill to take pictures of the beautiful fine-grained sand dunes. Mui Dinh's sand dunes are quite "cleaner" than those sand dunes in the city of Phan Rang.
After taking pictures of the sand dunes, you can park your vehicles at the roadside to go down to Mui Dinh's beach. The path to Mui Dinh's beach is entirely on sand, but the sand here can be quite hot and dry, making it very difficult to travel on foot. You can hire local people to take you down there by terrain vehicles and the cost for a round-trip will be around 100,000 dongs per perperson.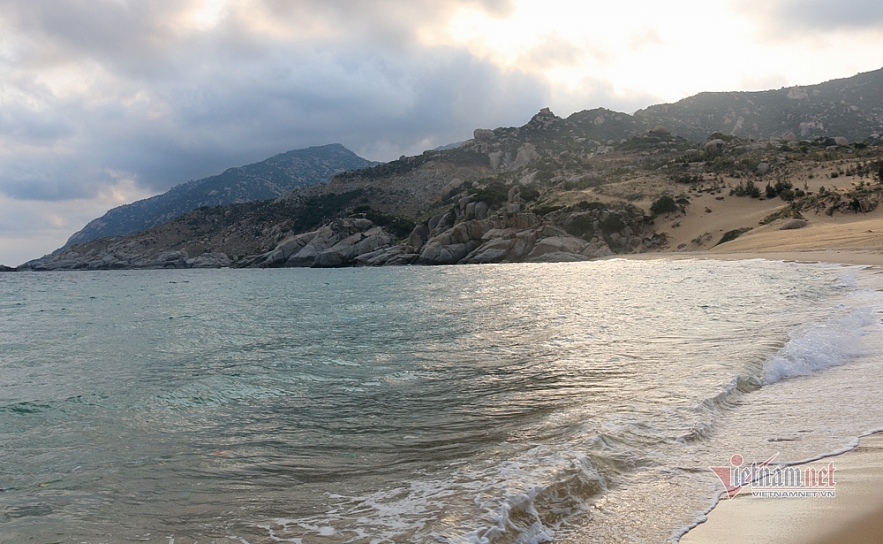 Mui Dinh's beach. Photo: Vietnamnet/Ng.Ha
Mui Dinh's beach is known for its crystal clear water and endless stretches of fine white sand. Other than swimming, you can entertain yourself with quite many activities such as rowing a boat to visit around or kayaking.
If you feel hungry after swimming in the beach, small restaurants along the coastline are the places to go. Restaurants and eateries aren't as abundant around here in Mui Dinh as there are only around 2 or 3. You can have a meal with the locals in this area at a quite affordable price; or if you prefer to eat seafood, you can order in advance with the locals so they can prepare you a delicously fresh meal that could delight any appetite.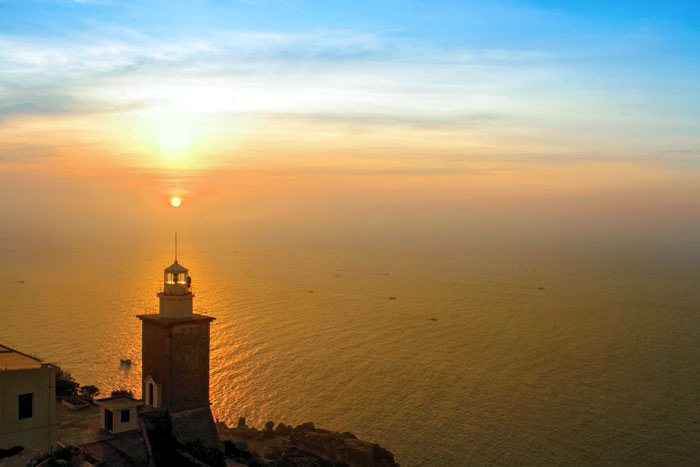 Mui Dinh's light house. Photo: VMS-South
Mui Dinh Lighthouse
The next location not to be missed after lunch and rest at Mui Dinh's sand dunes and beach is the Mui Dinh Lighthouse. Built in 1904, the lighthouse is located on the top of Mui Dinh mountain, nearly 180m above sea level.
The path to the lighthouse can be quite tricky. It is steep and it could take you about 20 minutes to walk up there, not to mention the fact that you also have to crossing a 1 kilometer winding slope. However you can hire the local people in nearby stalls to bring you up there by motorbike, the cost of which is around 50,000 dongs per person.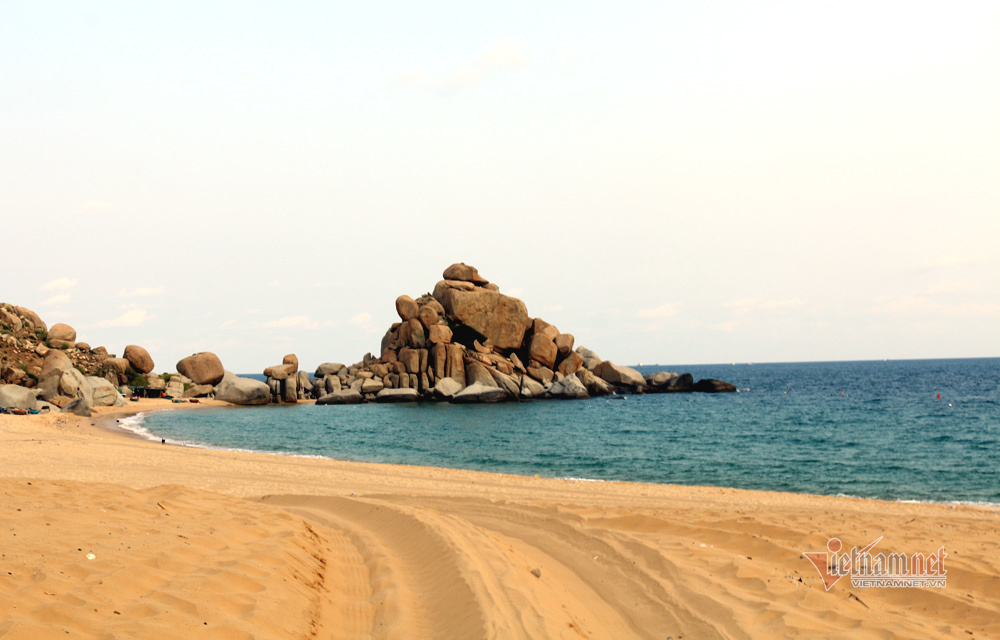 Hon Chong. Photo: Vietnamnet/Ngoc Ha
At the light house, you will have an opportunity to have a full view of the enchanting beauty of Mui Dinh's coast. In the distance you can make out undulating rocky outcrops of Hon Chong. With this view from above, it is hard not to be enchanted by the beautiful peaceful natural scenery with the salty ocean breeze.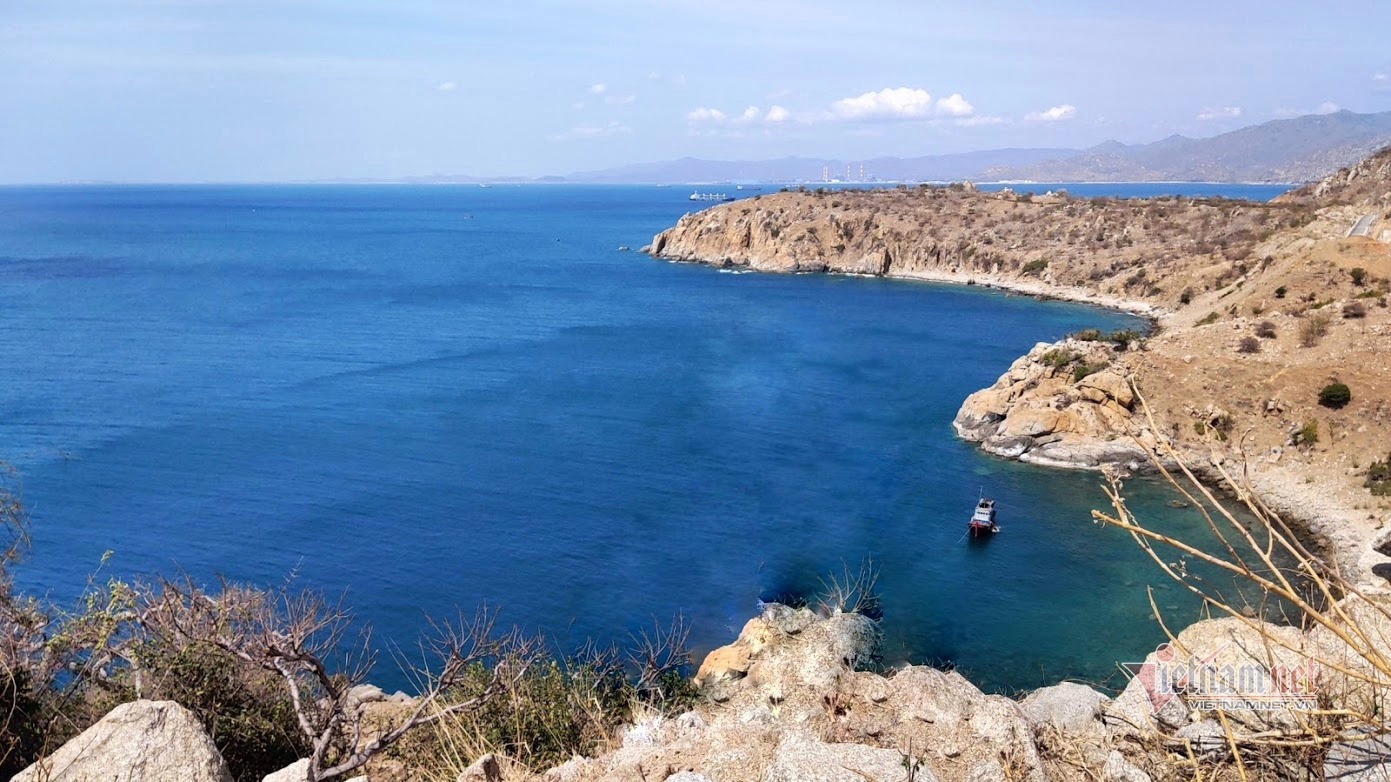 Mui Rua. Photo: Vietnamnet/Ngoc Anh
Continuing on the way to the south, you will see encounter many other beautiful spots along the coastal road such as Mui Rua, a place not to be missed for photography lovers. From a certain angle, this spot somewhat resembles see a giant turtle lying on the coast, hence its name Mui Rua which means turtle nose.
You can drive slowly here to enjoy the scenery in which one side lies the mountains with undulating rocks, the other side lies the blue ocean with waves crashing after waves.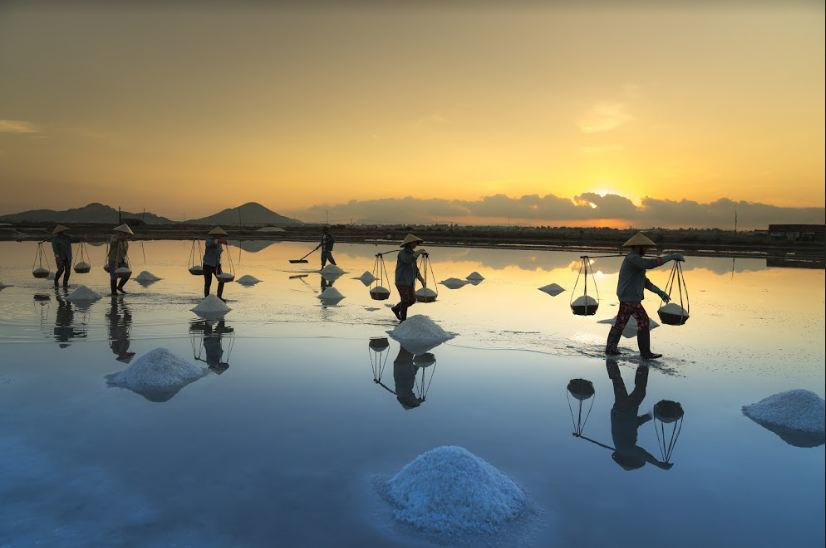 Salt mounts under the sun. Photo: Goninhthuan
Ca Na salt field
The next spot to be is Ca Na. Ca Na is the name of a peaceful small fishing village with a history of over 100 years of salt making, dating back to the French colonial period.
The salt field in this area is over tens of hectares wide, running along the coast of Ca Na. Coming here, you will be mesmerized by the local salt farmers who always have a smile on their faces despite the hard work they carry out everyday.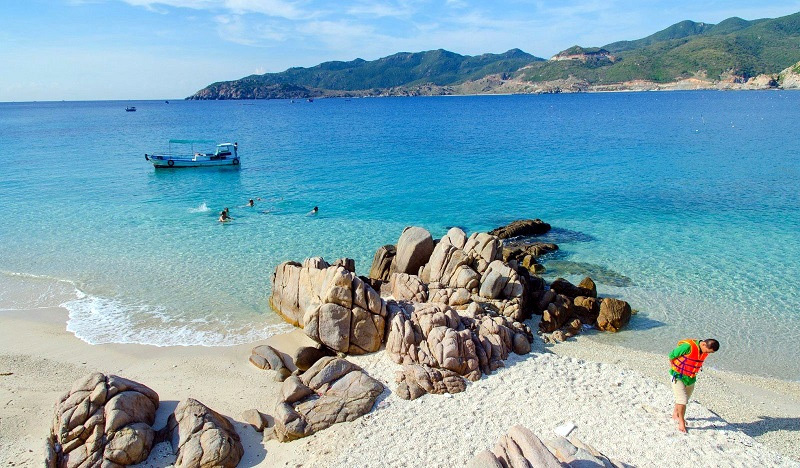 Ca Na's beach. Photo: Notimefortravel
Other than the beautiful salt fields, Ca Na is also an ideal tourist destination with its beach and seemingly endless stretches of white sand. The seawater here is crytal clear all year round with plenty of reefs on the seabed. The sea water here is around 3 to 4 degrees saltier than other beaches and if you swim about 20m away from the sand, you will have an opprotunity to see plenty colorful coral reefs.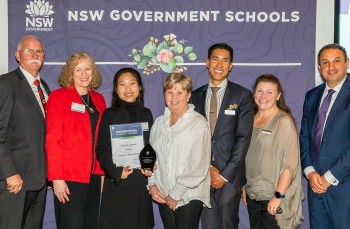 Overseas Vietnamese
The award for international students studying at New South Wales state schools (Australia) honors excellent ones from many countries, including a Vietnamese female student.