Top 3 Delicious Rice Restaurants in Hanoi
There are many delicious dishes and famous restaurants. Among these, the traditional dishes with rice as the main ingredients are loved by many people.
Instead of eating grilled food, hot pot, and other sophisticated dishes, you can choose to mix things up a bit by eating rice dishes, especially recipes that can give you a sense of nostalgia. Here are three restaurants in Hanoi that feature homemade rice dishes at reasonable prices that will remind you of your loved ones cooking.
Xoi Com
Address: Lang Ha, Dong Da
Opening time: 11 am -14 pm and 18 pm-21 pm
Price: 0.86 - 3.43 USD/dish
Xoi Com is located at the end of a small alley on Lang Ha Street, right below an old dormitory. This restaurant can give you a sense of familiarity as soon as you enter, reminiscent of the old Hanoi image of decades ago.
The interior space is small and cozy, decorated like an old kitchen with rustic wooden tables and chairs, old cabinets, antique televisions, and many other nostalgic furniture. Small things like dishes, chopsticks, and spoons at this restaurant also exude a simple feature of homecooked rice.
Xoi Com's menu changes daily, the restaurant updates the menu for the whole week at the beginning of each week so you can easily follow it. The dishes are made with simple ingredients, namely: tofu, meat, fish, and seasonal greens.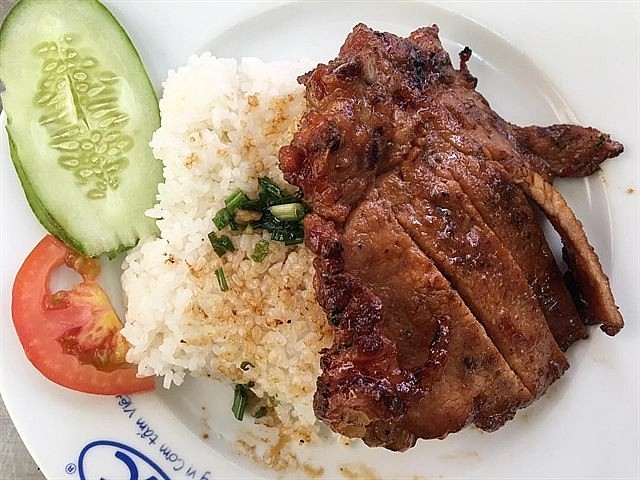 Photo: didiemanuong
Le Rice
Address: Trieu Viet Vuong, Hai Ba Trung
Opening time: 10 am - 14 pm and 17 am-21 pm
Price: 0.86 - 12.86 USD/dish
With a diverse menu of dishes prepared according to the style of grandmothers and mothers, Com Le is chosen by many diners as a meeting place with family and friends in a cozy and close atmosphere.
The design of the shop is inspired by the image of the Northern countryside in the 1950s-1960s with a neat and simple arrangement of tables, chairs, bowls, and chopsticks. The way to decorate each dish is not too complicated to ensure that it does not lose the familiar feeling of being at home on each tray of rice.
You can enjoy familiar dishes such as beans with tomato sauce, braised fish, and grilled meat.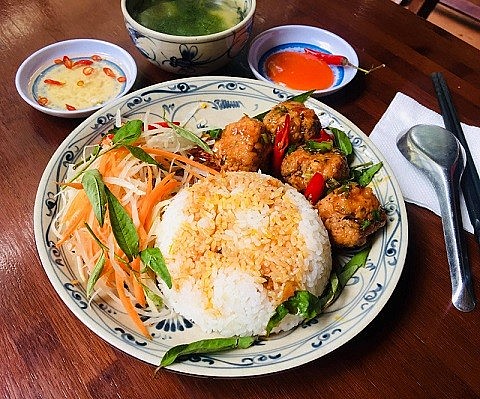 Photo: toplistvn
New Day Restaurant
Address: Ma May, Hoan Kiem
Opening time: 7 am - 22:30 pm
Price: 1.71 - 4.28 VND/item
Nestled on the busy Ma May street, this rice restaurant attracts domestic and foreign diners to enjoy pure Vietnamese food on a daily basis.
The restaurant has a sidewalk style appreciated but is highly by diners for its hygiene and cleanliness. The food menu of this restaurant can change every day, according to the season, but mainly revolves around daily dishes in a traditional home-cooked meal such as fish sauce, pork rolls, sweet and sour ribs, salted eggplant, and stir-fried vegetables .
Each dish is prepared fresh, hot, and served in a separate tray. The restaurant's rice is sold by plate and ordered. This restaurant is usually most crowded at noon and on weekends.
Photo: foodyvn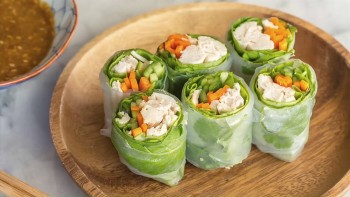 Travel
Rolls are a easy-to-make dish that is loved by many Vietnamese diners as well as Korean stars.