Top 5 Most Beautiful Check-In Spots In Sapa In 2022
Also known as "The City in the Mist," Sapa has always been the perfect choice for your relaxing trip.
Sapa is an ideal highlands escape from the bustling city with breathtaking views of terraced rice fields, forests, and hidden wonders of nature that any adventurous travelers should never miss when coming to Vietnam. Immersing in a dynamic cultural exchange with ethnic minorities, you can also gain valuable exposure to the rich culture and traditions.
1. Best View
Photo: Sapa trip
The Best View, which is located in Cau Phuong Ward, Sapa, is surrounded by majestic mountains and forests, and a large garden with dangling light bulbs creates a romantic scene. visitors will get a chance to relax and immerse themselves in the natural life of the land and have a panoramic view of Muong Hoa valley. They can also experience overnight camping, which includes large tents and a BBQ party set.
2. Sun World Fansipan Legend
Photo: sunworldfanxipan.com
With the beautiful spring scenery in the mist, the colorful Buddhist flag road, and the Spiritual Culture complex, Sun World Fansipan Legend is a spring travel destination that should not be missed on New Year's Day. Fansipan Peak, located on the Hoang Lien Son mountain range, is the highest mountain in Vietnam and is also known as the "Roof of Indochina" with an altitude of 3,143 m. For a long time, conquering the Fansipan peak has been a goal of youth for those who like challenges and want to create unforgettable memories.
The complex of Sun World Fansipan Legend tourism - cultural complex has brought Fansipan peak closer to tourists with the cable car system which has reached two world Guinness records: the most extended three-wire cable car system (6,292.5 m) and there is an enormous difference between departure and arrival position (1,410 m). Sitting on the cable car, you can watch the breathtaking scenery including Muong Hoa valley, Hoang Lien National Park, and of course the Hoang Lien Son range.
Besides Fansipan peak, you must definitely visit Bich Van Thien Tu and Thanh Van Dac Lo at Fansipan station. Bich Van Thien Tu, with an altitude of more than 3,037 m, is one of the spiritual sights on Mount Fansipan next to the pagodas of Ha, Lau Chuong, Lau Trong, and Dai Hong Chung. Bich Van Thien Tu is elaborate and sophisticated in every detail. This location is where heaven and earth meet, where yin and yang converge. Here, all sorrow is relieved; we only have a feeling of serenity and peace of mind.
3. O Quy Ho Pass
Photo: BuiQuyet
The Pass is located on National Highway 4D running across the Hoang Lien Son range, connecting the two provinces of Lai Chau and Lao Cai. And the top of the Pass is the boundary between these two highland provinces. O Quy Ho Pass is a famous tourist destination - one of the four great peaks of the North of Vietnam. It is located about 15 kilometers from Sapa town.
O Quy Ho pass with a length of over 40km. It's located at an altitude of over 2000 meters, on the National Highway 4D crossing Hoang Lien Son range, the top of the pass is free between two provinces of Lai Chau and Lao Cai.
According to the legend of O Quy Ho Pass, in the past, in this mountain area. There was a bird with a loud cry, associated with the legend of the couple's love story. Therefore, over time, it was the voice of O Quy Ho of that bird that named the famous pass.
4. Cat Cat village
Photo: vntrip
Cat Cat, the prettiest ancient village in the Northwest, is located about 3 kilometers from Sapa town. Among dozens of new check-in points with colorful colors, Cat Cat village is still a beautiful check-in point not to be missed.
Cat Cat Village was founded in the middle of the 19th century by the local Mong ethnic. In the early 20th century, the French discovered the village and developed it as a vacation resort. The village has a majestic waterfall whose French name is CatScat. Therefore, the village then was named after the fall (Cat Cat has deviated from CatScat).
5. Moana
Photo: Facebook Huyen Ruby
Moana is an entertainment complex that can be used for both sightseeing and photography purpose, which has a total space of more than 10.000m2. This place attracts many young tourists for its unique styles and impressive architecture, which makes it a favourite tourist destination in Sapa.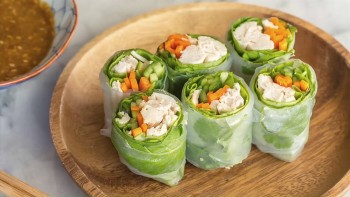 Travel
Rolls are a easy-to-make dish that is loved by many Vietnamese diners as well as Korean stars.